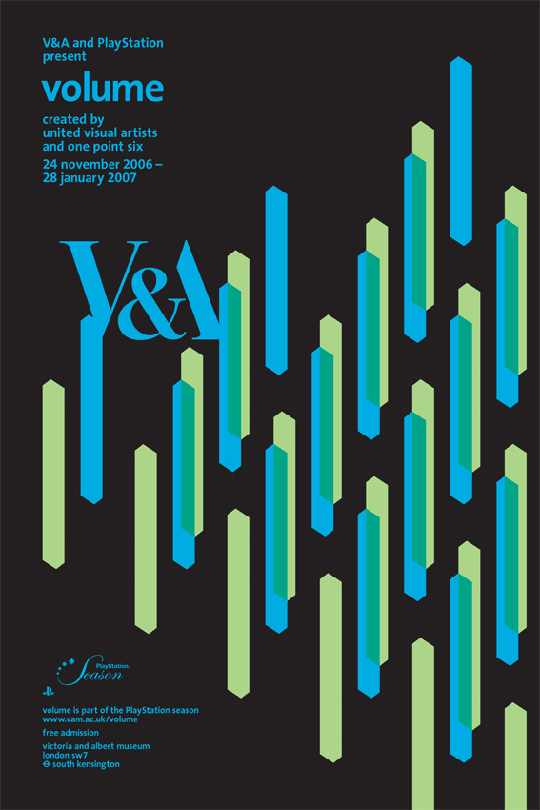 Volume
24 November 2006 - 28 January 2007
Admission free
The V&A and PlayStation present Volume
Created by United Visual Artists and one point six
A luminous interactive installation has transformed the V&A's John Madejski Garden this winter. Volume is a sculpture of light and sound - an array of light columns positioned dramatically in the centre of the garden.
Volume responds spectacularly to human movement, creating a series of audio-visual experiences. Step inside and see your actions at play with the energy fields throughout the space, triggering a brilliant display of light and sound.
The piece is a collaboration between design collective United Visual Artists (UVA) and Robert Del Naja (aka 3D) of Massive Attack and his long-term co-writer Neil Davidge (as part of their music production company, one point six).
To celebrate the launch of Volume, PlayStation are offering you the chance to win a ceramic white PlayStation Portable®. Visit the competition page to enter.
Wheelchair Access - Please seek staff assistance.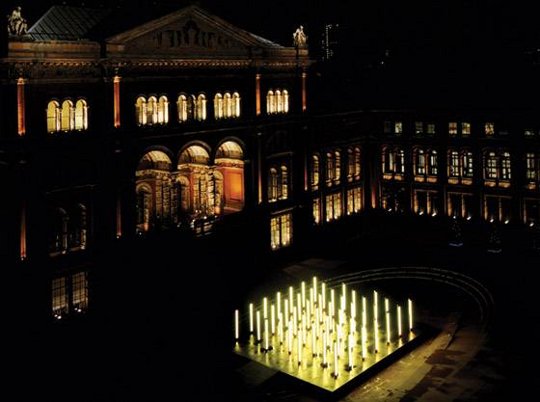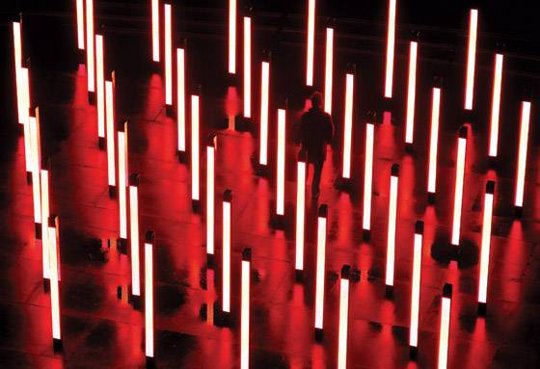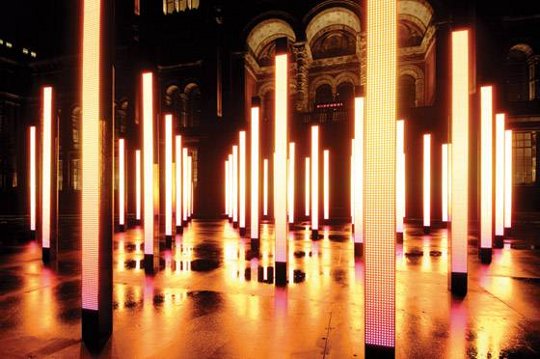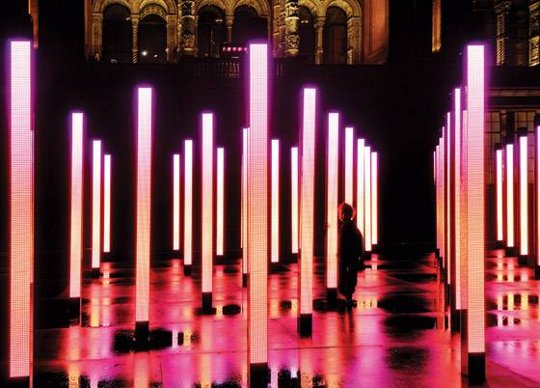 Volume installations in the V&A's John Madejski Garden ©Supermatic / United Visual Artists
photography by John Adrian
http://www.vam.ac.uk/collections/contemporary/volume/


V&A and Playstation® present 'Volume', created by United Visual Artists and onepointsix as part of the Playstation®season.
A luminous interactive installation has transformed the V&A's John Madejski Garden this winter. Volume is a sculpture of light and sound, an array of light columns positioned dramatically in the centre of the garden.
Volume responds spectacularly to human movement, creating a series of audio-visual experiences. Step inside and see your actions at play with the energy fields throughout the space, triggering a brilliant display of light and sound.
http://www.uva.co.uk/

UNUSUAL LIGHT SHOW TO ATTRACT THE YOUNG
The famous Victoria & Albert museum opens an unusual light and audio show exhibition; its aim is to attract younger generations interested in contemporary art and design.
http://www.bsn.org.uk/view_all.php?id=12416

A luminous interactive installation will transform the V&A's John Madejski Garden this winter. Volume is a sculpture of light and sound, an array of light columns positioned dramatically in the centre of the garden.
Volume responds spectacularly to human movement, creating a series of audio-visual experiences. Step inside and see your actions at play with the energy fields throughout the space, triggering a brilliant display of light and sound.
The piece is a collaboration between lighting designers United Visual Artists (UVA) and Robert Del Naja (alias 3D) of Massive Attack and his long-term co-writer Neil Davidge (as part of their music production company, one point six).
http://www.playstationseason.com/feature_vanda.php

A journey into the art of noise
The tranquil formality of the V&A's John Madejski Garden is not the sort of setting in which you'd expect to find the self-confessed party animal Robert Del Naja, aka 3D of the trip-hop pioneers Massive Attack. But here he is, or at least here is his latest project. Volume is an interactive sound and light installation created by Del Naja, Massive Attack's producer Neil Davidge and United Visual Artists, their long-time collaborators.
As you might expect from the creator of Blue Lines and Mezzanine, it is an innovative and ambitious piece of work. "I don't want to jeopardise it by talking too ambitiously about it because it's quite complex," Del Naja says anxiously. "We're not quite sure what we're going to be able to achieve."
What they want to achieve will look deceptively simple. The pond in the garden will be drained and in its ellipse will stand a stage, on which a grid of 46 8ft (2.5m) glossy black aluminium columns, with a panel of LED lights in the front of each one, will tower over visitors. Matt Clark, UVA's creative director, explains: "In essence, each column is a very bright display screen with its own speaker." "As the viewer walks into the grid, their position and movement affects the colours and sounds produced by it." So far so cute — you can imagine what it might do to a toddler, but, then, you can expect more than your average noodly son et lumière show with perfectionists such as these.
Del Naja's contribution, the bank of sounds that will ring out as you wander through this orderly forest of changing light and colour, is pretty challenging, he says. "We've had to work on a way of making it so that the whole area will be musical, because if it was random it would just be a cacophony." If several people congregate in one area of the grid, such as a school group for example, an unchecked random response runs the risk of sounding terrible. "
We need to have a sequence running so that it's a beautiful experience," says Del Naja. He and Davidge have tried to keep the sounds as pure as possible using analogue sounds from old keyboards and converting them by using digital software.
Much has been created from scratch. UVA are still putting together the systems that will drive the installation, which sound mind-bogglingly complicated to the technoramus. Getting 46 versions of the same software to function simultaneously, on a computer that can keep going for hours without crashing, isn't straightforward. The columns and the colour palette have had to be specially designed. Even the speakers were devised by a member of Del Naja's studio staff, Lee Shepherd. ("He's a genius. The kind of guy who takes apart Space Invaders machines for fun.")
So how did the notoriously slow-working Massive boys (four albums in 15 years) become involved in a tortuously complicated project that had to be completed in about a month? Del Naja says: "We've been working with the guys from UVA for about four years. They worked on the 100th Window tour in 2003 and we've been with them ever since." UVA, in turn, were approached by the V&A after creating a successful light installation at the museum's Transvision Friday Late event. "It had this mysticism about it," says Shaun Cole, the curator of contemporary programmes at the V&A. "It was one of the most popular pieces on the night."
All very cosy. But this is seat-of-the-pants stuff, and the boys won't be able to relax until after they've set up the piece for rehearsal in Manchester, where the pillars are being built. I ask Del Naja whether it will be a public event. "No!" he cries, aghast. "Until we can assign all the different sounds to each column, we won't know which bits are going to work." And when it does work? "It's got to look and sound really lovely, sort of psychedelic and gentle. But when you're in it, it's meant to be quite intense." He pauses. "I can't wait."
Volume will be unveiled at the Friday Late Invent event at the V&A, Cromwell Road, London SW7 (www.vam.ac.uk 020-7942 2820), on Nov 24
The Times November 04, 2006
http://entertainment.timesonline.co.uk/article/0,,14929-2430575,00.html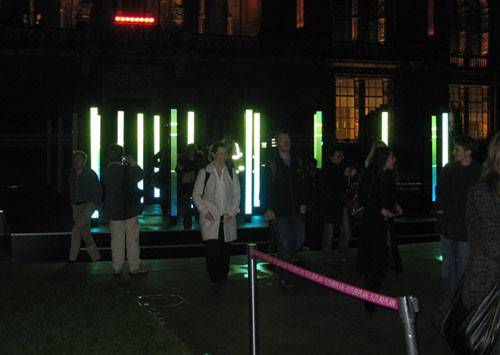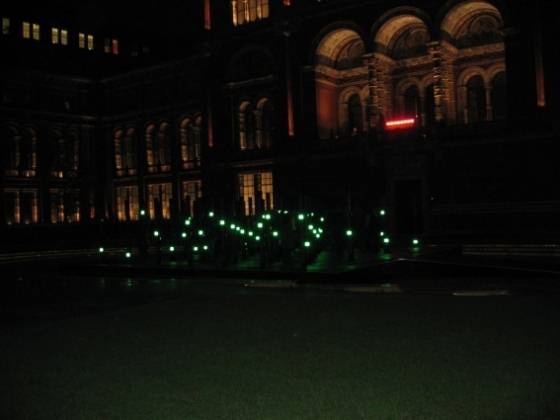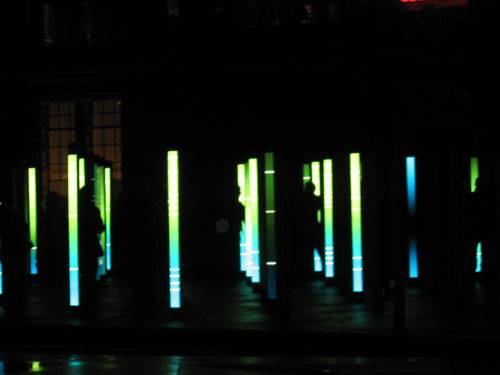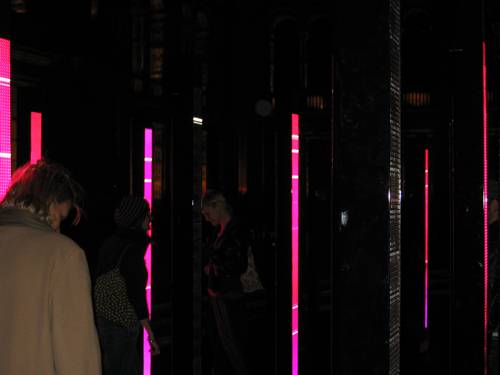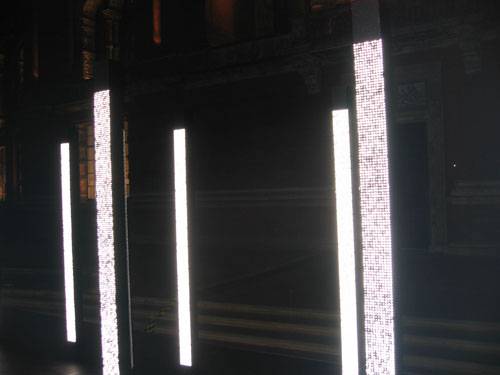 photography by Ex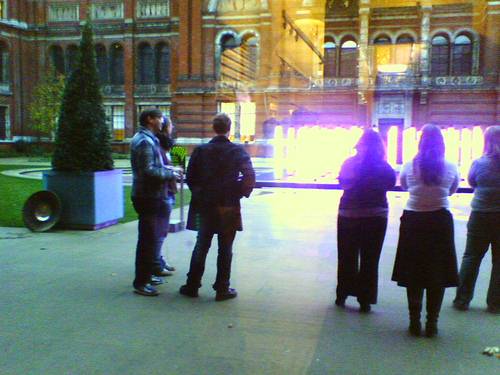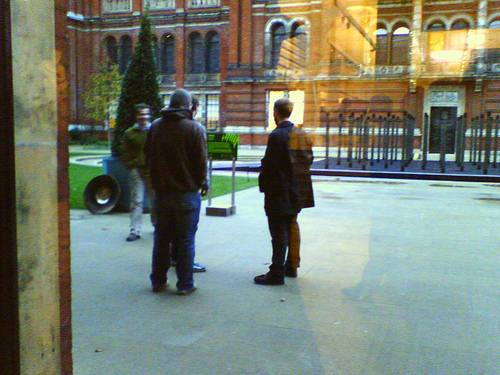 photography Dark_Rain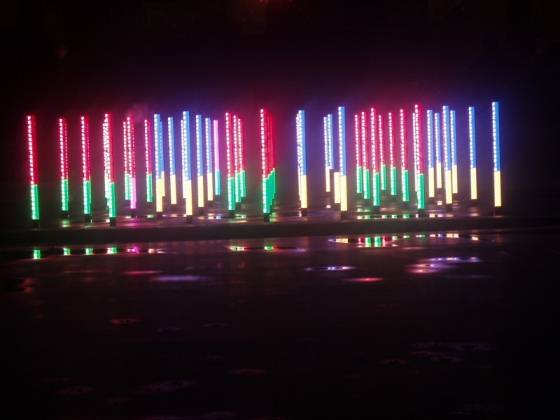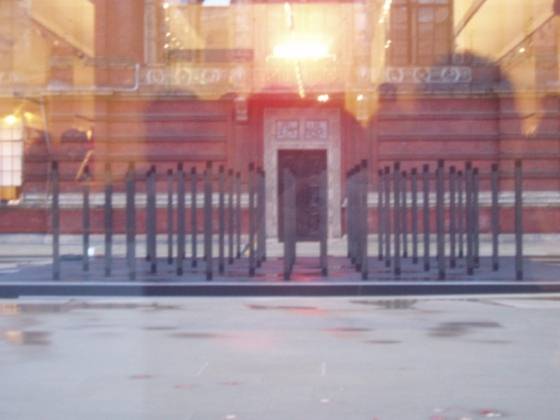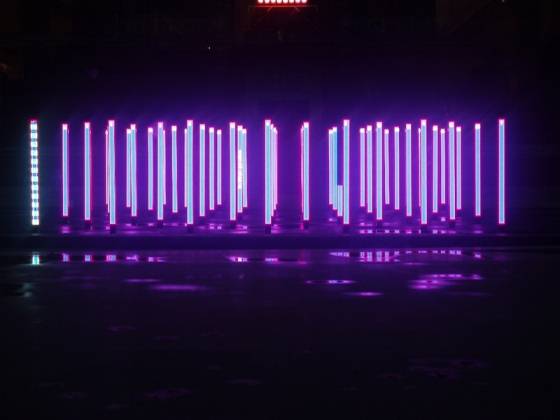 http://www.youtube.com/watch?v=RtW35RdaEwk
http://www.youtube.com/watch?v=xBfinEaZDxo
photography & videos by OneteaminLondon