NOCTURNE was a club in Bristol partly owned by Massive Attack.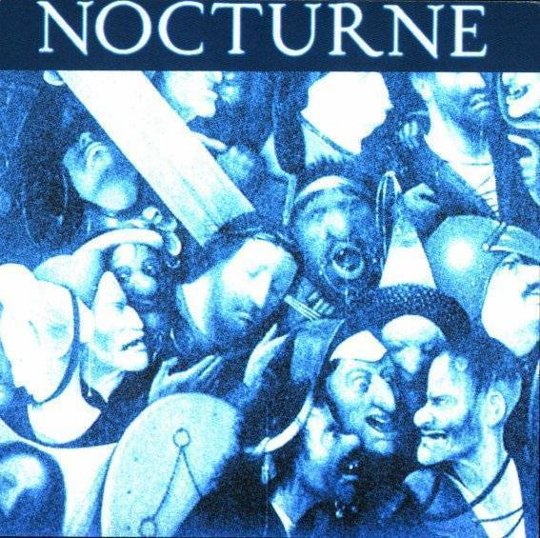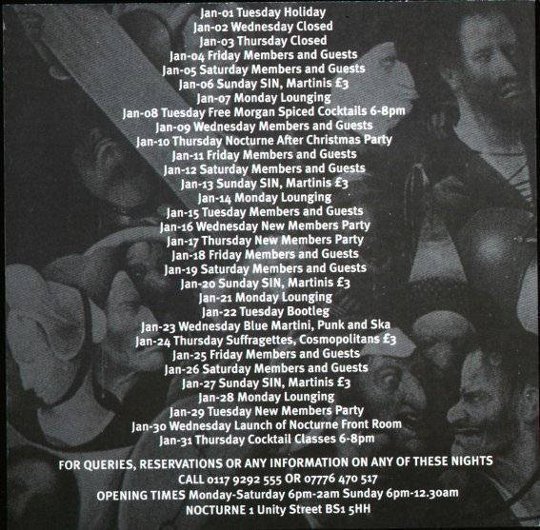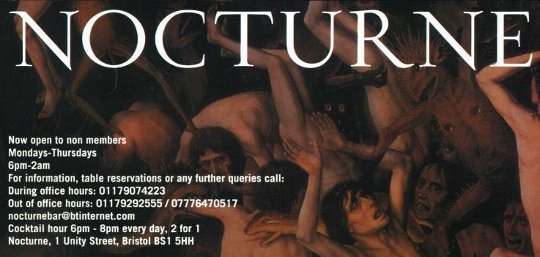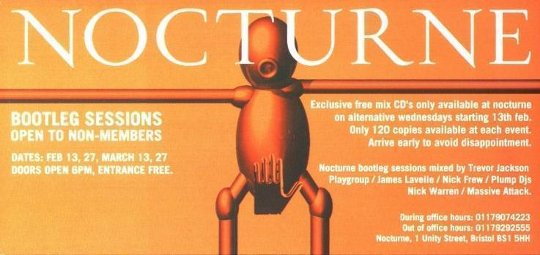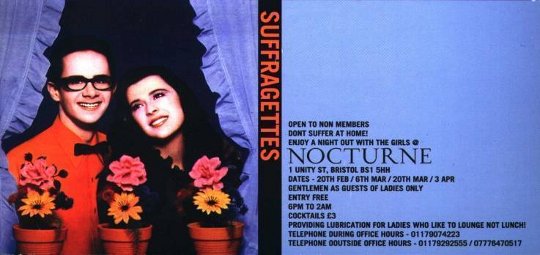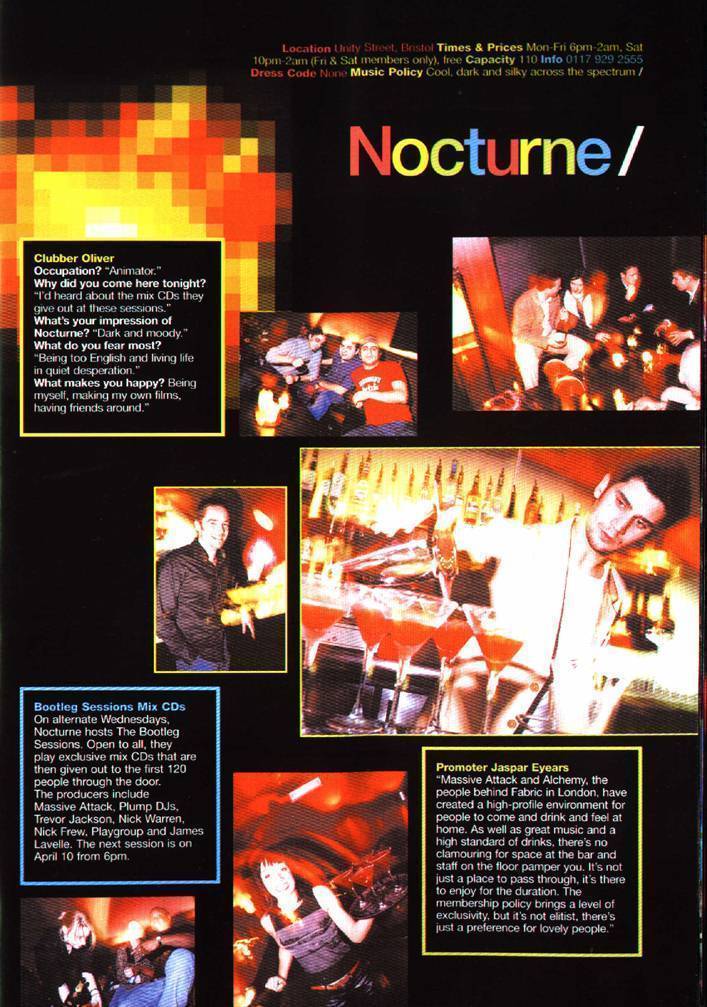 REVIEW
According to the dictionary Nocturne means a short piece of piano music or a poem about night time.
Very nice. But according to me Nocturne means a wicked club with lush decor, great music, superb clientele and the best bar staff.
If you haven't heard the gossip, this is Massive Attack's new late night members drinking club. And very Massive it is. Dark, brooding and very very cool. There's maroon and black leather everywhere - on the seats, up the walls, on the pillars. The music's moody, the lighting's dark. It's ace.
It's the brainchild of four - Grant and 3D from Massive Attack and Jasper Eyears and Cairbry Hill of the Alchemist bar consultancy in London. It's not run-of-the-mill, it's not your usual hard-house, pack-em-in, supa-club. It's sophisticated and it works. Situated at the site of the former Silent Peach (and for those who really remember, The Tube) in Unity Street, it really is somewhere that does justice to Bristol's 'cool' reputation.
Colin McCord, previously of Babbington House in Somerset, has been brought in to manage it. He said: "The aim is to create somewhere where members get to know each other. A community where like-minded people can enjoy the music without any hassle and appreciate the different things on offer.
"I think it will bring an extra dimension to Bristol. It's a members club but we don't want to alienate anyone or make enemies. We even plan to have trade night for people who work in other clubs in the city, to give them a night off and a chance to let their hair down.
"There'll be all sorts of different things going on here, wine tasting, guest DJ nights, all sorts of stuff. Our staff have been chosen for their friendly natures and we don't want any sort of pretentiousness or the big "I am" attitude.
"For example if Grant and D were to come down and expect to sign in 30 mates, they couldn't if the club was full. Honestly I'm not joking, they know that even though they own the place it's stupid to take advantage and make it some sort of clique. They need to make a profit at the end of the day after all."
A commendable attitude. But back to the club. The sound system is SO GOOD, like listening to the best walkman ever (with 300 mates). God knows how much they spent on the speakers, which hang like massive flat-screen TVs covered in black leather. Sufficed to say you know it's a lot when you're told the only other place that's got them is Jazzy Jeff's personal home entertainment system in the states.
It's a really wicked place but the downside is of course that Nocturne is a members bar. So far 3,000 have applied and there are only 500 memberships up for grabs. So not everyone will get in. It's a shame but with a city centre venue you always run the risk of the usual idiots ruining it for everyone else. And Nocturne is such a jewel in Bristol's crown it would be stupid to muck it up.
Jemma Cooper
http://www.bbc.co.uk/bristol/content/clubs/2001/08/02/noc.shtml
Then they changed it to the Tube - that then shut it's doors for the last time in the early hours of New Years day 2010.