The Beautiful Game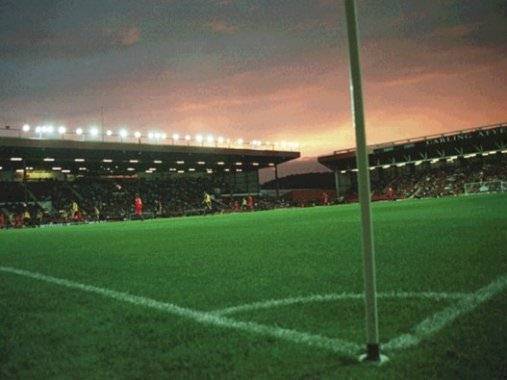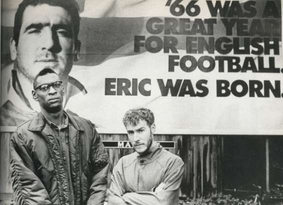 Bristol City Football Club
South Bristol's The Robins' are 3D's team: his first City match was during the 1976-77 season and he still holds a season ticket to this day.



Calcio Napoli
3D's other team, from his dad's hometown of Naples. Maradona used to play for them.


MUSIC WITH BALLS


Total Football Magazine, 1996.
John Mitchell talks with Massive Attack rapper 3D about sampling crowd chants in Naples, Bristol City and the making of the Euro 96 album...

The beats are slow and heavy, the vibe is late-night urban sleaze with a hint of menace. The sound is that of Bristol's esteemed purveyors of smoky dope beats. Massive Attack. The track is called euro 96 child and was the band's contribution to the Euro '96 compilation album, the beautiful game. It has since appeared on the teardrop single as euro zero zero.
It's an extensive re-working of eurochild from the second album, protection. Original demos for the track included swirling chants and crowd noises, recorded by 3d on a trip to Naples' San Paolo stadium. They were dropped from the final version because, says 3d, they made it "too busy". But the story behind them warrants telling, if only to show haw far they will go to get those essential samples.
3d is possibly the world's only football fan with an equal passion for both Bristol City and Napoli. He makes the trip to Italy to watch football and visit relatives as often as money and work allows. At a game against Padova, he insisted, as usual on arriving a full two hours before kick-off to ingest the Papoli big match build-up. It's one he admits is rarely seen at City's Ashton Gate.
"It's definitely much more of an all day event," he says. "I love to sit in a bar and have a drink outside the stadium and then have some wicked food. They've got the equivalent of a hot dog stand with a boar's head on the outside, all draped with salamis, selling fresh pizza and huge open sandwiches with mozzarella, fresh tomato and basil."
Inside the stadium, he ventured into San Paol's banner festooned Curva B section which the ultras have made their own. Already incensed by a Padova banner suggesting the French should cease bombing in Mururoa and target Naples instead, they hardly warmed to his additional interest.
"I was standing there with this boom mic in my hand trying to keep cool, surrounded by all the ultra boys who weren't too sure what to make of me taping their singing. Eventually their leader came over and said they were cool about it. They just said: 'send us a tape of the track when it's finished.' we won the games as well, 2-0 with goals from Pechia and Agostini."
Back in Bristol , his love of football led to him forging something of a mutual admiration society with past Ashton gate favourite Paul Agostino an Australian striker with City whose partnership up front with David Seal did much to steer the club to safety. "he wanted to talk about my music but I just kept pestering him for signed shirts." Massive Attack's championing of Bristol city has not gone unreciprocated. Nowadays they are afforded the red carpet treatment for home games, and they featured on a matchday programme cover dressed up in City kits on the Wembley turf.

Glamour Angle
The marriage of pop and football has produced some tawdry results and, after years of languishing in the fashion doldrums, the beautiful game definitely puts the seal firmly back on football's long and complex relationship with pop culture. "I think football and music have always had quite a strong link in terms of the glamour angle," opines 3d. "But i've just got this thing about football players. I can meet film stars, pop stars or whatever, but if I meet a footballer I just loose it completely in admiration. But then you read most player profiles and find out they're all into only fools and horses and Dire Straits. You think: 'I really admire that geezer but I wouldn't have anything in common with him if I met him down the pub.'"
He [just] remembers a distinctly drunken encounter with Swedish international striker Martin Dahlin, currently with Borussia Monchengladbach. "I spent about an hour trying to persuade him to do for Bristol City what Maradona had done for Napoli - take a massive cut in wages and become a folk hero, a god. He was looking at me probably thinking: 'fuck off, I want to sign for Juventus next season. I'm a star. What do I want to come to Bristol for?'"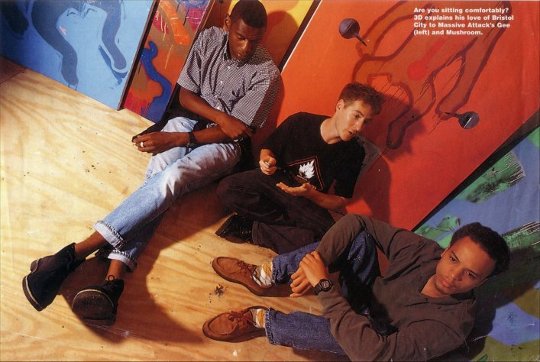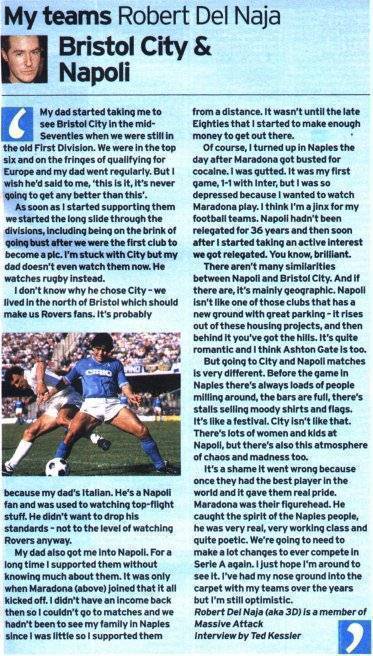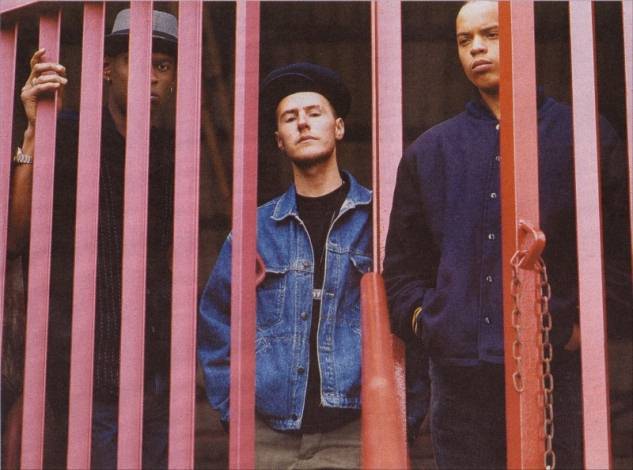 Massive Attack at Ashton Gate, July 1991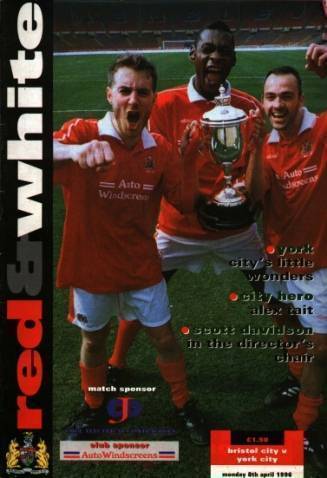 Massive Attack featured on the front cover of the matchday programme, for the Bristol City v York City game on Monday 8th April, after appearing in a friendly match at Wembley to promote the Euro96 Beautiful Game album.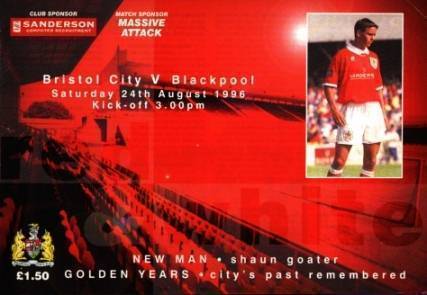 They also sponsored a game on Saturday 24th August 1996 which saw City play Blackpool and again appeared in the programme, as well as having their music played over the tannoy.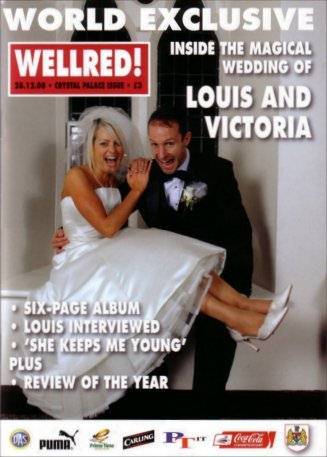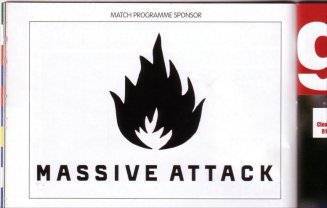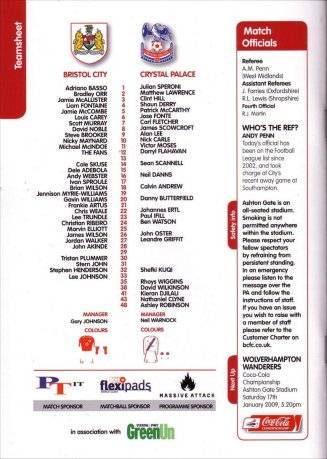 More recently they sponsored the programme for the home game against Crystal Palace which saw Bristol City here victorious, thanks to Nicky Maynard, who grabbed his fourth goal in three games. With only two minutes played, Stern John's corner found Maynard on the edge of the box and he curled home superbly. City should have gone further ahead but Louis Carey headed wide, and Ivan Sproule hit the post in the first half. The closest the visitors came to a goal was just before half-time when Lee Hills' shot from the edge of the box crashed against the crossbar.