LABEL
RELEASES
CRAIG ARMSTRONG
LEWIS PARKER
HORACE ANDY
ALPHA
DAY ONE
SUNNA
"The artists signed to Massive Attack's label don't necessarily conform to the definition of the
word 'Melancholic', although they are synonymous with the trio's take on modern music."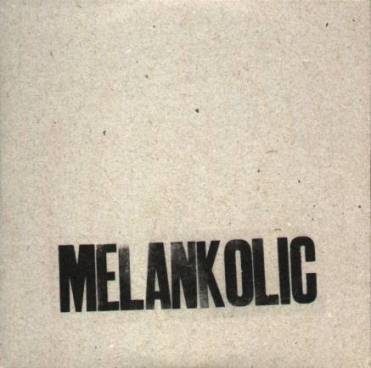 The Melankolic label was launched in September 1996. The first release from the label, whose name is inspired by the band's motto of "glad to be sad," was Skylarking: The Best Of Horace Andy, a compilation of reggae hits by the respected dub artist who had already guested as a vocalist on Massive Attack's Blue Lines and Protection albums.
"Massive Attack wanted to start a label to release things other than their own [work], which would have a similar style and direction to their own material," said David Balfour of Virgin Records U.K..
Regarding why the label was being distributed by Caroline in the U.S., instead of the band's Virgin label, Balfour says, "We deal with Caroline for many of our acts in the U.S. I don't know if Virgin refused to take it or if it was offered to Caroline. I'm not really too aware of the politics of U.S. record companies."
Melankolic is wholly owned by Massive Attack and maintains a separate U.K. office. The band's managers, Marc Picken and Tim Clark, served as label directors, while day-to-day supervision was handled by James Sully.

Dot Music: Mon 22 Sep 1997 16:05
MELANKOLIC - SERVING UP A COCKTAIL
Unlike some acts who turn up on artists' labels, those on Massive Attack's Melankolic are receiving much critical acclaim. Atmospheric Bristol band Alpha's debut album Come From Heaven was described by Melody Maker as "the very essence and alchemy of love given voice in music" while veteran reggae star Horace Andy was voted one of Mojo's Top 100 voices in history.
Classical composer Craig Armstrong's orchestral work on everything from Massive Attack's Protection to the Romeo & Juliet soundtrack and to his forthcoming album The Space Between Us ­hyped as the orchestral album of the Nineties ­has consistently received praise and awards. And everyone is raving about the forthcoming work from Melankolic's new signing Lewis Parker, calling him one of the most important hip hop artists of the year. In a way, the four signings represent the cocktail of Massive Attack's own music ­old school reggae, cinematic, trip hop and rap ­although Virgin joint managing director Ashley Newton, who signed them, says that is a coincidence.
He explains, "They've spoken about the concept of of having a label for ages. Their music sounds like how they run their lives ­this cool, determined, minimalistic existence ­but they are taking this label really seriously. Their businesslike approach is down to their manager, Marc Picken, who has brought structure to their lives and changed the way they approach things, although they'll keep creating." Picken, who has run the Virgin offshoot since its conception two years ago, says Massive Attack's members themselves are central to the label. "The boys don't only deal with the A&R," says Picken. "They have a hand in most aspects of Melankolic's projects. Their real strength is being able to communicate on an artist-to-artist basis, in terms of both music and business, which most A&R men can't do. They are particularly close to Alpha, who they know from Bristol. Also, Mushroom (Massive Attack's DJ) has helped Lewis a lot because both are hip hop heads."
Although Melankolic was initially launched so Massive Attack could continue working relationships with artists who had contributed to their own music (Andy is a regular guest vocalist, while Armstrong did orchestral arrangements on Protection), Picken says the label has no stipulated sound. Picken says, "The only thing we look for in an artist is their potential to develop on the label. That is where our interest lies at present, whether we're talking about a kid like Lewis, who has only ever put out a couple of singles, or a legend like Horace, who has a career both behind and in front of him." The label concentrates on signing musicians who work outside the mainstream but who they believe could be hugely commercial, given sufficient time and support.
"We don't want to sign some radio-friendly singles band because we don't find that a challenge. We'll leave it to the majors to discover the next Oasis," adds Picken. Scottish composer Craig Armstrong, who has worked with U2 and Madonna as well as scoring soundtrack music for Goldeneye and Romeo & Juliet, admits that he had no plans to put out solo material until he was approached by Melankolic. His album, The Space Between Us, out next month, closely follows the label's recent release of Come From Heaven, the debut album from Alpha.
"My music for Melankolic has a very filmic feel," says Armstrong. "It's an extension of the more abstract work I did with Massive Attack. The band likes my dark, romantic stuff. I recorded 30 tracks in total, then Marc and Massive chose the the ones they liked best." The first act outside Massive Attack's immediate orbit to be signed to Melankolic is Lewis Parker. "The band had hip hop in their music but, before me, not on the label," says Parker. "I see that as the connection. Also, my hip hop is quite vibey and easy-going, which fits with the Massive philosophy." Parker is scheduled to release a series of mini albums over the next 12 months.
"Over the past two years, I have recorded 40 tracks which were meant to come out as a concept album," he says. "Virgin didn't like that idea. They want to see how the first few tunes do before putting out all the material." Melankolic's future plans also include a move into film soundtracks (possibly for Armstrong's second solo album) and the release next year of at least two compilation albums (working title, Legends Of The Sound System) which trace Massive Attack's Eighties influences. Picken also hopes to establish an artist development arm of the label. "Our present deal with Virgin does not enable us to offer new artists development money," he says.
"That is an advantage that the majors have over us and something we are looking into." Alongside their experience and reputation, Massive Attack can now also offer Melankolic acts studio time in Bristol. The band have finally completed building their own studio, where they recently recorded and produced their third album, due out in January. Massive's own material will continue to come out on Virgin. "We felt it would be a bit patronising to the acts on the label to be in Massive's shadow," says Picken. "There is a link to the band, but these are very much the artists' own projects." Massive maintaining a distance may well prove a wise move. One overseas distributor has already requested that the label supply a signed photo of the band for every Melankolic album sold. Not too cool at all.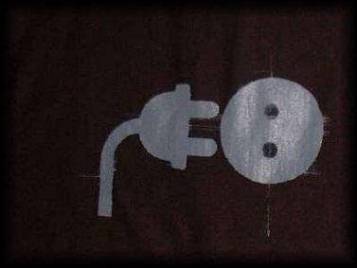 Horace Andy - Skylarking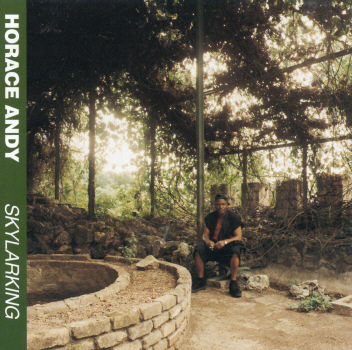 CD released by Virgin Records, 20th September 1996 (CDSAD1)
LP released by Virgin Records, 20th September 1996 (SADLP1)
CD digipack released by Virgin Records, 20th September 1996 (DGSAD1)

1. Spying Glass
2. Natty Dread A Weh She Want
3. Rock To Sleep
4. One Love (with Massive Attack)
5. Don't Let Problems Get You Down
6. Fever
7. Children of Israel
8. Money Money
9. Girl I Love You
10. Elementary
11. Every Tongue Shall Tell
12. Skylarking
13. Do You Love My Music
14. Spying Glass (with Massive Attack)
Alpha - Come From Heaven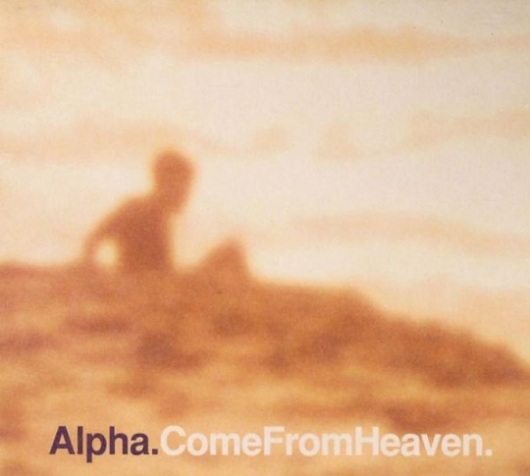 CD released by Virgin Records, 15th September 1997 (CDSAD2)
LP released by Virgin Records, 15th September 1997 (SADLP2)
TAPE released by Virgin Records, 15th September 1997 (SADMC2)
1. My Things
2. Rain
3. sSometime Later
4. Delaney
5. Hazeldub
6. Slim
7. Come From Heaven
8. Back
9. Nyquil
10. Apple Orange
11. With
12. Firefly
13. Somewhere Not Here
Craig Armstrong - The Space Between Us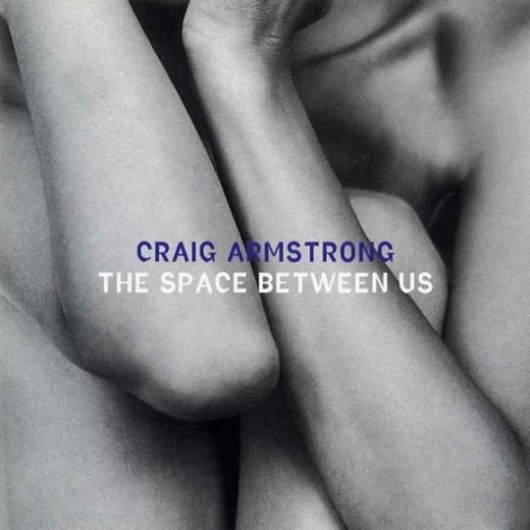 CD released by Virgin Records, 2nd February 1998 (CDSAD3)
TAPE released by Virgin Records, 2nd February 1998 (SADMC3)
MINIDISC released by Virgin Records, 2nd February 1998 (MDSAD3)
1. Weather Storm '98
2. This Love (with Liz Frazer)
3. Sly II
4. After The Storm
5. Laura's Theme
6. My Father
7. Balcony Scene (Romeo and Juliet)
8. Rise
9. Glasgow
10. Let's Go Out Tonight (with Paul Buchanan out of the Blue Nile)
11. Childhood
12. Hymn
Lewis Parker - Masquerades & Silhouettes (The Ancients Series One)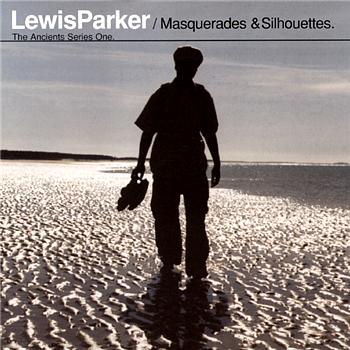 CD released by Virgin Records, 28th July 1998 (CDSAD4)
1. Theme From "The Ancients"
2. Shadows Of Autumn (Dirty Version)
3. A Thousand Fragments
4. Fake Charades (Dirty Version)
5. Crusades
6. Song Of The Desert
7. Eyes Of Dreams
8. 101 Pianos (I've Put Out The Lights)
Melankolic Sampler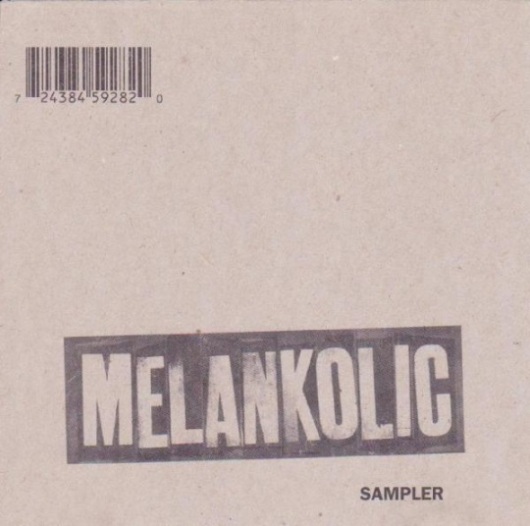 CD released by Virgin Records, 1998 (CDSAD5)
1. Craig Armstrong - Weather Storm
2. Alpha - Rain
3. Horace Andy - Skylarking
4. Lewis Parker - 101 Piano's
5. Craig Armstrong - Io Canto
6. Horace Andy - My Lord
7. Alpha - Over
8. Lewis Parker - Shadows Of Autumn (Acappella Version)
Alpha - Pepper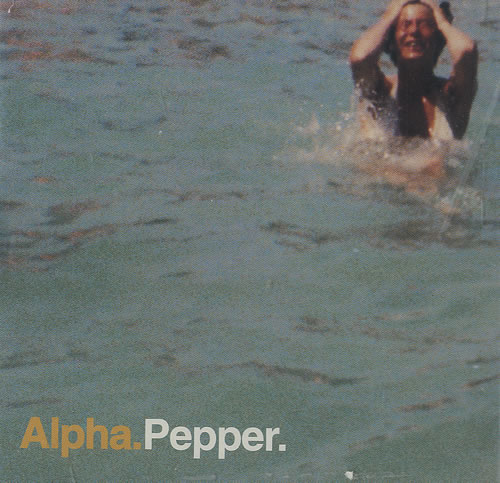 CD released by Virgin Records, 21st September 1998 (CDSAD6)
CD Digipack released by Virgin Records, 21st September 1998 (DGSAD6)
LP released by Virgin Records, 21st September 1998 (SADLP6)
1. With (Underdog Remix)
2. Hazeldub (More Rockers Peace And Love Mix)
3. Honey
4. Sometime Later (Tim Simenon Mix)
5. Slim (Underdog Remix)
6. Firefly (Receiver Mix)
7. Pepper (1995)
8. Over
Craig Armstrong - Plunkett & Macleane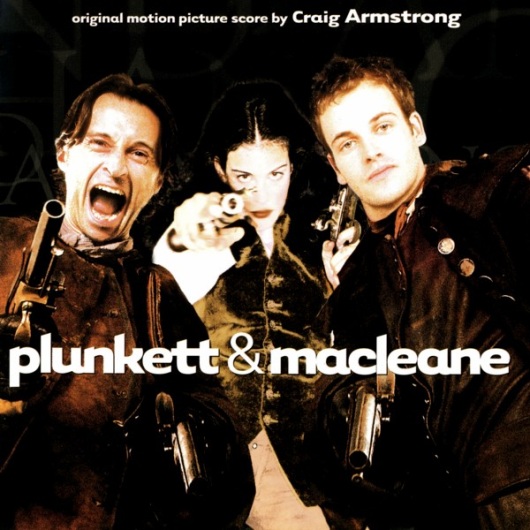 CD released by Virgin Records, 29th March 1999 (CDSAD7)
1. Hymn
2. Unseen
3. Ruby
4. Rebecca
5. Rochester
6. Robbery
7. Ball
8.Chance
9. Business
10.Chances Men
11. Revelations
12. Trouble
13. Duel
14. Love Declared
15. Disaster
16. Hanging
17. Escape
18. Resolutions
19. Houses In Motion
20. Childhood
Day One - Ordinary Man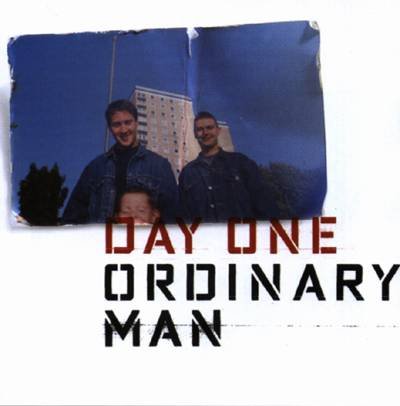 CD released by Virgin Records, 1999 (CDSAD8)
1. Waiting For A Break
2. Bedroom Dancing
3. Walk Now, Talk Now
4. In Your Life
5. Trying Too Hard
6. I'm Doing Fine
7. Autumn Rain
8. Truly Madly Deeply
9. Love On The Dole
10. Paradise Lost
11. Ordinary Man
Horace Andy - Living In The Flood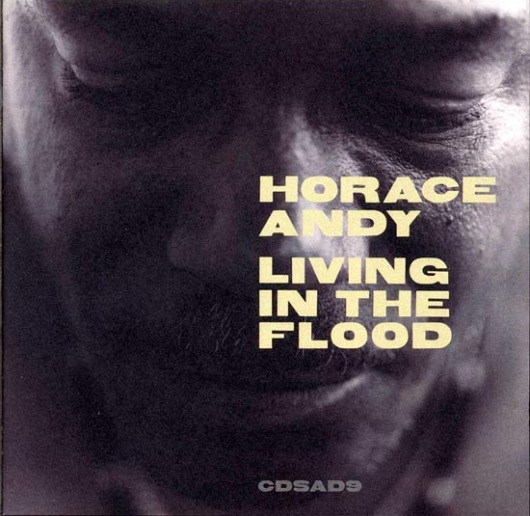 CD released by Virgin Records, 20th September 1999 (CDSAD9)
CD Digipack released by Virgin Records, 20th September 1999 (DGSAD9)
LP released by Virgin Records, 20th September 1999 (SADLP9)
1. After All
2. Smiling Face
3. Juggling
4. My Lord
5. Seven Seals
6. Johnny Too Bad
7. Doldrums
8. Right Time
9. True Love
10. Living In The Flood
11. Girl Of My Dreams
12. Some People
13. Don't Blame The Children
Sunna - One Minute Science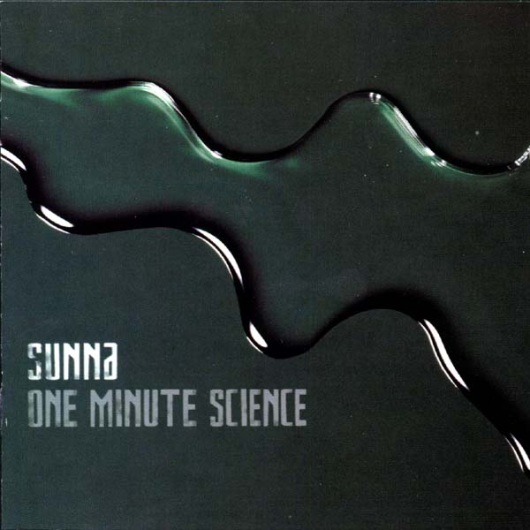 CD released by Virgin Records, 6th November 2000 (CDSAD11)
1.I'm Not Trading
2.Preoccupation
3.Power Struggle
4.I Miss
5.Insanity Pulse
6.Too Much
7.OD
8.Forlorn
9.Grape
10.One Conditioning
11.7%
Alpha - The Impossible Thrill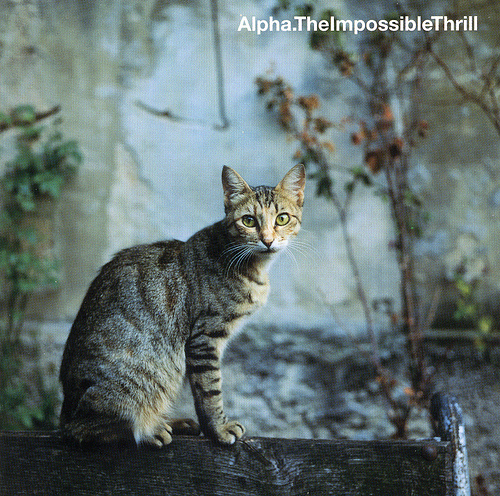 CD released by Virgin Records, 19th March 2001 (CDSAD12)
LP released by Virgin Records, 19th March 2001 (SADLP12)
1. Still
2. Eon
3. Dim
4. South
5. Almost There
6. Wise
7. Especial
8. Wishes
9. Clear Sky
10. Al Sation
11. Fort
Craig Armstrong - As If To Nothing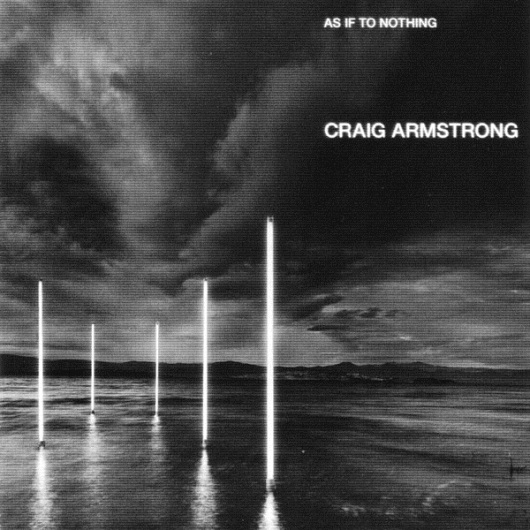 CD released by Virgin Records, 15th April 2002 (CDSAD13)
1. Ruthless Gravity
2. Wake Up In New York (feat Evan Dando)
3. Miracle (feat Mogwai)
4. Amber
5. Finding Beauty
6. Waltz (feat Antye Greie-Fuchs)
7. Inhaler
8. Hymn 2 (feat Photek)
9. Snow (feat David McAlmont)
10. Starless II (feat King Crimson 1974)
11. Stay (Faraway, So Close!) (feat Bono)
12. Niente
13. Sea Song (feat Wendy Stubbs)
14. Let It Be Love (feat Steven Lindsay)
15. Choral Ending
Lewis Parker - It's All Happening Now (The Ancients Series Three)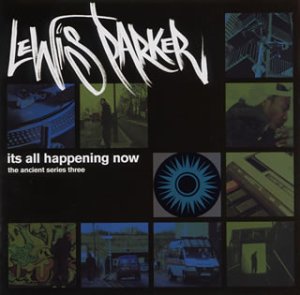 CD released by Virgin Records, 2002 (CDSAD14)
LP released by Virgin Records, 2002 (SADLP14)
1. Intro To The Sky
2. Incognito
3. City Expanse
4. Communications
5. Golden Sound
6. Beat
7. What The Ancients Say (Version 2)
8. Pow
9. Movement & Rhythm
10. Kidsoul
11. Mums The Word
12. Sunny Dedications
13. Anticipation
14. Ice & Fire
15. It's All Happening Now
16. Figments From The Sky
17. Cold Sun (Dirty City Version)
18. Spy
19. Seasons Of Espionage / Corruption
20. The Chase Pt.1
21. Espionage
22. At Large With A-Cyde
23. No Escape
Massive Attack & Mos Def - I Against I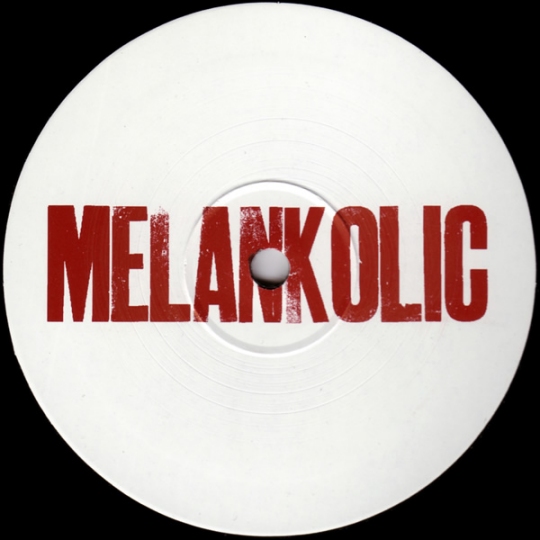 Melankolic 12" promo, 2002 (SADTDJ 15)
1. I Against I
2. I Against I (Instrumental)
Limited to 300 copies worldwide, of which 100 where reserved for the UK market.
For more detailed discography details please refer to www.inflightdata.com/melankolic.html and/or httwww.discogs.com/label/Melankolic.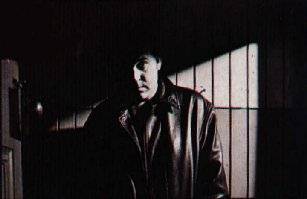 Craig Armstrong
studied at the Royal Academy of Music in London and later at the Scottish Arts Council. During this time he won several awards for composition and musicianship including the GLAA award for Young Jazz Musician of the year. Since then he has enjoyed success working in films, television, theater and commercial music. His credits include award-winning scores for films by Peter Mullen, commissions from the Royal Shakespeare Company, Scottish Chamber Orchestra, the Tron Theatre, as well as from the BBC, STV and Channel 4. Armstrong was a member of the bands Hipsway, The Big Dish and Kindness of Strangers, Blue Nile and he was a founding member of the group Texas.
He makes contemporary orchestral music full of subtle beats and stirring strings from the man who scored Massive Attack's Protection album, Madonna's Ray Of Light and the Romeo & Juliet Soundtrack.
Armstrong's songwriting credits include "I Don't Want A Lover," with Texas; "Satellites," with The Big Dish; and "Weather Storm" and "Sly," with Massive Attack. His distinctive orchestral work can be heard on various recordings by Madonna, U2, Passengers, The Future Sound of London, Tina Turner, and Suede. He also composed and conducted the strings on the title music for the films "Goldeneye," "Batman Forever" and "Mission: Impossible."
In 1998 he participated in the War Child concert in Modena, where he worked with Pavarotti, U2 & Brian Eno (Passengers) and the Torino Symphony Orchestra.
aficionados: Craig Armstrong High Life August 2002
THE POP-MINDED, OSCAR-WINNING FILM SCORE COMPOSER (FOR MOULIN ROUGE) NOMINATES HIS FAVOURITE MUSIC SHOPS Interview by Paul Clements.

MISSING I GLASGOW
It feels more a boutique than the average grungy second-hand record shop that stocks a lot of old and obscure vinyl. Do they know me in there? Possibly I'm in there quite a bit
9-11 Wellington Street, Glasgow. Tel: +44 (0)141 2481661

ECHO I GLASGOW
One for me, because it does a lot of old jazz and I'm a West Coast jazz fan. As well as the work I do with Massive Attack, I do a lot of soul tracks, and come here for background. But I often go in not knowing exactly what I want, or whether I'm going to come out with dance music or Debussy
305 Byres Road, Glasgow. Tel: +44 (0)141 339 2996

TOWER RECORDS I LONDON
The megastore in Piccadilly Circus is one of the leading record shops of the world. I go there mostly for the avant-garde classical department, which has a range I really haven't found anywhere much else. I've bought CDs in there I've been looking for 20 or so years. But it's good on jazz, too.
1 Piccadilly Circus, London W1. Tel: +44 (0)20 7439 2500

COLLETTE I PARIS
A place I go for film soundtracks. It only ever has five albums on sale - it's one of those shops that only sells the best of everything: the best chair, the best watch, the best whatever. They change the Five CDs they sell every week, so it could be new releases or just favourites of the assistants. I always buy all five - which, being a musician, isn't an abnormal amount for an evening's listening.
213 rue Saint-Honore, Paris, France. Tel: +331 55 35 33 90

TONY BINGHAM I LONDQN
There are a few record shops amid the second-hand bookshops near Air Studios in Hampstead, where I record. But a shop I go into a lot is Tony Bingham, which stocks old musical instruments. They search out obscure things for museums and have their own great collection of ondiolines, the first electronic instrument. For me it's a bit like a kid's sweetie shop.
11 Pond Street. London NW3. Tel: +44 (0)20 7794 1596

EBAY.COM I INTERNET
Another thing I do quite a lot is I get records and instruments from the auction website. I've also used it to buy a couple of drum machines, a Wurlitzer piano and a VCS3 synth. I've been trying to buy a Dan Martin electric sitar for ages, but no one wants to sell one. It was used on early Steely Dan tracks, but you can play it like a guitar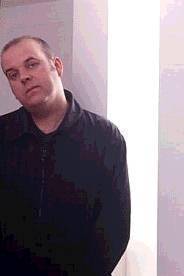 Q & A from Madonna to Plunkett & Macleane and beyond
How do you go about writing a soundtrack?
You normally get a script and then you see rushes of the film. Eventually you get a rough cut and that's really when you start writing seriously. I basically go through and make notes as to where I think there could be music. It;s quite a pressurised environment: Plunkett & Macleane was done in just two months.
What's next?
The new Al Pacino film, which hasn't got a title yet. The Americans are incredibly security-conscious: I couldn't even get the tapes until I'd signed the contract! When you're doing a British film like Plunkett & Macleane, no one cares, it's very relaxed.
And another solo album?
Yes. I'm going to try and work with some European musicians - Photek and Dimitri from Paris for example.
Are you in danger of overworking?
Compared to the Americans. we're positively taking it easy! I've heard of some American composers who do six or seven movies a year. Doing two isn't really a lot.
You've worked with Madonna on several occasions.
I'm a bit of a Madonna fan. I'd done a few things for her, like Take A Bow, and then did the arrangement for Frozen. All of a sudden, everyone's saying it's a great arrangement...but it seems so long ago.
What about Massive Attack?
I'll tell you a story about Massive Attack. When I started doing interviews, Daddy G gave me advice. He said, "Be polite, talk about things you find interesting." But then they were being interviewed in the room next door and all I could hear was "I'm not answering that fucking question."


All Back To Mine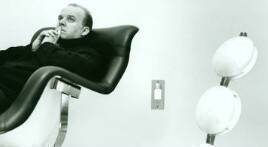 Photek : Modus Operandi

Moondog: Stamping Ground
One of the first musicians to combine contemporary music with classicism.

Stockhausen: Trans
An early pioneer of electronic music. Every electronic musician is indebted to him.

Laub: Augenscheinlich

Ravel: Piano Concerto in G Major
Carried on Mozart's tradition of very simple melodic lines creating an amazing sound of purity.

Leon Russell: Carney

Massive Attack : Protection

Janacek: Intimate Pages

King Crimson: Red
As a teenager I was a King Crimson fan. The track Starless has an outstandingly beautiful melody and I have always wanted to collaborate with him.

Joni Mitchell: Blue

Mozart: The Dissonant Quartet (String Quartet in C Minor)

Berg: Violin Concerto (Dem Andenken eines Engels)

Steve Reich: Music for 18 Musicians
The first time I heard this was in a car and it was an amazing experience to hear such a different approach to modern classical music away from intellectualism and the Viennese avant garde, but with the same musical complexity.

Morton Feldman: Rothko Chapel

Chic: I Want Your Love
I defy anybody not to feel happy after listening to this music. Play regularly if feeling a bit down....

Marvin Gaye: What's Going On

Stevie Wonder: Music Of My Mind
One of the great albums of all time. He plays all the instruments himself making this one of the most complete albums, emotionally.

Cornelius Cardew: Treatise
He was a professor at the Royal Academy of Music and briefly taught me before his death.

Ennio Morricone: Cinema Paradiso

Scores to settle
He spent his youth tinkling the ivories in a cocktail bar and slogging away in dead-end pop bands. Now composer Craig Armstrong hears his work at the Barbican and hires Bono to do his vocals.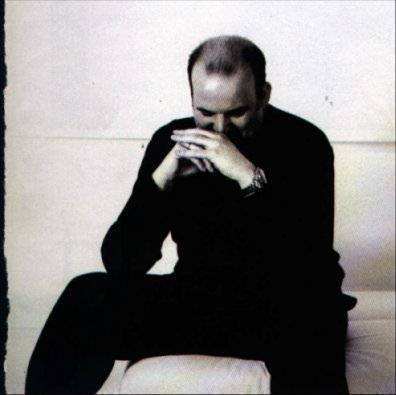 As interruptions go, it's forgivable. The man in the swanky Mayfair members club wants to fill Craig Armstrong's gin decanter. Five minutes later, he's back with a rattling tray of bone china. Armstrong, a gentle Glaswegian bear of a man, pours. On either side of his chair are three shopping bags - stuff for his five- week-old daughter. 'A Leo Blair scenario,' beams the surprised parent. 'The next youngest is nine.'
Unlike most composers, Armstrong hasn't had to wait until his own death before the world agrees he was all right really. And unlike almost all composers, the 43-year-old doesn't even have to choose between high-concept, poor-selling critical kudos or the more lucrative approval of the pop fraternity. He's the first person Baz Luhrmann turns to when he's looking for someone to score his films - yet last year (the Barbican invited him to put together an experimental performance basedaround an eight-bar loop of Mahler's Fifth Symphony. When asked to identify a down-side to his job, Armstrong explains that some-times he gets a little lonely in the studio. Which is why, on his first 'proper' album The Space Between Us', he enlisted Liz Fraser from The Cocteau Twins and The Blue Nile's Paul Buchanan to sing vocals. On his new one, "As If To Nothing', Armstrong has drafted in the likes of Bono and Evan Dando.
If Armstrong feels untroubled by the comforts of his current lifestyle, perhaps that's because he survived for an inconveniently long time without them. Between 1977 and 1981, the young pianist moved from Glasgow to study composition at the Royal Academy of Music, his head 'ready to be filled with big ideas'. Like Dorothy on her final day in Oz, he got almost too much of what he was after. One of his lecturers was English composer and Stockhausen prodigy Cornelius Cardew, who suggested that his students reject all formal ways of working. "At the age of 18, when you're looking for systems and certainty, this was just a little over-whelming.'
The youngster allowed his formal teaching to 'incubate' inside him, while getting on with more pressing business. Desperate to supplement his paltry grant, Armstrong got a job as a pianist in a Covent Garden cocktail bar. He played while people talked. As the evenings wore on, punters would make requests: The choices would get more interesting the drunker people got. There'd be people looking to apologise to their girlfriends, stuff like that. By midnight, though, you were always in Sinatraland.'
Armstrong's twenties were directionless, the kind of twenties many graduates experience before cutting their losses and deciding to become teachers. Had his hometown not been enjoying a purple patch as the epicentre of '80s pop, a similar fate may have awaited him. 'Suddenly I knew loads of people in bands, and they all wanted a keyboard player.' Remember 501-clad, white-funk makeweights Hipsway? Armstrong was in them for a while, but don't raid your old Smash Hits cupboard just yet: 'I wasn't in any of the pictures, because they'd already signed the contract.'
Not even Top Of The Pops'?
'Sadly, no. It wasn't a very glamorous life. I remember playing in Milan in front of ten people. It was hard work.' Remember mildly successful lit-poppers The Big Dish, who... um, appeared on 'Wogan' once? He was in them too! That was really good, but their singer Steven Lindsay wrote all the songs, and when I told him 1 also wanted to compose, he said he was uncomfortable co-writing with other people.'
This rather calls to mind the infamous time a young James Dyson contacted Hoover and asked them if they'd like to help him develop a bagless vacuum cleaner. Lindsay, who actually does a turn on Armstrong's new album, is now a graphic designer. Remember early-'90s American rockers The Kindness Of Strangers? Of course you don't. Even Armstrong appears to have forgotten them during our chat, but he was briefly in them too. Dark days, but when the band's producer Nellee Hooper ran out of money to finish a string arrangement and Armstrong offered to lend a hand, Hooper remembered the favour. A year later, when the producer embarked on a solo album with the lead singer of an Icelandic indie band, he took Armstrong with him. The result? Bjork's 'Debut'. Co-writes on Massive Attack's "Protection' followed, then a solo deal on the Bristol trio's Melankolic label. The rest is almost guessable. Given Madonna's well documented affection for Massive Attack, it was only a matter of time before she phoned. 'She eats a lot of sushi,' observes Armstrong, who did the arrangements on 'Frozen'.
Beyond the fact that he's a bit of a boffin yet looks like he came to fix the fridge, what is it about Armstrong that so draws other artists to him? Baz Luhrmann's refusal to acknowledge a distinction between high and low art is certainly echoed in Armstrong's own approach. There's little to separate a stark, nocturnal version of U2's 'Stay' on the one hand from, on the other, 'Miracle', which divines a hitherto hidden capacity for incandescence from Scottish squall-merchants Mogwai. What becomes obvious, though, is that all the 'big ideas' which intimidated the young student have gradually found their place inside the man. Indeed, the most affect- ing song is also the one of which his old lec- turer would have approved. It features Andre Greie-Fuchs of Berlin experimentalists Laub. Armstrong suggested she intone the com- puter code of the loop she was playing, inter- spersing it once in a while with the words 'I miss you'. What emerges sounds something like a computer having a nervous breakdown. 'She just turned up to my studio with a laptop. She opened it up and started playing. It really felt like she'd been beamed in from the future.' Armstrong's wilderness years may not have made much sense to him at the time, but it's hard to imagine his music sounding quite so beautiful without them. 'I do feel sorry for some young bands,' he says, 'because when you're in you're early twenties, you don't really know anything. And yet there's this pressure to seem worldly. Or at least to have some sense of a masterplan. You can never say, "I'm just winging it and I'm petrified that everyone will think I'm an imposter".' But it would be so cool if a band did just that! 'Well exactly. But you only realise that 20 years later. By which time...'
Modesty forbids him from finishing that sentence. But his record, as it were, speaks for itself.
MR.POPULAR
Craig Armstrong discusses some of his impressive list of collaborators.

EVAN DANDO 'The record company were absolutely baffled when they heard I was flying him out to do the vocals on 'Wake Up In New York'. It's as though the fact that he had hits in the early '90s makes him damaged goods. But he's got one of my favourite voices in the world. To hear someone like that singing-it's better than any instrument you can buy in a shop. It's just amazing.'

MADONNA "With someone like her, you think. "Oh will she be in the studio?" But actually, she's there all the time-from morning to morning. She doesn't get enough credit in my book for being a great songwriter. I've got a lot of respect for her. I mean, how many albums has she done? And the quality control is always prettygood. What's my favourite? Well, it has to be the "Ray Of Light" album. I worked on "Frozen". I put a lot of work into that and I think it came out really well. She's doing a new album at the moment. I asked her what it was like. What did she say? She said it's good! Hahahaha!

MCALMONT 'He's a really good example of how you can get in touch with someone expecting one thing. Then they arrive and proceed to blow your mind in a completely different way. When I thought of getting him into the studio, it was his flamboyancy that appealed to me. I had a song called 'Snow' which I imagined as a real Scott Walkertype number. But then became here and did a really dark interpretation of the song. Instead of having this triumphal sense of despair, I ended up with something a lot more chilling.'

Interview Peter Paphides
Photograph Barry J Holmes
TIME OUT LONDON I April 3 -10 2002

ONLY CONNECT

LINKS


Lewis Parker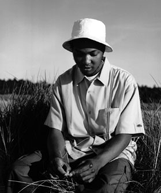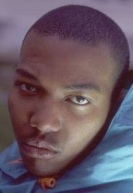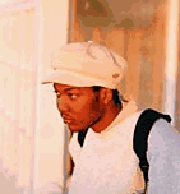 According to "Blues & Soul" young rapper Lewis Parker is already a "hip-hop legend". 'My music is just about being elevated' says Lewis, 'sort of walking in the sky, a title I gave to a song I once wrote'. Not for Lewis the streets of Compton or The Bronx, Masquerades & Silhouettes is a blend of rough beats and cuts, with
lyrics that show that he has real talent to become a British rap artist of real significance.
There's something cinematic about Lewis Parkers hip-hop. Like a warped Disney or a beats-driven Mercury Rev. If you havent heard English Hip-Hop before this is probably the best place to start. Up there with Roots Manuva and New Flesh as the standard-bearers and innovators of UK Hip-Hop. He creates a surreal symphony of ethereal flows, orchestral samples, fresh beats and sabre-sharp rhymes.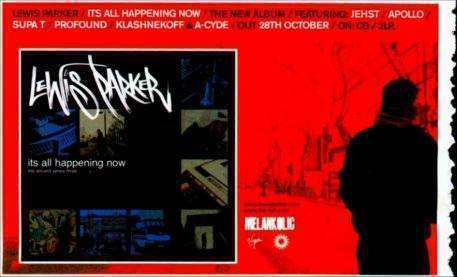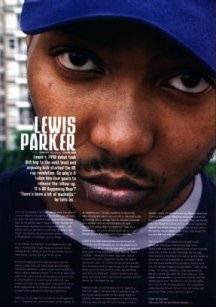 Lewis's 1998 debut took Brit-hop to the next level and arguably kick-started the UK rap revolution. So why's it taken him four years to release the follow-up, 'It's All Happening Now'? "There's been a lot of madness," he tells us...
Don't call it a comeback, he's been here for years. Lewis Parker wants to make this very clear to all the doubters and detractors out there. Yet we're compelled to ask: what the hell's he been doing for the last four years? "Quite a lot ma, man. Touring with Massive Attack, building my own studio from scratch...still putting tracks out, just not on a wider level. Working on this record...and dealing with all kinds of shit going wrong." Life on Planet Parker, it would seem, ain't no holiday.
On the contrary, the making of 'It's All Happening Now' has been a long hard slog through money troubles and record company bullshit. Hardly the stuff of b-boy dreams: here on Planet Parker, however, it's all par for the course.
For the uninitiated, Lewis first made his mark on the then nascent London scene with 'Masquerades and Silhouettes: The Ancients Series One', a self produced, seven track EP for Massive Attack's Melankolic imprint. The Record, all dark drums, street corner poetics and noir-ish sensibilities marked him out as a true maverick in a world of hip hop clichés and wack gangsta-isms. Following a brief sojourn to the US of A with his Bristol-based brethen he returned to London and promptly retreated further underground, seemingly a spent force.
Thankfully, we misjudged him. His new LP 'It's All Happening Now!' ("Everything you wanna think about, all the madness, it's all happening now," he says, explaining the album title) takes his original blueprint and runs with it - the mood is still as defiant as before, perhaps more so, but there's a sunnier, more positive world view complementing the dark metropolitan drama. Was this intentional? "Yeah, it's a summer thing, this record. It's got a Latin flex to it...but towards the end of it, it gets darker. Pure espionage."
Indeed, it's an often claustrophobic journey through his mind's eye view of a decaying city: hip hop dipped long in brown acid and left out with the trash. And it's not short of a guest rapper or two: Klashnekoff, Jehst, Ricochet, Supa T and Blade - comprades and peers, ever one - pop up throughout the album. Couple their city delerious tales of metropolitan angst with mournful strings and soul samples and a foreboding sense of chaos and you've got a decidedly British spin on the early WU/RZA schtick. Not that Parker cares for such comparisons. "Anyone that knows my shit knows I ain't trying to be no Wu Tang. It's just that it (the LP) sounds raw. Like proper hip hop."
Talking to Parker, it's immediately clear how cagey he is. That's not 'cagey' in the sense that he's got little to say: it's born from a natural cynicism for the industry and all it's trappings. He keeps his cards close to his chest and gives little away about the man behind the mystic. A shrewd operator, alright, it's not hard to see why Massive Attack took a shine to him early on. Parker has nothing but love for the Bristol bunch that gave him his big break. "They were the only ones that helped me sort my shot out. When we were on tour together they helped me learn how to deal with your game in the industry, how to handle certain things. They brought me to a level that 'nuff cats ain't seeing."
Part of his allure is his almost spiritual belief in jedi philosophy. Picked up on by the press back in the 'Masquerade' days and translated by them as little more than a Star Wars fixation, this ain't, and never was, the case Parker believes in the theory of the Jedi as a spiritual soldier, a dying breed of what he describes as 'luminescent beings'. This may sound like the stuff off jazz-fag philosophy but to him, this has deep metaphorical connotations. " Jedis are like b-boys," he casually informs us. "They represented the Republic, the old way, before the Empire took over. That's exactly what happened to hop hop in the Eighties when the industry got involved." So nothing to do with light sabres then? "No. Not for me, it's a bout elevation, the luminescence inside, travelling through the inner mind and finding out what you can be. That's what me Jedi shit is about."
Forget the fairy-tales...
Take a trip with the real Phantom Menace.
Knowledge September 2002
words: Jason Riley photography: Cleveland Aaron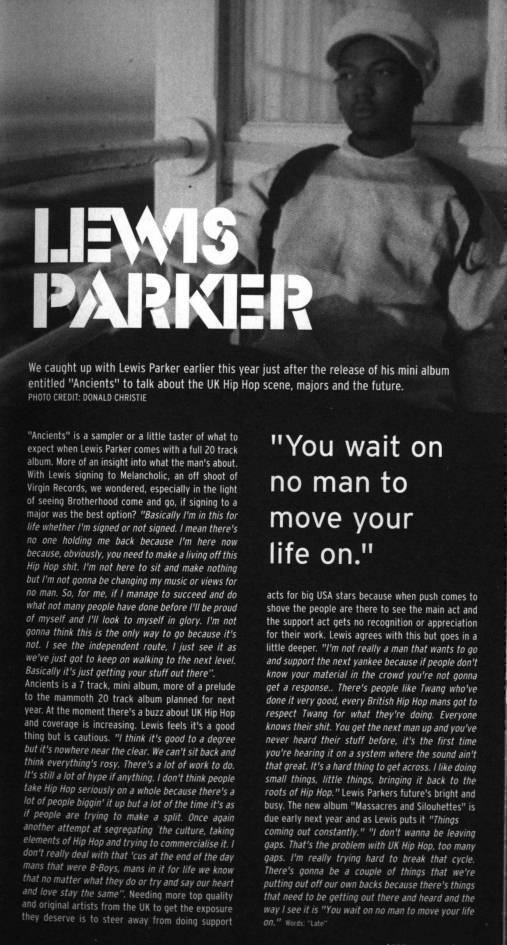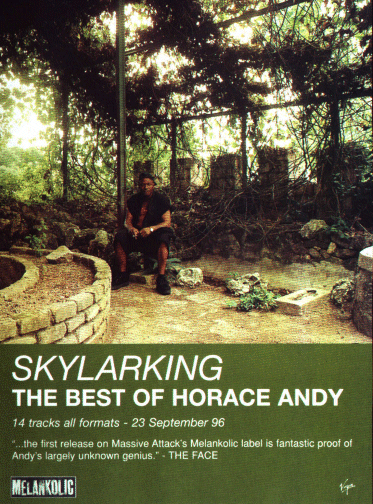 Horace Andy is Mr Good Vibes.

As a featured vocalist with Massive Attack, affectionately known by fans as "Sleepy", he has won a whole new audience over to his intimate, smoky way with a song - tunes like Light My Fire and Spying Glass are highlights of Massive's live set. Horace's legendary status in reggae is already assured mind, as he has recorded a lot of tunes for the world famous Studio One. He is surely the possessor of one of Jamaica's most distinctive voices and a Reggae Superstar.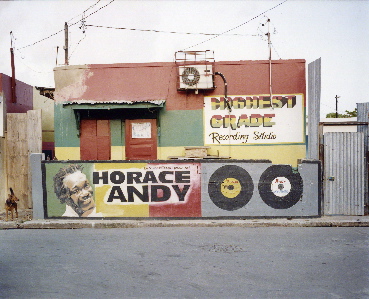 Horace Andy, real name Horace Hinds, was born on 19th February 1951 in Kingston, Jamaica. Some twenty years later he was taking his first tentative steps in the fast-moving, hard-hustling Kingston music business, when he recorded for George "Phil" Pratt. Soon after he found himself at Studio One on Brentford Road. Two albums and
thunderous singles galore - among them the classic "Skylarking" - he left Studio One. Horace, a studio regular during '72-'76, worked for all the leading producers. Among those who worked with him were Keith Hudson, Augustus Pablo and Winston "Niney the Observer" Holness, but the producer he returned to time and again in the mid-'70s was Bunny "Striker" Lee. In the '80s Horace travelled extensively , recording in London, New York and back in Kingston. Finally a wider stardom arrived in the '90s thanks to the intervention of Massive Attack who brought Horace to a new generation of roots ravers.

A Cultural Singer

Virtually from the beginning of his career in the early 1970s, Horace Andy has cut a fair share of tunes on social conditions. His Studio One oeuvre had included, alongside strong love songs like 'Fever' and Al Wilson soul hit 'Show and Tell', self-penned 'reality' titles such as 'Illiteracy', 'Every Tongue Shall Tell', 'Help The Children', 'Government Land', 'Conscious Dreadlocks', and 'Skylarking', about the unemployed youth who waste their time idling on the street. After Brentford Road, Andy's unique falsetto voice only ever needed placing in the right setting, and this was provided by numerous producers, most notably Bunny Lee, Leonard 'Santic' Chin, Keith Hudson, Derrick Harriott and Winston 'Niney' Holness in Jamaica, and the Bullwackie and Hungry Town setups based in New York.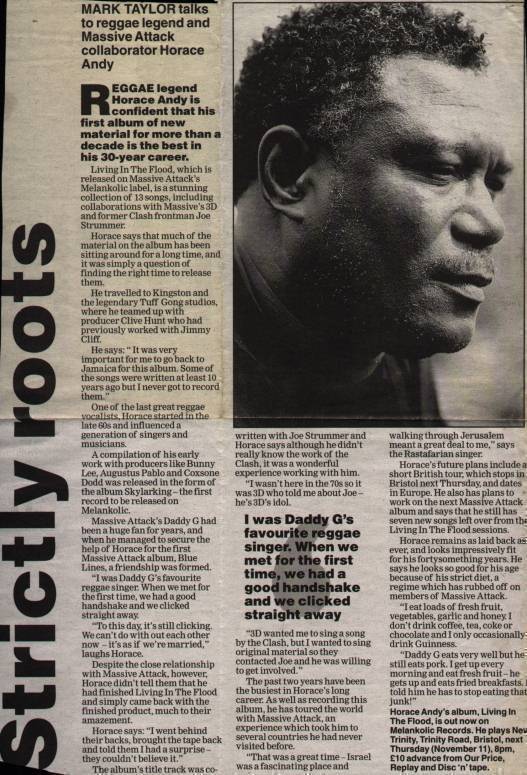 60
SECOND
INTERVIEW



• Jamaican singer Horace Andy, 51, is a reggae legend, Joining the world-famous Studio One in 1970 and sealing his stardom with 1972's Skylarking. But those who haven't heard Andy's original songs will recognise his distinctive quavering voice from a collaboration with Massive Attack that has lasted through all three of the group's albums from Blue Lines - Hymn Of The Big Wheel and One Love - to a reworking of one of Andy's own tunes, Spy Glass, on Protection.
Horace Andy
• Your new album's called Mek It Burn. What's that about, then?
It's purely about smoking the herb. Nothing bad, really. It's not about drugs, it's just the music.
• You did an album of Bob Marley songs. What was it like singing his stuff?
It was great. We love and respect Marley - he's the king.
• Your new album has some covers, too..
Yeah, I loved doing Night Nurse: I love that song. There's also a ska tune which I didn't want to do as I thought I didn't know how. Reggae's what I know. I grew up singing reggae music.
• Did you always know you wanted to be a singer?
Well, when I was a kid in Kingston, we used to sing in this park every day and my friends always said I should make a career of it. But I never thought I'd be a singer; I wanted to play the guitar. Then this guy passed one day and heard me, and he took me to Phil Pratt, the producer. He taught me to sing. But it was years before I learned to do it properly. Even when I joined Studio One in 1970, I still couldn't sing. I had to go back to my Jah roots to learn how.
• So when do you feel you became a singer?
When I released Skylarking. The songs I'd felt I couldn't sing before then, I went back and sang them over again.
• After Studio One, you went to Connecticut...
Yes. But I didn't give up on my music. I couldn't have tried anything else - the only thing I know is music. If I'd tried to get another job, I'd have lost all of my musical ability. After a few years, I felt like it was time to move on, so I came to England.
• How did you get involved with Massive Attack?
I was waiting for a bus to Peckham one day and I met an old friend who said he knew this group who wanted singers. At that time, I didn't know It but I was one of Daddy G's favourite singers. So when they heard my name, they sent the track One Love.
• Did your singing change when you sang with them?
No, it stays the same - it's just different music. It was weird, with the different style, but I love listening to various styles - I love Chinese music.
• Have you ever tried singing Chinese music?
[Laughs] No.
• How important is spirituality to your music?
Very important. It's important that people are listening to that. Even in love songs, when I'm singing about the ladies, you can hear it - like in One Love.
• Which other musicians do you think are spiritual?
Miriam Makeba is great, a very spiritual singer. When I listen to her, I can draw inspiration for my own music. That's what music should be - written for the oppressed people of the world.
• Do you think music is a good way for political messages to be expressed?
Yes, I think so. But I'm not here to judge anyone. I just write and sing what I see.
• What was it like working with Joe Strummer on the song Living In The Flood?
He's a very down-to-earth guy. He'd chat to anyone and be the same to someone if they were standing at the bus stop or if they were famous.
• What do you think about the British reggae scene?
It's strange. I hear so much music by Jamaicans on the radio in London but the British guys making this music don't get any support - I never hear their music being played. It's quite sad.
• Do you think reggae's shaped by the weather?
[Laughs] Well, there's some rain in Jamaica but there's always reggae there. I think reggae makes good weather every time it's played, wherever you are. It just shines out.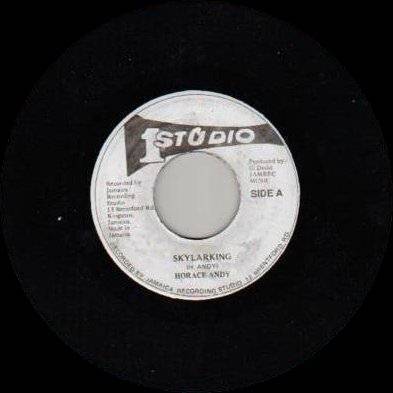 Horace Andy Hinds interviewed by Carter Van Pelt
20th March 2000
Horace, give thanks for the time today.

Yea mon!

This new album Living in The Flood, it feels like a lot of effort went into the album compared to what I hear [generally out of JA] these days.

We just went back in the studio. My idea was, 'I'm just gonna record like I was twenty-five years ago.' We could have done computer [programming], although a couple of the tracks we just overdubbed the live drums.

There are not any players of instrument credited on the release. Who are some of the studio musicians involved?

Clive [Hunt] didn't play anything on it. Some of the musicians are from 809 Band. Some of them are from Chalice. We have independent musicians, ones who you have to go for like Chinna [Smith]. You have to find Melchezideck. And the guy that played harmonica on about two songs. He's a small lickle Rastaman, but him bad mon! . . . I can't remember his name, but it's the first I see him. When Clive brought him to the studio, I don't remember seeing him before.

Was Val Douglas involved?

Who?

I thought Val Douglas was the 809 bass player?

Mmm, bwai I tell ya the truth, the guy that was playing the bass, I know I know him, through travelling so much, I didn't really ask who his name was, cause him see me and him say, 'Sleepy, whappen?!' like someone who know me.

Right. How long did all the tracks take to get together?

About six weeks.

That's longer than people tend to spend on a reggae album in these times.

I spend three years getting it together . . .

With the writing?

Yea. I was waiting on Massive Attack. Waiting on them to come up with the funds.

Who are some of the other writers?There's a [Ms. Jerry] Burns credited . . .

Right, [Ms. Jerry] Burns. She's a pop artist. She sent the lyrics to me. When she heard it, she couldn't believe I did it like that. She also sings it in a pop style.

It seems like a different subject matter for a Rastaman to approach?

You know the meaning of it?

I understand from the credit that it's about someone who's contemplating suicide. That's why I said it's a subject matter that I don't hear Rasta sing about very often, or ever . . .

That's a beautiful song man.

How would you rate this album in its importance to your career?

Number one man! I think this one is my best so far.

Over the years, in the 90s . . .the bio that your label sent out says you haven't done an album in ten years, but I've gotten these Mad Professor albums. You've recorded through the 90s right?

Well, that wasn't original songs. That's what we mean. I sit down with my original songs [this time], and I start from scratch. Those were rhythms [with Mad Professor]. After I did it, I realized Macka B, every other artist was singing on the same one. You can't have ten lp with the same rhythms.

That's become the norm in Jamaica for economic reasons.

You have ten albums, ten different singers and them singing on the same rhythms. That's really . . . I think [lack of] originality.

But it's also part of the process . . . even if you go back 25 years, rhythms were still recycled then. And sometimes there's a process . . . I mean I don't want to defend that process but sometimes, even with some of the great Bunny Lee rhythms you did, you might find a Barry Brown on the same rhythm that would be wicked too.

That's what Bunny Lee them do still. Other artists might say, 'can I sing on that rhythm?' But I love to create my own.

People outside of the Jamaican circle will appreciate that more.

Can you also comment on the colaberative process of having a group of musicians working on a production versus what's developed with computer, cause one person can create an album with a drum machine and computer.

One person can. I can, I have done it. But I don't want to go on that street. I want to stay the original way. Though I've done it myself. Right now I have a brand new Akai MPC2000XL. So you know what I'm thinking.

But you can probably use that for composition.

But the sound that you put inside of it, through what I'm hearing, it's really really, it sounds so live.

It's an unusual thing anymore to hear someone playing the drums on a reggae album. It's refreshing.

Yes. And Clive, he didn't protest. He went ahead with everything I said.

Clive's brought some fresh stuff forward. I don't know if you heard the album he just put out with Culture.

I heard some of the tracks. I was there. I stopped my work during the day, two, three days, just to get Cutlure them things going. I wouldn't voice in the morning. I would go in at like five o'clock when they finished and Foundation was there also. He done some tracks with Foundation. It's gonna be wicked when you hear it.

Clive's history overlaps with Bullwackies when you were there too. Other than that, had you had a production history with him?

No. We've been wanting to do this long time ago, but it just happened.

My perception is that he hadn't been doing much music production before the last couple years. And he started to get back into it more.

He was doing it more. Have you heard about PierPolJack? And he did Alpha Blondy. He do Jimmy Cliff.

It seems like he's kicked it up into high gear a little bit more recently though. But he seems also committed to, by bringing Horsemouth in, to having a live production sound again.

Clive is brilliant man. We call him music.

His work on the Abyssinians was one of the best sessions ever.

Brilliant, yea.

The working title of the album was Seven Seals.

Yes, the reasons why we changed was that Anthony B brought out Seven Seals. So I say let's go with Living In The Flood.

That's another one of my favorite tracks.

3D from Massive, he grew up with Joe Strummer. Joe Strummer is his idol. I didn't know about Joe Strummer. I was still in Jamaica or America [when the Clash was popular]. They brought a Clash song to me. One of the Clash songs, he was singing about the Vietnam War. That's the first time I heard that song. It was so-so, in between on the balance. I liked it to an extent, but I really didn't want to do over a song. So they scrapped it. My management contacted Joe and say if Joe would do a collaberation with me. And Joe was really happy. That's how "Living In The Flood" came about. He sent the rhythm and the lyrics.

It's interesting how these things come full circle with Massive Attack. I never really understood why the punk movement embraced reggae so much, but still to this day, it's still to the benefit [of reggae] to this day. That cross pollenization is still being seen because of your work with Massive Attack. And have you seen that Half Pint is working with this group, the Long Beach Dub Allstars?

No?

In the same fashion that you work with Massive Attack, he's on the road with this reggae/punk group from California. And it's revitalized his career.

That's good man!

It's good, cause a lot of the time, the mainstream is intimidated by reggae, and they don't know where to start. Cause it's a broad, deep kind of music.

So where are you calling from?

I'm from Nebraska.

Nebraska? So you've heard the album?

Yea, they sent it out last fall, so I've had it on an advance. I think I started playing it on the radio in September.

From last September? Wicked!

When did it come out in England?

It was released in October.

The copy that I got was dated September 9th. I think they sent over some promo copies from England. It was sequenced differently.

Right, we changed it round. Because the end of the album has to be strong.

The way it's sequenced now, the front end is loaded with traditional reggae tracks.

Yea, I put the love songs in the middle and made it strong at the end. And the hidden track, you found the hidden track?

I just found it! [Laughter]

[Laughter] It was there all the time!

That advance I was telling you about, it's not on there. So when I got it, I thought I've heard all this, except for the remix of "After All." Right? And it's at the end of the remix. It must be that every time I'd listen to it to the end, I got up and ejected the cd. Until this morning when I was out of the room, and I heard it extra track [laughter].

Yea, and that's a wicked track. [Sings] 'Dance to the reggae beat.' Eveyone say when the last song finished, they just plug it out. They think the lp is finished. And just by coincidence, they didn't go and stop it, and they just hear the song come on. And it frightens you.

It surprises you. Some albums I've seen with hidden tracks, they put a sticker on the front of the album that says 'hidden track,' but they shouldn't do that. Then it doesn't come as the surprise that it's supposed to be.

I was curious about this track "Don't Blame the Children." In the context of the film Third World Cop. Have you seen that.

I went to see it, but it's like I can't go to movies, I just fall asleep! I can't tell you anything. I went to see that movie. And in the space of ten to fifteen minutes I was gone.

So they call you Sleepy.

Yea. If I take the lady to the movie, she complains all the time.

The subject you're dealing with there, it sort of rang true. If you ever see Third World Cop again, I think the message of that song . . . In Jamaica, there tends to be a glorification of the "bad man." There's a cop and his friend from youth in the ghetto, who is now a bad man, right? But the message of the movie is that the bad man gets killed and the cop comes out on top. But in reality both people would be dead, but they don't show you that. They make a hero out of the cop. And it would be bad in the same way to make a hero out of the gunman, in my opinion.

You see it in every movie. That's why I say 'blame it on the t.v. Blame it on the movies.' It's just always the same. The guy goes out and kills a lot of people. He just kill everybody and come back and get the girl. Everyone of them is the same.

It's just because it sells that way and it does a lot of damage. People don't seem to care.

That song is about me. If you really listen to it.

Well, I hear you singing about when you were a youth, you wanted to be like Claudie Maussop.

Right, Claudie Maussop was one of the Jamaica badman. And I used to adore him. I wanted to be like him. Him and Burbwai??? Those are the people who I grow up with. And we used to have board gun and say 'a me a Claudie Maussop.'

Claudie died in the late 70s after the Peace Concert. But how long did he run his area?

For years and years.

When did it come to you to say, wow, this person is not a good example?

When I was nineteen, going [on] twenty. When I started going to Ethiopian World Federation meetings. That's the Rastafarian meeting. Someone just say, 'come, take a walk, leave out the company.' That's was in 1968, 69. That was right at the beginning of your recording career. I did record for Phil Pratt, Sunshot label, that was 1966. But I couldn't sing them times mon. So I was just practicing. As a kid growing up, everyone mischievious.

So you must have mixed up with some Rastamen at Studio One.

Yes, plenty mon. Studio One was the only studio that the Rastaman could go. Studio One and Duke Reid. But they couldn't go to Dynamic.

Couldn't go to Federal.

No, you couldn't go inside of Federal with a spliff. Even on the compound outside. That's why growing up I heard about Federal -- battymon studio! Don't write it down! That's what they used to say about Federal.

They came out with some good music too, but it wasn't on the level . . .

But the Khouris. Jamaicans label you for anything. When you pass up by Studio One, there used to be like 20, 40 guys come to audition. People would pass and say, 'how much money fe deh place deh so?' But they realize it's a studio. Guys turn up to sing. You used to have more guys than ladies.

I have a couple more questions about the album specifically. Before I forget, there are two other writers credited and I don't know who they are. There's an M. Lee and an M. Stone. "Seven Seals" and "Johnny Too Bad."

It's Clive. It's really me write the lyrics, but I just give him some of the publishing, cause it's his rhythm.

On the album it says 'Hinds, Clive Hunt, and M. Lee' on "Seven Seals."

Right, I gave it to them cause it's his rhythm. That was rhythm that Clive said hadn't come out. But then I heard PierPolJak was on it. But I still in good faith man, cause the rhythm was good. So I just give him a third, cause I think that's reasonable.

Compared to a lot of other singers who have been in the business for a long time, you seem to have kept the tonal quality of your voice very similar to the old days. On this album, if I compare it to twenty-five years ago, your voice has not aged noticeably. How do you keep it . . .

I tell you the truth. Nuff exercise. I love weights. I don't go to the gym everyday, but I have the weights where I am. I eat honey, and lemon . . . and garlic.

But you still smoke herbs?

Yes, yes. Yes, you know that! I love natural tea, anything bitter, I really love. Because what is bitter to the mouth is sweet to the belly. Bitter tings will take out all the tings that is supposed to come out but don't come out.

What's that root called, bizzie?

Bizzie, yea. Some people boil it and drink it and it's good for the blood. So you don't have diabetes. That's why some people are diabetic, because they don't purge the blood. It's good to eat a grapefruit sometime, more than orange, although the orange is good, cause the orange is natural sweet. But the grapefruit is bitter. And it will purge your blood.

On the subject of maintaining the voice, I saw Junior Byles less than years ago, and his voice was gone.

Because he's sick man, and he's not singing. If you don't keep singing, it will go away. He's not singing because he's sick. It was really sad, and I bet he doesn't drink honey. I love honey, man, I love it. I need to take care of my voice.

Seriously, it sounds just as sweet as it did back in the day. I don't think you'd be able to maintain your career without keeping your voice. On the subject of live performances, you don't seem to actively do tours in the States.

It will happen soon. You heard about Gomez? Well, it's the first I heard about them. They're saying they want me to tour with Gomez.

I've never heard of them. Where are they from?

From England. So it would be really good. If it's going to happen, I don't know as yet. They say they're waiting on them to confirm it. But I will be doing things.

But your stage shows have been with Massive Attack?

Yea. But on my own you will love it.

Well, I saw the show in California last year, which was great.

But when you see me with my own band, then you will see the right thing. My band has two ladies. The bass player is a lady and she is wicked. We call the band Whop'Dem.

I have two more questions for you. I've run across three versions of "Ain't No Sunshine" by Bill Withers that you've done. You must have a love for that song.

I love that song. When Ken Boothe did it, I love it to death.

Oh Ken Boothe's version is the best!

Yes. But I have a Studio One version. Mr. Dodd ask if I can sing it over and I did it. He used to come with the song and say, 'do you love this song,' and I'd say yea!

Horace man, give thanks. It's been a pleasure.

Yes, mi breddah, don't forget, just keep it up same way like me a do. Alright mi breddah?

Me nah stop!

One love.

Blessed.


Copyright 2000 Carter Van Pelt

http://incolor.inebraska.com/cvanpelt/horaceandy.html

Alpha.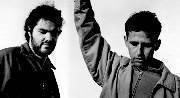 Seriously mellow and lusciously arranged, Alpha create ethereal downtempo dream music for the modern era.
Alpha are Andy Jenks and Corin Dingley - Bristolian basketball fanatics, they're so mellow you can bet they'll be getting up when you're eating your tea. Their debut album ComeFromHeaven is furnished with vocals that will make your hair stand on end for weeks. This can cause great embarrassment, so always wear a hat when listening to the sublime sounds of Alpha. They used to be called Ariel, signed to Bristol avant garde underground label swarffinger.
"More winning sounds from the Bristol slow-beat firament". Sunday Times
"...an understated delight" Q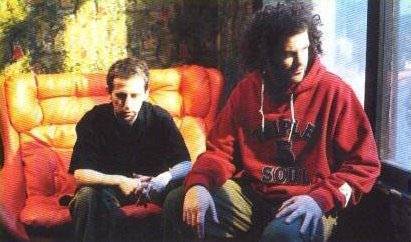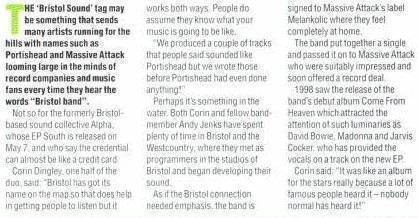 Below is a list of current top 10 tunes Alpha play;
• Man in the 5th dimension - billy graham
• Taking the strain - penny rendell
• how to pass the driving test - the royal automobile club
• a l'ecoute des sons - fernand nathan
• the time machine - the flintstones and jose jiminez
• winning basketball - john havelicek
• report to the bay orgy - paul ableman
• the quiet hour - patience strong
• I'm shy - basil brush
• rotatey diskers - stanley unwin
This is a dream compilation;
1.everythings been changed - 5th dimension
2.wichita linesman - freddie hubbard
3.white room dreaming - terry durham
4.if i could only change your mind - the first edition
5.goodbye joanna - linda lewis
6.a funny kind of love - the association
7.wait and see - lee hazelwood
8.after the goldrush - the kings singers
9.sally brown - judy mckenzie
10.les lilas - jean ferat
11.maybe tomorrow - quincy jones
12.the pot-smokers song - neil diamond
13.cowboys and indians - rod mckuen
14.minstral sunday - brooklyn bridge
15.misty roses - tim hardin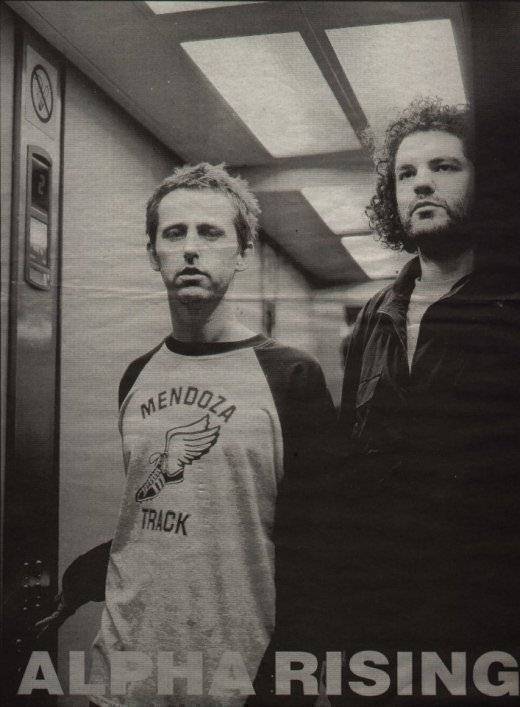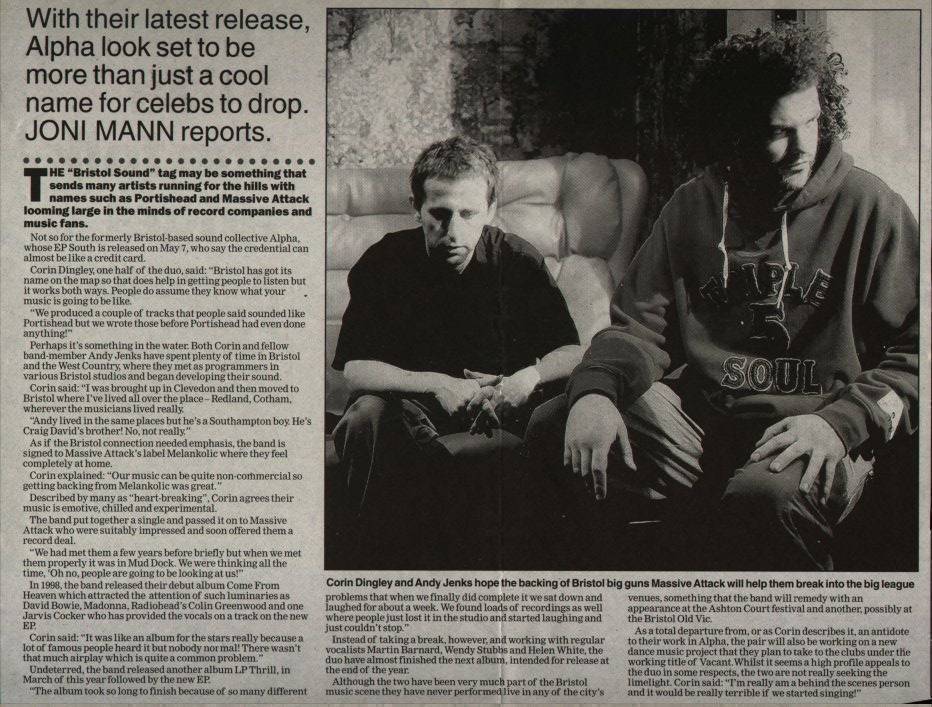 Day One's roots lie in regular jamming sessions wih mates in a basement on Park Row a few years back. Impromptu and often shambolic, their loose funk and hip hop improvising nonetheless helped Phelim and Donni realise that they had a musical future together. Donni's years of abusing the jazz and Dylan in his dad's record collection paid off and gave him a good grounding in arranging, while Phelim's laconic rapping boasts equal influences from the likes of The Jungle Brothers/Tribe Called Quest and the Irish storytelling tradition he was brought up with. "I think there's a tendency to go with something you know. There's a definite tradition of telling stories in Ireland, especially through song. If you listento traditional Irish songsm it's very much telling a history with a personal perspective, you know like a love song, a song about war. It's almost like a snippet of history with the title. Hip Hop's the same really, just updated, more urban."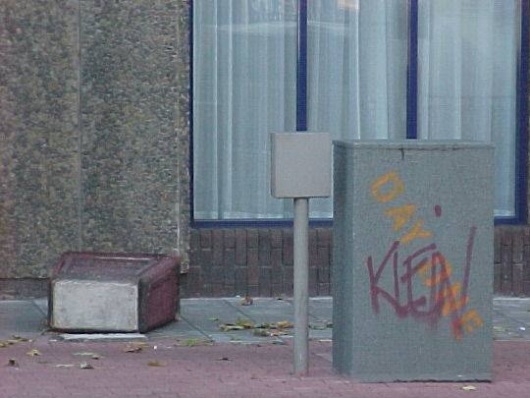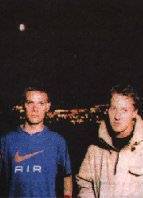 The basement jams also led to Phelim becoming a regular rapper with DJ and MC Mad Cut (now recording for, among others, Hombre) on the then-Pirate station Passion FM. "That's what got me started. Doing lyrics. We'd do the show, and people would phone up with a subject, and I'd have to rap about it. Every Saturday, I spent all summer doing it. It was funny when we were kids."
Simulateously, Phelim began writing with Donni, honing their mixed bag of influences into the infectious slouch that is Dy One's sound. A frustrating lack of money and resources meant that it wasn't an easy ride, though. Nor was there a particularly solid master plan. "We just sort of decided to see what would happen," says Donni. "We knew we had something, but we really didn't know what we weredoing. This friend of ours had a studio set up in his bedroom, and just did a few basic songs. We didn't have any proper gear, we didn't have a penny. We used to go back to Donni's and write songs on his old piano. The instruments weren't important at the time, though."
Phelim agrees. "It's pretty much how we still write now, it's just us in the bedroom really. Sometimes with a guitar or piano or something, just a few different things...then we put it all together, arrangte it all together, and the productions by the both of us. Donni plays the instruments and I do teh lyrics. The songs come first, it's always been about songs. I think the way the songs are arranged is the most important. We've always structured them religiously."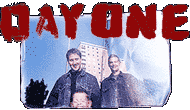 With a couple of tracks eventually down and the name PhD (short-lived thanks to a US act of the same name), a mutual friend passed on a copy to Robert Del Naja. One listen convinced Del Naja and that the duo be signed. Like their Bristol contemporaries Monk & Canatella, Day One aren't concerned about being dubbed as trip-hoppers once their birth places are revealed. "It came up almost immediately when we did our first interview with one of the weekly papers in London," shrugs Phelim. "Even just coming from Bristol, you're going to get people asking you about trip hop, the Bristol scene and, to a certain extent, they're going to make you into a Bristol band. It's just not anissue for us:it was never a worry, because what we're doing musically is nowhere near that kind of tag. Bristol's just where we live."



Back home for a breather, Phelim and Donni are preparing for the release of their debut EP with a whirlwind round of press calls and photo shoots. "We wanted to release an EP rather than a single because we wanted to show that there are different elements to us, that you can't really pigeonhole the sound. The roots are in hip hop but that's a starting point."
The album Ordinary Man, which was due for release in September, was mixed by honary Beastie Boy Mario Caldeto in America, a bit of a legend as far as Day One are concerned. "He did Ill Communication, Paul's Boutique, and all teht," enthuses Donni. "It was wicked working with him, finishing the album in America, because it gave you a bit of distance from everything, it meant we could be a bit more judgmental about how we wante dthe album to sound. More so than if we'd done it over here. We'd been working so hard on the album we were worried we were losing sight of what we wanted it to sound it to sound like."

Mario's mixing helped them reach their objective. The result is a stunning and assured debut album that's in parts sardonic, emotional and innovative, both musically and lyrically. In short rip-roaringly good. The next step for Day One is to tour, which the intend to do when they get back from a five-week promotional tour in the States starting in a couple of weeks. Day One played their first live show in London in July, backed by a hastily put-together band. Both Donni and Phelim seem genuinely surprised about how good the show was. "It went down really well," says Donni. "We only had ten days to rehearse a whole set but it's good to do it like that, because it forces you to get your shit together, and it gives you something to work for, you know."
They've since developed a taste for live shows and can't wait to get out there in the autumn. "It gives everything an edge and it's so different from being in a studio. I like going to gigs when the band are really together but look like the could go over the edge any minute, it's exciting to watch as well as to listen to."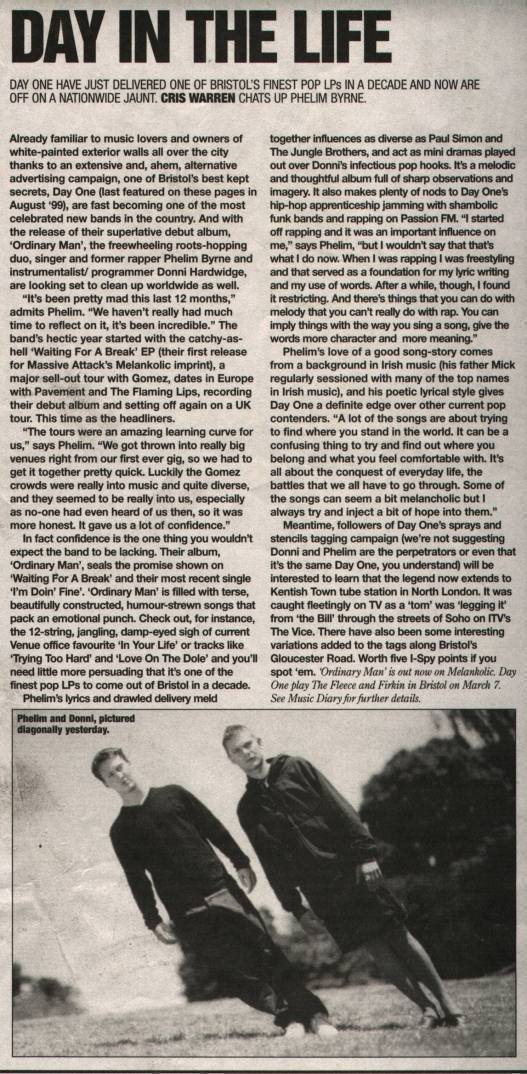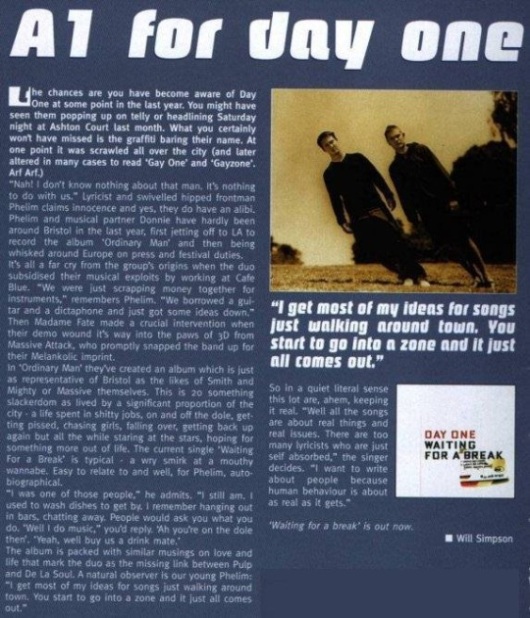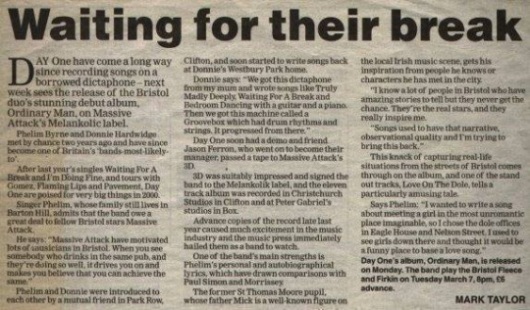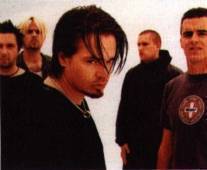 And Through the Dark Clouds Came Sunna...
Bristol based Sunna are fronted by singer songwriter Jon Harris, and their own brand of dark and aggressive music is displayed on their debut album One Minute Science. The first release from the album O.D was a chunky slab of powerful, emotive, rough and ready rock.
How Did Sunna come about ?
Lyrically edgy and often unnerving, Sunna are one of the most unpredictable and illuminating talents to come out of the UK for some time. Signed to the Melankolic label, the signing was born out of Harris who did some session work for Massive Attack's Mezzanine album. Shortly after, Harris played them some of his own material and the result was a record deal. Ex-Cable drummer Richie Mills has recently completed the line-up, and they have just played their first live dates around the UK. Sunna are raw and innovative rock, prepare yourself for an all out assault on your senses. You have been warned!