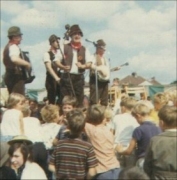 THE WURZLES
"Virtute et industria". The Godfathers of the Bristol scene. The West country has produced many rock legends - Massive Attack, The Troggs and, most notably, the Wurzels. In the late sixties, they typified the rock star lifestyle, until - like James Dean before him - lead singer Adge Cutler met an untimely death at the Chepstow turn-off on the M4. Later to influence Joy Division, they reinvented themselves, changing their name from "Adge Cutler and The Wurzels" to the simpler, more esoteric, "Wurzels". Who could forget hits such as "I Am A Cider Drinker" (to the tune of "Una Paloma Blanca"), "Drink Up Thy Zider" and the seminal, chart-topping, thresh-metal classic "Combine Harvester"?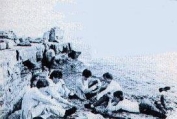 THE POP GROUP
Best remembered now neither for their snappy titles nor their light-hearted rhetoric, but for being the first post-punk white funk ("white" in the sense that it wasn't all that funky) band in the land, pipping even A Certain Ratio at the post. And for spawning Pigbag...
http://www.furious.com/perfect/popgroup.html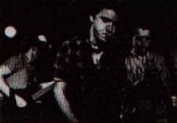 PIGBAG
Papa's Got A Brand New Pigbag was a hit that combined post-punk white funk with a big band sound and went to Number One. Of similar lineage were Rip Rig & Panic.
http://www.pigbag.com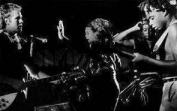 RIP RIG & PANIC
Featuring Neneh Cherry, who at the age of 17 in 1981 , took centre stage for the first time as lead singer. The daughter of trumpter Don, clearly had jazz in her genes, as her band attempted to mix New Jazz (cf Cecil Taylor, mice on the keys) with, yes, post-punk white funk, or early Eighties Britfunk, as it would be come to beknown.
"I suddenly realised that there were no rules - that everything I'd heard and experienced musically while growing up could come into play. Before, I had been on a mad search, but being in Rip Rig taught me that music had to do with renewal and reinvention, that it was about drawing your inspiration from wherever you wanted and doing whatever you wanted."
The group was formed by Bruce Smith and Gareth Sager (ex-members of 'The Pop Group') who called Neneh to London from New York.
Rip Rig & Panic (named after a Roland Kirk song) are difficult to describe - merging freeform, jazz, punk and even traces of classical music. Neneh's baptism of fire as the lead vocalist was ultimately a liberating experience.
In 1984, after 3 albums, Rip Rig & Panic splintered into the 'altogether straighter, more commercial group', 'Float Up CP' - featuring Neneh on lead vocals, Gareth Sager on guitar & Sean Oliver on bass.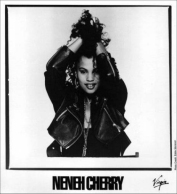 Neneh Cherry It's a little know fact, but Neneh sang on Hymn of The Big Wheel.
There are a handful of cities that can lay some sort of claim on Neneh Cherry, Stockholm, London and New York all played a major part in shaping her as one of the most innovative and independently spirited pop performers of the past two decades. But it's Bristol where her career was kickstarted - the city whose unheard-of bands she endorsed and name-dropped and, in turn, the city that adopted her as its own - a fact that still thrills the charming, straight-talking singer.
In a couple of weeks' time, she's making a whistle-stop visit to the city to play a DJ set at Po Na Na. "Well, I'm attempting to DJ," she laughs. "I tend to call myself a record player, really because I just put on records I like. I'm realty looking forward to coming back to Bristol. I haven't been there for years. I can't remember the last time I was there. But I'm so proud of Bristol because my first roots when I came to England were laid in Bristol. All the people I worked with - Gareth Sager, Mark Springer, Mark Stewart, Bruce Smith [the father of her first child, Naima] and Rip Rig & Panic - were all from Bristol. Later, Massive Attack and Geoff Barrow recorded at our house in London. I've always felt really connected to the city but it's funny because I've never actually lived in Bristol. In fact, we were living just outside of Chippenham. But part of me feels like I belong there, and I've always crossed paths with people from there. I don't know if it's the way that I am or the people or the way that music just seems to come out of there - it just feels like there's an inevitability. The way that I am, a real mixed bag of things, seems to sit well with the vibe that Bristol's got."
Neneh's background is a mixed bag, but one that's stuffed with music. Her beloved stepfather was jazz trumpet legend Don Cherry who raised her in Sweden. Cherry senior's work with Omette Coleman and his own quartet took jazz to unexplored quarters, and Neneh's earliest memories are of concert hall stages, dozing off to lullabies of wild, freeform jazz soundscapes. "He broke serious ground as a musician. I'd say what he was doing was as radical as hip-hop was - or punk or bebop. He was out there. As a kid I didn't really appreciate that. and what an influence he actually turned out to be. But we'd listen to music together, he'd listen to all the; stuff I liked and was interested in it. He was very encouraging." Her siblings all played instruments, notably brother Eagle Eye v/ho's forged a successful singer/songwriter career. But it took until her teens for Neneh to find her voice.
Her first taste of live performing was with New York punkers The Nails ("Uh oh, weird little band") as she simultaneously got up to her neck in love with the burgeoning hip-hop movement, a genre that informs her work to this day She became friends with Ari Up, singer with punk force The Slits, and first came to Blighty to spend a summer in London with her, roped in to playing percussion for the band. "I only came to England to hang out with her and I ended up being in the band shaking things. It's how I met people like Gareth Sager and Mark Stewart, who were in The Pop Group. I went back to New York arid when Gareth Sager formed Rip, Rig & Panic after The Pop Group, for some reason they thought of me as being the singer. I was a bit flabbergasted. I'd never even really been in the studio.''
But Cherry immediately felt at home among the Bristol crowd. Like the free jazz musicians she grew up with (although she also admits a teenage passion for The Jackson Five), the likes of The Pop Group deliberately alienated themselves from the mainstream, makuig radical music that took on board dozens of influences. The Pop Group were the most unsung of the sound pioneers whose disturbing, darkly paranoid songs merged dub. free jazz and punk to lay the foundations of the Bristol sound. From their ashes Ccirne Rip Rig & Panic and Neneh's invitation to front them. "Working with Gareth was, and is, a massive inspiration. He's so inventive with music and lyrics. A lot of the time I didn't even know what I was singing but it felt good to sing them." The band's debut album, 'God', was a spikey ball of fur ions, freeform funk but, compared to The Pop Group (possibly the most brilliant and confusing name of any band. Ever), also boasted melodious and flowing virtues, showcasing Cherry's fine voice properly for the first time. "Being part of Rip, Rig & Panic was a magical time. Sometimes we were incredibly shit but when it was good, it was really liberating. There'd been a part of me lhat wasn't Swedish enough, not black enough, not white enough... Part of me was kind of homeless and being in Rip Rig was like suddenly finding a home. They were playing music that I'd grown up Listening to that I'd never been able to really utilise - jazz was in rny blood but it was only then that I realised it" The band played the very first WOMAD festival in 1982 but, almost immediately after, Neneh took maternity leave, leaving Andrea Oliver to take over on vocals.
RRP split in 1985, briefly reforming as Float Up CP ("You'll have to ask Gareth what CP stood for. Curly pubes?") with Neneh reinstated on vocals. It was a short-lived act, though, and Neneh, encouraged by her new partner Cameron McVey (an important figure in the Massive Attack story), began to write her own material with the idea of becoming a solo artist. She'd also been keeping an eye and ear open for the new wave of Bristol hip-hop and sound system musicians and producers, the likes of Smith & Mighty the nascent Massive Attack and a young, pre-Portishead Geoff Barrow, whose production innovations were beginning to make an impression. Massive's 3D wrote for her hugely successful debut album, 'Raw Like Sushi', with Mushroom mixing on the album as well as becoming her tour DJ. A street-sharp, wholly credible debut album,'...Sushi' became the firsl hip-hop lead album by a female artist to clean up commercially with singles like 'Buffalo Stance' and 'Manchild'. McVey funded the recording of Massive's 'Blue Lines' and later secured their deal with Virgin. "They were recording for quite a long time in our house in London," giggles Neneh. "They were all sleeping and working on 'Blue Lines' in our back room. We called it The Poo Room because it stank of farts and men! But 'Raw Like Sushi' became huge, which id never expected, and being around Massive and Portishead was nice, lovely because we were like a big family and it kept my feet on the ground and made me feel secure about things. We had a fabulous time, a very special time, and, of course, pretty soon after that everything took off for them too."
Nenehs' follow-up, 'Homebrew', featured tracks written by Geoff Barrow, that eager young soundsmith whod been taken under Cherry's wing. He remembers the time fondly "Neneh's got an incredibly good ear for new sounds and styles, She's just great at choosing the freshest young producers and writers and giving them the breaks, getting them established. That's unusual and it shows a lot of spirit. She gives credit where it's due. But as a performer and singer, she's innovative as well. Albums like 'Raw Like Sushi' and 'Homebrew' were years ahead of their time. They were properly good hip-hop/pop albums, brilliantly produced. They're still getting ripped off nowadays. And her attitude is great too - things like going on 'Top Of The Pops' while she was heavily pregnant. She was like 'I'm a woman, I'm pregnant, so what? Get over it.' That was seen as guite shocking then, but she didn't give a toss and she kind of set the store for female pop performers. She's a real star in all the senses of the word."
Neneh's currently working on an as-yet-untitted new album following a long sabbatical. "I haven't worked for a long while but I'm really hungry to record again now. It feels really good to be working again, making music. I think I needed a break to realise that. I've got six or seven tracks finished and I'm working with Cameron [who's fresh from producing Sugababes and about to release a solo project called 'Virgin Soul'] and I'm probably going to do a tune with Killer Keller, who's a wicked human beatbox, and SMD, who are a kind of engine room for beats."
Getting her back into the fray will be her DJ tour. "It's pretty crazy really I used to DJ years ago in my teens when I'd had my first kid in London, at places like the Wag Club, guite often with my close friend Andrea Oliver. We got a lot of strength from it because there weren't a lot of young women out Djing back then. We'd just stick on stuff that we liked. About six months ago I thought it would be a really nice way to get back into things because I'm working on a new album and I mentioned DJing to my agent who got straight onto it. Now it's looming in the near future and I'm thinking 'Oh shit! Why am 1 taking this on?'. But it's a nice way to come out and be around people but without having to be performing. It's going to be pretty hip-hop-orientated, loads of old-skool beats. I'm nervous but really looking forward to it. It'll be like a homecoming.'
- Chris Warren, Venue 7th March 2003


SHARA NELSON Former Massive attack vocalist, celebrated for heart stopping vocals on Blue Lines. Left acrimoniously in 1995. Before that she had apppeared with the On U Sound system. Her solo debut What Silence Knows was nominated for Mercury Music Prize. The follow up Friendly Fire sank without a trace. Shara's solo work may not have the stinging immediacy of her Massive Attack classics, but tugged along by deep undercurrents and bourne by her remarkable voice, one goodbye in ten became all but overpowering after a few listens. Recent project, Presence highly recommended.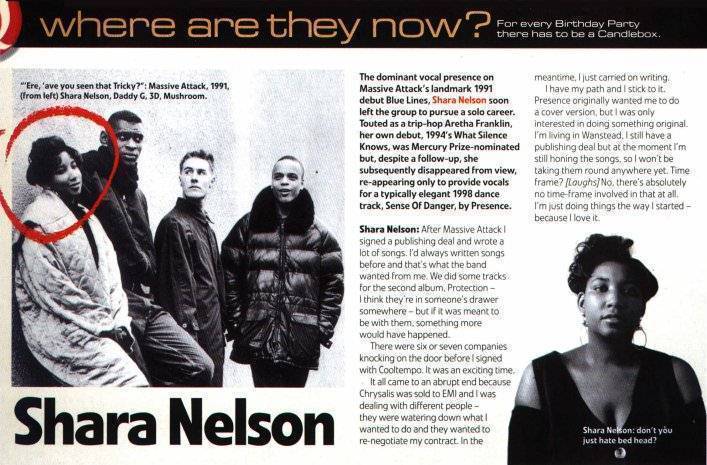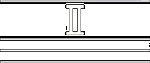 Soul II Soul As London as they came, admittedly, but included here as the last great Soul II Soul track to be touched by the genius of ex-Wild Bunch man Nelle Hooper before he went off to polish Bjork's coffe table, leaving his former soul mates bereft, as their subsequent output demonstrated. Massive Attack made their first recoded appearence on thi s as well. Proof once again that Bristol talent will out.
http://www.soul2soul.co.uk/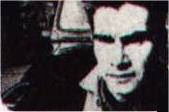 MARK STEWART & THE MAFFIA
Listen to "Learning To Live With Cowardice" or check out any of his earlier records on Mute, although this stuttering dub/funk cut-up appeared on the On U Sound, a label that can do no wrong, and has other Bristolian connections as we shall see. He used to be the one out of the Pop Group who shouted/whispered a lot. Stewart incidentally, was the man who taped the first version of "Aftermath" for Tricky Kid and a schoolgirl named Martina who Tricky had just chatted up. Last album "Control Data" concentrated on conspiricy.
THE FIRST TASTE OF HOPE IS FEAR: A BLUFFER'S GUIDE TO MARK STEWART AND THE MAFFIA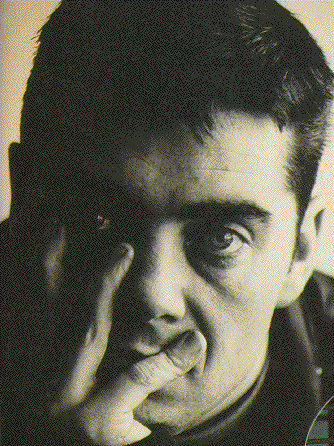 GARY CLAIL / ON-U SOUND SYSTEM Human Nature was a chart hit for the Bristol firebrand and reformed criminal who used to front Tackhead with his face swathed in bandages; but the original recording, featuring the Rev Billy Graham (who vetoed its' release) delivering the rant later performed out of legal necessity by Clail, is a thing of wonder indeed. Gary Clail was another Dug Out regular, who'd joined Adrian Sherwoods On U Sound collective. The On U Sound System features a plethora of musicians drawn from Tackhead, Roots Radics, Akabu, Dub Syndicate and others. It was officially launched in 1980 by Adrian Sherwood for a one-off LP by the New Age Steppers, who comprised various members of the Slits, Pop Group and Aswad. The second album was by the Mothmen (who are now the rhythm section for Simply Red), and over the years an impressive roster of collaborative productions took shape. These include works from the likes of Dr Pablo, Prince Far I, Tackhead, Mark Stewart and the Mafia, Dub Syndicate and African Headcharge. Clail's bombastic vocal delivery was honed when he grew up in a predominantly black neighbourhood given rhythm by 'Toasting' Jamaican locals. He is of Irish descent, though his parents moved to Bristol when he was very young. After spells as a scaffolder and runner for the criminal fraternity, he joined Tackhead and became further enmeshed with the On U Sound team. Human Nature was something of a freak hit in 1991. The original intention to sample Billy Graham's 1958 speech of the same name over the beat was rejected by his representatives, forcing Clail to deputise. It also owed a great deal to Paul Oakenfold's production, and his knowledge of the dance clubs. His accommodation from On U Sound's resident misfit in to pop star designate was quite remarkable. He still works mainly as a producer and mixer, and in the long term wants to emulate Sherwood by providing new talent with a forum for exposure. In interviews Clail constantly stressed that he is but one cog in a 32 person music making machine.
http://www.onusound.co.uk/
http://www.skysaw.org/onu/

THIS ONE'S ON-U! Venue April 12 1991
Fame has suddenly come knocking on Gary Clail's door. And being a nice chap, he's thoroughly modest about the experience. Dom Phillips talks to him and his old mate Mark Stewart about the On-U revolution.
Livening up another humdrum Top Of The Pops recently was a loud and likeable lout from Barton Hill and a dubbed-up political dance sound called 'Human Nature'. After years of hard work, Gary Clail has finally hit the big time.
Clail isn't just putting the boot into daytime radio, the system, and anything else his baleful eye turns to. His chart placing is shedding timely light on the On-U Sound collective/record label he's a part of - a collective whose first full tour is coming to Bristol Studio April 16th.
Strictly underground, On-U Sound under producer/dubmaster Adrian Sherwood has put out over 50 albums from hardcore funk to dub to chainsaw reggae and it's typical of the On-U attitude that Clail's response to his chart success is "very proud really, 'cause I'm representing On-U Sound." Massively influential, On-U Sound has also provided one of the most creative musical melting pots of the last decade - mixing talents as diverse as reggae legends Prince Far I and Lee 'Scratch' Perry with people like ex-Public Image members Jah Wobble and Keith Levine. Tackhead members Skip McDonald, Doug Wimhush and Keith Leblanc were former Sugarhill musicians, involved in the creation of rap with acts like Grandmaster Flash. Keith Leblanc's 'Malcolm X (No Sell Out)' is another seminal early dance track.
On-U Sound is a set-up that operates on trust, not contracts, as Gary Clail explains. "What you have to do," he says, "is go out and make a living away from the company, 'cause the company can't actually pay royalties. We put them out on our own label. We probably sell 30,000 copies worldwide and that's over two to three years." Enough to cover costs, and make another record.
One of the labels earliest members was former Pop Group frontman Mark Stewart, another Bristol maverick whose hard-edged contributions to modern music have been equally effective. Many, including Primal Scream, see early Pop Group tracks like 'Where There's A Will' as blueprint for what became indie dance.
Stewart, an old soul fan turned punk, has a different angle. "We couldn't play at all, and people said it was like (Captain) Beefheart and it was weird, but we were trying to play funk; I was howling away thinking I was doing this soul singing."
As Mark Stewart and the Maffia (made up of the Tackhead crew), his tortured blend of distortion, dance and reggae has a huge hardcore following. An early single was a screaming dub version of the hymn 'Jerusalem', written, he says, to please a cross-section crowd at a huge C.N.D. rally. Albums like 'When The Veneer of Democracy Begins To Fade' have cemented that blend of dense dub and sinister, secret state sloganing.
Currently putting the finishing touches to his new album 'Consumed' ("it's basically like a pisstake on consumerism"), and forming a film company to record the tour, Stewart isn't surprised at the attention now being lavished on On-U Sound. "From acid House, and from people being able to get out of their heads and listen to bleeps has opened the way for us."
On-U Sound is built round avant garde reggae and funk. "Underneath virtually every tune we've done is a really wicked dance beat but by the time me and Adrian have mangled it it turns into this storm of interference," argues Stewart. "I've just got weird ears. I grew up listening to a stereo that was bust or something 'cause I'm just into distortion."
Conspiracy theories, secret states, "wierd kind of Duncan Campbell stuff" is material Stewart can't resist. "If anything sounds interesting to me I just put it in a song," he says. "Everything is political to me. The way you treat your girlfriend, the way you get on with your boyfriend. It's like Engels said: 'the couple, the state, and private property.'"
With Gary Clail there's no need to ask questions: just press the record button, he does the rest. The new album, 'Emotional Hooligan', mellows the pace but doesn't lose the edge. It's his most accessible work to date and also his best. "It's about the way we're running our lives now," he says. "It's all coming to an end. It's all closing in on us so fast."
Clail chucks sentences like this around for breakfast. On stage or on vinyl, he's like a headbutt you weren't expecting - a wall of dubbed up industrial reggae, House, chainsaw guitar, much taken from On-U rhythm and melody tracks, all mixed live while Clail chants on top. Sounds hard? It's powerful, but it's the side on On-U you can't not dance to, which goes a long way to explaining Clail's success. His shows attract anyone from ravers to punks to bikers and crusties and have taken him to Wembley supporting the Happy Mondays.
That tense ball of energy isn't just stagecraft, Gary's all upfront, the loveable rogue with a direct political view. This is what he feels and he can't not say it. Simplistic, but he's not apologising. "I'm a very simplistic person and I write very down to earth lyrics and they seem to appeal to a lot of people."
He started his career in typically forceful fashion - toasting in St Pauls blues clubs. "I'm not a violent person in any way but I always get off on that tense sort of thing and I started going down the blues on my own," he recalls. "It just reminded me of the Irish diddly diddly boys singing Irish rebel songs. So I picked up the mike and started singing Irish rebel songs over the top of reggae beats."
Stewart met Clail in the Dugout, introduced him to Sherwood, who let him loose on the On-U Sound archives with a multitrack. That's the way On-U Sound works. Clail, meanwhile, had moved out of Barton Hill. "I was one of the boys down there, and all of a sudden I realised I couldn't tolerate what would happen to me in ten years, which was basically being married, living in a high rise and probably shoplifting for a living."
He now lives in Brighton. "I think (Bristol) is a really good place to live if you're in your 40's or 50's, but as a young town I think it's crap. There's nowhere to go. There's no togetherness in any of the clubs here."
Bristol just doesn't supply the spice of life he's after. "That's the diversity of what I'm into as a person - to see and do everything. I want to go to the best restaurants in the world and I want to go to the scummiest, slummiest bars in the world."
Emotional Hooligan and aware of it, Clail takes dance music to the edge, right down that line, and he takes On-U Sound with him. "More and more people arc realising what we're doing. It's music that doesn't offend anybody and it's kind of humorous and funny and very serious at the same time."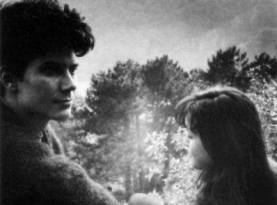 FLYING SAUCER ATTACK was an experimental space rock band that landed in Bristol in 1992. They would now be called Post Rock.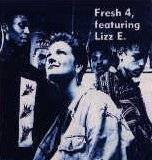 FRESH FOUR Wishing On A star was an 80's Chart topper for the ones what they now call the KRUST, the SUV (both Full Cycle) and the FLYNN (Independant Dealers). Tricky worked with them once. Produced by Smith & Mighty.



STARTLED INSECTS The Insects are a unit formed by Rob Locke and Tim Norfolk to do mainly soundtrack work, and evolving out of an earlier Bristol band , the Startled Insects, who in the mid-eighties performed in weird masks and costumes at multi-media events and made two albums for Island records. The Insects worked with Massive Attack on the Eurochild track from the Protection, this was essentially a new version of a track from the Lifepulse album by the Startled Insects. They have more recently been assisting new Melankolic signings Day One.
The Startled Insects where formed in 1983 by Richard Grassby-Lewis and Tim Norfolk when the members of another band Richard was in failed to turn up to audition Tim as the guitarist. They were augmented by the addition of Bob Locke a little later.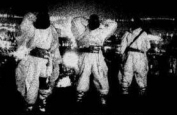 Richard Grassby-Lewis tells it like it was: "Slightly classically trained (piano and flute), I began writing music at 11 years old. After school I declined any offers of further education and took my first job playing piano at a dance school in Bristol. After answering an advertisement in the local paper, I met my rock 'n roll nemesis, the ex-Groundhogs drummer Ken Pustelnik, bought a Minimoog synthesiser and a Fender Rhodes, and started a prog-rock band. As one of the few bands around at that time with a half-decent public address system, we began hiring it out to others. This venture turned out to be so much more successful than the band, I almost accidentally became a sound engineer. This led to producing records in the emergent Bristol reggae and hip-hop scenes in the early 80's working with the likes of Talisman and The Wild Bunch, and earned me the nickname "Darklight".
In 1983, I was engineering and playing (at the same time!) for a punk theatre band called Shoes for Industry. The failure of the other members to turn up one day to audition the guitarist Tim Norfolk (and an inability to sing), resulted in the pair of us forming an instrumental writing team that we called "Startled Insects". After producing 2 independent mini-LP's ("Startled Insects" and "Underworld") on Antenna Records and developing a crazy show based around the almost random coincidence of Super 8 film and taped music, we signed to Island Records in 1986.
There we recorded a spectacularly uncommercial album "Curse of the Pheromones", that became a forerunner to today's ambient music; made music for a feature film "Lifepulse", entirely made up from BBC archive material and completely without dialogue; released the first ever pop CD-Video that no-one yet had the hardware to play; and produced an extraordinary film and music performance show that toured in Britain, Europe and the Far East. All of which served to increase our status as one of the oddest bands of the 80's. However, the powerful atmospherics of the music attracted many commissions for both independent and network animation, drama and documentary films - to the extent that it became the band's main work." This led to Startled Insects being dropped by Island when they were taken over by Polygram, and, in 1993, Richard left the band to start his solo career in composition and production.
Bob and Tim continued as simply "The Insects".
The collaboration with Biggie Tembo was the last album project Startled Insects did together. Financed by Island Records, the album was completed and mastered, and a 10-piece live band was in place with a debut appearance scheduled at Oxfam's 50th birthday bash. But sadly, due to Biggie's ill health, the whole thing was called off.
More On the Startled Insects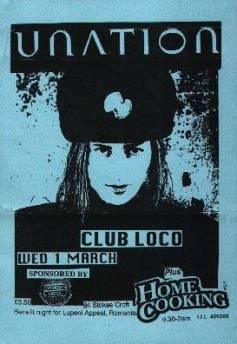 UNATION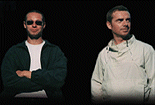 WAY OUT WEST is Nick Warren, one of the most respected DJ's in the world and original Massive Attack DJ and Jody Wisternoff, 26 year old 'child prodigy' who released his first record age 15. Two massively well respected DJ's and producers who sit among the very cream of the dance music cognoscenti.
http://www.wowest.cc

TRICKY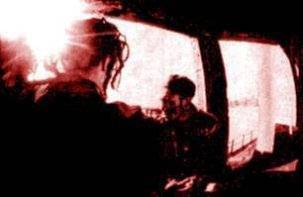 "Some people call me Tricky Kid..." The Massive Attack foil for "Blue Lines" and "Protection" (has shared flat with 3D and Mark Stewart in the past) went solo and produced some sinister tracks in the process. Aftermath was the first and a classic. Things seemed to go downhill from there. While "Maxinquaye" was acclaimed as the acceptable sound of the darkside, "Pre-Millenium Tension" (milk curdling follow up) and the Nearly God project took you down, down, deeper and down than anything you'd ever heard before. Bit scary really. Cool hip-hop tracks on Payday in late '96 reminded you of his special brand of genius.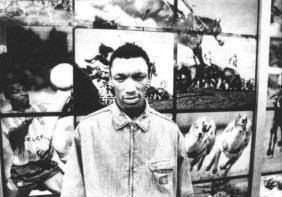 "We were well fortunate to be working with someone as talented as Tricky," says Grant. "He's one of the top lyricists. He's a bit of a prick as well sometimes..."
http://www.trickyonline.com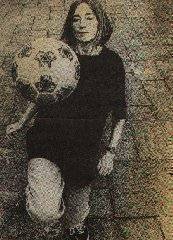 PORTISHEAD Geoff Barrow was an engineer on Blue Lines, before setting up Portishead.
Cameron Mcvey, Neneh Cherry's husband and former manager of Massive Attack, who introduced him to Portishead, who he then recommended to Go!Discs.
Numb was THE promo everybody wanted. The first post- "Blue Lines" group to emerge and stamp their feet. Gave birth to a thing called trip-hop with their debut "Dummy" album, a genre which turned out to be the tag for any female-fronted beats combo on a slo-mo tip. Second album "Portishead" was so out-there that all comparisons became null and void. Beth Gibbons is a mean rollerblader.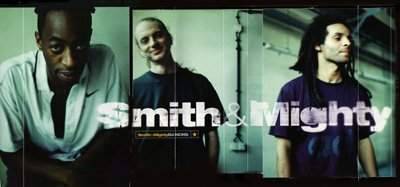 SMITH & MIGHTY Dug Out regulars Rob Smith and partner Ray Mighty, noticeable for his distinctive dreadlock beehive hairstyle, recorded Bass heavy versions of two Baccarach and David songs, Walk On and Anyone. Slow vaguely sinister and just slightly out of tune, it turned their one-room studio, in a flat above a derelict shop in the St Paul's ghetto area, into a holy grail for hype hungry journalists. Most of the time they wouldn't let them in. Smith and Mighty eventually signed to FFRR records in 1989 for a sum believed to be near £500,000, as did Carlton. Only a couple of remixes and one EP, The Steppers Delight, appeared during their time with FFRR. This well weird four-tracker from 1992 rose far above the ragga-hardcore crossover (SL2 et all) of the time to pre-empt jungle, which is a pretty smart piece of pre-empting.

The Bristol dons who very nearly became the first Massive Attack
Since 1988 the production duo of Ray Mighty and Rob Smith have been innovating the Bristol Sound. Smith & Mighty are not the most prolific of producers, but, alongside The Wild Bunch, they created a weed-fuelled dub sound that made many Bristol-made records so special, from Massive Attack to Reprazent. Their other unique talent, since their production of the Fresh Four's 'Wishing On A Star', and their own covers of some Burt Bacharach classics, is to mix vocals like no one else.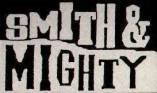 Signed on the crest of a wave of publicity, Smith &Mighty were the victims of record company follies and took a considerable time to get out of their deal. Their exquisite solo album, "Bass Is Maternal", was one of 1996's hidden gems while their More Rockers label produced some highly commendable moments. The production duo of Ray Mighty and Rob Smith have been innovators of the Bristol Sound since 1988. Their classic reworks of Bacharacy and David's songs 'Anyone' and 'Walk on by' forged the elements of what is now described as the Bristol Sound. Co-producing Massive Attack's first single, then signing to London Records. Smith and Mighty have returned to independence, recording the underrated Bass is Maternal.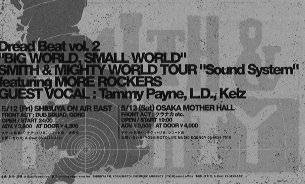 Long before Bristol had become a recognized stronghold for downtempo trip-hop and spy-soundtrack dubs, the duo of Rob Smith and Ray Mighty teamed in the late '80s for two early breakbeat tracks, "Walk on By" and "Anyone Who Had a Heart." The anachronistic fusion of sophisticated Burt Bacharach productions with laidback hip-hop prefigured trip-hop's later fascination with the more polished end of '60s adult-pop. The pair also produced the Top Ten hit "Wishing on a Star" for Fresh Four, then signed with ffrr Records (who were looking for a production team with crossover abilities similar to Soul II Soul). The label later rejected both Smith & Mighty's debut album and several subsequent recordings -- claiming they were unsuitable for release -- so the duo formed their own label, More Rockers. Five years after their initial brush with major-label shenanigans, they released Bass Is Maternal. Smith & Mighty also worked on production for More Rockers signee Marxman, and released a volume in the DJ Kicks series in 1998. Big World, Small World followed a year later. Smith has also recorded with the trip-hop trio Jaz Klash.
~ John Bush, All Music Guide

DUB-WISE BRISTOLIAN ORIGINATORS AND MORE ROCKERS MASTERMINDS, SMITH AND MIGHTY, STEP OUT OF THE VISION LIMITED STUDIO BUNKER TO TOUR WITH THE BLUNTED, EXPANSIVE VISION OF THE LONG AWAITED, 'BASS IS MATERNAL.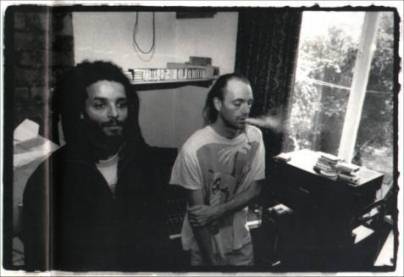 Stepping Out Of Temple Meads in Bristol everything looks unfamiliar. Where are my reference points? I'm on my wav to meet Rob Smith, one half of duh'n'drum'n'bass duo. Smith & Mightv on the release of their long-awaited I.P. 'Bass Is Maternal'. The new road system's lost me instantly so I turn up my headphones for conso­lation and determination and tlie propelling rhythm of the title track:
"Bass is maternal when it's loud I feel safer."
It was in 1980 that I first met Rob Smith. Then he was a member of a roots reggae hand called Restriction. Then my reference points were dominated by my flat. The Dugout club and Park Row, the home of Richard, Kosta and Grantley. now known as Daddy G. founding father of Massive Attack and mid-wife to the birth of a second wave of Bristolian musicians. It was here that a young DJ named Nellie Hooper honed his mixing skills, doggedly monopolising the technics decks, it was here that we got our first introduction to electro and nascent hip hop and tile ribshaking, hrainteasing experience that is dub.
At first sight Bristol looks like a bright successful city, on the surface it was not badly affected by the recession when big insurance companies decamping from the metropolis began to change the sky­line with their glossy new office blocks. But the commercial hustle and hustle is a thin veneer that masks the real speed of life. A lifestyle that allows the slow absorption of influence and experience that is gradual­ly synthesiscd to emerge as some of the most interesting and challenging music to appear as we hurtle to the millennium; the considered introspection that informs Tricky's disturbing commentary or the detached, ethereal laments of Portishead or the dub-rooted drum and bass of Smith & Mighty, it seems that here, people set their own pace to win the race, hare and tortoise style, so it's no surprise that when Attica Blues' D'Affo came to select his first tune to follow a mesmerising set by DJ Krush at Mo' Wax's Dusted session at the Blue Note he chose Smith & Mighty's cult classic 'Anyone', or that when DJ Debra dropped their 1989 follow-up, 'Walk On' at That's How It Is, the D| box was mobbed by inquisitive teen clubbers.
Recognition returns as 1 approach the Vision Limited Studio, home to More Rockers, a floating group of musicians based around the production expertise of Rob and Peter Dee and their label of the same name. Cheltenham Rd looks the same, still slightly seedy with an air of unhurried decay. KBK shoe shop is still there and still selling the "Pop Group shoes" we used to wear in the early eighties, there's Plastic Wax Records incorpo­rating "Pat leaser's Autograph Showrooms on two floors". The instant cash shop has simply added a heap of computers to shelves already filled with Hi Fi equipment and VCRs sold in moments of desperation.
Tlie Vision Factory is buzzing as we talk. LA musician/producer Angel is in and out of an upstairs studio and various members of the More Rockers family, singer Andy Scholes and drum and bass duo Fynn and Flora stop by for a few words. When I tell Rob about the popularity of those late-Eighties classics he looks surprised. "I'm made up that anyone's heard them," he says with genuine modesty. "Maybe we should release them again, I think they've been released four times already and someone bootlegged 'Anyone/Walk On By back to back - just when we signed to London - I was gutted & made up at the same rime."
Rob Smith met Ray Mighty in 1986 when they were both members of a hand called Sweat, "lie didn't like me at first," Rob recalls chuckling. I said "that's a wicked chord you're playing" and he just looked at me like, Who the fuck are you telling me about my music?
"It was just before samplers, people were getting into beat machines. You could link up a beat machine with a synh and get a bass line that goes with the beat, if you experimented you could get all these effects. I was really into beat machines and he was really into synths, so we'd plug the two together. We worked together a couple of years before putting anything out, playing around with cheap bits of equipment, ending up getting a lot out of it 'cause you were limited by it."
Their explorations resulted in those Bacharach/David covers lovingly deconstructed and recreated in Smith & Mighty's inimitable dubby hip hop style. Though Smith and Mighty continued to develop and explore the connections between breakbeat, dub, house and hip hop the results proved to be too leftfield for the FFRR label who rejected everything they produced apart from the four tracks of avant hip hop/nascent jungle that appeared on the 'Steppers Delight' EP in 1992.
So the appearance of 'Bass Is Maternal' on their own More Rockers label is as much of a relief as a release. 'Jungle Man Corner' complete with Tapper Zukic samples is a rockers skank. The methods applied on 'Anyone' and 'Walk On', reappear on 'Higher Dub' with its orchestral breaks and the sweet lovers vocals of Marilyn McFarlane while 'Walking' builds inexorably with stripped down beats layered over and over with sound like an Escher tower. The title track pays tribute to the mother of the music, bass heavy dub crossed with the breakbeats and polyrhythms that inform cutting edge drum and bass.
Rob's introduction to dub was through the record collection of Grant "Daddy Gee" Marshall. "I remember the track was 'Shut Me Mouth' by Ranking Dread and really hearing the relationship of the bass to the music. Before I'd just heard John Peel playing tracks on the radio, just the crackly, echoey, toppy hits, hearing it for real made sense at last. The intensity of it, everyone sat in a room, it was too loud for conversation, everyone was stoned, some people were paranoid, some on a buzz and the bass was going Bbbzz bbbzzz, and I'm sure the quilt cover's moving, pattern's moving around, it was mad round that place."
We reminisce about the Bristol sound systems at Trinity Hall, Shaka coming from London or Quaker City from Birmingham with bass so deep that your rib cage vibrates and even your eyeballs shake, blurring your vision and you're totally at tile mercy of the selector.
"I still go to sound systems. In Bristol there's not so many now, Gaffer's still going with Armagedon, Henry & Louis play drum & bass. It's the same kind of thing, in a way. Everything has a vibration, absolutely everything, whether it's a solid object, gas or liquid. And bass has a really slow frequency that you feel as well as hear. Everyhody likes bass. The first sound you hear is your mother's heartbeat & wobbly noises (laughs) it's therapy innit?"
Discussing the majestic drumbeat in 'Accept All Contrasts' and its similarity to D| Shadow's 'Iost and Found' 12", Rob informs me that 'Bass Is Maternal' is virtually sample free and he's never heard the Shadow track. We both conclude that there is a collective consciousness that unites music from different parts of the world but it's hard to predict the future. "That's why jungle is evolving the way it is, because any element can change it, any influence can come in and upset it a bit or balance it a bit or make an offshoot."
Over the long years of their producing relationship Rob Smith and Ray Mighty have developed a joint consciousness. Rob explains: "If you can gel to the point where you can bypass thought, like driving a car, it becomes a flow from your brain into an action. It's good when you're doing a tune and you're not quite sure why you're doing a particular bass line, you don't question why you use a particular rhythm you just do it, and it always surprises you. When you gel to that point its great almost like meditation "cause you're not concentrating on it.
"It's hard to talk about music. When we were doing Carlton's LP 'Cool With Nature' it was so difficult to describe to the engineer what we wanted - 'a round fat bass sound that is soft at the same time!' Working with other people is complicated. Ray and Peter D, are quite similar, they do things without thinking wtiy. With Ray sometimes we're parallel.
You can't simulate a break beat with a beat machine. You might sample the sounds and do the timing the same but it's still not going to be that break beat, it hasn't got the flaus or the quirky chaotic element sometimes together, sometimes moving in different directions"
Though no strangers to performing live - Rob tells of a gig a few years back when ex-Pop Group leader Mark Stewart rushed the stage with his latest protege and informed them that Tricky was going to join them on stage — for predominantly studio-based musicians the move to a live setting can result in a fairly minimal performance. Smith and Mighty avoid this by extending the collective method with various live musicians. When Tricky returned the favour and invited them to support him there was nine people onstage. "It was mad, it was brilliant. I had a mixing desk on the side and a sampler playing bits of piano, running samples through the 'desk and doing bits of echo - not too much - just sly bits of echo," he chuckles. "Ray was on synths, Peter D was on electric drum pads at the front, Rob Chant on screaming guitar and Rob Merrill on drums, plus the singers. It's a step up from PAs, taking a sequencer and a backing track, it's down to tile vibc onstage that travels to the audience.
"I suppose you could simulate it on stage. But we're trying to do live versions of what we've done in the studio; combining live tricks with studio tricks, nor making replicas. It's almost like doing tlie final studio mix but whereas in the studio you record it piece by piece, on stage you're doing it all at once.
"The thing about live is the space between the parts where it's not quite in time, it gives the human feel," Rob continues "That's part of the reason why break beats are so popular. You're not only capturing the rhythm a drummer has played, but you're capturing the smell of the pizza shop next door, or the fact it was only recorded on one mic in the middle of the room. But when you take a break beat and strip it down a hit you shear all that off. That's why I'm glad these days people are using really crusty break heats, accepting a bit of hiss or whatever, I don't know if its subliminal, but in between those notes, ttiose beats there's that day when they were playing, it might be in the Fifties or Sixties -"silence is a rhythm too"and all that. You can't simulate a break beat with a beat machine. You just can't. You might sample the sounds and do the timing ttie same but it's still not going to he that break beat, it hasn't got the flaws or the quirky chaotic element, With a hand it's a wtiole that everybody projects, holo-graphically almost, and it's unpredictable."
While Nellie Hooper is now kept busy producing the likes of Bjork and the Massive Attack crew have been wooed by Madonna it remains difficult to predict whether long year's spent creating music will ever he rewarded and it is impressive that so many continue without, financial success, or encouragement.
"At the end of the day it's just being into the music, for me being into reggae, for Grant too, before hip hop, we were really into reggae, and dub, had a real passion for it, getting all the latest tunes, not caring if anyone else liked them, you just know you'd enjoy playing them."
"To think you could make a living out of it, came much later, it's just what you do, the thought of making money out of it is wild, it doesn't seem like work. If you do it long enough hopefully you get to tlie point where yon can make your living." But for Rob, the crunch point came wlien his children were born. "If I hadn't had them 1 could have carried on in the same old way, but when you have the children you have (like responsibility for someone else). And I have to say if it hadn't been for Sophie who looks after the kids, we'd never have made 'Bass Is Maternal'. Now if I need money I might have to go and earn it doing music in some form or another. I started out playing with tape recorders, so I'd probably do something like that. And I love DJing now. I used to he just a bedroom DJ, I did a few sessions and Ithought 'Yeah, I'm getting away with this'. I do that with More Rockers playing dub plates, I rarely look up, just every now and again to see if I'm still gelling away with it."
- STRAIGHT NO CHASER




MORE ROCKERS An unusual mixture of nervous beats, deep baselines and cool laid back dub. Rob Smith and Peter D circulated white labels of their Dub Plate Selection Volume 1 as early as November 1994 although it didn't see a final release until the spring of 1995. An awesome selection, it drew on every aspect of the black musical form, showing a huge debt to the reggae soundsystem along the way. Quite at odds with the Techno influenced sound of the Jazz Junglists and Ambient Drum 'n' Bass heads, More Rockers employed live sounding drum breaks to construct a sound which moved between soulful vocal performances and samples of Jamaican reggae giants like Frankie Paul and Johnny Osborne. Unlike the Ragga Junglist sound which found much of its style in 1980s soundsystem developments, this album found its foundation deep in the smoke filled vibes of 1970s reggae.

HENRY & LOUIS
Born of ten years playing as a sound system spinning their own dub plates with revival classics and roots reggae, Henry and Lovis are producing their own albums. Currently an album with Jamaican musician Prince Green and a collaboration with vocals by Johnny Clark, Willy Williams and Winston Ricketts is available for licence.




JOHN STAPLETON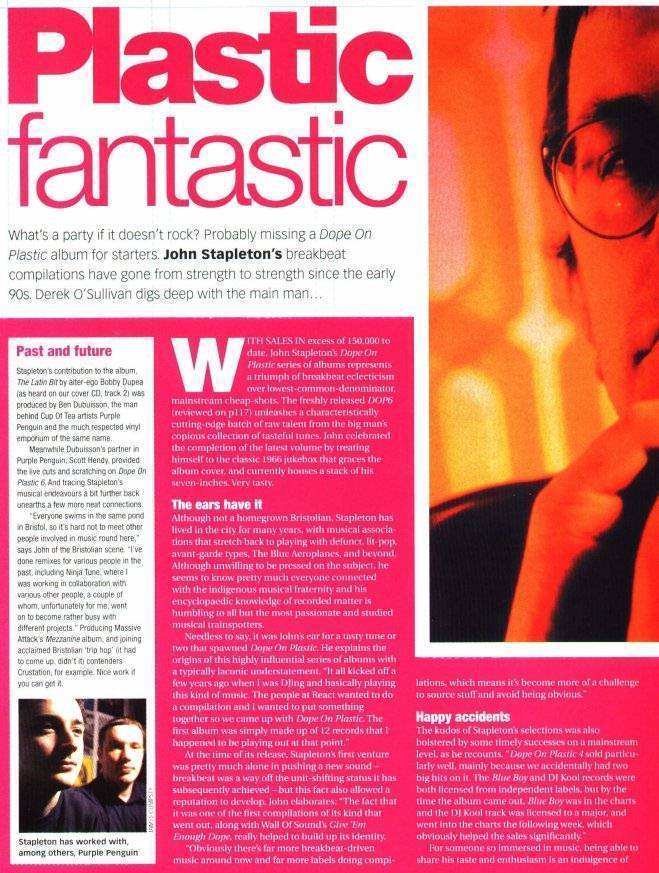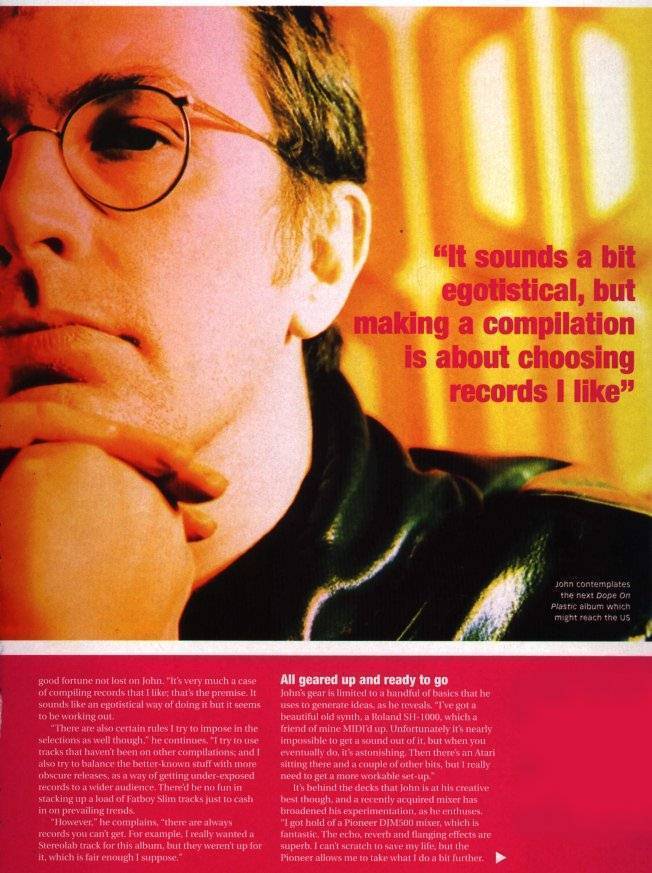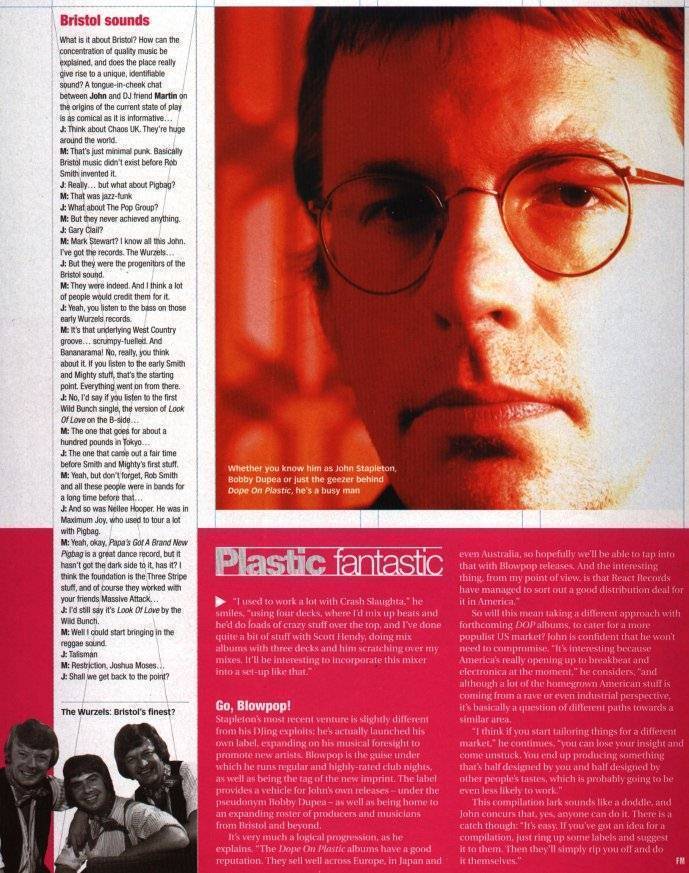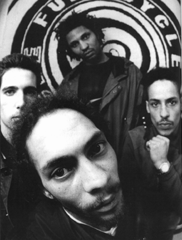 FULL CYCLE: RONI SIZE & REPRAZENT Share the Fall was Absolutely rolling, and equally as sweet. The new-school drum & bass don and the winner of the Mercury Prize for his "New Forms" collection, Roni Size with DJ Die, Krust, Suv and MC Dynamite proved that Bristol was not just for downbeat grooves and turns. After taking over the world in '97, the collective continued to write and record blinding tunes.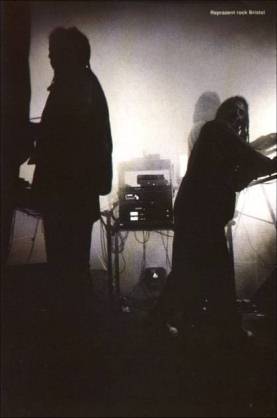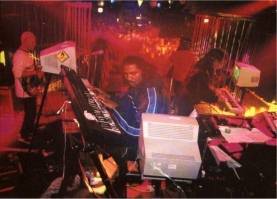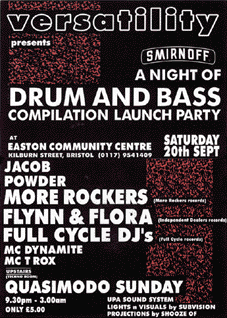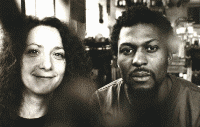 FLYNN & FLORA Back in 1994 Flyn & Flora, Independent Dealers label bosses made an impact on the drum and bass world with their sublime debut single Flowers/Dream of You, and the follow up Free. Their debut album, Native Drums followed in 1996 combining light melodic atmospheres and vocals with tough, addictive percussion that touched dancefloors worldwide. Soon afterwards, an American label licensed a set of tracks from Independent Dealers and the seminal album Versatility was born, featuring tracks from fellow Bristolians Roni Size, Krust, Die & Suv. Krust (who also happens to be Flynn's brother) also provided a remix for the Independent Dealers track Bass Speaker, a track that is still played today due to it's unmistakable hip hop vocal sample, bass drop and crashing beats.
The Year 2000 saws the release of two 12" singles from Flynn & Flora. Psychomantis/Movement and Planet/Ying Yangas well as a debut from the Independent Dealers newest producer, Ben entitled Second Sight/Mind Blind. Sticking to their tried and tested formula of ultra tight production, tough rhythms and light melodies, Flynn & Flora have been hard at work in the studio gathering tracks together for their forthcoming as yet untitled album that follows on where Native Drums left off. For the new album, Flynn & Flora have been working with new vocalist Carrie (who supplied the lush vocals on Ying Yang), and also MC's for a couple of compositions. The tracks on the album are all at a dancefloor pace and offer a varied range of styles, some with melodic vocals, lush strings and deep textures, a few darker rollers and a few mellower productions.



WILKS Urban poet who raps about life, love, music and and life on the streets of St Pauls.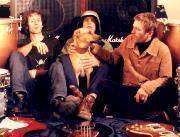 LUPINE HOWL sit more in the tradition of Joy Division mutating into New Order, or War ditching Eric Burdon; great bands who lost a singer, clubbed together, and gained a backbone. With Lupine Howl, the trio take their trademark dynamic explosiveness and import a more driving rhythmic feel with a wider variety of musical styles. Lupine Howl - the sound of Spiritualized's psychedelic soul married to a Spencer Davis backbeat and a Memphis Soul Band attitude.