Massive Attack - Blue Lines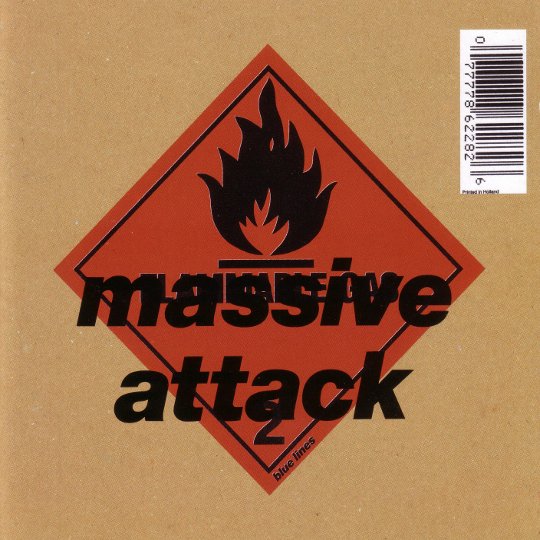 CD released by Circa Recordings, 8th April 1991 (WBRCD1)
LP released by Circa Recordings, 8th April 1991 (WBRLP1)
TAPE released by Circa Recordings, 8th April 1991 (WBRMC1)
MINIDISC released by Circa Recordings, 8th April 1991 (WBRMD1)
1. Safe From Harm
2. One Love
3. Blue Lines
4. Be Thankful For What You've Got
5. Five Man Army
6. Unfinished Sympathy
7. Daydreaming
8. Lately
9. Hymn Of The Big Wheel
Purchase: iTunes | Amazon.co.uk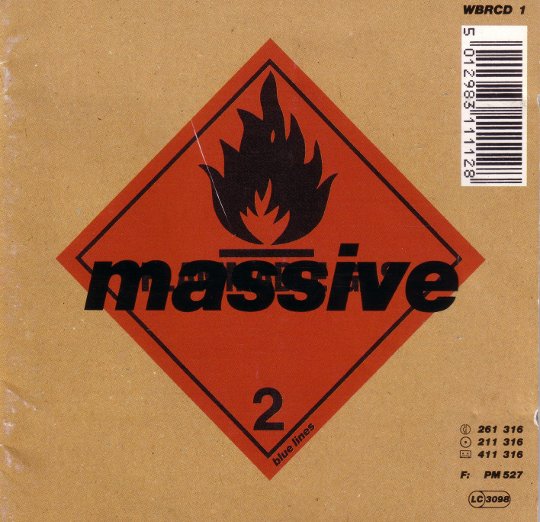 Originally released with the Attack ommitted from the name.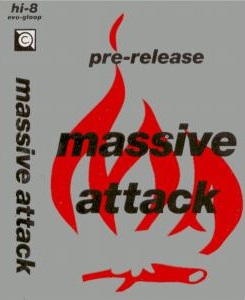 Pre-release tape (1990)
From the angst of'Safe from Harm' -'If you hurt what's mine, I'll sure as hell retaliate' - to the insistent shaken bottle-top rhythm of'Unfinished Sympathy', the most striking thing about this album, 13 years on, is how urgent and dramatic it still sounds. The journey-time between 'bold artistic breakthrough' and 'widely accessible lifestyle accoutrement' has shortened considerably in the interim, but Massive Attack's universally admired debut has made that trip with-out forgetting where it came from.
With ex-Rip, Rig & Panic bigshot Neneh Cherry (whose boyfriend 'Booga Bear' -alias Cameron McVey - was the record's executive producer) scoring a co-writer's credit on 'Hymn of the Big Wheel', and a wung Enterprise Allowance whippersnapper oBedGeoffBanow (later one half ofPordshead) wolidng as studio tape-op, if s easy to see how Blue Liries has acquired its repu- tation as a kind ofWest Country Big ChSl. But the idea of a 'Bristol sound' emerging smoothly from a cider-irrigated chrysalis does not fit the reality of the album's creation.
For one thing, only five of Blue Lines's nine tracks were all, or even partly, recorded at Bristol's Coach House studios: the group -experienced international travellers, having already toured the world as the Wild Bunch sound system - decamped eastwards to London to finish off the rest. What's more the rapid subsequent departures ofShara Nel- son and Tricky Kid, as well as the later, more protracted, break-up of the core triumvirate of Mushroom, Daddy G and Robert '30' del Naja, suggest it's a miracle Massive Attack's alliance held together as long as it did. 'Safe from Harm's ominous cast of 'Midnight walkers, city slickers, gunmen and maniacs' sets the prevailing tone of unease and imminent fracture.
While Blue Lines's impact on the music of the decade that followed has been pretty thor- oughly explored, its relationship to what came before remains a fertile topic for spec- ulation. A song such as 'Lately' can now be heard as the missing link between the pre-' historic Brit-funk of Loose Ends or Lynx and a sound we can still think of as contemporary. Yet the looser, more conversational tone of, say, the tide track, seems to have come almost from nowhere: splicing together the cerebral hip-hop gene ofDe La Soul or A Tribe Called Quest with a peculiarly British dub lineage to create a new and exotic hybrid whose inner stresses tore Massive Attack apart at the same time as they soothed the listener's soul.
How it felt for Daddy G:'We were lazy Bristol twats. It was Neneh Cherry who kicked our arses and got us in the studio. We recorded a lot at her house, in her baby's room. It stank for months and eventually we found a dirty nappy behind a radiator. I was still DJing, but what we were trying to do was create dance music for the head, rather than the feet. I think it's our freshest album.we were at our strongest then.'