Daddy G- DJ-KiCKS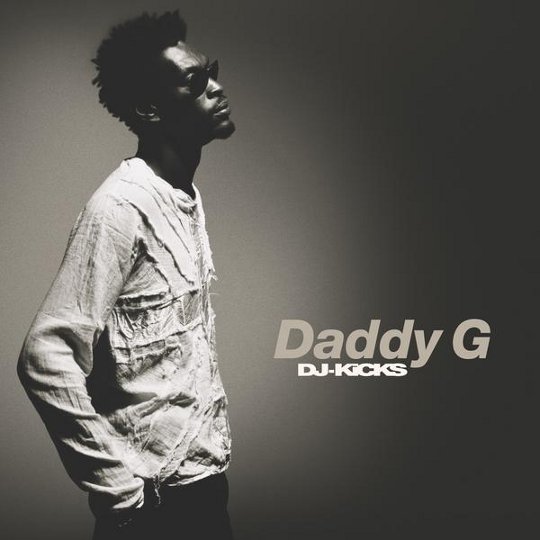 CD released by Studio !K7, 25th October 2004 (!K7170CD)

1. Philip Levi & Tipper Irie - Intro
2. Willie Williams - Armagideon Time
3. Sound Dimension - Rockfort Rock
4. Melaaz - Non Non Non
5. Tricky - Aftermath (Version 1)
6. Meters - Just Kissed My Baby
7. Nusrat Fateh Ali Khan - Mustt Mustt (Massive Attack Remix)
8. Les Negresses Vertes - Face A La Mer (Massive Attack Remix)
9. Massive Attack - Karmacoma (The Napoli Trip)
10. Johnny Osbourne - Budy Bye
11. Badmarsh & Shri - Signs (Dubplate Mix)
12. Barrington Levy - Here I Come (Dubplate Version)
13. Foxy Brown - Oh Yeah
14. Leftfield - Inspection (Check One)
15. Massive Attack & Mos Def - I Against I
16. Aretha Franklin - Rock Steady (Danny Krivit Edit)
17. Massive Attack - Unfinished Sympathy (Perfecto Mix By Paul Oakenfold)
Purchase: iTunes | Amazon.co.uk
press release
doc format (126KB | http://www.k7.com/)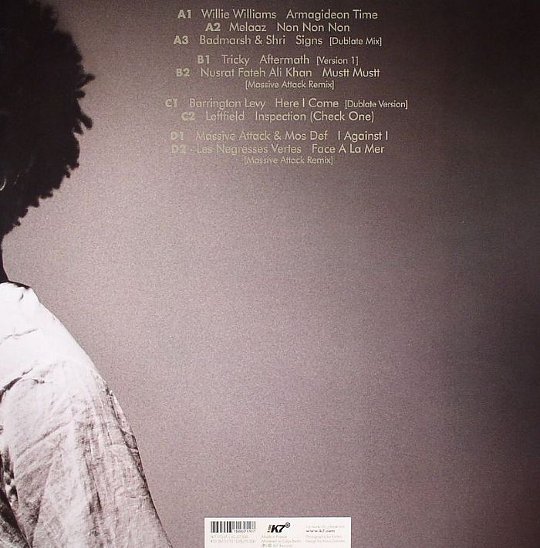 LP released by Studio !K7, 25th October 2004 (!K7170LP)

A1. Willie Williams - Armagideon Time
A2. Melaaz - Non Non Non
A3. Badmarsh & Shri - Signs (Dubplate Mix)
B1. Tricky - Aftermath (Version 1)
B2. Nusrat Fateh Ali Khan - Mustt Mustt (Massive Attack Remix)
C1. Barrington Levy - Here I Come (Dubplate Version)
C2. Leftfield - Inspection (Check One)
D1. Massive Attack & Mos Def - I Against I
D2. Les Negresses Vertes - Face A La Mer (Massive Attack Remix)
You may consider Grant Marshall, a.k.a. Daddy G as spiritus rector of what has historically become known as the "Bristol Sound". It´s that laid back sound that breathes dub, reggae, funk, disco and hip hop, represented by protagonists like Massive Attack, Smith & Mighty, Tricky and Portishead. A sound that left its global traces for more than one and a half decades. And Daddy G is  its spiritus rector because he was one of the founders of the Wild Bunch Sound System, out of which later Massive Attack emerged. Besides Mushroom and 3-D, Daddy G was both one of the core members of the group as well as one of the group´s main voices.
Way before being part of a band though, Daddy G was known as a DJ. As a ten year old he already recorded mix tapes, inspired by the DJ boyfriend of his older sister. 1980 he was one of the youngest Bristol DJs, quickly establishing his name as a synonym for an eclectic music style. At the parties at which G played, one could always hear the newest in disco, fresh punk funk from NY, the first rap imports as well as soul and dub reggae. When the Wild Bunch Sound System was founded, Daddy G already was a local celebrity. His DJ sets were not only legendary because of their selection and his mixing skills, but because he rocked the microphone as versatile as the wheels of steel.
For his mix for the newest installment of the "DJ-Kicks" series, Daddy G dug deep in his record case. "Rock steady baby," sings Aretha Franklin on the penultimate cut of this  mix. Rocksteady, of course, was also a Jamaican style of the late  1970s, essentially a kind of slowed-down ska. For Daddy G, reggae is the source. This mix kicks off with two tracks from the  legendary Studio One stable, including his "most favourite record ever",  Willie Williams' 'Armagideon Time', and proceeds with 'Non Non Non'  by Melaaz, a languid French version of a Studio One classic. Barrington Levy's 'Here I Come' is a dancehall classic,  Foxy Brown's sassy 'Oh Yeah' is based on an old Toots & the Maytals tune, and Johnny Osbourne's 'Budy Bye' is an early slice of electronic  reggae.
The Meters are included with a song for Daddy G's daughter, Ava. That  and Aretha's 'Rock Steady' square the reggae-soul circle, the latter in the shape of Danny Krivit's inspirational but extremely hard-to-find edit.  This isn't the only rarety on the mix. 'Aftermath' comes in Tricky's original white label version. 'I Against I' was recorded by Massive Attack with Mos Def for the Blade 2 soundtrack and never released anywhere else. Badmarsh and Shri's 'Signs' appears, like several other tracks, in limited  edition dubplate form.
 
It´s obvious that Daddy G included many tracks by his original crew, Massive Attack: Apart from 'I Against I' and a rare mix of 'Karmacoma', Daddy G has also included their groundbreaking remixes of Les Negresses Vertes and Nusrat Fateh Ali Khan ("the most enjoyable mix we've ever done"), finally ending up with Paul Oakenfold's subtle mix of 'Unfinished Sympathy'.
There are DJs, that get their kicks from playing out obscure white labels that no one knows. And then there´s DJs who simply enjoy playing their favourite records. Daddy G belongs to the latter. On his mix for the DJ-Kicks series he simply says: "These tracks are always in my box."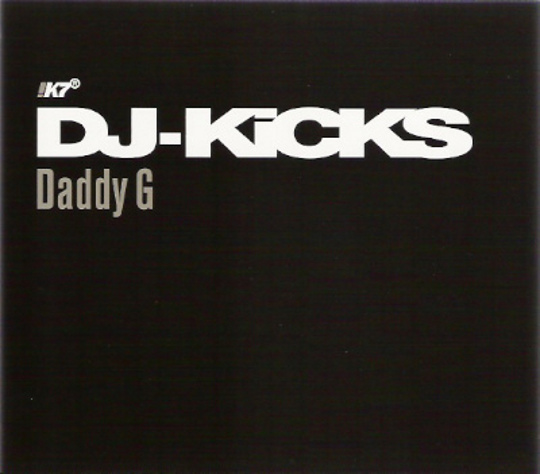 CD re-released with Black slipcase.
At last a Daddy G "DJ Kicks" - How did it come about?
So the DJ Kicks thing is kind of a mmmm…a DJ orientated, it's a good little series you know. So I wanted to make a sort of more DJ reflective thing rather than, sort of, getting really obscure and picking all these obscure tracks that no fucker would know, cause it´s not really about that. I just want to put a nice selection of tunes that you could listen to over and over again and not have tunes that would date. More of a classical feel rather than a topical feel.
How did you meet Stefan from !K7 Records?
I know Stefan from !K7 and I know some of the Terranova lot. Yeah, so it's basically through the Terranova lot who live in Berlin, that I know cause I used to DJ with this guy called Kaos from Berlin and he obviously knows the !K7 lot and he told me that they wanted me to do a series. Never really had the time to do one before you know. Or the sort of the information really yeah cause we were gonna do this on our own label called Melankolik for Virgin once…me and [3-] D do a Wild Bunch stroke Massive sort of all the tunes that have influenced us and we got a list of about 300 records but that never really happened.
Do you ever see the original Massive?
I still keep in contact with them, yeah, but not that much. I think the Wild Bunch per say circa 1986 don't really have much to do with each other, I don't see Tricky much I don't see Mushroom at all.
What influenced the Wild Bunch?
Oh God, that's how we all got into it! We were sort of punks and stuff like that, we used to go to a lot of the reggae things and so there was a cross pollination of the reggae and punk thing at the time. So it did in Bristol actually get a lot of punks going into reggae sound systems and stuff like that. And that was a really big thing to go to a sound system and to see wall-to-wall speakers and stuff like that it was amazing. We were all into our sort of reggae at the time, so to have your stomach blown through your mouth by bass was amazing. Seriously you used to go to these halls and they literally had 8-foot speakers double speakers you know. You know double speakers sort of 20 or 30 of them all plastered around a room. Yeah, you do still get it but not so much now. Everybody in St. Paul's, years ago back in the 70s and 80s…well yeah in the 70s and 80s especially down at St. Paul's were members of sound systems. So that's what we wanted to do when we wanted to get into this sort of thing but in a different way not as a reggae thing you know, Miles and Nellee [Hooper] and stuff like that and they ex punks as well… and we started the Wild Bunch. The main influence at the time was hip-hop, cause hip-hop and scratching and stuff like that came around and that blew us away.
How long have you been a DJ?
I was DJing years ago very young, in the early 80's I was DJing down at The Dugout and that's where we started playing first, as the Wild Bunch and The Dugout was this seminal club which was in Bristol where everybody went. Especially back in '77 when it was like punks, bikers, dreads, you know just a whole cacophony of people in this one place. It's surprising how so many mixtures of people in that one place don't actually erupt…I think a lot of people were into spliffing, so it kept everyone tranquil.
Was there an influential Record Shop?
Yeah, well I was paid to do it, I used to work at Vital distribution. They originally started in Bristol and they actually started at a shop called Revolver Records. Just an amazing shop, they employed me to sell reggae and hip-hop and stuff like that. That was the first time Bristol really had a shop that gets all of your imported records and that was really kicked us off cause I worked in a records shop and I had all the choice of the records, that was a really good thing for us, cause there wouldn't be anywhere at all in Bristol where you could buy records, especially imports and Jamaican imports and stuff like that. Revolver was the shop now I've been into the sort of DJ thing from 14.
Other influences, sound systems or parents?
My folks were kind of into it, we used to throw parties at the house I remember there was an old geezer we used to know, this guy called Sunny in Bristol, he had this sound system and at the time sound system wasn't about big speakers and stuff but you had the most powerful gramophone. So everyone had these 1960's gramophones with amazing speakers that were imported from the States and they had an amazing sound. What these guys used to do was drive these gramophones around in a Ford Anglia state. Bring this gramophone into people's houses into parties. You know it was like a massive Ottoman, four guys bringing this bloody gramophone; "right where do you want us to put it. In the corner right", and we set it up in the corner and play the records but you know for the 60's you know cause remember blues parties originally weren't like... When my parents came over in the late 50's from Barbados and there was a lot of West Indians in Bristol, there wasn't anywhere for them to go. The British culture really hadn't really catered for the new influx of West Indians they didn't… there wasn't any social infrastructure for them. So they made their own parties you know what I mean, they which became, called Shabeen's and Blues parties and you used to get the whole neighborhood turn up on Fridays and Saturdays at somebody's house. Parties would be in the basement where people played dominoes and stuff like that, there would be a bar on another floor, just take the whole house over for a party for the weekend this is where all of these people with their big sound systems used to come and bring them - bass in your face from the time I was six and stuff like that, it's amazing it really was.
Who were Sound Dimension?
Sound Dimension were the backing band of Sir Coxsone. They came under different names, in fact they've done quite a few covers of JB. All those Jamaican artists were influenced at the time of what was going on in the states, you know what I mean, so all that stuff was straight from the R'n'B stuff that they took a whole line you know what I mean took as in rock steady they took that sort of ethos of music and changed it but you know they were just copying originally the Jamaican original back to Coxsone who was one of the original sound system guys in Jamaica who started it all off with Duke Reid. They would just go to America and brought back loads of imports from the states, in the end it was about economics really. Just fuck it, let's make our own, that's how a sort of reggae thing came up really and it was basically trying to copy the R&B stuff from the states and slowly but surely they were able to get their own flavor.
Willie Williams
Stone cold classic. The Willie Williams thing was like a tune I always remember from the old punk days you know what I mean? I was really quite impressed that The Clash did a copy of it and it's really good as well. And it's always been sort of a classic Studio One record, cause I wanted to start this whole thing off with Studio One really cause that's my first love of music, you know, old Jamaican Studio One music…and also tribute to Sir Coxsone as well cause he died earlier this year…and it's good really, because I've got Horace [Andy] and that's where Horace began his musical career. He used to tell us stories about how Coxsone used to have his Talent spotting days on a Sunday and how Horace would turn up his yard in Jamaica sit around back in the recording studio, you know, where all the auditions going on in the studio, there where people in the back auditioning and Horace was like out there one day and Coxsone was like "right little boy sing, let me hear your voice" and Horace had to audition and he was like "you in there, in the studio, I'm going to write something for you and then we're going to record". I think he recorded his record from being talent spotted I think he was recorded 2 days later. It's amazing. Every Sunday they had an audition to sing and if they were good enough you know they would sort of be taken on and be put with people like Jackie Mittoo and Leroy Simmons who were the main songwriters and musicians in that studio.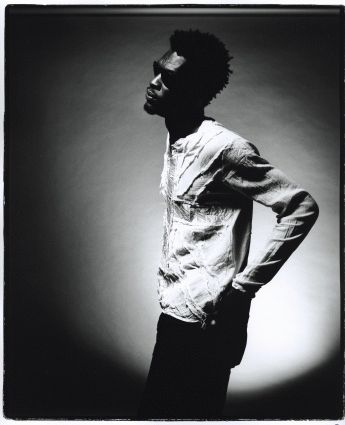 Are you a fan of Soul Jazz?
Yeah, I am, totally. Cause' eh, actually I've got some soul jazz music; I actually asked them for their permission to license this. Cause they own the whole Studio One catalogue, which is a really brilliant thing. You know, there's always a great market for the old Studio One stuff. People still want to know the original roots, cause nowadays you're getting a lot of dance hall stuff and a lot of the rhythms you're getting now, are kinda just do overs of what were around maybe 20 years ago. So it's still a bit like the hip-hop thing, you get a lot of samples, and then everybody wants to know where that original source came from or whatever. And for reggae music, you'll find that Studio One, as with you know the JB's or stuff like that is the original source for reggae music. The JB's is the original source for hip-hop, JB's beats first, and it moved on from there.
Melaaz
With the Melaaz thing, it was like... that was a brave copy of a Studio One record, which was obviously Dawn Penn's "No No No". And when I heard that, I think it was 10 years ago, I was really quite taken back that they actually attempted to do a version of that, it's actually in French, which added a bit of exoticness to it.
Tricky
You know, I haven't really seen eye to eye with Tricky for years. He's always in the papers, so any time he gets the chance to slag us off, he always does, which I find funny. He's gone a bit a stray now, you know. But I love that "Aftermath" you know. I'm not actually sure how I got that, cause of I think during the Massive thing, Tricky decided he wanted to go off and do his own thing. And we were like "yeah all right Tricks, go on then". But we never thought he could do it, we used to take the piss out of him really. And I remember actually getting hold of these white labels, he gave me all these white labels, and I thought it was shit when I first heard it and it's only now I didn't realize how much of a great record it is. It's actually one of the records that I keep in me box. I totally dismissed it, I don't know why, I guess because it's Tricky. I didn't realize that he was quite a formidable talent really and he still is you know. Sometimes he channels his energy in the most negative ways, you know. I was actually sort of clearing my records out when I found it a couple of years ago and I thought, fuck me this was wicked you know and it's never left my box since.
Portishead, Massive Attack, Tricky happened all at once?
It's a great thing obviously when you have three acts from your own town which are doing the business, you know what I mean. It's nice to have a bit of a force going on. Well the Tricky thing, I tip my hat to him because he actually went off and did his own thing, he could of stayed under the wing.
The Meters
You got the Meter's thing with "Just Kissed My Baby" that's just an old stone classic. But also it's like we, sort of, like Aaron Neville as well he's one of our heroes, you know what I mean. So we've always wanted to work with him, hopefully one day that will happen. And that one's for my daughter really, "Just Kissed My Baby." And then there's Nusrat I kind of rate that as one of our best remixes, because we did that for Peter Gabriel at the Real World Studio.
Massive Mixes
That's a funny thing actually, because those last two remixes are late to mid nineties. And that was the time we were doing a lot of mixes. We haven't done remixes for ages, or should I say any good ones. Not so much now I think people think we're too expensive as we are not asked to do too many, but I really enjoyed doing all those tracks there because we were asked to do a lot of world music remixes and that's what we were all about at the time, getting with other people from different countries and adding a bit of flavor.
Nusrat Fateh Ali Khan
But to work with Nusrat was like bloody hell man, you know what I mean. He was the most famous Kewali singer, and it was a real pleasurable experience, so I've always liked that mix. Quite a lot of these records are hard to find. They're not obvious records. A lot of people are not really aware that we have actually done that, except for the inner circle.
Les Negresses Vertes
Yeah, then there was Negresses Vertes, and I think we did a really good job with that one as well. I think it was done through Virgin but once again all these remixes were done away. That was done at Peter Gabriel's studio, which is a great place. The Karmacoma was done in Naples, you know.
Karmacoma
Yeah, because that was something we did with a guy called Rino from Almamegretta. Who are a quite famous Neapolitan band he was just a friend of [3-]D's, not a friend of D's but of ours really we went to Naples to do a little ode to D's roots he's from Naples and soaked up the whole atmosphere of Naples and did that with Rino and he added the whole Neapolitan Chorus to it as well, which was brilliant. We stripped it all down, we did it with a guy called Ben Young, we remixed it with him and everything basically re-laid most of the track.
More classic reggae
I wanted to mix it up again, I just want to take it for a bit of a roller coaster ride. Like I was saying if I had more time I would have started with punk records and ended with a couple of house records, something like that, but you can't do much with 70 minutes. It's just a collection of good classical dance records really.
Badmarsh & Shri
Well, Jammy´s was the guy who brought out the first electronic reggae which was "Under Me Sleng Teng". Well I've always liked Badmarsh & Shri, really, I know them but I'm not friends, it's just sort of musical admiration really. I loved the track and it's an unreleased version. I don't know if you heard the one on the album but it's totally different. That was just sent to me, somebody just sent it to me and I was like bloody hell man they've mixed this really wicked track which I've always loved the Badmarsh & Shri but with an old… Jamaican rhythm and I thought that was really clever, it works really well, bootlegs and stuff.
Recent bootlegs
Well, to be honest there are a couple of bootlegs that are really brilliant! My original concept for this album was to create a bootleg mix album, cause that's what I collect. I love collecting bootlegs. Yeah mash-ups and stuff like that, with acappellas over famous or good rhythm tracks. I find that quite quirky I really love that. The original concept of this album was to do a bootleg thing, but when I talked to !K7 they said it was a minefield, don't get into it. Then I changed tact and thought, you know, I'll just put on a timeless selection of records which I think are really good and that you can listen to at any time but take you on a slight roller coaster ride through different fields of music that I like.
What about DJ Kicks?
The one thing about all this Kicks thing is really bass lines, all of the tracks have wicked bass lines. And that's basically what I'm about, a wicked bass line. Half the records I know or actually hear, I don't know the names. I knew the bass lines and I knew the melodies but I never knew the actual lyrics. I was always drawn to the bass sound and I've always been into reggae. Some of the lyrics to some of the records I've liked are shit!
Too Many DJ's?
I'm totally into all that stuff because at the end of the day all it is is just a collage of music. I don't find anything bad about that or, I don't want them fucking around with Massive Attack stuff mind. Quintessentially, all I am is a DJ really, from the heart. I've always made records from a DJ point of view. I'm not really into all this technology. I'd rather work with an engineer who was totally au fait with all this technical stuff, I can't get bogged down in it. So I've always taken my influences from a DJ aspect, If I make a record it's always going to be from the thought of "I'll tell you what I really like that drum sound in that track or I like this or I like this about this record" and that's going be the basis of how I start a record from an influence that I know from something else. Then I lead on from there. Maybe it can change along the way. If I'm going to start doing a structure a record it will be inspired from another record or a certain thing I like about it you know.
How do you make records?
Ideas and elements and stuff like that. Essentially that's how we made our first record, the "Blue Lines" record, that was completely from a DJ perspective. We're gonna make a record of our favorite sounds and influences and it was quite heavily sample based. It was quite imaginative the way we did something with it. Whatever you do you've got to have an imagination to take something and do something with it. It can either be shit or the next step on, do something good with it. I'm totally into just a sort of recycling, whether it be clothes music or anything really.
Barrington Levy
It's just an old dance hall record that I remember. When I used to hear that record I was like "wow". It was the advent of dance hall, really, it's an early dance hall record. Now I think the dancehall thing is great but it's kind of lost it's way a little bit. It's had such an influence on music, it´s such a brilliant thing and it comes and goes. Reggae won't die as such, people just think right there's a new audience to come to know it. In Germany for instance a massive reggae scene and Japan. There's a band in Germany called Seeed, they're just like UB40, but they're the most authentic Jamaican reggae band this side of the pond that I've heard and they're German! They've got a few sort of German West Indians involved as well. They are quintessentially German band and, like fuck me man hear them playing, they're amazing. And they've really got a massive Jamaican scene, which is quite weird, really weird.
Foxy Brown
Everything here is all what I'm about, which is sort of reggae influenced so the Foxy Brown thing; I just love the fact that she cross pollinating the hip hop thing with the old "54-46 was my number" the Toots and The Maytals song. I thought that was really clever. Old reggae is still being used in contemporary hip-hop now, and to me that's what we were doing years ago.
What do you think of current US production, Timbaland etc. ?
I love it man because most of those people are all from the West Indian roots as well. There's a reggae influence to what they do in their beats.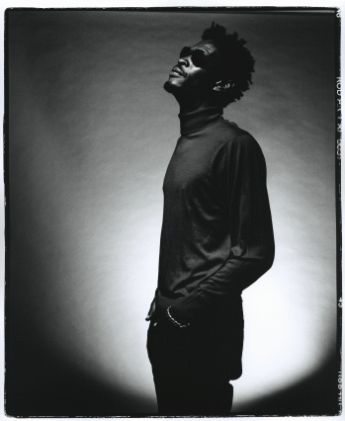 Leftfield?
I just love Leftfield and the fact that they did that record which was one of my favorite records they've ever done. The thing about liking Leftfield is that when we went to tour last. Last time we were on tour we had this system right and I remember hearing this system that Leftfield had. It was making people sick..."oh yeah! we better get that system". We tracked it down and had it on our last tour as well, absolutely amazing, it's the most amazing PA you have ever heard. It reminded us of that old school, blues, Jamaican bass lines that I used to hear at these things.
Was it more creative in the 90's?
Well, I think to be honest, it was so saturated with raves and at that time people were getting really bored. It was all about going out and getting pilled up. And with us when we first started, we were like let's make some anti-dance music, something that you can sit and listen to rather than sort of be, you know let's make something, not necessarily for people who came home from raves and needed something to listen to but it did kind of fill that void. There was nothing else around, there wasn't any relaxing music going on at the time, it was all quite hype and a bit heavily drug induced. I think people got bored with that and they wanted to make more experimental music.
Mos Def
It was on the soundtrack for Blade 2. We were asked to do that and I remember having a little pop at it and not doing a good job on it actually and I remember [3-]D picking it up and sorting it out. This came about, and since then he's done Brixton Academy and a couple of dates with us and we're thinking about working with him for the next album. He's actually coming back to live in Europe now because he's getting asked to do quite a lot of stuff here and he's becoming quite creative, and he sort of likes the European vibe you know, he thinks it's a bit more cultural. He's relocating to Europe and we'll be seeing a lot more of him, and hopefully we'll be doing some stuff with him.
New York House music?
Yeah, I love New York House. I love people like Tony Humphries and Frankie Knuckles, Dave Morales. I admire all these DJ's, there's a lot of DJ's I admire, I still love the DJ culture. Bristol's a really weird place, you know we always go for the most extreme sounds. You know, we either like the grave march or we like really fast jungle or trance, which is big, really big, you know the Nick Warrens and the Paul Oakenfolds and Sasha and stuff like that. I was a DJ like years ago and I used to play house music before and I think my tastes were a bit more varied. We used to play at all the raves, all the Universe raves and stuff like that.
CD or Vinyl?
I don't even know how to use CD decks you know I'm a Luddite when it comes to technical stuff. Turntables are great. All someone's got to do to mess me up is chuck me a CD to play and I'm like "How do I do this?"
Paul Oakenfold
Yeah, because I see Paul, he's played on a couple of Creams after us, on tour we've done Creamfields and he's played after us and you know I'm a little bit shocked sometimes, he's a great DJ and he's got all that power, but sometimes he doesn't play the best records. I think sometimes when people start pandering to the crowd, that's when it all goes wrong because you're supposed to edu--, well not, I hate the word educate, you know sort of entertain people. That's exactly why I like the whole thing.
Back to bootlegs...
The revamp of old acappellas on new rhythms keeps the whole thing fresh you know. There's still a load of records, and that's why when you hear all that 1980's stuff and when I hear it now I'm like "Oh no, please not this again." I've done it already with the Wild Bunch and that stuff really, digging out those old records.
Were you into ESG, Liquid Liquid?
I loved ESG, loved em. Liquid, Liquid, all that stuff is amazing. Good underground stuff you know what I mean? Well the funny thing is what I keep forgetting, I'm 45. I've been collecting records for thirty odd years or so. So for me to look back, my old school, is 1970s & 1960s. If I were looking for records to sample maybe ten years ago I would look for those type of records. So that was my old school so you can't knock it because the young kids who are like in their twenties their old school records are records that they heard when they were little kids and they are records I heard when I was a young man so I can't really knock it, in a way, but everything has its fashion and it's all sort of recyclable. You know sometimes fashion and records go hand and hand. People regurgitate things for a reason because there's a market that wants it and hadn't had it before so they do the laziest thing and just regurgitate it.
What didn't make the album?
I saw the guys the other day and I said to them "hey! I can't get your fucking tune". It was a track from the Chemical Brothers with Method Man and they wouldn't let me have it. It was quite shocking really, because I got the other thing from Def Jam which was Foxy Brown.
Do you play out much?
You know, I play all over the place. I get asked to play here there and everywhere. Well I tell you what; I've actually been to this club called Lux in Portugal. It really is an amazing club, the way it's done, it's a family thing they totally enjoy it, they love it, and its so welcoming. It's fucking amazing you know. Fortunately I've done a lot of good things you know; Massive Attack, the DJing thing, it's all been brilliant really. DJing's my first love really. The whole thing with DJing nowadays like I say, with the Wild Bunch you can play anything. You can be experimental, you can play reggae, you can play punk, you can play hip-hop, you can play old soul records. In a whole night we would play everything, you know what I mean, a whole span of records from different time generations, genres, everything. And it's a really weird thing that DJ's now aren't really DJ's as such, their just guys that mix. They just have one slot of records, like house DJ's, I think it's all-great, but it's so boring, and they'll play four hours of house. You know years ago as a DJ you never played that. You sort of mix it up, and you know there's a lot of music about, and it's a shame that DJ's don't take on creative power, that they can do whatever they want, and play records that they want. Because I'm sure that a lot of DJ's if you actually took them out of working hours and they were in their house playing records to you, it wouldn't necessarily be what they play to people. It's a shame that people don't really take on that power, that they could actually do that and say, "Now, I'm going to play a varied selection of music."
Interview: Peter Kirk (August 2004)
Fotos: Rankin