6th October 2006 Carlu, Toronto, Canada
False Flags/Rising Son/Black Milk/Man Next Door/Karmacoma/Butterfly Caught/Hymn of the Big Wheel/Mezzanine/Teardrop/Angel/Future Proof/Safe From Harm/Inertia Creeps/Unfinished Sympathy/Group Four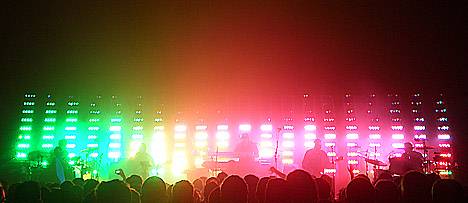 Massive Attack: Trip (hop) down Memory Lane
There are some songs that speak the language of your soul. They cradle and soothe your spirit. You have no choice but to like them, for your being has decreed it so--they speak its language, not yours.
For me, these include Lamb's "Gabriel", Portishead's "Roads", Pink Floyd's "Comfortably Numb", Radiohead's "Idioteque", Gorillaz's "Tomorrow Comes Today", and Massive Attack's "Teardrop." All are staples in my late-night soundtrack. All hit me where it hurts. I have listened to them countless times while burrowed in bed, as worldly preoccupations are banished from consciousness and sprightly candlelit shadows dance on walls.
These are musical poems I dream of experiencing live. So, when the opening notes of "Teardrop" were heard on Friday night--that unmistakable, unrelenting stutter of a beat--my heart stopped. Then the track's hypnotic harpsichord riff trickled in and I began to feel lightheaded. When, finally, the shimmering, fragile coo of Elizabeth Fraser blossomed into song, I just about lost it. For the next few minutes, the whole world stopped and I melted. It was bliss.
It's been 50-odd hours and I'm still reeling from Friday's Massive Attack show.
From the turbo-charged full band and trio of dream-come-true vocalists, to the mind-blowing LED visuals and exquisite set pacing, it was one hell of a night.
The posh Carlu--and an extremely well-heeled crowd, I might add--welcomed Robert "3D" Del Naja, Grant "Daddy G" Marshall and entourage. Three vocalists and a full band (including two drums) were on hand to resurrect the alluring, atmospheric and brooding melodies of the Bristol trip hop pioneers. An insane light display, synched perfectly with the music, took the experience to another level. Only the blackened silhouettes of group members were visible, shifting the focus from the performers to the performance at large.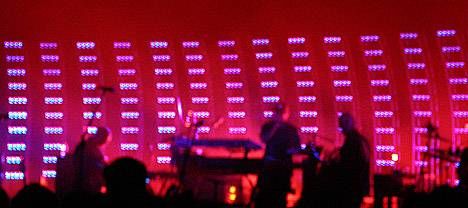 The near-ideal setlist was a little light on softer pre-Mezzanine (1998) material but, with a catalogue like Massive Attack's, you will never please everybody. Several songs received extended acoustic treatments from the inspired aural architects. A dramatic 10 minute-plus "Safe From Harm" saw staggering guitars probing every mournful crevice of the song as Deborah Miller let it all out. The drummers rocked the hell out of the beat and I was lulled to an otheworld,
Seeing reggae old-timer, the legendary Horace Andy, was a treat in itself. His distinctive, radiant voice filled the room for "Man Next Door" and the uplifting "Hymn of the Big Wheel." The latter track, one of the few off 1992's Blue Lines played, is one spun of sunshine, and hearing Andy do it live was truly inspiring. It made my knees weak and sent my heart soaring.
Other highlights included the haunting "Karmacoma" (swoon). Then there was "Teardrop". Sweet Jesus, there was "Teardrop".
"Unfinished Sympathy" kicked off the encore as Miller's voice rocketed. "Inertia Creeps" followed, becoming a full-blown dark, dizzying symphony. Closing the night was "Group Four", a sensual apocalyptic jam rife with warped guitars and dueling drums.
Unfortunately, the sound was off all night--3D and Fraser (of Cocteau Twins fame) were both drowned out at times--and the volume was far too low, a real shame. But, no matter, such small annoyances could not touch my high.
As I left the Carlu, I was floating on clouds and beaming like fool. Comforted, contented and blissfully drunk on song.
by Panthea
http://www.blogto.com/music/2006/10/massive_attack_trip_hop_down_memory_lane/

After 8 long years, Massive Attack pulls fans back into hypnotic groove
There was rapturous applause at the Carlu concert hall last night as Massive Attack took the Toronto stage for the first time in eight years.
Promoting its new greatest hits album, Collected, and its upcoming studio album, Weather Underground, set for a February 2007 release, the band was in fine form, proving to be every bit one of the most influential acts of the past 20 years.
Since the band last played this side of the Atlantic, the trip-hop pioneers have built up a fan base as eclectic as the genres their music blends: there were blazer-wearing hipsters, hip-hop kids, Goths, club kids, hippies, rave-era refugees and a host of others. Hollers rose up from everyone in the swanky venue when the band from Bristol, U.K., launched into "Risingson" from their 1998 album Mezzanine.
Two drummers, a synthesizer player, a bassist and guitarist gave a spot-on, mesmerizing rendition of the song as Massive Attack co-founder Grant "Daddy G" Marshall shadow boxed in front of a wall of LED lights.
Packed with dirty guitars and pounding, down-tempo percussion, the song was just one of many the band delighted the crowd with from Mezzanine, a critical darling and dorm room favourite. Following up "Risingson" with "Black Milk," also from Mezzanine, Cocteau Twins singer and Massive Attack regular Liz Fraser was hypnotic as her ghostly, gorgeous voice floated above the song's raw, dark orchestration.
Along with Fraser, the crowd was also treated to the presence of reggae star Horace Andy, who had the crowd in a trance as he sang "Man Next Door."
Just before the Mezzanine-heavy show started to look like a one-album concert, the band launched into a few songs from their sophomore album, Protection, and one from 100th Window.
With each departure from Mezzanine, the crowd seemed to lilt, coming down from a high they were just beginning to enjoy. But then Andy took the stage again, this time for a heartfelt rendition of 1991's "Hymn Of The Big Wheel."
Reaching from crescendo to crescendo to crescendo, the crowd was immersed in the back-and-forth groove that was worth the eight-year wait.
Many were too young to attend a live show the last time Massive Attack played here. But as the look of the crowd at the Carlu showed as it swayed back in forth as if hypnotized, it was worth every minute of the wait.
by Dave McGinn
http://www.thestar.com/NASApp/cs/ContentServer?pagename=thestar/Layout/Article_Type1&c=Article&cid=1160171411367&call_pageid=968867495754&col=969483191630

Teardrop -> http://youtube.com/watch?v=kPvdfeDi8iA