8th February 2010: Massive Attack for Hoping - Newport Centre, Wales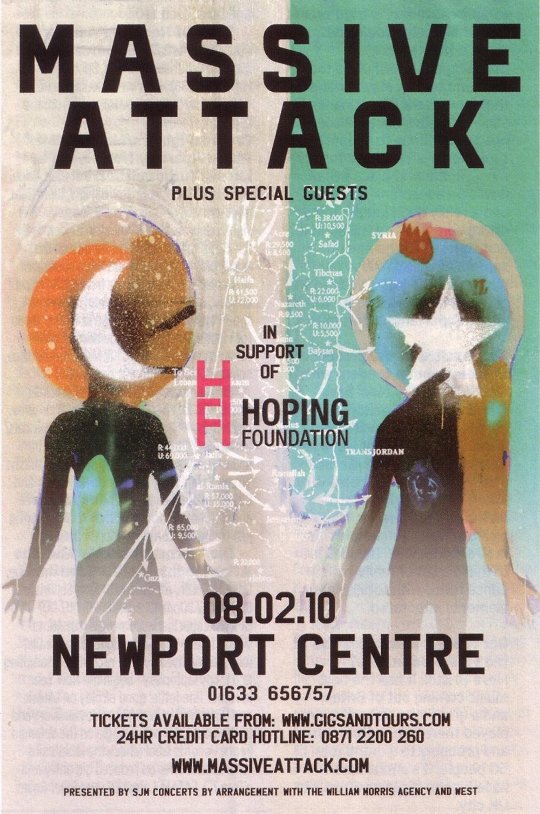 United Snakes / Babel / Girl I Love You / Rising Son / Psyche / Invade Me / Futureproof / Mezzanine / Angel / Teardrop / Safe From Harm / Inertia Creeps
Splitting The Atom / Unfinished Sympathy / Atlas Air / Karmacoma
Well it was truly a joy to be making the short trip over the Server to see Massive Attack's first gig of the year, especially after the disappointment of the Bestival debacle last year. It being the same day that the new album is officially released, I was a little apprehensive as it's by no means a classic, being a patchy collection of tunes, although it's still has some very enjoyable moments. These are truly enhanced by the live experience so I would obviously recommend catching one of the dates this year.
So we arrive, collected our wrist bands (yes I was on the blag of course!), dropped a few notes into the Hoping collection (it was a benefit after all) and made our way upstairs to the bar – everyone was a little disappointed that we couldn't take our drinks downstairs into the concert hall mind.
They eventually meandered on to a fairly muted audience response, which was more "we know who you are now entertain us!", making me think a fair few other's had come over from Bristol! Wasn't even sure what I was listening to at first and i'm still not impressed with Hartcliffe Star. I had actually named one of my own tunes after this constant Police irritant that always seems like it's hovering over OUR house every night, so I was hoping it would be good enough for me to rethink a title, however this soulless dirge not being included on the album was a good thing. The sweet breakbeat and bass of Babel kick in next help me forget about that and onto my next concern - Martina singing for Massive. But there's no need for alarm, her voice is stronger and less tentative here.
But it's not until Horace wonders on and Girl I Love You kicks in that I'm feeling happy and truly captivated for the first time. This is even better than the first time I heard it at Glastonbury a few years back. An intense Risingson makes way for an incredibly boring Psyche with only the enthusiastically animated keyboard operator stopping me from deep sleep. There's another new tune With 3D which is not as lifeless but still dull and then they ruin Future Proof - by now the quiet to crescendo formula of the proceeding numbers is becoming a little tedious and the addition of some sort of Hammond organ is just a little off putting – possibly trying to make a cold sound tune a little warmer after years on the road, would suggest an occasional set list adjustment would be a better idea - would love to hear Butterfly Caught again one more time.
But all is not lost and the genuine standards of a particularly awesome rendition of Angel (which never fails to disappoint) as well as Safe From Harm and Unfinished Sympathy et all are still enjoyable with a total rework of Teardrop proving invaluable to this jaded fan! Sometimes I come to a Massive Attack gig frustrated with their detatched inner workings and empty promises to us, the fans.
But they save the best for last and Splitting the Atom reinforces the promise of the EP it arrived on, with the entire cast on stage for the encore followed later by a simply entrancing finale of Atlas Air.
Overall if was a powerful performance and the two newbie's with me, were suitably impressed. Although the new screen is rather cool in a budget kind of way, I did find myself a little too distracted by the text occasionally and frustrated with the setlist, longing for something else like Protection or Eurochild.
All this opinion is of course deeply subjective - having heard of lot of this over the years it's easy to delve too deeply into an experience, that is more than unique for a lot of other people.
Seeing them in a relatively smaller venue was fantastic and I look forward to the next one.
* In true Factory style there didn't seem to be a merchandise stand but you can now buy the special Hoping T-Shirts online with all proceeds going to the foundation.
by Avalanche.
http://massiveattack.officialmerchshop.com