City of darkness, city of light (Guardian, 29th May 2008)
Paul Lester explores the lineage of trip-hop and finds a 'Bristol Sound' haunted with nuclear anxiety but invigorated by its multicultural heritage.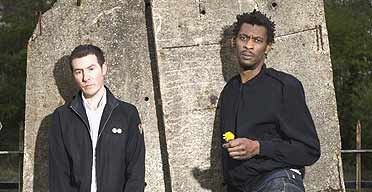 Trip-hop pioneers ... Massive Attack. Photograph: Harry Boden
Bristol may only be England's sixth most populous city but it is surely the only one with a sound worthy of a dictionary entry: trip-hop. The torpid beats and sluggish menace of the "Bristol Sound" is the quintessence of all that is heavy and dark, capturing a feeling of dread that would appear to be in the city's air, in its blood. It makes a horrible kind of sense that Richey Edwards of Manic Street Preachers is thought to have gone there to end his life, two weeks after he left a London hotel room in February 1995, his Vauxhall Cavalier found abandoned at a motorway service station just outside the city, near the old Severn bridge linking England and Wales.
But before Bristol became synonymous with spliff-addled beats and claustrophobic unease, it threw up a number of interesting bands. In the early-70s there were prog-folk quirky-somethings Stackridge, who played the first and last notes at the inaugural Glastonbury festival in September 1970 and whose infectious melodies and inventive arrangements - somewhere between Music Hall and the Marx Brothers - paved the way for the 70s art-rock of 10cc, Supertramp and Sparks. By the late-70s punk had infected the populace, with the Cortinas (not to be confused with today's Courteeners) the first off the mark, their 1977 single Fascist Dictator a classic of amphetamine angst. Next were Vice Squad, fronted by Beki Bondage, often dubbed punk's first pin-up, who once controversially appeared topless on the cover of defunct music weekly Sounds. More interesting were two bands that provide footnotes in the annals of post-punk: Glaxo Babies and Maximum Joy.
However, the first truly significant band to emerge from Bristol - and the one who most accurately reflected the multicultural make-up of a city whose black population dates back to the 18th century - were the Pop Group (two of whom left to join the aforementioned Maximum Joy). If you want to find a Year Zero artefact for the trip-hop sound of the 90s, look no further than the Pop Group's 1979 debut album Y (produced by reggae veteran Dennis Bovell) and its forbidding mash-up of dub, funk, punk and free jazz, particularly the cataclysmic single She is Beyond Good And Evil.
Despite their name and the fact that they became the first ever act to appear on the cover of NME before they'd released any music, the Pop Group were never going to be serious chart contenders. Nevertheless, following their split in 1981, members of the band did go on to form Rip Rig & Panic, featuring the primal screams of Neneh Cherry, and Pigbag, who had a No 3 hit in the funk-obsessed summer of 1982 with Papa's Got a Brand New Pigbag.
Where the Pop Group and their contemporaries used dance music to express late-70s/early-80s nuclear anxiety, a decade later into Thatcher's reign, there is a sense from Bristol's experimental musicians that apathy mixed with fear, hence the atmosphere of inertia and languid menace that is the hallmark of trip-hop. Arguably the first airing of trip-hop, this new-fangled brand of down-tempo electronic dance music that grew out of England's hip hop, house and reggae scenes, was a 1989 cover version of Rose Royce's Wishing On a Star by Fresh 4. Produced by a Bristol duo called Smith & Mighty, it set the sad, somnolent tone of the next few years. By the mid-90s, in the wake of the landmark trip-hop trilogy that was Massive Attack's Blue Lines, Portishead's Dummy and Tricky's Maxinquaye, trip-hop was the ubiquitous noir alternative to Britpop. And although Bristol today has many thriving scenes, from thrash metal to indie electronica, even if the city never produces another note of note, Bristol's place in the music history books was assured forever more by trip-hop's Crucial Three.
http://www.guardian.co.uk/music/2008/may/29/o2wirelessweekenders2008