Les Inrockuptibles (11th April 2006)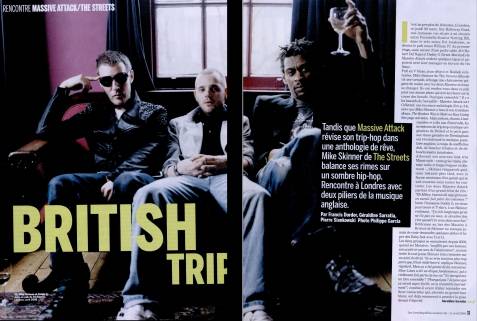 It's a bit past 2PM, in London, on that tuesday, the 30th of march. On Halloway Road, a lengthy street mid-way from Portobello Road and Nothing Hill, in very [mixed] East London, stands the opulent-looking pub William IV. On the first floor, seated around a small table, 3D (Robert Del Naja) and Daddy G (Grant Marshall) are eating tapas and chatting with their manager while drinking white wine.
V-sweater, prewashed jean, shining Rebooks, Mike skinner of The Streets springs up like a storm, exchange warm handshakes with the two Massive and dash away to change clothes. They're all meeting in this pub for the photoshoot of an Inrocks cover which must show them together. Why together ? Well, first there's a schedule coincidence. Massive Attack is releasing Collected, a sumptuous anthology, when Mike Skinner's jut done with his third album The Hardest Way to Make an Easy Living. But above all, they've all, the Bristol creators of extatic trip-hop and the bloke from Birmingham with his brilliant rimes,within a ten year interval, revolutionised english popular music with dub [exhalations], tribal loops and jamaican swings.
Skinner reappears with a new Miami style look - grey jacket, black shirt and large diamond rings - and the feigned assurance of a kid knowing he's being sized up from all sides. The two Massive Attack erupt in laughter: "Hey, Mikey, you should have told us, we would have worn suits" says gigantic Daddy G to a blushing Skinner. "It's been a long time. Last we saw you was when you came to my club". Reference to Massive Attack's club in Bristol where Skinner never fails to go have a pint and play tabletop-football with D and G.
The two have known each other since 2003 when the Massive, "blown away by his humor, his acuity and his sense of observation", had invited Skinner to join them in a small festival. "I don't really remember as I was dead drunk", explains Skinner, laughing. But it was great meeting them. Blue Lines was a fundamental record, a real part of my life". About recording a track together with them:"Why not ? I think it would be very easy, we're very simmilar", he concludes before joining his two fellows already starting to strike a pose in front of the camera, the great white wall behind them. There's a peculiar gratitude toward strange bands which succeeded. As if part of the sympathy we hold for them comes from the way they stole the public's heart without muffling the follies of their youth. Think of Pink Floyd, Cure, Radiohead... With Massive Attack, that tendency kept growing , from Blues Lines to Protection to Mezzanine to 100th Window, discographic milestones paving their more and more tortuous, steep and perillous, yet never less travelled, path.
That singular path yet have no more horizon to offer than that of a peaceful, almost insignificant town from west England, Bristol, where the story started in the early 90's, and where all of it will be written. How could such an ordinary place spawn so vast and turbulent a music ? That question have sprung more than once to the wandering music-lover. In Crawley it was craking his lips as songs from Cure set his heart on fire. Brought up by the chilling breeze blowing from the Avon river estuary, that very question slaps him as soon as he reach that town from which the dark and intoxicating liquor called trip-hop filtered.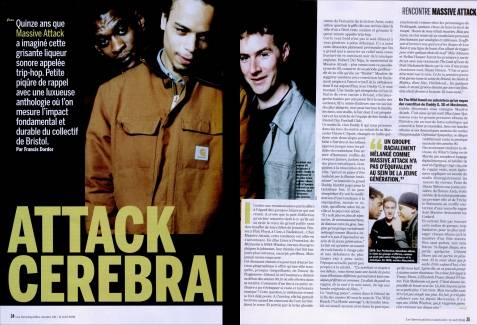 For the cold wind isn't the only element to assail you as you [turf out].There's also that provincial platitude you have a hard time associating with the black fractured geodynamic of english music. Robert del Naja - Massive Attack's mastermind - better known under the 3D monicker he kept from his graffiti days - says about his hometon that it is "limited". A way of suggesting how that restriction in the end was auspicious to the creative rise of the nebula which only left he and Daddy G unscathed. A restriction which haven't prevented any of them to still live in Bristol, middle-class town haunted by its slave-trading past. 3D leads there a socially very integrated life, spent between his familly, his friends, his studio, his club, and the matches of the Bristol City Football club.
That morning, it's Daddy G who's showing us around, driving his Mercedes turned children care center, with two infant car seats and pacifiers scattered all around, even under the pedals.
An army of men wearing yellow helmets, perched on cranes, is working on renovating the city, "which is being bought up by London finance" laments the soon to be for a third time "Daddy". He can't help but see in all this the confirmation of a tendency to segregation which according to him smitens his town and the whole country.
"There's more and more division, [communautarisme], distance between people. Can you imagine that an ethnically mixed band like Massive Attack has no aquivalent in the new generation ?"
The truth is that between the assault of pale skinned rockers and the phalanxes of black skinned rappers, the times feel unpropitious to syncretism... "Everything seemed so simple when we started: we where a bunch of friends with different origins fusing their favourite music together, from punk to regga to soul to new-wave to rap and soundtracks.."
That "melting bunch", Bristol's end of the 80's Wild Bunch, would soon become a sound system which in effect, just as a Peckinpah character, would keep an unlawful and daring side. "None of us was a musician. But little by little we built up our own musical vocabulary, working by analogies and references. You only had to take a guitar line from a Lou Reed record with a reggea bassline to make something new." Milo Johnson and Nellee Hooper were the first to stand out with a cover of Burt Bacharach 's The Look of Love bluesified by the voice of young soul singer Shara Nelson. "This is what made all the rest happen. The germ from which sprung all the Bristol scene, Simth &Mighty, Roni Size, Portishead... in a matter of months, street groove backing a feminine voice would become fashionable. And so would we." From the wild bunch, only a core made of Daddy G, 3D and Mushroom, eventualy named Massive Attack, would subsist. This is when Blue Lines which, like any great first album in history, is an esthetic tour-de-force bringing the future to the present, was released. With its tribal loops and cinématic chords (the unfaltering Unfinished Sympthy) that record redefined the whole musical practice of the 90's.
That new practice wasn't only to convey the helplessness of Marvin Gaye's What's Going On via samples and interpolated digital language, nor give twenty five years of roots reggea a new and fireproof appearance, it was also to apply to the recording studio world a movie studio mentality. It was to make of young Shara Nelson the Leading lady, of old forgotten jamaican star Horace Andy the main star and of Tricky the subterranean breathing Belmondo of a Nouvelle Vague with Massive as its Godard.
It was, furthermost, to do away with the concept of "band" only to envision each album as an aural movie. All of that didn't went without turmoil. "With every record we lost someone. First it was Shara who left crying. And the only thing we know about her nowadays is that she hates us. After her we couldn't picture another singer. That's why we tried with Tracey Thorn, Elizabeth Fraser, Sinéad O'Connor. Then Mushroom left. We haven't talked in five years. It's sad. And working with 3D isn't easy either. In factI haven't really worked with him since Mezzanine seven years ago. 100th Window which I don't really like, really is his solo record."
Finally, the Mercedes stops near the parking of 3 Unit, the studio built by 3D and Mezzanine and 100th Window producer, now full time member, Neil Davidge. Daddy G show us the way to the door but do not go in himself say hello to his "ex"... "We're still friends but we each work our way. The next album will be like a puzzle with 3D's tracks on one side and mine on the other." When we reach 3D under the studio's roof timbers, he's despairing to finally deal with a bunch of terrorists hidden in a mexican building. Hands clenched on the gamepad, he's yelling "Where are my mens ?" while his virtual alter ego empty the charger of his automatic weapon. Given the release of the Collected anthology, the scene seems truely allegoric for, even given his Sean Penn air, 3D really is Ripley from the original Alien. With each record one of his team mate disappears. But who's the monster, really ? "I have the repution of being a 'control freak', OK. But Daddy G always hated being in the studio. And with Mushroom, there was a moment when we couldn't even communicate".
Things started to change from Mezzanine and on, in 98. Four yeas before there had been Protection and its driving track Karmacoma, by which, thanks to the abstractive power of dub, Massive managed to transplace the inner into the outer, to invite our being-in-itself on the dance-floor via this physical as much as metaphysical sound. To quote from writer Erik Davis, Massive Attack's music in way "opened a new dimension of reality". But Protection still belonged to a stable reallity. Which wasn't the case with Mezzanine, in which 3D had to deal alone with Cocteau Twins singer Elysabeth Fraser and his last standing soldier Neil Davidge, who would invent for him new sound built on a bio-technologic approach, with guitar merging with machines and metal incrusted on the skin. The record is walking on crutches and precarious strengh as well permanent risk taking, allowing it to exude that perfume of dark extasy (Angel), of druidic mysticsm, of waking dream (Teardrop, Black Milk). In the end, Mezzanine was the only record that made crossing the fiery Rubicon from the 20th to 21st century a pleasure. 3D has put away his gamepad. "Why a Best of ? Because we had no choice and it was better to it do our way, to impose the bonus disc, or use the excuse to work on a new clip with Jonathan Glaser on Live With Me with Terry Callier. Also it allowed to redefine our live performances." And he announces the next tour, in wich Massive will go with two drummers. And that live show in Los Angeles this autumn with Queen of the Stone Age's Josh Homme as guest as well as... Tricky.
It may even be that Tricky will be on the next album along with Liz Fraser, omnipresent Horace Andy and a member of New-Yorkans TV On the Radio. Would Tricky's return mark a return to the original trip-hop, as Daddy G seem to be wishing - and as Live With Me seem to hint ? "No way. Each record pushed farther the limits of the preceding." Yes but 100th Window, autistic masterpiece if there ever was one, ended on Antistar and long Steve Reich-esque epilogue, sort of like a [sonic chasm]... and really who would so much dislike the history of Massive Attack, strange group to dance and lament with, to start from the beginning.---------------------------------------------------------------------- ------------Here it is, just in case.Still can't find a proper way to translate "communautarisme", so I left it between brackets.. The word, pretty recent in his accepted usage, has a meaning close to "clannishness". It descibes communities defining themselves by self-segregating and the use of ostentatious signs.
I wonder what word from english -they chose to translate that way in french. :?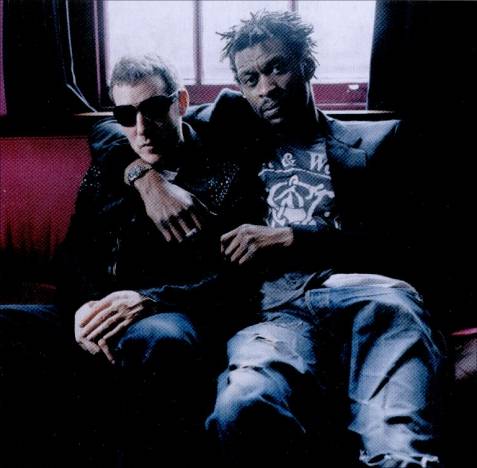 Original article from Massive Attack Area
Transaltion by MD^2