Flagging up the best in pop (The Telegraph, 12th June 2008)
Bristol band Massive Attack reveal how they chose the multi-talented line-up for this year's Meltdown festival.

Daddy G - Grant Marshall talks about the musical side of Massive Attack's Meltdown
'Glenn Max [the producer of contemporary culture at South Bank Centre] approached us originally and asked if we'd like to curate Meltdown. We asked, 'How?' and he said, 'Just send your wish-list of artists and we'll get them for you.' At first that was the case, but in the end we had to put calls in ourselves, telling people they'd been a great influence on us. Between Glenn and ourselves, we got it together.
Meltdown has a fine heritage. Of the previous curators, I feel most affinity with John Peel because his was the first radio show we used to listen to with serious music on it. John used to play a bit of punk, but was also totally into reggae, a combination that eventually reflected what Massive Attack were about. This eclecticism is also represented in our Meltdown.
Stiff Little Fingers and Gang of Four go back to punk. Stiff Little Fingers are one of 3D's favourite bands and the flames on the Massive Attack logo were kind of ripped off [the cover art to] Inflammable Material. [Polemic noise maverick] Mark Stewart is one of the biggest influences of my life. I knew him in the early days when his Bristol band The Pop Group brought new things to the punk table, flirting with funk and reggae.
Mark was the first person who gave me the heads up on sampling when he told me, 'Oh, man, I just made a beat out of a pneumatic drill.' He went on to work with Adrian Sherwood, who's also playing.
I always loved Sherwood's stuff, total distortion but everything pinned down with heavy basslines. In the same area we were lucky to get the crème de la crème of dubstep [Dubstep Chronicles night]; it's the music of now and it's caught our imagination.
We've brought back some great names from the past - we were very fortunate to get [Japanese electro-pop legends] Yellow Magic Orchestra, we're putting Grace Jones back where she should be - on stage - and while [prog hippy loons] Gong aren't especially a favourite of mine, the great thing about Massive Attack is the cross-section of bands who are represented between both of us.
I'm also really looking forward to Flying Lotus, a new act from California. All the established hip-hop artists just make records for the charts, to make them millionaires so they can drive round in their Bentleys. We picked Dalek and Flying Lotus because they're another side of hip-hop.
I wasn't much involved with Massive Attack for a while. I was busy having babies, three kids in five years, and 3D and I weren't really hitting it off in the studio, so I took a bit of a sabbatical to clear my head and get focused.
Now I'm back. Massive Attack are topping and tailing Meltdown. At our opening gig 10 new songs will be played for the first time to an English crowd. The closing gig will try and mix it up, have a few surprises, a few guests, maybe bring the orchestra, maybe have Damon Albarn down.
We're going to be there all week. It's our show and we want to make sure everybody's welcome, that we see everybody. We don't take this lightly. As much as we're putting it on for everyone else, we're putting it on for ourselves."

Daddy G was talking to Thomas H Green
3D -Robert del Naja on the visual aspect of the festival
'I've looked after most of the visual side of Meltdown, but this is my first time curating, rather than creating art. Opening the festival for us are United Visual Artists, who work with light. Volume is a continuation of a show they did for the V&A last year.
We've remained tight with them since we started working together in 2003 on our 100th Window tour. We share a common ideology in terms of how lights should work with the music, whether cinematically or transmitting information. I had a bit of an idea about what I wanted to do but, pixel by pixel, they extended and developed it. The end experience is different for every viewer; each one feeds it in a different way.
Art is so much more interesting when it's collaborative. Curating the festival has been like a continuation of the events we put on when we were in the Wild Bunch [the collective from which Massive Attack grew]: the warehouse parties and the jams on the streets in Bristol. It was a case of doing everything, from fly-posting to buying the beer, setting up the generator and painting the venue with graffiti. We've brought exactly the same approach to Meltdown.
Take the remix of the Blade Runner soundtrack. It's a one-off event, without a crazy budget. The only preparations that have been made are in terms of the Heritage Orchestra working out how to translate the parts to the players, and thinking about which vocalists we could bring to the night. But the mixing and the visuals will be made up as we go. It's not meant to be a big bombastic production: the film does that for you.
We're also projecting a lot of stuff on the outside of the South Bank, using that space in association with the human rights charity Reprieve to exchange political ideas. We wanted a strong political element.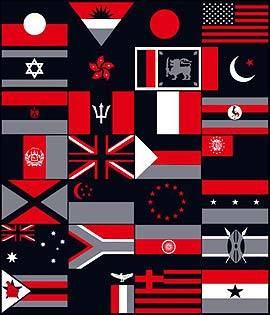 I have a piece called Favoured Nations that will be on show for the duration. It's about what flags represent in terms of our British colonial past. Flags have such territorial associations, don't they?
Our history is all about drawing borders in other countries, enforcing trade, affecting other people's economic and social history. But that side of our past has become obscured. I've chosen a series of flags which are linked to British history and desaturated their colour. It strips their identity to such a degree that they seem vague and obscure. I like the idea of removing their power.
Also inside the building, we've got something called Wallpaper by Stanley Dornwood, a work about torture in the modern age. The apocalyptic stuff he did for Radiohead is provocative, I like his political undertone. The idea of using wallpaper came from Clive Stafford Smith [founder of Reprieve]. Clive was adamant that humour and irony provide a great way of sharing information. Wallpaper explores something extraordinary, something terrifying, in context of something very ordinary.

3D was talking to Lucy Davies
June 14, Massive Attack The brooding Bristolians launch proceedings with a show promising their head-nodding classics of the Nineties and plenty of material never heard here before.
June 16, Elbow + Fleet Foxes Mancunian rockers of the Nineties enjoying a new lease of life, plus the finest Crosby Stills and Young tribute band in the world.
June 16, The Night James Brown Saved Boston Documentary about Brown's role in bringing calm to Boston on the night in1968 that Martin Luther King was killed.
June 17, Blade Runner The Heritage Orchestra perform Vangelis's epic soundtrack.
June 19, Grace Jones The diva returns to the stage ahead of her first album in 19 years.
June 20, Terry Callier At 63, still one of the richest, most evocative soul voices in the world.

www.southbankcentre.co.uk
http://www.telegraph.co.uk/arts/main.jhtml?xml=/arts/2008/06/12/bmmassive112.xml