Back Home (This is Bristol August 21st 2003)
After a hugely successful world tour, Massive Attack return to Bristol on Monday to play to 20,000 fans in Queen Square. Mark Taylor talked to the band on the eve of their landmark homecoming show.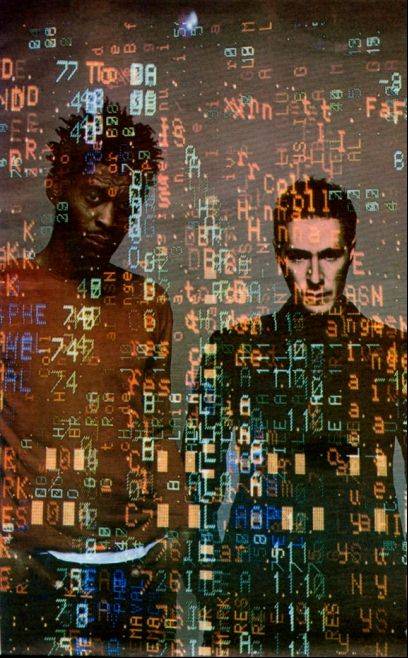 Daddy G has always been the most reluctant of interviewees and even to promote Massive Attack's biggest hometown gig, he's a difficult man to pin down for a few routine enquiries.
"I don't really do interviews - I don't like them," says G, almost as soon as he picks up the phone for what is an increasingly rare interview.
Interviewing Massive Attack can be as frustrating as it can be invigorating.
In the first instance, trying to organise a chat with the band is often like trying to secure an audience with Elvis.
After a few initial enquiries, helpless hacks have to try to penetrate the wall of PR and management that surrounds the band.
And then you wait for the call. And wait. It's never an easy task trying to get a few precious moments with Daddy G (Grant Marshall) and 3D (Robert Del Naja), and virtually impossible to interview them together.
I remember the last time I interviewed 3D, he phoned me on my mobile at Sam on a Saturday morning. Not a problem as such, but I was stood in a queue at my local butchers at the time and, for some strange reason, didn't have my pen and notebook to hand.
And so, the call eventually came, with two mobile numbers to phone G and D at their respective Bristol homes at the given times - two separate phone calls to the two founder members of the biggest band to come out of Bristol, and one of the most influential British bands to emerge in the past two decades.
Not ideal, perhaps, but then not unusual for a band that has spent most of the year travelling the world to promote their fourth album, 100th Window.
Massive Attack's 2003 hugely successful tour has seen the band perform throughout Europe and Australia, with dates in America and South America lined up in the next few weeks.
But before that, they have the not insignificant job of performing to 20,000 people in Bristol's historic Queen Square on Bank Holiday Monday (August 25).
It's only the third time the band have played in their hometown - and they are joined by an impressive supporting cast that includes The Streets, Goldfrapp and former Tricky collaborator Martina Topley-Bird.
For a band that grew up, formed and continue to live in Bristol, it's a homecoming gig that means a great deal to Daddy G and 3D.
"We want to make sure it's something very
special," says Daddy G.
"I think if you're going to play in Bristol, you've got to do something special and the fact that we've got the other bands involved means it's a special thing.
"We owe it to Bristol to put on something good and after touring the world three times, it's nice for us to have a homecoming.
"Everybody feels part of it, and in a way everybody is a part of it - this is where we come from, it has been part of our make up and this is the fabric of what we're about.
"All our families and mates will be there. It's going to feel like being in one giant pub.
"If it has a pub atmosphere, I'll be more than happy," laughs 3D.
"I just want the vibe to be right, for everybody to be happy and for everybody to have a really special day We're also really lucky to get such a strong line-up, especially with bands like Goldfrapp and The Streets.
"With so many great bands appearing in such a strange venue, I think that will generate the excitement and create the vibe we need.
"There'll be a few nerves about getting everything right but after touring all year with this show I can't really see any difficulties on the stage."
Of course, the only potential problem for the outdoor show is the weather, but 3D accepts that this is the one thing out of their control.
"If it rains, it rains," he laughs. "I went to see Radiohead play an outdoor gig in Oxford and it pissed down all day. One thing you can't account for is the British weather."
The gig is the first time Massive Attack have played Bristol since appearing at the Anson Rooms in 1998.
Although the band are known for their love of playing special shows - particularly in their hometown-there is another important factor in their reluctance to play in the city.
"I'm still disappointed there isn't a big venue in Bristol," says 3D.
"We travel the country and the world and we see so many great venues that it seems strange that we still can't get it together in Bristol because it's such an important city now.
"Look at the way Wales is developing - much quicker than we are. I don't understand where the money's going."
Daddy G adds: "We're very lucky that the council has given us Queen Square.
"It pisses us off that we haven't got a big enough venue where us and other Bristol bands like Portishead and Tricky can play
"Bristol has a great musical heritage but you've still got people on the council who don't acknowledge that.
"We should be getting at least a 6,000-plus stadium to attract bands. It's embarrassing that you've got big bands bypassing Bristol and heading for Newport. I mean, no disrespect to the people who live there, but where the fuck is Newport?
"I've seen really big bands play there and I just think why not Bristol. It's disgusting.
"If this was any other time of the year, we wouldn't have anywhere else to play in Bristol.
'We'd love to play Ashton Gate, but we don't want to play Ashton Gate - we want to be able to play in a hall."
Massive Attack's Bristol gig marks an important milestone in the band's 16-year career.
The band formed out of the legendary Wild Bunch sound system in the mid-SOs, playing clubs like The Dug Out in Park Row.
It was here that their groundbreaking blend of hip hop, new wave reggae and early house and techno shaped their universally acclaimed 1991 debut album, Blue Lines.
Subsequent albums Protection, Mezzanine and the new release, 100th Window, have enhanced their position as one of the biggest bands in Britain.
But 2003 has, in many ways, also been the toughest year for the band.
To start with, Daddy G's absence from the recording of 100th Window to look after his baby daughter, Ava, fuelled rumours that there were tensions between him and 3D and that he had left the band for good.
And then on the eve of the album's release, 3D's name was the subject of tabloid frenzy when he was investigated for allegations of viewing internet child pornography, charges he strenuously denied and which were later dropped.
The whole experience has been a living nightmare for 3D, who says that 2003 has been the worst year of his life, but one positive side to it has been the fact that his notoriously love/hate relationship with Daddy G has strengthened because of it.
3D says: "I've been travelling the world all year and I've been surprised at how many amazing friends and supporters I've got because I'm normally a cynical person.
"The quote that sums it up is from Carlito's Way when they said: 'Champagne for my real friends and real pain for my sham friends'.
"At the end of the day, what you need to do is surround yourself with people you believe in and when you go through a crisis like this, you soon find out what is real and I think that's important."
Daddy G adds: "We've known each other for such a long time and we've had this love-hate relationship for the past 18 years. We're onto a good thing as Massive Attack and we're not stupid enough to throw that away"
So, what can we expect from Monday's Queen Square landmark homecoming appearance?
"We've got to do a shorter set than normal-about 90 minutes -just to get all the other bands on,"says 3D.
"We'll play a few new ones, some older ones and a few 'classics'. You've just got to mix it up and try to cover as many aspects of what you've done in the past in one gig which is difficult."
"The weirdest thing about Monday's gig is that after such a hectic day I can go back to my own house afterwards.
'What we did after the Anson Rooms was stay at a hotel just to keep the tour vibe going. I think this time I'll get the bus back home!"