Unfinished Sympathy (The Ashton 82 The Year Bristol City Nearly Died, 2007)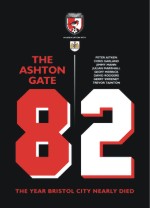 Robert Del Naja, a founding member of stellar Bristol band Massive Attack, has enjoyed rather more success as an artist and musician than he has as a supporter of Bristol City. Nonetheless, Del Naja's passion for the club-he helped establish the cult City fanzine 'Ultra* in the early nineties-remains strong, as his generous sponsorship of the commemorative booklet for the Ashton Gate Eight amply demonstrates.
We asked Del Naja for his memories of supporting City.
When did you start supporting Bristol City?
I've supported City since 1977, or for about thirty years, which is terrifying. My dad, Franco, took me to see my first game, against Liverpool. He knew Harry Dolman [former City chairman] from the pub trade and had a free season ticket. I was at the age where he thought I'd be up for it; I went down with him and that was it. The following season I went to every single game, in the school enclosure, and did that until I was old enough to graduate to the East End.
Years later, when I was about seventeen, I removed the snorkel parka and wore a leather jacket. There were studs all over the shoulder. Once they turned me out for wearing it, but I went back in with it on and they took me out to be photographed and then banned me. We were seen as a bad influence because we dyed our hair and all wore the jackets. The crowd shouted, 'Channel 4, Channel 4', because that represented the alternative scene.
We went into the Open End just before it shut, as it was the last terrace [at Ashton Gate]. It was the Dziekanowski/Cole/Rosenior season, and we started trying to get Italian football songs going, flags and balloons, confetti... They banned us from taking confetti in because the groundsman was pissed off with clearing it up. Always a glamour club, City.
You were one of the Ultras...
I visit Naples regularly and support Napoli, because that's where my father is from. I love watching them play in the San Paolo stadium, where it is a different atmosphere. The combination of the drums and the tear gas makes my eyes water every time. We thought we'd have a laugh and try to recreate some of the excitement on a miniature scale in the Old Open End Ashton Gate. We had some good times on that terrace before it was rebuilt. We started the Ultra magazine as a labour of love. It was a very expensive process, though, because we tried to make it a glossy magazine-the first fanzine of its kind in England. We made great images of Andy Cole, Jacky Dziekanowski and Russell Osman and tried to make it look more like a straight magazine than afanzine. It collapsed after one season, 1992/93, with half of the money being drunk down the pub.
What do the Ashton Gate Eight mean to you?
If my dad had only told me, 'Here you are son, enjoy the years in the First Division because it will be all downhill from here.' It was an extraordinary time to support the club-enjoying the First Division, seeing us beat Man Utd... And I remember the week when City beat Liverpool I -0 and then Coventry 5-0, when Ritchie got a hat trick. All those players are heroes to me. Watching the way it collapsed so quickly was shocking. We all had stickers in our window, 'Support Bristol City, Now or Never!' But in true Bristol spirit it was not the tragedy it would have been in London or Manchester or Liverpool. Everyone was prepared for the worst and we learned to deal with it. We have never aspired to those heights again. Those times seem like yesterday and those players and what they did mean a lot to me.
What would be a fitting tribute to the Ashton Gate Eight?
What they did would be unthinkable today: there would be lawyers swarming everywhere. How vulnerable they were! And what a great sacrifice it was for players with careers, who had,no stake in the club after that! People would be more mercenary about it now. That these players made a gesture both on and off the pitch.. .it's crazy And it's poignant that this act is being' remembered and acknowledged now, in this way.
As for a tribute, it is difficult to know what to do in this case; it's not an untimely accident or death in the family In Naples, when Diego Maradona retired, they retired the number ten shirt with him, so no one could ever fill it again. At Bristol City we could retire the number eight shirt, which would be a most respectful gesture. It's one of the greatest parts of our history, getting promoted to the First Division, and even though the subsequent decline isn't a great thing'at all, what happened is a major moment in football history really, you know, in any country. It's good that we're acknowledging it at this event and I'm proud to be part of it.
Are you still exhilarated at matches?
I missed the Coventry game but saw the 2-2 draw against Bournemouth, That was exciting. I brought my new girlfriend to her first City game-she's from London. There have been times when I have been bored. Damon is a school friend; we have been going together from the beginning. At times Damon and I have reached the Nova Scotia and not got any further! The route to the ground from the Nova Scotia, along the railway track, over the bridge and through the park.... I've been doing that since I was a kid. I love that route. There's a pillar I always piss on; it's part of my matchday ritual. The last game, as I approached the pillar, someone was in front of me, and guess who it was? Banksy [world famous graffiti artist], having a piss on the same pillar. It gave me a warm feeling. But that was probably his piss down my leg.
You've mentioned a few games already... Are there any others that stand out in particular?
In terms of my favourite game, it's difficult, but Louis Donowa's diving header against Bnstol Rovers stands out [March 1991 ]. I couldn't speak for two or three days afterwards. It was a beautiful moment.
Why did you go in the schoolboys enclosure when it must have been one of the most exposed parts of the ground?
We did quite literally see everything through a snorkel: we had to turn our whole head from left to right to follow the play across the pitch. If we had any video footage of the time, you'd see lots of ' heads all snorkelled up. We all had patch pockets, spoony shoes, blue snorkels and scarves. We looked like the Sandmen in Star Wars. The elements meant nothing to us.
In those days there were pitched battles in the park after every game. In the seventies and early eighties it was pretty scary at times. After the City v Man Utd game it looked medieval, like the Battle of Hastings.
What do you think about the East End?
You get a restricted view there, like I'm still wearing a snorkel parka from the '70's, but I don't care as long as the crowd makes a noise. There is a problem that things can go quite quiet if things are not going our way, but it's the same for a lot of teams. City travel well. Our fans bring spirit and some humour to the game. It's the spirit of the underdog, Bristol's heroes, that's what it's all about. We should be a second flight [Championship] side with floating inroads into the top flight. People are constantly baffled by the size of the city and the fact that it does not have a top-flight team.
Where does music fit in with supporting Bristol City?
As a kid I grew up with the Beatles, Brian Ferry and the Moody Blues. I was always with the in-crowd. Punk really got me into music, hence the leather jacket and studs at Ashton Gate-it was part of my youth. I was a Clash man (rather than Sex Pistols) and I followed them to the bitter end. Paul Simenon was my hero-the way he held his bass. I went through reggae to dub, hip hop, then into Massive Attack. I have met all members of the Clash and we shared a gig with the Sex Pistols in Italy I've been lucky enough to meet most of the people I've admired, A smattering I count as friends, and a few of them have been absolutely amazing human beings, as well as being great musicians.
What tune would you associate with Bristol City?
That's an easy one. Chaos UK, a Bristol punk band with Cider I Up Landlord.

If you are a Bristol City fan please support the Supporters Trust by purchasing the Ashton Gate 8 booklet and joining now -> http://www.bristolcityst.org.uk/