Massive Movements (Venue August 19th 1994)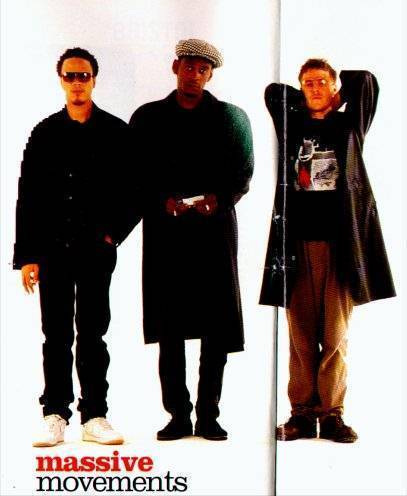 •They came, they saw, they re-defined the parameters of 'dance' music and then ... not a lot. It's been three long years since Bristol's Massive Attack released the album Blue Lines with its accompanying trio of classic singles: Daydreaming, Unfinished Sympathy and Safe From Harm. The band showed that music inspired by the dance-floor could also win over the couch-based consumer. Since then the quietly enigmatic collective have lost main singer Shara Nelson, changed management company and re-grouped at Mushroom's in-house studio to work on the important bit, following one of the nineties' most influential albums. Protection is the name of the platter with that unenviable task. It features vocal contributions from Everything But The Girl's Tracey Thorne, plus long-time associates Tricky and Horace Andy. But if you were expecting a straightforward re-run of Blue Lines' sweeping majesty, think again 'cos this one's a good deal more subtle. "It ain't Blue Lines II," Massive rapper/artist 3D told The Face recently. "More like the weird second cousin or estranged husband of Blue Lines."
There's a series of eight British and four European dates in the pipeline from the trio - their first ever live shows on this side of the Atlantic. An exhibition of 3D's artwork and paintings is planned to run concurrently with the tour at choice galleries featuring old and new artwork, huge fibreglass models and screen prints. And there's a Massive Attack CD Rom plus a possible Virtual Reality exhibition planned as well.
Back in Massive style indeed.

'Protection' by Massive Attack is released on September 12 with a single 'Sly' out on October 3. Live dates have yet to be decided.