Muse (1998)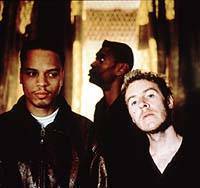 New album, new sound, new direction. Jim Carroll catches up with Massive Attack, the band of the decade, at work, rest and play in Dublin.
No-one shouted stop and we should be grateful for that. Turn on "Mezzanine" right now and revel in the complexities. If "Blue Lines" and "Protection" are the accepted Massive templates in your world, it's time to break the mould and move on. "Mezzanine" is a trail to the dark side, a world where paranoia and tension have taken the place of euphoria and abandon. Massive Attack are in the house again but this time, they're not staying for dinner.
Instead, they'll take your breath away in the most unexpected ways. Opening the current tour in Dublin's Olympia last week, they swung between moments of great passion (anything with Horace Andy on the mic), slumbering inertia (3-D and Daddy G making like the laziest tag team in the game yet making out like wispy desperados on tunes like "Risingson") and occasional euphoria (Sara-Jay mocking the ghosts and goblins of Shara Nelson and Liz Frazer on "Safe From Harm" and "Teardrop" respectively). Afterwards, as the party moved into the night and onto Donal Dineen's jam at Ri-Ra, the mood lightens and the chat begins to turn to football and drink. At least, as far as 3-D and Horace Andy are concerned.
The next day, at the Shelbourne Hotel, the band wait for the questions and provide some answers. "There has been a bit of re-invention" 3-D volunteers. "You get better ideas and try a few things out, change tack completely. We did talk about a punk rock album but that was a tease that some people took literally. What we meant was that some of the samples we would be using would be new wave. And we've used The Cure, Siouxsie & The Banshees, The Jam, all sorts of stuff."
Something perhaps at odds with the group's role as trendy darlings. The surbanites who flocked to the Olympia in search of "Blue Lines" found no protection from the storm or the squalls of guitars. 3-D grins. "Yes, another difficult bugger album from us to drop somewhere in the middle. It's not obvious but it has gelled by accident or by force. It's very raw. I love the tracks which begin with a bit of a beat like they're just in the studio with a drum machine and then build up as if you're at a gig and it's really loud and it then switches back to a drum machine."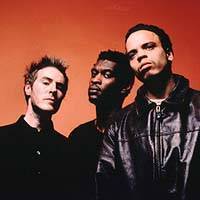 Mushroom, the quiet fellow with the hip-hop take on things, would not appear to be the first one to welcome a New Wave barrage. "I don't tolerate this new direction, there are a lot of problems, a lot of bad stuff going down about this album, a lot of arguments - but that's the creative process. Arguments may be good creatively but it's not good for a band in so many other ways. And then you go on the road...." Mushroom sighs. You get the feeling that he would prefer to be anywhere but here, talking, wasting time...
Not 3-D. He relishes what touring is all about. "Touring is great because it makes you sheep-like. All you have to do is to turn up at the turnstile and get let in. You don't have to make decisions. Once you're sure someone is feeding the cat and that the burglar alarm is on, you're ready to go off and do it. You step out of line, you get a hangover, you get a slap, you get back in line and you just do it all over again. After a while, it is really hard to deprogram yourself and you do get post-tour blues when you wake up in the morning and there's no-one there to tell you what to do and you have to make your own mind up".
Sounds like the "Mezzanine" effect to me, the eternity after the night before. Yet in the midst of all that trouble and strife throughout the album, the tense nervous headaches and the shivering chill of paranoid androids, there are still moments which are undoubtedly Massive Attack. It might sound so Nineties with it's cool prog reference points or even retro-Eighties thanks to the cocteau-twang of Liz Frazer but there is also a timelessness in the air which is hard to dispel.
3-D nods furiously. "That's it, the here and now doesn't have that much of an effect on us. You get echoes of various times but it doesn't sit wholly in one or the other. What's important to us is the pace, the weight of the bass and the mood. That's what we're about so that's what you will get."
That's also why there will be another album. This time, as Mushroom points out, the New Wave rode in and took them away. Next time, he smiles, it could be something else. 3-D has other reasons why they will continue to surf. "Massive Attack is so unorthodox, we've gotta learn to sort out our differences and be honest a little more and learn to do more things as a collective and as a group. We've just got to have respect and loyalty for each other. And space."