Songs Are What People Really Remember (Shockhound, 25h, February 2010)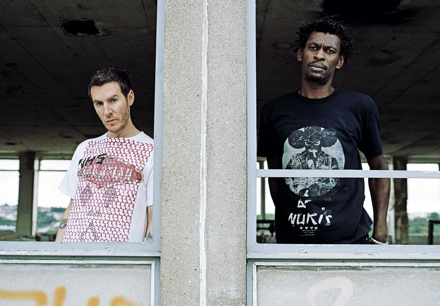 When a band releases albums the way Massive Attack does — which is to say, few and far between — it's easy to forget what type of band you're dealing with. Their 1991 debut, Blue Lines, cemented their status as trip-hop progenitors, and pulled fellow Bristolians like Tricky and Portishead's Geoff Barrow into their strange orbit. The big chill continued with 1994's Protection, which featured a timeless vocal by Everything But The Girl's Tracey Thorn on the title track.
But by the time the Mercury Music Prize-nominated Mezzanine came around, the group began to show their teeth. Now reduced to the two-person team of Robert Del Naja (3D) and Grant Marshall (Daddy G) — Andrew "Mushroom" Vowles left the group shortly after the album's release — Massive Attack began to move away from their b-boy roots and explore darker electronic themes. Forever the opinionated perfectionists, Del Naja and Marshall cultivated a tempestuous creative partnership; and 2003's sonically splintered 100th Window (written without Marshall), met with a tepid response from critics who decried its cold experimentalism.
Now with an infamous quarter century's worth of history between them, 3D and Daddy G have finally reached a sustainable partnership that's made for their most auspicious body of work since Mezzanine. Despite contributions from a number of unique voices — Martina Topley-Bird, Hope Sandoval, Horace Andy, and album co-producer Damon Albarn, to name a few — the new Heligoland moves at a consistent, rolling pace that allows each song to gel within its sonic surroundings. Color and variety aren't sacrificed for consistency's sake, but the plot never gets too complex for its own good. Though it doesn't take as long to build to its climax, "Girl I Love You" (featuring Horace Andy) bottles the same nervous energy as Mezzanine's "Angel." And even though "Splitting The Atom" — a posse cut featuring Andy, 3D, Daddy G and Albarn on keyboards — shows off a bit too much of the Gorillaz maestro's production fingerprint, the ethos remains distinctly Massive.

SHOCKHOUND: I read that you and 3D were "going back to basics" with this album. What does that mean from a sonic standpoint?

DADDY G: 100th Window was steeped in a lot of electronic effects and stuff like that. It wasn't a simple album to make, and thus it wasn't a simple album to digest. We just wanted to go back to a more organic sound. It's more song-based, this album, and songs are what people really remember.

SHOCKHOUND: Tracks like "Atlas Air" and "Flat Of The Blade" have a very warm analog bubble to them.

DADDY G: We really wanted it to sound like we were in the same room as the music, warts and all.

SHOCKHOUND: So the album was mostly recorded live off the floor with few overdubs?

DADDY G: Yeah, just straight down.

SHOCKHOUND: How many times was the album scrapped, either partially or completely?

DADDY G: ([Laughs] Oh God, man. Let me think. Let's just say a few times, for argument's sake. We went on our 2008 tour and had the album ready to come out in early 2009. We'd toured the album for a year, it was all over YouTube, and it just felt like the album was out already. So we took it back to the studio and stripped away a lot of tracks and basically started again. We worked with Damon Albarn for the first incarnation of the album, then did some work in New York and Bristol.

SHOCKHOUND: You worked with Damon for the first incarnation of the second album?

DADDY G: For the second incarnation of the first album. [Laughs] It was originally slated to be called Weather Underground, which was the album for 2008 that we scrapped. Hence, we've got Heligoland now.

SHOCKHOUND: The title Weather Underground definitely has a political edge to it.

DADDY G: 3D is quite politically motivated, and he's usually the guy that thinks of all these clever things.

SHOCKHOUND: Like Heligoland being a play on the words "Hell Ego Land"?

DADDY G: That was the whole thing about the word Heligoland which struck us at first. It was a word that D had seen in a book, and he was struck by the fact that he could make different anagrams out of it. Then you start reading about the history of the place and it all became apparent why we should call it that.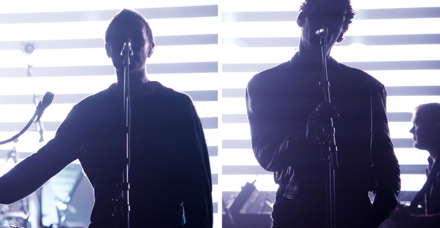 SHOCKHOUND: What was it like working with Damon? His production style seems very touch and go, as opposed to the more laborious way Massive Attack has worked in the past.

DADDY G: That's the brilliant thing about Damon. He's a minefield of different ideas. The way he works is quite impulsive. He'll start an idea, then go with it and mold it into something. Whereas we start an idea, get halfway through it and go, "You know what? That's shit," and have to start again. That's the trouble with Massive. We're perfectionists, and sometimes we procrastinate over tracks too much, but Damon is more of a free spirit. He knows what he wants, he achieves what he wants, and he's a real enthusiast. He goes into the studio everyday and comes out with three or four songs. The guy's a genius to work with, really.

SHOCKHOUND: You and 3D have always had a fractious way of working together, at least up until this record.

DADDY G: In the past, that was the thing that created the sound. We were these three guys from different backgrounds working together and creating this push and pull. [We took] things that we liked, stuck them in the pot, and came up with something completely off the wall. Since then, D and I have worked more separately. The friction between us has driven us apart in that respect. Songs are started by one of us, myself or D, and when we think it's time to involve the other person, that's when the other person will be asked what they think or if they'd like to contribute something to it.

SHOCKHOUND: For such tireless perfectionists as yourselves, does the disposability of music and the consumer's desire for instant gratification make it easier or more difficult to write an album?

DADDY G: People expect more out of an album. Even me. I buy albums and there's maybe only four or five tracks that I actually like, and I'm desperately waiting for [the artist] to release more tracks so I can make up the album myself. The way it is now, things are disposable, and people want more for their money. The onus is on us to try and sell records, and in that respect we have to give people more tracks to listen to.
     We don't really make a lot of money anymore from records, as you well know. It's all about touring. If you want people to see you and buy your records, then you have to give them something they want to possess and own. When Blue Lines came out, it was so different from what was going on at the time. There was a lot of house music, and Blue Lines was quite a slow, experimental album. People didn't actually go out and buy it. It was one of those albums like, "Hey, listen to this. Great, isn't it? I'll make you a copy," and it would carry on like that. We were probably one of the most bootlegged bands around when we first came out.
     The fact is, people can make their own playlists of how an album should sound, and we'll be releasing more tracks further down the line. It was never really a case of us trying to make an album from top to tail. The body of work that spans Heligoland will probably exceed 20 tracks or so.

SHOCKHOUND: Do you have any concrete details about any post-Heligoland releases?

DADDY G: Probably a four-track EP around June or sometime in the summer. There are a lot of tracks left over that need to be worked on a little bit and mixed.

SHOCKHOUND: Talk to me about the album artwork.

DADDY G: We've always had a great feel for the visual side of what we do, as well as the aural side, and that's to do with Rob, to be honest. D was a great graffiti artist, which has lasted all the way through what we've done. We've always had the music, but we've always had a great artistic background to what we do.

SHOCKHOUND: The figure on the cover is very Al Jolson-like.

DADDY G: Well, you've hit the nail on the head. That was the whole ethos behind it — misrepresentation and the effect it has. We got talking about how black people couldn't represent their music in the [early part of the 20th century], then Al Jolson came around.  When you look at it now, [when] Al Jolson [was] blacked up and trying to represent whatever he was trying to represent, he went and entertained people; but a black person himself couldn't have gone to do the same job. Whether it was a ridicule of black people or an empathy for the songs, the whole thing is steeped in total confusion.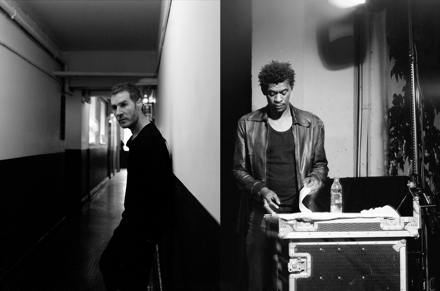 Interview by Richard Thomas
http://www.shockhound.com/features/1041-massive-attack---songs-are-what-people-really-remember--