The Unusual Suspects (Venue 11th February 2005)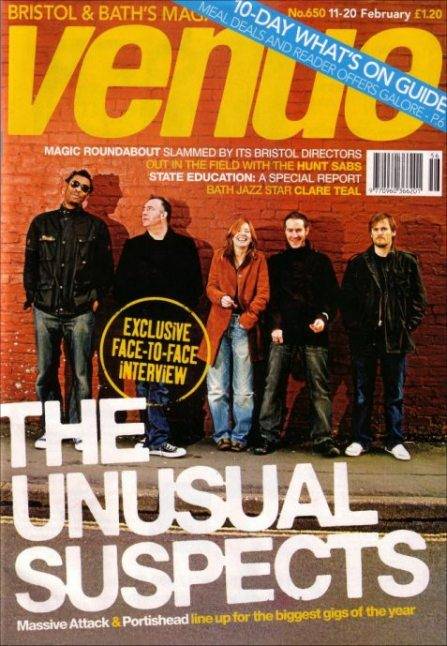 The first one sold out so quickly they decided to put on another one. Now heading up two wholly unique benefit nights for the Crisis In Asia appeal at Carling Academy Bristol, Massive Attack and Portishead tell Venue why they wanted to work together to raise money for the victims of the Asian tsunami. And is Robert Plant really going to show?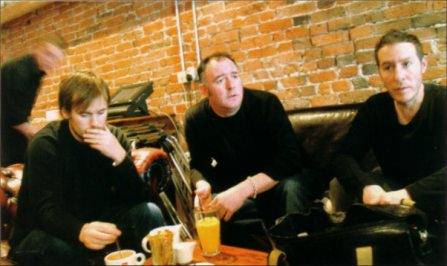 Bringing It All Back Home
Massive Attack and Portishead have never shared the same stage before, but thats all about to change as both bands team up to play the Academy in aid of the tsunami appeal. Anna Britten rounded them up to find out how it all came together and what the lucky ticket-holders can expect on the night.
The policeman that drives past Venue's photo shoot gives a cheery wave in the direction of the thirtysomethings huddled against a wall off King Square. Either he thinks they are off-duty charity workers or, prior to signing up for the force, he was a Dug Out regular. For very few other Bristolians would be capable of such nonchalance (not to mention safe driving) at the unexpected and unique sight of both Massive Attack (Robert '3D' Del Naja and Grant 'Daddy G' Marshall) and Poitishead (Beth Gibbons, Geoff Barrow and Adrian Utley) braving the chilly January air for some united pop star mugging. "We stood like this in order to have the girl in the middle," chirrups Del Naja to Venue's photographer. " Sorry, 'woman' in the middle."
He then adopts his trademark pose - frowning with hands folded across his groin, like a footballer in the fullback position during a point-blank free kick. " 'Girl's better," cackles Beth Gibbons in response, and gives the camera the pinched, tormented look we've known and loved since 'Dummy'.
The reason for this high-profile shoulder-rub is - in case you've been abroad for the last month - February 19 & 20's fundraising concerts at the Academy in support of Oxfam's work in tsunami-ravaged Asia. Unbelievably, it marks the first time Massive Attack and Portishead have ever shared a stage - and is the latter's first gig since 1998. Tickets for 19 Feb sold out in under two hours, hundreds of thousands of pounds' worth of aid is expected to be generated, and all stops are being pulled out to raise further funds through a worldwide live webcast (details at end of page). It is, then, a huge event in every sense.
Massive Attack and Portishead have never shared the same stage before, but that's all about to change as both bands team up to play the Academy in aid of the tsunami appeal. Anna Britten rounded them up to find out how it all came together and what the lucky ticket-holders can expect on the night.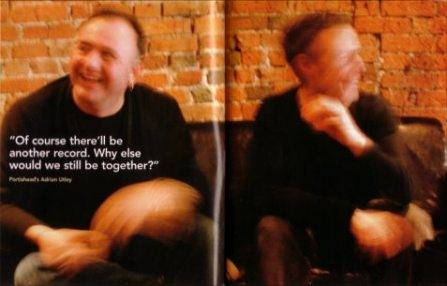 No one realises this more than Massive Attack and Portishead themselves. Sitting in a Stokes Croft cafe-bar, Robert Del Naja, Geoff Barrow and Adrian Utley (Beth Gibbons, being a 'recluse', disappears after the photo shoot, while Daddy G saunters away with a laid-back "D [Del Naja] can speak for me") lay down a ground rule:
they won't answer any questions about Portishead or Massive Attack. As Venue mentally sets fire to several notebooks, they explain they don't - understandably - want to be seen to be getting publicity for their bands on the back of the good cause they're promoting. " So we're not answering any questions about the new record," says Utliey. "So there is one?" Silence. Venue repeats the question. Barrow cups his ear: "Sorry? Can't hear you."Utley steps in again: "Of course there'll be another record. Why else would we still be together?" (Later he'll accuse Venue of being 'very sly' in enquiring as to whether the set lists will include oldies or new stuff.)
They also feel it would be 'bollocks' to discuss personal feelings with regard to the tsunami. Says Del Naja: "I think it's obvious why we're doing it because I think everyone was affected by it and I think the fact the gigs are going on and people are buying tickets speaks for itself without going into any more details."
That little matter cleared up, Barrow explains how the Academy event came about: "I was talking to Beth on the phone, and she just mentioned what had happened and we talked about it, then I got off the phone and thought 'We've got to do something'.
"It was just before New Year. I phoned Ade and then rang Beth back - so we were all on for it. We didn't have a venue or anything, it was just an idea. Phoned up D, because it was the obvious next place to go, and D called me back, and said he was interested in definitely doing it. I heard from a friend that John Stapleton [BlowPop promoter] had been offered the Academy to put together a fundraiser. I phoned him, he said 'whatever you want to do' and that was it, the start of it."
Clearly not just fellow wearers of the 'pioneers of trip hop' ankle tag, the two bands obviously enjoy a close friendship, constantly trading genial digs about everything from talent to whose turn it is to buy lunch. On hearing Massive Attack have already started rehearsals, Barrow deadpans " They need more than us" and threatens to meddle with their monitors. "We knew each other, over the years, as mates," continues Barrow. "Basically, we knew if we were going to do something in Bristol it'd be wicked to have them, it was obvious."
Utley picks up the story: "Geoff and I had just been producing The Coral's new album, so we thought of them straight away. We just decided to ring everyone we know and ask them to do it. Same with D, [to Del Naja] you've ' been bombarding mates..."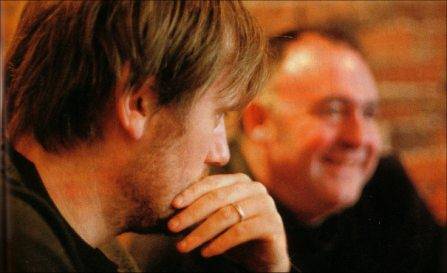 The resultant, wonderfully eclectic current line-up is Massive Attack, Portishead, The Coral, Robert Plant (who was in the process of planning his own fundraising gig in Bath when the call came) Fuzz Against Junk and various special guests. So did anyone ring Tricky to see if they could complete The Holy Trinity of Bristol music? They all look at each other.
"I think it's normally, mostly, best when talking about Tricky... ah, diplomacy," stumbles Del Naja.
Sorry? "Diplomacy is the best word to use when dealing with Tricky."
"No comment," adds Utley.
"I ain't spoke to Trix for years," shrugs Barrow. "I think he's living in the States and stuff. So I suppose it would be a bit difficult really."
And, presumably, eat into valuable profits somewhat. A far cry from Massive Attack and Portishead gigs of yore, which respectively have included several billion gigabytes of audio-visual jiggery pokery ("'Flashy?' They're information-based, actually," Del Naja protests) and full orchestras ("Have you seen the size of the stage down there?"), these shows promise to be stripped-down 'unplugged' affairs.
"We started off thinking we didn't want a massive, full production with loads of gear," explains Utley. "So the premise was we'd do it as acoustically as possible and add whatever electronics we need. It's not really 'unplugged' but very little is 'unplugged' now. It means 'not as we've done it before'. It'll be a stripped-down set-up, with shared equipment and shared musicians."
This is a particularly appealing prospect for a manifestly tour-weary Del Naja. " We've toured for the last two years non- stop," he says, "and this is an opportunity to do something completely different - no production, no fucking 'concept'. The idea is to rearrange tracks, play them in a completely different way with different people. It's exciting for us. We're using a completely different band from the people we've been touring with for the last eight years since the 'Mezzanine' tour in '97. It's gonna be me, Grant and Elizabeth [Fraser - ex Cocteau Twin and regular Massive Attack guest vocalist]. No others because it's such a short set. If we got Horace [Andy] back from Jamaica, someone's gotta pay his air ticket and his food bill and he eats a fair amount, Horace.
"It's gonna be a laugh in rehearsals. It'll be interesting for everyone on the . night because they won't have seen us that way and they won't have seen Portishead that way for a long time."
Indeed - the 'Head's last live gig was seven years ago, in Holland. Utley has just been sent a bootleg of it, in fact. Many bands would be apprehensive about treading the boards together after so long but, says Utley: "It's gonna be nice even just doing rehearsals. I think we're pretty quick to get back into our stuff because we're actually not going to adapt it so much as [gestures to Del Naja] you guys are gonna do. So I think we'll be on it pretty quick. We're only playing four or five tunes each, so it's a really quick changeover."
Can we expect some hits? "We haven't got any," says Barrow.
Venue tells him 'Glory Box' is on Classic FM TV. "I'll phone up our accountant then. Thirty pound a pop, innit?" he asks Utley.
"We don't want to give too much away because it takes away the fun of the night," says Del Naja.
"We're gonna play each other's tracks... and then..." says Barrow.
"....fuck those up," laughs Utley.
"We're gonna do 'Eye Of the Tiger'..."
"The main issue," Del Naja butts in seriously, "is I'm just a bit concerned that on the night the big Portishead 'P' doesn't float down from the top of the lighting rig during our set. So we've got a big flame that we're getting built that's gonna be hidden in the rafters which we're gonna drop halfway through their set."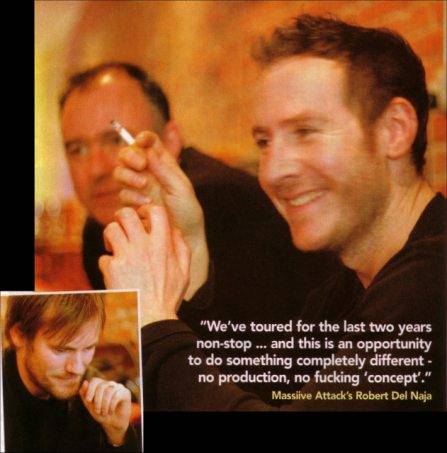 Another avenue of questioning deftly headed off at the pass, then, but Barrow will give ticket holders one - rather cryptic - tip: "You should definitely get there early because you wouldn't expect people to be playing where they're playing."
"Don't wait till the end of the night to turn up and see the bands you might want to see," interprets Utley.
So are they going to decide on the night who goes on first? "Probably."
"It depends on the special guests as well," says Del Naja, "because they're just gonna turn up on the day and do what they want. When Geoff first suggested it,he said to me 'Let's make it ramshackle', and I was like 'Yeah, fuck it - let's make it ramshackle. Let's have fun'."
Want in on this fun but missed out on tickets? Oxfam are auctioning a handful on the website, along with "20 or 30" limited-edition, hand-painted T-shirts by Del Naja and Banksy. Otherwise you can console yourself with a live webcast for £4.50 (see details at end), something the bands are promoting heavily both here and across the globe. "It's only £4.50," says Utley. "Even if you only watch ten minutes of it, do it."
"It's cheaper than a packet of fags," reasons Barrow.
The charity work won't end when the lorry pulls out of Frogmore Street in the early hours of February 21. Says Del Naja: "We're going to be working with Oxfam over this year on their Make Poverty History programme. We're thinking of maybe doing something at Christmas - maybe focusing on the Aids in Africa issue. We want to keep something going now we've set the website up, and make this an ongoing event. Once you've got a formula in place, it means there's more opportunities. There's so many talented people in Bristol and it's a great way of pulling together to do the right thing."
So there you have it: Massive Attack and Portishead, at it again, together at last, and they want you to watch. Freed from interview duties, Barrow, Utley and Del Naja head off to collect the T-shirts they'll be customising for the online auction. " Make me sound intelligent," Barrow calls out as Venue waves goodbye.
MASSIVE ATTACK, PORTISHEAD, THE CORAL, ROBERT PLANT AND SPECIAL GUESTS PLAY THE CARLING ACADEMY BRISTOL ON SAT 19 &SUN 20 FEB. FOR MORE INFO AND TO VIEW THE LIVE WEBCAST, LOG ONTO WWW.CRISISINASIA.COM