Trip Of A Lifetime (Uncut April 2006)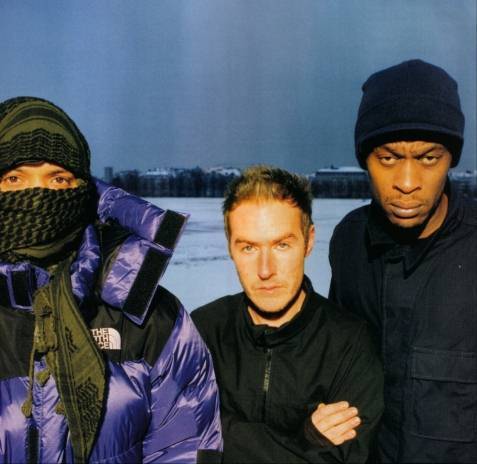 Uncut: How do you feel about releasing a career retrospective?
Del Naja: Like a fucking old man,I guess.It's one of those things:when is it a good time to put one of these albums out?Your under contract to do so,so do you do it posthumorously or do you put it out when you think it's got some merit?It's about reminding people what your about,while presenting something new.
Uncut: Massive Attack have a famously slow work rate - just four studio albums in 15 years.Is that down to laziness,perfectionism,or smoking too much dope?
Del Naja:It's a wonderful mix of all of them.Actually,the dope their putting out these days is way too strong to smoke.It's more likely to be alcohol than drugs these days.Its not quite anal perfectionism:you just wait for these wierd alchemy moments where you meet up with other people and things come together and feel meaningful..Thats why you end up with lots of unreleased things on the shelf.
Uncut: What was the idea behind working with so many collaborators?
Del Naja: Maybe because of the DJ and soundsystem thing we come from.Or the reggae thing,where you would have different versions of tracks with different vocalists.Bands like The Clash were also a big influence on us,and they had three or four different vocalists on some albums.And when I was a kid,The Beatles,because again,they had three voices on their albums.
Uncut: In 2003,your house was raided during a police crackdown on underage porn websites.No charges were brought,but the story did make the tabloids.How did that affect you?
Del Naja: The porn thing came and went as quick as the newspapers did.Massive never have been about celebrity,so it was never really going to touch us.It was no fun at all,but in terms of the way the Internet is now,it was just a crazy procedure.They were going through and collecting infomation which was'nt correct in most cases.It was a flash in the pan - it did'nt affect my life or the people around me.All the charges were dropped within 28 days.
Uncut: Terry Callier is on this compilation and the new studio album.Why did you work with him?
Del Naja: An amazing voice and an amazing songwriter.We've done about five tracks with him but that one felt like it contained everything from the past,the present and a bit of the future.It was a very different approach to 100th Window - more organic,less complicated.100th Window got very mixed reviews but what annoyed us about the negactive ones was the suggestion that we could'nt or did'nt want to make soulful music.We decided to go down a particular - it was a choice.But coming out of it,we want to work with people like Terry in a completely different way again.