Backroom Boys (Venue 7th February 2003)
MASSIVE ATTACK STUDIO TECHIES
<NAME REMOVED ON REQUEST FROM AUTHOR> turns the spotlight on the technical wizards behind the latest album '100th Window'.
You know this Massive Attack thing's not really going anywhere at the moment," confessed 3D to manager Marc Pickin. "Let's do something else." It was Christmas 2001 into an as-yet-unwritten album. "Is there anything out there we could do?"
The answer was a stern 'no'. The world was waiting for another Attack from Massive and that's what thoy were signed to deliver. But with Mushroom gone and Daddy G having become a real dad, the band's main nucleus was failing, Luckily, at work in the shadows, some not-so-famous members of the Massive troop were taking over. Some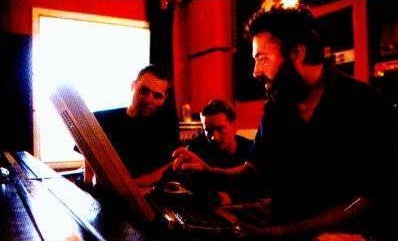 The not-so-famous members of the Massive troop - (from left) Lee Sheppard, Alex Swift and Neil Davidge.
Ultimately you like the fact that a sound on the album is Neil farting or a leaf or something' Alex Swift' engineer worked after dark (Neil Davidge - producer), others stuck to a daily routine (Alex Swift -programmer; Lee Sheppard - engineer). So when 3D (aka D) finally got on a roll, they were the ones who became his rock.
"I hope it's not gonna be the way for every single Massive Attack album," says Davidge, who produced the last two. "But there always seems to be a point - there was one on 'Mezzanine' and on this album - where it becomes so difficult, it's easier just to say 'Split the band up! Sod it. we'll just give up and live off the royalties'.
"But good partnerships are based around people's strengths and pulling together, and D and I are a good partnership. He'll get depressed, be lying on the floor going 'Uuuuhhh, it's all going all wrong' and I'll say 'We'll try this'. And then there are days when I'm not up for it at all and he'll give me a kick up the arse," And so the Davidge/D connection continues to blossom, with a little help from the album's other two protagonists.
"Lee and Alex are both brilliant," says Davidge. "Neither me or D could do what we do without the two of them. I just keep thinking 'Make sure you're paying them because they'll fucking go'."
"Those guys have infinitely more technical ability than me," admits 3D. "Lee can pretty much take any machine apart and re-build it. And Alex and Neil, I see as true musicians. They can pick up instruments, play them and translate that digitally on computer. I have major restrictions in terms of what I can play I tend to rely on rny imagination first and foremost, then on other people to interpret what I'm doing."
"D loves going from one thing to another," says Davidge. "Picking up information, watching TV, reading magazines, talking to people - getting ideas, tumbling them around for a while then firing them back out." "Sometimes Neil stays up in the studio without any sleep and I'll go out all night and have no sleep, Then we'll try to relate to each other." adds 3D, who claims to be at his most creative with a hangover, "In which case, I'm at my most creative when being pampered by naked women and being drip-fed champagne," pipes up Alex, when he hears this. "That's just a lame excuse," he laughs. But beneath all the banter, there's a real respect in this studio and no-one forgets who drip-feeds the work. "Conceptually D's at the very start of nearly every idea," admits Alex.
And having dropped the sweat and debt of their usual sampling techniques, '100th Window' demanded more originality than ever before. "We've all loved sampling records in the past,"says Alex, "but it's been really nice having to build sounds from the ground up as well. Ultimately you like the fact that a sound on the album is Neil farting or a leaf or something." D agrees. "On 'Antistar', I'm playing a Coke can. I don't know if that was a stroke of genius or just idiotic behaviour it's a fine line."
And, with each note having found its rightful place and ' 100th Window' released to the world, what now for the Bristol lads? Are the trio left twiddling thumbs instead of knobs? "No way We've got so many projects to work on," says Alex. Currently the team are working up moody soundscapes for the creators of 'The Matrix' and there's talk of possible collaborations with directors David 'Fight Club' Fincher or Darren 'Requiem For A Dream' Aronofsky. So maybe that soundtrack will come about after all?
Neil's not so sure. "I don't know if we could do a whole film - three months and a real deadline for Massive Attack? I can more imagine ringing up telling them to put their release date back because our drum sound's not working."