HOMECOMING QUEEN (Venue 15th August 2003)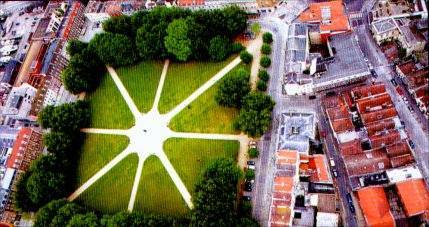 It was the best of times and the worst of times. Massive Attack began 2003 in anger and confusion, deeply divided and highly vocal in their opposition to the impending Iraqi war. And then, just as Bristol music's most enduring dysfunctional family seemed poised to implode on the eve of their fourth studio album' 100th Window', events turned even darker still - In February, Robert '3D' Del Naja was investigated for allegations of viewing internet child pornography, his face splashed across the tabloids. But that which does not kill us makes us stronger, and somehow the worst slings and arrows of outrageous fortune brought out the best in Massive. In the teeth of a media storm, they toured the new album across the world in some of their most critically acclaimed and technically complex shows yet. By the time the porn charges were dropped, in late March, they were a family again. Wounds were healed, bridges rebuilt, and Massive bounced back with a vengeance.
Now Bristol's most famous musical sons are coming home, erasing six months that brought the band almost to breaking point with a triumphant all-star spectacular in Queen Square. On August 25, in front of 20,000 people, they will headline their own mini-festival featuring a gold-plated line-up of friends and local heroes including The Streets, Goldfrapp, The Bees, Martina Topley-Bird and Lupine Howl.
Incredibly, after years of trying to find a suitable venue, this will only be the second time that Massive have played in their hometown. Their own set will feature guest vocalists Horace Andy and Dot Allison, and a stage backdrop of gigantic computer screens displaying constantly updated electronic statistics alongside emails sent directly to the band's website.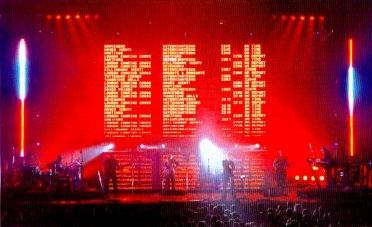 "Some people who might not have understood the album initially will understood it more after seeing the show," says 3D. "Putting the show together took a year of planning behind the scenes before we even did our first gig because the programming is so complex. The stuff on the screens goes from chemical tables to human DNA to messages from the internet and text messages to budget spending on weapons around the world. The whole idea is about us being bombarded with statistics and what we use and what we ignore. I had this idea based on this Japanese artist called Tatsuo Miyajima, who works with numerical sequences on LED. Obviously "The Matrix' is a slight reference as well."
One surprise feature of Massive's live rebirth has been the hands-on involvement of Daddy G, aka Grant Marshall, following a fraught year in which he and 3D became seriously estranged. Having had no studio input into '100th Window', there was even talk of G staying at home with his new daughter during the tour. But the tabloid crucifixion of his long-standing friend drew them closer together. "That thing that happened to D, which was complete bullshit, that was the catalyst that got us together," says G, "I've known 3D for 18 years and we have had our ups and downs.We've gone through a bit of a rough patch as friends and colleagues over the last two years. I didn't have much to do with the album. I had a little baby at the time and wanted to spend time with her as the nature of our business means that you never get to see them otherwise. Me and D have had a few musical fallouts. But I knew this was bullshit that they were writing about him. It was one of the lowest points of his life. We started talking again, I could see that he was having a really hard time. We have known each other for such a long time that I wasn't going to turn my back on him - In the face of adversity, I was going to stand by him, Massive or not. It's not really about that."
3D's ordeal began with a raid on his Bristol home by Avon and Somerset Police on February 25 under an offshoot of Operation Ore, the national crackdown on child pornography. Questioned over allegations of drug possession and internet porn offences, the Massive star was emphatic and defiant from the start. "I have never looked at child pornography in my life," he insisted in a public statement. "I would ask everyone not to judge me prematurely."
The story was broken by The Sun, fuelling dark speculation that 3D was being 'monstered' by the jingoistic tabloid for his high-profile anti-war stance. Alongside Blur's Damon Albarn, the Massive trontman has campaigned very prominently for CND and Stop The War, paying for huge adverts in NME and helping to fund a legal challenge to military intervention in the international courts. 3D is wary of conspiracy theories, but claims the collusion between the police and The Sun was both illegal and shady in motivation.
"The fact that the police went to The Sun is the most cynical part of it," 3D shrugs. "Because obviously I've been very loud, very vocal about my opinions all over the press, and there's nothing more the press like to do than knock you down. So that's where the cynicism lies. Rebekah Wade said in her editorial on the day that if I was proven innocent, they would print an apology, but there's been fuck all, you know? It's only a story if you plead guilty, but if you're innocent it's boring for the papers."
Another conspiracy that circulated in Bristol was that 3D was shopped to the police by some shady rival from the city's clannish music scene. But the Massive star shrugs off this theory, blaming the whole affair on a single "misappropriation" of his credit card for a mere three-dollar internet site in 1999. From this one event, a series of horrific police interviews about child abuse followed. "What really upsets me about all this is that there is terrible institutionalised abuse in our country, in the social services and the church," 3D protests. "Terrible sex traffic comes through London every day constantly from Asia, from South America, from Eastern Europe. These are the areas they ought to be looking at. This is just a smokescreen."
In Bristol, friends and associates swapped lurid gossip and wild conspiracy theories. Even those unimpressed by Massive's music and local hero status could scarcely believe the stories. 3D has always been open about his appetite for conventional adult porn. But child sex pictures? Absolutely nobody was convinced. Sure enough, the porn investigation was dropped in late March. 3D was cautioned for ecstasy possession, but nothing more.
"It's probably been the worst month of my life," a weary 3D told me in April, just off the plane from a tour of Australia and Japan which coincided not just with the tabloid revelations and allegations, but also the outbreak of war in Iraq. "There was never any case. There was an investigation but never any charges. No-one believed it, it was ridiculous. And when they dropped the investigation, the relief was for everyone around me, not me, you know? I knew there was nothing there but it was difficult for everyone in my family, my friends, my colleagues, all the people on tour with me. It was for them I was relieved because they've been through so much with me. The human cost is just horrendous."
Conspiracy or not, the current situation in Iraq has not dampened 3D's anti-war stance. Far from feeling powerless at the ongoing guerrilla conflict and buck-passing over weapons of mass destruction, the Massive star argues that the protest stakes are higher than ever. "I've spoken to CND about this and I think if people make their continued feelings known, their opposition to the war, it might take Blair out of power," 3D argues. "It could change the face of British politics. I think this war was inevitable from the moment Bush came to power. They were going to do this anyway, regardless of what happened on September 11th. But I think the protest will set a precedent in the future so people will know that they can't misrepresent a population that way Britain is not a warmongering nation, it's a peace-loving nation."
Out of conflict comes peace, at least for Massive Attack, And from that, 3D's tattered faith in human nature has been restored. "Yeah," he nods. "When things get rough, you work out who your friends are. Being a cynical person, I've been very surprised how many friends I've got and how many supporters I've had over this year. I always err on the negative side of human nature and I've just found that I have been wrong on a lot of occasions. People are a lot more real, a lot more amazing, a lot more supportive, a lot more loving and caring than I thought. From every part of the world and every direction, every place I have been, it has been amazing. It was a shock to me."
3D admits that most bands are all about "egos, vanity, creative differences", but insists that two years of internal friction have revitalised Massive's creative momentum. "We've seen how bad it can got," he nods. "Now we can concentrate on being more positive and moving forward. The friction is dealt with now; we're getting back into a space where we can enjoy each other's company in the studio. Sometimes it takes bigger things to make you see through the trivia,"
In Daddy G's case, moving forward means getting fully involved again in Massive's music. ' 'We are back on tour again and the future is looking a lot brighter than it has been," says G. "We are going to go back into the studio and make some music. The early part of this year was really shitty, but after the touring you would think that it was two different years. All the shit is behind us. The tour is going well. At last, me and D are getting some communication together and it's all looking a lot more positive for this next album. I think the sun is going to come out for this next album."
3D and Daddy G on the gig of the year
THE LOCATION...
3D: "It's an important gig because we have always struggled to find the right place to put on the show we wanted to put on in Bristol, and because there is an ongoing saga with not having a modern venue in Bristol. It's been great that we have been able to work together with the, council to get this space together in Queens Square. It's the first time for us and the first time for the city."
Daddy G: "This is a really important gig. It is always an important gig when you play back at home. We've been all around the world. People know we are from Bristol. We are back home now and we need to make sure that there is something good for the people in Bristol. We do have a little grievance that there are not any suitable venues in Bristol. We would probably have played here before if there had been better facilities."
THE LINE-UP...
3D: The Bees are a band that we think are really exciting and thought it would be great to have them on the bill. With Goldfrapp, Alison worked in the same studios as us with The Insects for quite a long time before she went on to make her own albums, so we know Alison pretty well, Mike Skinner (pictured), The Streets... I think there is a really beautiful urban poetry thing going on there. We met them recently backstage at our Brixton shows. We got on really well with them. really nice guys, so we popped the question to them and we are proud to have all these guys on the line- up. Our past was always very hip-hop oriented. When myself and Tricky started doing what we were doing, we were very keen to keep it local, real and English because the tendency is to be very American. I think Mike Skinner is doing the same thing, which is very important."
THE BRISTOL SOUND...
Daddy G; I just think that we're part of the environment, The make-up that we've come from has been very multicultural. There is a lot of talent here, artistic people who do all kinds of music. There's more to Bristol than us. We're just one of the products of what we've grown up with. There's Portishead, Tricky. Lupine Howl - loads of other bands here which represent Bristol, I wouldn't say that Massive Attack define what a Bristol sound is all about. For us to claim that we are the Bristol Sound would be a bit naive."
3D: "Bristol has its own unique sense of being, regardless of us being here. Obviously it has a great musical history. I feel that this gig, on the day, will definitely feel like it has cemented a bit of our history into the town. It will be fun. Bristol is going to be something special for us. Sometimes these things only happen once. You have to get all the elements in the right place and you know what life is like - getting everything to fall in to the right place at the right time is quite difficult. This could be a one-off occasion."
Massive Attack plus guests play Queen Square, Bristol on Mon 25 Aug. Tickets, priced £22,50, are available from Massive Attack hotline, tel: 0115 912 9183; Our Price, tel: 0870 444 4400; or Ticketline, tel: 0292 023 0130. Or buy online at www.gigsandtours.com
Venue 15th August 2003