The Hard Sell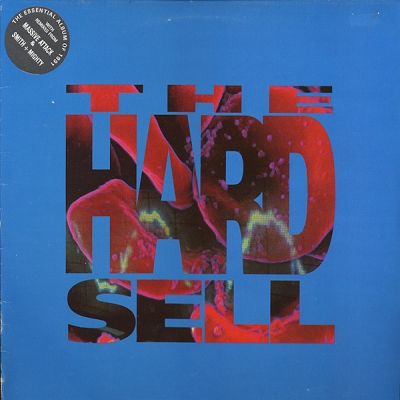 CD released by Earth Recordings, 8th April 1991 (AEARTHCD1)
LP released by Earth Recordings, 8th April 1991 (AEARTHLP1)
Cassette released by Earth Recordings, 8th April 1991 (AEARTHMC1)
1. Reborn - Possession (The Song)
2. 0272 - I Need You Here
3. The Federation - Life So Free
4. B.B.P. And Free Da Spirit - The Spirit Level
5. Sister Redz - Next To You (Closer To Heaven) *
6. Tricky - Nothing's Clear
7. Language - Tranquility Bass
8. Sean Oliver - Furious Fire (Massive Attack + Jeremy Allom Reconstruction)
9. Intime - Second Sight
10. D. Rez - Bring Out The Sound *
11. UK Chapter - And You Are *
12. Tru Funk - You Drive Me (Crazy)
13. 3PM - Manifestation
14. Mark Stewart / Tony Wrafter - Loyalty Is Valuable
* The CD issue has 3 bonus tracks.
Charity compilation for O.S.C.A.R. and Airspace.
0272 featured Nick Warren, who later teamed up with Jody Wisternoff to form Way Out West - he was a member of Tru Funk, their track on this compilation was produced by Smith & Mighty, who also did the same for 3PM. 3PM were later Smith & Mighty collaborators MC Kelz and Krissy Kriss. The Federation included Si John amongst their number - he later toured with Roni Sizes' Reprazent and created the memorable and legendary Brown Paper Bag double bass line. Geoff Barrow produced the Tricky track. Intiem was Massive Attack producer Neil Davidge.