30th December 1998
Radio 1 listeners in the UK have voted Unfinished Sympathy the best single of all time. Teardrop also made it into the top 50 at 42, whilst Protection came in at number 58.
23rd December 1998
'Tis the Season to Be Jolly? Massive Attack are being sued by grizzled old 60's Pop Star Manfred Mann (it's a long story…) over 2 bars of music that he claims the band have sampled from his 1971 song Tribute and put into their track Black Milk from this years Mezzanine album. Mr. Mann wants to slap an injunction on the Bristol Dark Music Makers to stop sales of Mezzanine and is claiming damages and costs of £100,000 under copyright law. The band have refused to comment. Merry Christmas all round!
16th December 1998
MASSIVE ATTACK are among the acts scheduled to appear in the NME Premier Review to be screened on Wednesday, January 27, at 11.30pm on Channel 4. The NME Premier Review documents the highs and lows of the musical scene in 1998 and features the winners of the NME Readers Poll in never-seen-before performances. The hour-long film will be premiered at the London Virgin Haymarket on January 26. Another four screenings take place simultaneously at Virgin cinemas in Brighton, Southampton, Sheffield and Liverpool. Details of how readers can attend these premieres will appear on nme.com early in the New Year. Channel 4 will also screen highlights from the NME Premier Shows at London WC2 Astoria in a series of programmes to be broadcast after the NME Premier Review.
12th December 1998


Massive were on Later, the Jools Holland show last night, performing Teardrop and Mezzanine
11th December 1998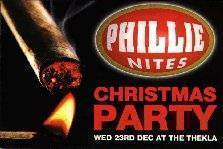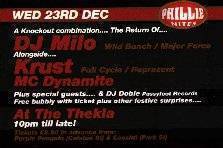 DJ Milo formally of the Wild Bunch and Major Force will be appearing at the Phillie Nites Christmas Party on Wednesday 23rd December at the Thekla, in Bristol. He will be appearing alongside Krust and MC Dynamite from Full Cycle. Tickets are available in advance from Purple Penguin and Cooshti.
10th December 1998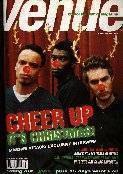 Massive Attack feature on the cover of the latest edition of Venue released today and featuring an interview with 3D.
Massive will, as you may know play Bristol University's Anson Rooms on December 15/16/18 and 19. All the shows are now sold out. The Bristol blaggerati is reminded that there is a compulsory charity donation with every guest list place for ALL nights with NO exceptions. The proceeds will be evenly split between the Big Issue South West and Bristol based housing charity, House Our Youth.
The official Massive Attack after show party takes place at Lakota, Bristol on Satrurday 19th December from 11pm. Entry is via a compulsory donation to the Bristol Children's Hospital Appeal [amount TBC]. Ticket stub holders from any of the four Bristol shows will be granted priority admission on a first come, first served basis. DJ's are Grant, Mushroom and Rob Morris, with more to be confirmed. Please note this is the only official after show party on this night. Accept no imitation.

8th December 1998
Massive Attack have extended their support to 'The Big Issue South West' and House Our Youth 2000 via their sold-out gigs at Bristol's Anson Rooms being held this month. As well as enabling both charities to further highlight public awareness of homelessness issues by being present at all of the nights, funds will also be raised by means of a paying guest list.
7th December 1998
MASSIVE ATTACK SINGLES 90/98 is released today.
This is a very disappointing release. There are some omissions [daydreaming - instrumental/safe from harm - instrumental/sly - underdog version/three - dom t's house of fortune/Rising Son - Darren Emerson Instrumental Mix, Meyanderthal Mix,Meyanderthal Instrumental /Superpredators - The Mad Professor Remix/Reflection instrumental]. If a box such as this is to be released surely it should be complete. Also where is Any Love, the first independent single?. Whilst the box itself is nice, the rest of the packaging is just OK. The artwork for each of the slipcases, is Blue Lines era 3D, whilst the type face is pure Mezzanine throughout. Original packaging would have been essential.
Basically this is a slap dash pre-Christmas cash in and not the gorgeous item I was anticipating.
2nd December 1998

MASSIVE ATTACK have told NME that they were "set up" at the recent MTV Awards in Milan where they "insulted" Sarah Ferguson. "My vibe was that I wasn't intentionally trying to humiliate anyone 'cos she's an easy fucking target," said 3D. "I was just angry at the way we were set up by MTV. It wasn't planned, it was just a response to a situation and I didn't think of the consequences, it just happened, it was all over, I walked through the curtain and there was Ronaldo and I shook his hand and I was happy as Larry but, y'know, that was it."
He also told NME that despite reports in the tabloids, he didn't fall out with his parents over it. His father told The Daily Mail that he had insulted the Duchess as a "stunt" to promote the forthcoming Massive Attack tour and singles box set. He was on a damage limitation exercise! I think he imagined the pub windows going through!" he said. "They live in a pub, a fucking public gallery and they were blackmailed 'give us something or we'll write something else', fucking ridiculous, I tell you, I was glad I was out of the country..."
Other members of the band not only supported 3D but were actually planning "insults" of their own and revealed that they came close to a similar moment of glory at the notorious 1996 Brits. "I don't want to be given an accolade like that by a stupid wanker," said Daddy G. "I had something else lined up I was gonna say, but he (3D) pipped me to it - I think we were all racing to the microphone, to be honest! The funny thing is, I was actually stood on the side of the stage when Jarvis went on at the Michael Jackson incident. I was holding Tricky's hand 'cos we were pissed out of our heads and I said 'come on, let's run on' and, this is no bullshit, Jarvis Cocker just walked straight past and we couldn't believe it! And it was absolutely brilliant!"
In the interview, which appears in NME today, Massive Attack regale us with tales of absurd DONATELLA VERSACE parties, turning down a South Bank Show documentary and the madness of constant touring.

26th November 1998
As their arena tour charges round the country (and as most of Bristol scrambles for tickets for their forthcoming Anson Rooms shows), Massive Attack have found themselves to be the unwitting champions of the republican movement. For anyone completely removed from the mainstream media for the last fortnight, the band were due to receive an award for best video at the recent MTV awards Ceremony in Milan. However when 3D realised they would receive the award from Fergie, he said: "Somebody's having a fucking laugh aren't they?" before adding: "If somebody had told us that was happening, we would not be here at all."
One person not impressed by this was 3D's mum. "There was absolutely no excuse for this kind of behaviour," said Anne Del Naja from her Bristol home. "He was very well-mannered as a child and never got into trouble."
The band themselves were unrepentant about the incident. "They were angry with MTV for not taking them seriously," a band spokeswoman said. "If they'd received the award from one of their peers, they wouldn't have been quite so upset. But this woman has nothing to do with music."
Meanwhile, the Melankolic Showcase night pencilled in for Thursday 16th December has unfortunately been scrapped. Apparently all the bands involved will now be taken for a slap-up meal by the management.
And one local business using the furore to generate a little publicity is Music Stop. Their free Christmas draw to win signed copies of Mezzanine asks Venue readers to "tell us the phrase given to the Duchess of York at the recent MTV awards." See their advertisment on page 81of the current version of Venue for full details.
24th November 1998
As the Bristol dates are all sold out your last chance to see the Massive will be on December 7th at Cardiff International Arena. Play 'Spot The Faded Royal' as Bristol's favourite Fergie Dissers warm up for their quartet of Bristol Dates later this month. Tickets still on sale at Our Price.
14th November 1998


Massive won an award for best video Teardrop at the MTV europe music awards, for Teardrop and apparently created 'controversy' with Sarah Ferguson,Duchess Of York, who was presenting the award. She made an incompetent speech where she fluffed her lines and acted as though she had never heard of them when she presented the award.
"Someone's having a fucking laugh," said 3D after Fergie got the band's name wrong. The band then refused to shake her hand, taking the piss out of the embarrassed former-Royal turned chat show hostess. "Fuck you very much," one of the band said as they left the stage. Later 3D argued. "what the fuck has she got to do with music for a start? If someone had told us that was happening we would not be here." However, 3D's parents have since spoken out against his behaviour with his shocked mother Ann arguing, " He was very well mannered and never got into trouble. He has never been to prison or anything ghastly like that" According to his father Franco, who owns the Behive Pub in Wellington Hill West, Bristol, "It could be a publicity stunt to sell more tickets for their English tour." According to her spkesman, Sarah Ferguson was taken aback by the incident.
31st November 1998
Massive Attack won the Q magazine best album award for Mezzanine.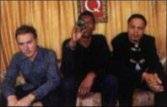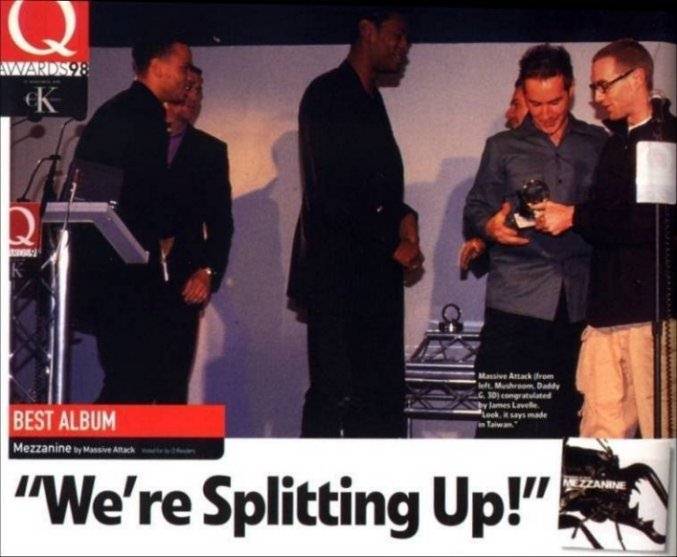 3rd November 1998
MASSIVE ATTACK have not split up despite an item on Radio 1 that was picked up by The Sun today stating that they had. Massive Attack, currently on a major European tour with UK dates in December, issued a statement this morning. The statement read as follows: "Further to recent remarks in the media. Masssive Attack would like to state that they are not splitting up. The comments made to Radio 1 were intended to be flipppant and not be taken literally. Massive's remarks were made in response to the journalist's cliched and tired questioning about the so-called "depressing" nature of 'Mezzanine'. Massive Attack would also like to reiterate that the forthcoming UK tour is most definitely going ahead as is the release of the singles box set on December 7."
30th October 1998
On the 7th December Massive Attack will release, The 'Singles 1990-1998' box set. This will be a very limited set of 11 heavyweight vinyl singles packaged in a box coated with heat sensitive ink which, when touched, will reveal drawings by Robert Del Naja. Also included will be special artwork and a poster. Each 12" contains 4 key mixes. The Singles are 1.Daydreaming 2.Unfinished Sympathy 3.Safe From Harm 4.Hymn Of The Big Wheel 5.Sly 6.Protection 7.Karmacoma 8.Risingson 9.Teardrop 10.Angel 10.Inertia Creeps. 63 tracks in total. Sounds tasty.
29th October 1998
BRILLIANT!
These are the gigs they said could never happen. Massive Attack round off an astnishing year when they play four shows in a week in December at Bristol University's Anson Rooms. These dates are the band's first ever 'proper' live shows in their home town.
They kick off this orgy of pre-Yule tide mayhem on Tuesday 15th and Wednesday 16th December with full live shows plus guest DJs. Friday 18ths' gig has an extended licence until 1am with susprise guests and top DJs whilst Saturday 19th is being billed as Massive Attack's "last show for some time". They celebrate with a 2am-finishing session including full live show with surprise live guests and DJ's.
Following the controversy surrounding the band's refusal to play at the Colston Hall, it's reassuring news.
26th October 1998
Support on the forthcoming UK tour will come form David Holmes and Monkey Mafia. Unfortunately no Lewis Parker.
21st October 1998
Apparently a box set of all 12 Virgin singles is to be released on 27th November. The format will be either CD or 12" singles. CDZONE an Online store has advertised it at a somewhat extortionate rate.
19th October 1998



The Inertia Creeps EP is released today. It includes; Inertia Creeps/LP version, Inertia Creeps/Manic Street Preachers Version, Reflection, Reflection/Instrumental, Inertia Creeps/Alpha Mix, Back/shecomes Mixed by the Mad Professor, Inertia Creeps/State of Bengal Mix,
12th October 1998



UNKLEs' Rabbit In your Headlights single is released today, featuring a couple of 3D 'reinterpretations'; <3D MIX <REVERSE LIGHT>> and <3D MIX <REVERSE LIGHT INSTRUMENTAL>>
9th October 1998
The Malibu 1998 MOBO awards are soon upon us and Massive Attack have been nominated in the best album catogory for Mezzanine. The Music Of Black Origin awards will be televised on Channel 4 on Thursday 15th October. Also, perhaps more importantly, Lewis Parker has been nominated in the Best Hip Hop act catogory for Masquerades & Silhouettes.
30th September 1998
Island Records plan to reissue Erric B $ Rakim's Paid In Full: The Platinum Edition on November 2, this version of the hip hop classic album also features remixes, some of which were only ever available on import at the time of release. More importantly there's also the Wild Bunch remix of Move the Crowd.
21st September 1998
Massive Attacks' Angel will appear on the soundtrack of a new film, Pi [Symbol].
20th September 1998
News just in about the latest signings to Melankolic, [Currently Unnamed]. Phelim Byrne and Donny have recorded material at the Massive studio in Christchurch, [up in Clifton, Bristol] and are currently mixing it on down in London.
19th September 1998
Lewis Parker will be doing two gigs back by his own DJ in California on Wednesday 30th September at The Justice League - San Francisco, CA and on Thursday 1st October at Life @ The Pink - Santa Monica CA
[Massive Attack with Lewis Parker with Lewis Parker opening DJ set
Friday 18th September at Clutch Cargo's - Detroit, MI / Saturday 19th September at the Vic Theater - Chicago, IL / Sunday 20th September at First Avenue - Minneapolis, MN / Tuesday 21st September at Ogden Theater - Denver, CO /Thursday 22nd September at the Paramount Ballroom - Seattle, WA / Saturday 24th September at the Warfield Theater - San Francisco, CA / Sunday 27th September at The Palladium - Los Angeles, CA]
Alpha also return Tuesday 22nd September with an album of radical remixes and previously unreleased material.
18th September 1998
Inertia Creeps, the next Massive Attack single, will now be released on 5th October 1998
17th Sepember 1998
Massive Attack did not win the Mercury Music Prize. Some band called Gomez got it.
16th September 1998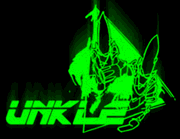 The next U.N.K.L.E. single, "Rabbit in Your Headlights", will include a Massive Attack remix.
8th September 1998

Check this interview at futurenet with Neil Davidge; Massive Attack have hit the top spot with their third album, Mezzanine, a raw production that seemed an ambitious gamble. Derek O'Sullivan meets Neil Davidge, the man at the controls, who made it pay off...
4th September 1998
Tricky will appear at the Colston Hall for his first ever concert in Bristol, snubbing the slave row that has erupted. The news comes after his former band Massive Attack refused to play at the venue, saying its' name is too closely linked to the slave trade.
Knowle West most famous son will appear at the Colston Hall on October 1st. It will be one of just two UK shows this year from the now International solo star. Tricky earned rave reviews with his first two albums, Maxinquaye and Pre-Millenium Tension and has just released a new album, Agels With Dirty Faces.
Two weeks ago, Massive Attack said they would not play the hall because of 18th century merchant Edward Colston's links with the slave trade. 3D said the building celebrated the name of someone who took part in the slave trade.
There were calls earlier this year for Colston's statue, which stands near the Colston Hall in the centre of Bristol, to be removed.
24th August 1998


The Manic Street preachers release 'If you tolerate this, Your children will be next' today featuring the Massive Attack remix which looks to have been undertaken by 3D. Also the U.N.K.L.E. album is released today. Among the credits are Wil Malone, the bloke who did the strings on 'Unfinished Sympathy'
20th August 1998
Could the Harbourside Centre's shock cancellation breathe new life into the Colston Hall? Major changes are on their way to upgrade Bristol's only large- scale concert facility. So why do Massive Attack refuse to play there?
If Portishead can play successful gigs at the Colston Hall, why did Massive Attack miss out on Bristol completely when they undertook a Uk tour the previous month and play Gloucester Leisure Center instead? According to 3D it wasn't through a lack of willingness on the band's part, more due to the Colston Hall's very name. "We won't play it out of principle because of the Edward Colston thing," he says.
"History is history, there's no point going over it. But the fact is that - out of respect for the truth of history and what is right and wrong - it should be renamed as a building, and not continue to celebrate the name of somone who took part in the slave trade. It might seem like a small issue to stop you playing at a venue, but it's a very simple thing. There's no reason they can't re-name the building. If they did, and if they removed the seating like at the Portishead gigs, we'd certainly consider playing there."
14th August 1998
Manic Street Preachers and Massive Attack have aggreed to remix each other for upcoming UK single releases, according to a report in NME the Manic's lead vocalist James Dean Bradfield has completed a remix of the Massive Attack song 'Inertia Creeps', which will be released on September 21. This is Bradfield's first attempt at remixing other artists. Bradfield follows in Blur's footsteps as 'celebrity' Massive Attack remixer. Blur's Damon Albarn and Graham Coxon remixed the last Massive Attack single 'Angel' to unfortunate results. We can only hope Mr Bradfield has done a better job. The Massive Attack remix isn't the first outside collaboration for the Manics, however. Bradfield, along with band mate Sean Moore co-wrote two songs - 'Some Kind of Bliss' and 'I Don't Need Anyone' - on the latest self-titled Kylie Minogue album. In return, Massive Attack are remixing the upcoming Manics single, 'If you tolerate this, Your children will be next' which is due out on August 24. It's about supporting Bristol City. Along with the Massive remix, which will appear on CD2, David Holmes has also contributed a remix.
12th August 1998
Manic Street Preachers and Massive Attack have aggreed to remix each other for upcoming UK single releases, according to a report in NME.
The Manic's lead vocalist James Dean Bradfield has completed a remix of the Massive Attack song 'Inertia Creeps', which will be released on September 21. This is Bradfield's first attempt at remixing other artists.
Bradfield follows in Blur's footsteps as 'celebrity' Massive Attack remixer. Blur's Damon Albarn and Graham Coxon remixed the last Massive Attack single 'Angel,' which was released July 13.
The Massive Attack remix isn't the first outside collaboration for the Manics, however. Bradfield, along with band mate Sean Moore co-wrote two songs - 'Some Kind of Bliss' and 'I Don't Need Anyone' - on the latest self-titled Kylie Minogue album.
In return, Massive Attack are remixing the upcoming Manic single, 'If you tolerate this, Your children will be next' which is due out on August 24. Along with the Massive remix, which will appear on CD2, David Holmes has also contributed a remix.

6th August 1998
Harbourside: a massive mistake.
Bristol's Harbourside Centre was going to be the West's answer to the Sydney Opera House, incorporating a fantastic design and state-of-the-art facilities. And the Arts Council was going to cough up a whacking great £58 million of its' £89m price. Or so we thought until the end of last month when the Arts Council dealt the city a bitter blow by changing its' mind.
3D was at the launch of the Harbourside Centre last September and wasn't too impressed:
"When we went down there it was on slightly false pretences because we were just given a little bit of information - 'there's going to be a major music development in Bristol and will you guys come down and be a part of the announcement?' And we got there and they wanted to take photo of us and all that shit and be on the news, and only did we realise what was really going on. When we did an HTV interview I tried to say, this is going to be too small."
"It was all wrong. Bristol needs somewhere for the people of Bristol and this seemed like another development to bring tourists in from outside. They were even talking about relocating the Bournemouth Symphony Orchestra here, which is all well and fine - you should cater for everyone's tastes, classical, jazz, dance, whatever - but first and foremost what Bristol's been missing for ever is a big rock venue. All you 've got to do is go to the Arts Council with a pile of NMEs and say, 'right, look at all these bands that you've all heard of. Look how many of them have played Bristol or are going to play Bristol' - five percent of them? Ten percent of them?"
"Once they get to the Fleece and Firkin of the Anson Rooms there's nowhere for bands to play so they go to the Birmingham NEC, Cardiff Arena, Newport Centre, or London, or Gloucester Leisure Centre until recently, and that is it. It's crazy."
"I find it really frustrating that for the last ten years Bristol has been very influential in music on a global level and everywhere we go people say to us 'oh it's great to see you guys here and we've had Portishead there and Roni Size'. Bristol music has been round the world, but there's hardly anywhere for Bristol music to play in its' own town, let alone for anyone else to come around and visit. And I think that's a really sad lack of communication and ignorance from the Arts Council, the local council and Bristol and - apart from Venue - the local press as well."
30th July 1998
The Craig Armstrong track "Rise" will be used in the opening credits for "The "Negotiator" starring Samuel Jackson & Kevin Spacey (July 31 release in the U.S.). Craig won the BAFTA award (the English Oscar) for best achievement in film music for the "Romeo & Juliet" score. He also won a 1998 Ivor Novello award (prestigious composer's award) for this score. Elton John told the crowd that "The Space Between Us" was definitely the best album he's heard this year.
29th July 1998
Massive Attack have been nominated for the prestigious Technics Mercury Music Prize. The group is short listed for its album Mezzanine, which shot to number one earlier this year. The band is up against the likes of The Verve and former Take That star Robbie Williams for the album award. Bath- based group Propellerheads have also been nominated for their debut album Decksandrumsandrockandroll. The shortlist also includes previous winners Pulp as well as Catatonia, Cornershop, Gomez and Asian Dub Foundation.
Last year Bristol's Roni Size and Reprazent won the prize, along with £25,000. The winners will get an undisclosed cash prize and will be announced on September 16.
28th July 1998
Lewis Parker will open for Massive Attack on their North American tour. He will be performing a DJ set only mixing soundtrack music with abstract and hip-hop beats.
The upcoming "Pepper" collection from Alpha has been moved to September 22nd. The good news is it will now feature 8 tracks (originally it was 7) with the 8th being an exclusive never before released version of "With" featuring Lewis Parker.
24th July 1998



The compulsive blagaholics that they are, Massive Attack made it to the World Cup final after all. The Fab Three bagged tickets for every World Cup game as part of the deal with Adidas which saw Angel used in the Adidas TV ads during the World Cup.
"They were paid a substantial cash sum," a band spokeswoman added. "But I think it was the tickets which really swung it for them." Unfortunately, the annoying matter of sold out gigs in Australia, Japan and New Zealand meant that the band were unable to attend most of the tournament but did make it back to watch France's 3-0 thrashing of Brazil. Apparently a splendid time was had by all and the band [well Robert and Grant anyway - Mushroom hates football] were spotted in Parisian club Bain Douche schmoozing with celebs like Jack Nicholson, Bono and All Saints.
"We stayed in a hotel champs Elysses," said lifelong Bristol City fan Robert. "The celebrations that night were just unreal. It was such an incredible experience just to be there."
Massive Attack are no strangers to the World Cup finals. In 1994, they were flown into the stadium in Madonna's helicopter. Class operators, indeed.
The band return to the road with dates in North America, South America and South Africa.
20th July 1998
Craig Armstrong's This Love featuring Liz Frazer was released as a single today on Melankolic with Rise and Lo Canto also included.



Saw Grant at Bristol Community Festival, at Ashton Court on Saturday in the Galaxy 101 arena. Unfortunately he was just wondering around and not performing as the surprise secret special guest on Sunday night - that just turned out to be Portishead in the end.
14th July 1998
Inertia Creeps will be the next single from Massive Attack to be released on September 14th 1998.

13th July 1998
Massive Attack have pulled out of their forthcoming 12-date tour of North America supporting The Verve because they are "too busy". But the band, who recently returned home from dates in Australia and New Zealand, will play a series of shows in North America under their own steam starting on September the 4th. It will kick off four months of solid touring for Massive Attack this autumn which includes dates in South Africa , Brazil and Europe before the UK arena tour mentioned earlier. A band spokesman also said there would be "something really good in Bristol" occurring just before Christmas which would be confirmed over the next few weeks.
Angel was released today. The blur mix is absolute bollocks. But the Mad Proffessor mix of Group four is worth the price alone.
Massive's own label Melankolic is set to release initial material by local hip hop act PHD as well as a single by another [unnamed] Bristol artist.
Incidentally , sales of the current Massive Attack album, 'Mezzanine', have recently topped 1.3 million world wide.
The Aphex Twin and Photek have been pencilled in to work on an EP with Massive Attack collaborator Craig Armstrong. The acclaimed Melankolic recording artist was responsible for string arangements on Blue Lines. Craig Armstrong also features excellently. in the July issue of SOUND ON SOUND, Europes No.1 Hi-Tech Music Recording Magazine.
UK WINTER TOUR;
3-12-98: Sheffield Arena
4-12-98: London Arena
7-12-98: Cardiff CIA
8-12-98: Manchester Nynex Arena
9-12-98: Birmingham NEC
11-12-98: Brighton Centre
12-12-98: Bournemouth International Centre
Still no Bristol date then.


Massive Attack & the new psychedelia - MOJO July 1998; Get youself down to WHSmiths as this is an excellect article, with a good history of that there 'Bristol Sound'. Angel will be the next single from Massive Attack, released on 13th July 1998. The single Includes the Album Version and a stripped-down remix by Blur, plus "Group Four" (Mad Professor Remix). It has already featured on the Adidas World Cup adverts on Eurosports.
Whilst on the subject of adverts, Craig Armstrong's Rise is featured in the new Citroen advert with Claudia Schiffer dissrobing.

9th July 1998
There's an 'opening act' slot now available on the Verve's upcoming North American tour.
Massive Attack have announced their departure from the tour, hot on the heels of Nick McCabe calling it a day.
Fans of Massive Attack need not worry, however. According to sources at Virgin, even though there's no concrete reason for them dropping out, the band are working on a small club tour in September. Toronto and Montreal dates seem likely, with the midwest, Vancouver, Ottawa and smaller venues under consideration.
Massive Attack's departure is just the latest blow for the Verve. Bassist Simon Jones fell ill in early June, forcing the band to cancel a number of European gigs. This week, guitarist Nick McCabe, bowed out from any further live performances this year, citing the stress of touring.
How Massive Attack's departure - a main reason for many to attend the concert - affects further ticket sales and eventual attendance of the Verve tour is yet to be determined.

10th March 1998
Massive Attack's massive overhaul of Radiohead's OK Computer" album may be off, but fans of both bands need not fret: There are still plans for a collaboration, according to Massive Attack member Daddy G.
"I've been speaking to Colin [Greenwood, Radiohead's bassist] and they're still set on doing something. When they're done their thing and we're done ours, we'll go off and chill somewhere. We'll try something in the studio - just for fun - a one-off effort."
On the subject of the failed Radiohead project, Daddy G., speaking from Virgin's Toronto offices Tuesday, had this to say. "They were busy, we were doing our own thing and we didn't have time." He adds, "a project like that has to be treated with total respect, and we couldn't afford the time right now."
Meanwhile, Massive Attack fans can rest easy, too. There's an onslaught of activity planned for the very near future from the Bristol collective. First the new single, "Teardrop" (featuring Liz Fraser from Cocteau Twins) is set for release at the end of March. (The new North American single, however, may be changed to "Angel".)
The third Massive Attack album, "Mezzanine", is slated for an April 14 release date in Canada and will include last summer's limited-edition single, "Risingson". Liz Fraser collaborates on two more tracks on the album, which further blurs the lines that define the Massive Attack sound and which Daddy G. refused to categorize.
Dance music? "Never call it that! We're more the United Nations of music."
How did the collaboration with the Cocteau Twins vocalist come about? Daddy G. offers a mini-history of the band as an explanation. "When we first started, we were influenced by the '80s, and ['Blue Lines'] reflected that with its soul feel. [The next album, 'Protection',] was more studio based."
"All the while there have been people we've grown up with listening to. People like Liz Fraser, Tracy [Thorn from Everything But The Girl, who co-wrote/sang on Protection's title track and 'Better Things'] and [reggae artist] Horace Andy. We've dreamt of working with them from the start and, with Liz, it's finally coming to fruition."
The band, comprised of Daddy G., 3-D and Mushroom, has also kept busy with its new Virgin-distributed label, Melankolic.
"We've always wanted to have our own label. Virgin made us an offer for the label, which was comfortable for us - them being our parent label. We wanted to have a label with a diverse sound."
It's not an extension of the band, however. "It's a label, so it'll be varied in taste and rather eclectic."
There is also a personal connection for the band. Several Melankolic artists, including Chris Armstrong and Horace Andy, have both worked with Massive Attack in some capacity.
Fans can expect to see Massive Attack in Canada in June as part of their North American tour. The new show promises more of a live band atmosphere, with the core group being fleshed out with live drum and guitar, "to gain a new audience, really ... a lot of the live arrangements we played on tour last time weren't the arrangements on the album. We tried to get more organic."
Massive Attack has always been associated with the burgeoning drum 'n' bass/jungle scene. The sped up drum-heavy sound is only now becoming popular but has been a part of Massive Attack's sound since the beginning.
"Innovators never really get the credit," muses Daddy G. "It's a shame that two good albums ['Blue Lines' and 'Protection'] were neglected. Hopefully this will be the one that breaks us, now that North America has caught up."
Liz Fraser, who is "very pregnant at the moment" is also planning to tour with the band, "she's into it, she'd love to come on tour. We'll try to make provisions for her to do that. She can have her own bus and a nanny and stuff like that."
By Richard John -- Jam! Showbiz

23rd March 1998
Massive Attack 'Mezzanine' playbacks today for UK stores

12th March 1998


MASSIVE ATTACK will make their new album, 'Mezzanine', available in its entirety on the internet nearly a month before it goes on sale in the shops. It will steadily appear in stages in a ground-breaking 24-day 'countdown' to retail release on April 13. It's the first time a major label artist has allowed an entire album to be available on the internet before its retail release. The specially-designed countdown page will be online from Friday, March 20, kicking off with 45 seconds of 'Teardrop', the first single to be released from the album, plus visuals from the 'Mezzanine' sleeve concept. Three days later, the full-length audio version of 'Teardrop' will be onsite, along with a 30-second excerpt from the track's video, plus 45-secondexcerpts from each of the 11 tracks on the album. On March 30 - 14 days before 'Mezzanine' hits the shops - the full-length album will be on the site, accompanied by the full version of the 'Teardrop' video. The countdown ends on April 13 with the album's release and the website will be "open to the public". The 'Mezzanine' website will use Real Video and Real Audio.