11th December 2009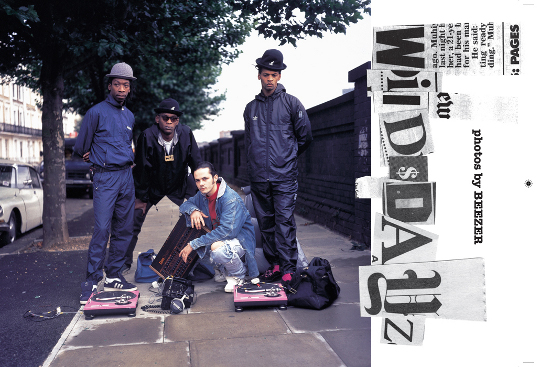 Beezer's remarkable collection of pictures of the 'Bristol Scene' in the 80s has only been available on japanese import up until now. The book features many shots fron St Paul's Carnival, The Dug Out, Red House Jam and classic shots of The Wild Bunch before they went on to superstardom as Massive Attack. This new edition includes never before seen work from Massive Attack's 3D as well as a 'Gallery' section that puts a place and a date to all the amazing photos.
Essential for all lovers of reportage photography and those who want to see what it was like to be "Young, Gifted and Bristolian".
It's avaliable from Tangent Books, who have published a wide range of other local local interest books, including Banksy's Bristol, Art & Sound of the Bristol Underground and Bristol Black & White.
There's a launch of this new edition at the Bristol City Museum & Art Gallery, before a photographic exhibition capturing the music scene in Bristol during the 1980's goes on display there, from Saturday 12th December to Sunday 31st January . The exhibition titled 'Bristol Wild Dayz' has been co-curated by internationally renowned Bristol photographer, Beezer and coincides with the launch of his book 'Wild Dayz'.
The exhibition and the book is a homage to the early 80's Bristol scene which Beezer was determined to record, and with his knack for capturing the moment, he takes the viewer on a voyeuristic journey through Bristol's back street cultures, through the no go areas where the police feared to tread.
A childhood friend of the Wild Bunch boys, Beezer captured those crucial early years with rare documentation of an emergent youth culture. Beezer recalls:

"In 1984, Technics just brought out these DJ decks, all my friends were DJ's, they would play all kinds of records - funk, punk, post-punk and then a lot of US hip-hop and electro stuff was coming in. There was also the graffiti that people like 3D and Banksy were doing. But we had no idea what it would escalate into. The Bristol guys would go up to London to play with the other sound systems and sometimes combine to hold big warehouse parties. These were completely illegal events attracting 700 or 800 people in a freezing cold warehouse with a bathtub full of beers, and a massive sound system the vibe was incredible almost mystical. There was attitude, but none of the egotistical face we see too often now."
The exhibition which is being co-curated by 'State of Art' (The collective that created Glastonbury Festival 2009 first ever full on art gallery/exhibition), will capture the excitement of this early underground scene with over 100 images featuring the Wild Bunch, scenes from the Dug Out club, Bristol's music and DJ scene, St Paul's Carnival, Glastonbury festivals and Bristol's early sound systems as well as partying and graffiti scene. There will also be a specially commissioned film documenting the early years of Bristol's music and youth culture by Steve Haley and two newly commissioned 8 x 5 foot contemporary new works of graffiti art by Inkie (artist) and Ian dark (artist & DJ).
The exhibition will have record extracts of some of those in the photographs, giving life to the images and places.
This exhibition has been planned in collaboration with Bristol Museums & Archives, who are seeking to collect Bristol people's memories and memorabilia of that landmark time in the city's music scene, including social and political activities. The exhibition will feature memories of some of the key people involved, and the public will be invited to add their own memories of the people, places and scene as part of the growing exhibition content. Some of this material will contribute to the stories and displays in the exciting new museum about Bristol people, M-Shed. Anyone with memories or other items to contribute to the city's collections should contact Community History Curator, tel. 0117 352 5568.
http://www.beezerphotos.com/
http://www.bristol.gov.uk/ccm/content/press-releases/2009/nov/bristol-wild-dayz.e
http://www.tangentbooks.co.uk/
4th December 2009


In support of the upcoming Heligoland album release, Massive Attack have released a videos of Paradise Circus featuring Hope Sandoval. Directed by Toby Dye, the video feature former porn star, Georgina Spelvin, describing the sexual experience of her life from nearly forty years ago. Actual footage (NSFW) from the infamous 1973 adult film, The Devil in Miss Jones, intertwines her frank confession.
The full version premieres on December 9th on the band's site, meanwhile check out some NSFW previews at the appropriately named Audioporncentral.com
30th November 2009


http://myspace.com/tectonicrecordings

23rd November 2009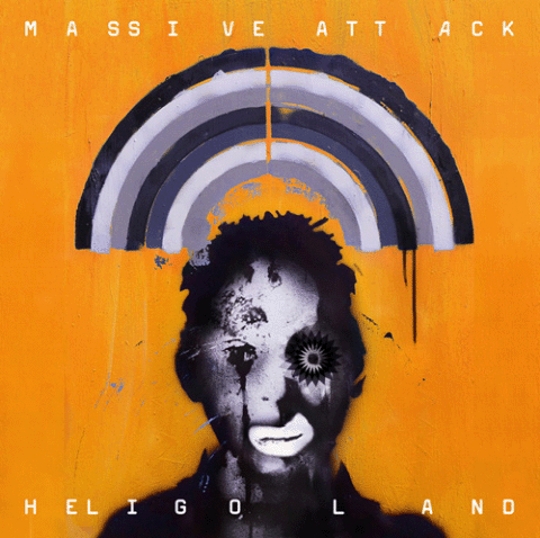 The next album from Massive Attack will be entitled Heligoland and will be released on Monday 8th February 2010. The track listing is:
1. Pray For Rain
2. Babel
3. Splitting The Atom
4. Girl I Love You (previously known as 16 Seeter)
5. Psyche
6. Flat Of The Blade (The original version of Bulletproof Love
7.Paradise Circus
8. Rush Minute
9. Saturday Come Slow
10. Atlas Air (previously known as Marrakech).

As well as Robert Del Naja and Grant Marshall, the vocalists performing on the album are Horace Andy, Martina Topley Bird, Damon Albarn, Guy Garvey and Hope Sandoval.
The sleeve artwork was created by Robert Del Naja and designed with Tom Hingston.
They have commissioned short films for the new tracks, some by friends others from unexpected quarters, which will appear on the official Massive Attack web site over the next few weeks - the bullfight will apparently make more sense in this context.
Interesting remixes are being worked on at the moment, some of which will be included in a bonus disc.
14th November 2009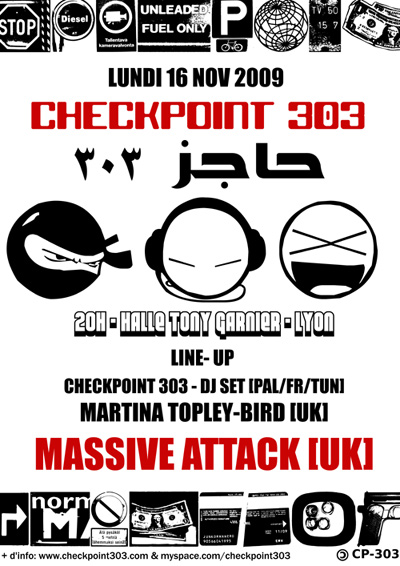 This Monday November 16th, CHECKPOINT 303 will be opening for Massive Attack and Martina Topley-Bird at their concert in Lyon, France. Checkpoint 303 will kick-off the show with a DJ mix including its own experimental and electronic sound compositions and showcasing music ranging from trip-hop, oriental breakbeats, middle-eastern sound collages & golbal activist electronica...
Begins at 7 PM in the Halle Tony Garnier

www.checkpoint303.com
.myspace.com/checkpoint303
twitter.com/checkpoint303

12th October 2009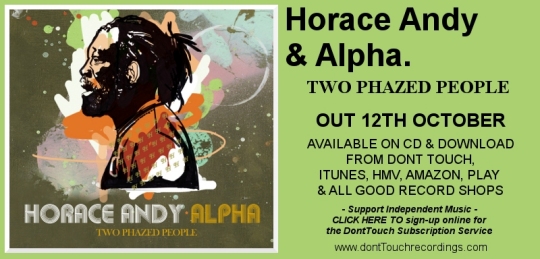 11th October 2009
The Splitting The Atom EP is now available as a limited edition 12" vinyl package from The Vinyl Factory.
5th October 2009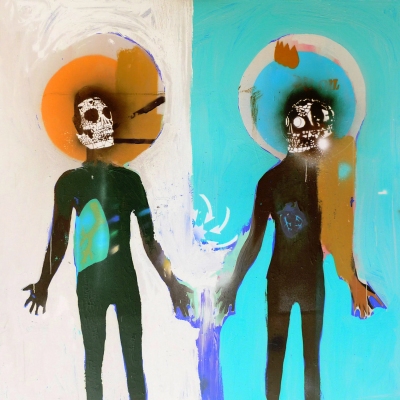 The Splitting The Atom digital EP is released today via itunes or 7digital.com.
The lead track, features Robert Del Naja, Grant Marshall and Horace Andy. Pray For Rain is by TV On The Radio frontman Tunde Adebimpe. The stripped back, minimalist Christoff Berg reworking of Bulletproof Love. Bergoff (alongside Van Rivers & The Subliminal Kid) produced the Fever Ray eponymous album. Psyche features Martina Topley-Bird and was given the re-rub by Van Rivers & The Subliminal Kid, who recently remixed Bat For Lashes and The Big Pink.
4th October 2009

29th September 2009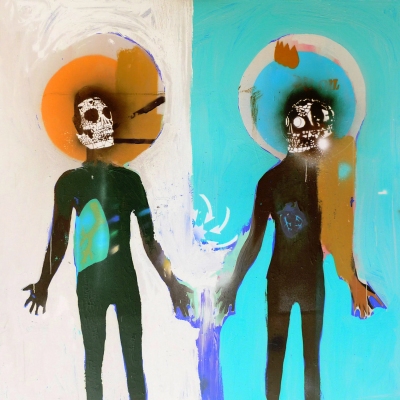 The Splitting The Atom EP is now available to pre-order from iTunes and 7digital.

23rd September 2009
Massive Attack will play at the London HMV Hammersmith Apollo show on 11th February 2010 in support of HOPING Foundation. Tickets on sale at 9am on Friday 25th September.
17th September 2009
Watch the new Ballie Walsh directed video for Splitting The Atom here.

14th September 2009
Martina Topley Bird will be supporting Massive Attack on their UK and European tour this Autumn/ Winter. Martina will also be a special guest vocalist with Massive Attack on stage throughout the entire tour.

8th September 2009
The '09 Ivor Novello Outstanding Contributor to British Music (and the band that provides the best soundtrack to a hangover) Massive Attack, are finally providing us new tunes - their first in three years. The EP of four tracks, Splitting The Atom, has already been deemed Zane Lowe's Hottest Record of the Week. It's out digitally on Oct 2, but you can stream the EP in full from theinsound.com.
After the Splitting The Atom EP, Massive Attack will release their fifth studio album in Feb 2010. The album will cram in collaborations with Damon Albarn, Hope Sandoval, Martina Topley-Bird, Guy Garvey and Tunde Adebimpe. Long time cohort Horace Andy is coming back to the fold with the band's founding members Robert Del Naja and Grant Marshall.
3rd September 2009
As previously reported, the new EP from Massive Attack, Splitting The Atom, is out on 5th October 2009 and features vocal contributions from TV On The Radio's Tunde Adebimpe and Elbow's Guy Garvey. You can now listen in full to the decidedly cinematic Adebimpe-sung track, 'Pray For Rain', courtesy of Pitchfork.
28th August 2009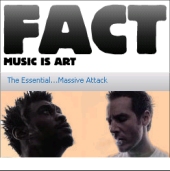 25th August 2009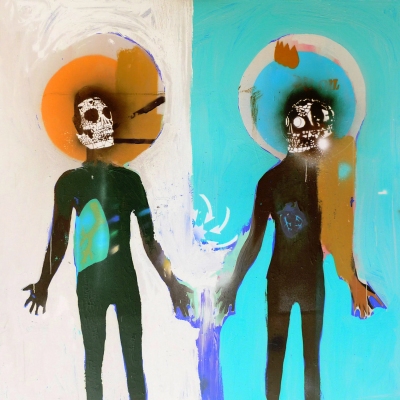 Massive Attack will release an EP on 5th October 2009. Lead track 'Splitting The Atom' features D, G & Horace Andy and TV On The Radio frontman Tunde Adebimpe guests on 'Pray For Rain'. The EP also has remixes of two new tracks. 'Psyche' featuring Martina Topley-Bird mixed by Van Rivers & The Subliminal Kid, while the Guy Garvey fronted 'Bulletproof Love' is stripped back to a minimalist reworking by Christoff Berg.
There will be an exclusive play of 'Splitting The Atom' on Radio 1 tonight - Zane Lowe has picked it as his 'Hottest Record In the World Ever' and will play it in his show.
Hold tight for news of a limited art vinyl edition of this EP created by The Vinyl Factory. 
The band will release their fifth studio album in February 2010. This time around sees collaborations with Damon Albarn, Hope Sandoval, Martina Topley-Bird, Guy Garvey and Tunde Adebimpe. More news on this soon apparently...
31st July 2009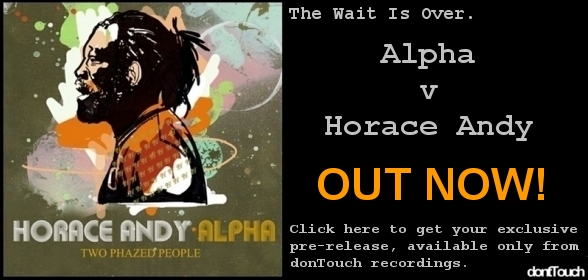 It's here! Get hold of an exclusive pre-release now, only from dontTouch recordings. This is a limited run and they are also offering a t-shirt + CD deal.
21st July 2009

This intimate documentary follows a wave of immigrants who left their homes in Jamaica for Bristol, England in the 1960's, bringing with them cultural influences of reggae music and Rasta culture that would become a signature element of British style. The film also looks at phenomena like jungle-style reggae, which had its basis in Bristol and then made its way back to Jamaica.
14th July 2009
Mini Attack


This what the 90s version of Massive Attack would look like if they were really small.

Here's a live action really small version of the 100th Window sleeve art.

Check out more at www.flipflopflyin.com/minipops

13th July 2009
Massive Attack recruit Martina
Guy Garvey spills the beans on trip-hop duo's team up with Tricky singer
Martina Topley-Bird is set to work with fellow Bristolians Massive Attack on their new album.
The singer, who has previously worked with Tricky, is to sing on a track Robert Del Naja and Elbow frontman Guy Garvey have written together.
"One of them that is sounding really great at the moment is a tune called Red Light which Rob and I have been working on for about a year and a half and Martina Topley-Bird is giving voice to my lyrics," Garvey revealed on his Finest Hour show.
"It's a bit of a dream come true to have Martina singing my words on a Massive Attack song."
Garvey said the pair have written five or six songs so far for their first studio album in six years.
Topley-Bird joins a host of stars who have worked with the trip hop duo on their previous albums including Sinead O'Connor, Horace Andy, Tricky, Tracey Thorn, Shara Nelson, Elizabeth Fraser and Damon Albarn.
Garvey also revealed that his own band were influenced by the duo's sound during their early days.
"The whole trip-hop Bristol scene was very much part of Elbow's make-up," he added.
"It really shaped us and nudged us forward a little bit. It's definitely part of our sound."
Topley-Bird featured on Tricky's 1995 debut album Maxinquaye, Nearly God, Pre-Millennium Tension and Angels With Dirty Faces.
http://www.bbc.co.uk/6music/news/20090713_martina.shtml

11th July 2009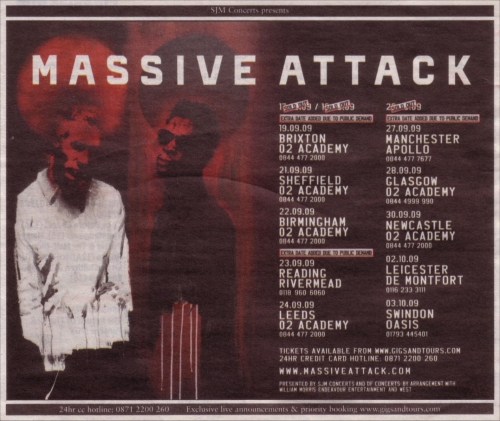 18th June 2009
Jonny Dollar: Musician and producer whose work with Massive Attack pioneered the genre of trip hop.
With its moody, ominous sound and pioneering mix of beats, samples and strings, Blue Lines, the debut album by the Bristol collective Massive Attack, defined a new musical genre, trip hop. Released in April 1991, the landmark album contained three hit singles – "Unfinished Sympathy", "Safe From Harm" and "Hymn Of The Big Wheel" – spent the next 18 months in the British charts and became part of the soundtrack of the early Nineties alongside grunge and Britpop.
As well as establishing Massive Attack, Blue Lines launched the careers of their collaborators, the singer Shara Nelson and the maverick figure of Tricky. Alongside his co- producer Cameron McVey, the musically-minded and gifted producer Jonny Dollar played an important part in helping Robert "3D" Del Naja, Grant "Daddy G" Marshall and Andrew "Mushroom" Vowles, the founder members of Massive Attack, realise their vision and bring the project to fruition.
"Jonny was really important," Del Naja said. "There was a chemistry between us which made the first album. We were bringing the DJ world we were coming from – how we used to present music, cutting up on decks on a sound system, chucking instrumentals with vocals, very much a hip-hop way of sampling small pieces of music – and then linking them and making them into whole tracks. It was a completely new way of working. Jonny and Cameron were vital because they took something very raw and helped to fashion it into something a lot more sophisticated."
Dollar also worked with McVey on the Neneh Cherry albums Raw Like Sushi (1989) and Homebrew (1992), and co-wrote the anti-racist message song "7 Seconds", her haunting duet with the Senegalese singer Youssou N'Dour, which became a worldwide hit in 1994. Five years later, Dollar produced several tracks on Gabrielle's chart-topping Rise album, in particular the single of the same name which featured a sample of Bob Dylan's "Knockin' on Heaven's Door" and went to No 1 in Britain.
Born Jonathan Sharp in Cornwall, Dollar met McVey, a model turned producer and manager looking after his partner and future wife Neneh Cherry, who had just scored a major hit with "Buffalo Stance". The couple were looking for collaborators to complete Cherry's first album. Sharp came on board alongside McVey – billed as Booga Bear – Vowles and Del Naja.
"Cameron liked what he heard," Del Naja recalled. "He thought it was a good idea for us to work with Jonny. We all camped out in Cameron's house in Kensal Rise, in London, for more than six months, pretty much all in one room, working on a few synths and early samplers. We were a very loose bunch of characters with very disparate ideas, not very fully-formed either. We had a lot of concept and not a lot of experience, and Jonny brought some much-needed experience. He was more musically literate than us and he had the skills to see an idea through."
Having submitted a few tracks to Circa, the label distributed by Virgin, Massive Attack secured a record deal and finished what became Blue Lines with McVey and Dollar, who co-wrote the group's debut hit, "Unfinished Sympathy". According to Del Naja, "it started out as a jam in the studio in Bristol. It was just break beats, a percussive line. Jonny started playing a keyboard, just a couple of chords, and we developed the song. When we got to do the vocal, we removed the chorus and we decided to fill the dead space with strings. That's how it changed from a conventional pop song into something sort of symphonic. Jonny got in touch with Wil Malone and he helped to score it out. We recorded the strings at Abbey Road. A lot of the beauty of the track was in the arrangement and the removal of certain parts was as vital as the writing of other parts. We had that philosophy about taking things out. We'd write more than we wanted and remove it, leave the bare bones. That was the way we wanted to hear the music."
As well as programming and keyboards, Dollar also played guitar
but most of his guitar parts didn't make the final mix. "Sometimes he was simply helping us articulate what we were trying to do and other times he was having more input in, particularly on 'Hymn Of The Big Wheel'," Del Naja recalled. "Jonny worked really hard on the string quartet motif. He was really integral to the whole project. He was the person who provided us with the key to finishing several tracks. Jonny had a very dry sense of humour which suited us because we're a bunch of piss-takers really. He knew how to handle us, he could to take it and give it back."
Massive Attack considered continuing with Dollar and demoed some of Protection, their next release, with him, but since he and McVey were hard at work on Cherry's second album, they ended up working with Nellee Hooper, their original partner from the Wild Bunch sound system days.
Throughout the Nineties, Dollar was an in-demand mixer and remixer for Carleen Anderson, Depeche Mode, EMF, Galliano, Kylie Minogue and Pulp. The Polydor president Ferdy Unger-Hamilton, who collaborated with Dollar on the Gabrielle album, called the producer an unsung hero and innovator. "As committed and driven a producer as I've ever met, I literally had to take the tracks by force back off him, he was so determined to make them perfect. The result was a No 1 single and album, Rise. He was as tough artistically as he was gentle a person."
Ashley Newton, now at Sony but one half of the Circa team which signed Cherry and Massive Attack, recalls Dollar as "this incredible sonic shape-shifter. He was a man of few words but had a beautiful and almost hippy outlook on life. We all grew enormously fond of him. I vividly remember listening to Blue Lines with him, Jonny with those intense dark eyes, spliff in hand, totally immersed in the art. He'll be much missed."
Dollar was diagnosed with cancer last August and died at the Royal Marsden Hospital in London.
Jonathan Sharp (Jonny Dollar), record producer, programmer, guitarist, songwriter: born Cornwall 1964; married (four children); died London 29 May 2009.

http://www.independent.co.uk/news/obituaries/jonny-dollar-musician-and-producer-whose-work-with-massive-attack-pioneered-the-genre-of-trip-hop-1707860.html

4th June 2009
Horace Andy live with Ashley Beedle at La Bellevilloise, Paris, France on 30th April 30 2009.



28th May 2009
RSD is Rob Smith from Smith & Mighty.
http://www.myspace.com/dubrockers
21st May 2009
Massive Attack To Return With Huge World Tour
Massive Attack vocalist and musician Robert "3D" Del Naja has revealed plans for a huge world tour to support the release of their long-anticipated fifth album out in October via Virgin/EMI.
The British electronic act has already confirmed more than 40 dates in the U.K. and Europe, beginning with three shows at London's 5,000-capacity O2 Academy Brixton (Sept. 17-19). The U.K. shows are promoted by SJM.
Now Del Naja has confirmed the full extent of the tour to Billboard.com, which he says is likely to top 150 shows including U.S. dates.
"We'll do the U.K., Europe, then take Christmas off, and then go to Asia, into America and then we'll roll out to the festivals," he says. "When you get on a roll it's such a laugh. For Meltdown [Festival] last year we ended up doing about 40 shows all around eastern and southern Europe, it was really good fun. So I can imagine for this we'll end up doing maybe 150 gigs."
The band debuted new songs at their 2008 shows including the Meltdown Festival at London's Southbank Centre, which they curated and they were also part of the line-up. Other dates were added into the schedule once their Meltdown appearance had been confirmed.
He adds that while the U.K. is the first scheduled run of dates, the band will actually begin its tour in Mexico, although the dates are not confirmed. "It's going to be two festivals in Mexico, I think they might be new festivals," he tells Billboard.com. "The Latin American attitude will definitely ensure that it's going to be a laugh."
Massive Attack's last album "100th Window" was released in 2003 and their fifth set has been due at various stages in the last few years. The act has been working with artists including U.K. rock act Blur's frontman Damon Albarn, Guy Garvey of U.K. indie-rock band Elbow and Stephanie Dosen.
"The album is out in October and we're touring in September, so there will be a two-week discrepancy where we'll politely request the audience's attention while they hear some new songs that have been re-mastered," Del Naja says.
In fact, several new songs including "Red Light" and "All I Want" performed on tour last year were well received. "I think things are changing, I don't think people expect to hear an album they know and then go and hear it live, I think people are much more intelligent than that," comments Del Naja.
He confirmed that the album will be released by Virgin/EMI, but there is no confirmed title - although there was a slight hint that they have returned to an earlier, proposed title, "Weather Underground."
"We had a stage name for it, and we've given up on it, we've gone back," he says. "We always think of the name at the last minute, that way you haven't got to think about it or live with it."

Massive Attack's Del Naja and Grant "Daddy G" Marshall collected the outstanding contribution to British music Ivor Novello award at a London ceremony today (May 21).
by Andre Paine for Billboard
http://www.billboard.com/bbcom/news/massive-attack-to-return-with-huge-world-1003975809.story

17th May 2009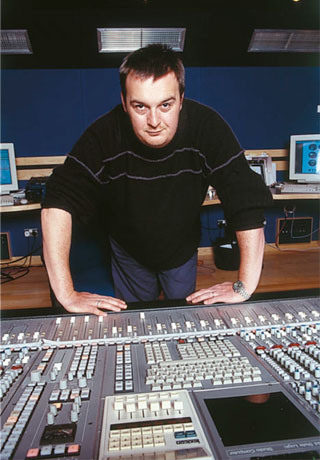 Mixer Spike Stent Mixing Vocals with the UA 1176
Spike Stent is one of the industry's most sought-after mixers, having carved the sonic landscapes of Beyonce, Madonna, Lily Allen, Goldfrapp and the Yeah Yeah Yeahs in past year alone. It is said that he is redefining the art of the mix, as Bob Clearmountan did in the eighties. I caught up with Spike Stent in Los Angeles, where he and his family are currently living.

Tell me the story of how you got your nickname.
It's kind of interesting. It was back during my first freelance gig from Trident Studios. I got a gig engineering for John Paul Jones [Led Zeppelin] on an album for this band called The Mission. We were due to start recording at The Manor studio, in Oxfordshire, so JP and I turned up on Sunday evening, had dinner, and the band still weren't there. The band didn't turn up until like four in the morning. When they did come in, they were in a--how can I put this subtly?--they were in quite a state [laughs] from whatever they had been up to. So consequently, the next morning, I was setting up the studio with the road crew and the assistants, getting everything together, when the singer walked in and obviously had forgotten my name. I had very spike-y hair, so hence the name. … He called me Spike, and it just sort of stuck. We were there for three months, and everyone there called me that. We then went on to Townhouse to mix the album, and everyone there started calling me Spike. It's one of those kind of things that just kind of happened, really.

How did you start off in this biz?
I started when I was 16 at Jacobs Studios, in Farnham, in Surrey. I was there for four and half years.

You started as a tea boy?
No, actually I started off mowing lawns [laughs], making repairs and such and eventually working in the studios in my evenings and days off. The owners, Andy and Fran Fernbach--a couple of the many people who, in my career, have been very fundamental--they gave me the start in this industry, and I'll never be able to thank them enough. It was a residential studio, with two rooms. We tended to change consoles a lot, so I got to use lots of different desks, an Amek, a Harrison, an MCI and SSL. They also had, which only one other studio in England had at the time, a 3M digital tape machine, which was incredible. I still think back to those times, it was an amazing-sounding machine … although technically a bit tricky.
I had my first proper break, I guess, with a band called Steel Pulse. They wanted some rough mixes. They'd spent a long time making this record, and I just sort of went in one Saturday morning and knocked out nine rough mixes or something, for the band to hear. That evening, my boss Andy, got a phone call from their manager saying, "The band want Mark to do some mixes." So I ended up mixing half the record, an album called Earth Crisis. I was only like 17 and a half or something.

How did you become a mixer?
When I left Jacobs, I went to work for Trident Studios in London, because I was very young, and wanted to work for a London studio and experience that. This was like 1985, and I was doing a lot of extended 12-inch mixes. DJs would come in, the people who commissioned to do the mixes, and I'd kind of get it together, and do everything. Those mixes turned out really well, and the A&R people would come down and go, "Hang on a sec, why does this sonically sound better and feel better then a lot of the 7" singles they came from?" So then I got asked to do the 7"singles as well … and that's how it all started happening, really..

Why did you move from London to L.A.?
I basically came over here to do some work with No Doubt, with my family, for six weeks, and we kind of just stayed. I have four children, so while I was working, my family were on holiday on the beach and stuff. Different projects came along that I was able to do here, people were happy for me to do them here. We were going to go back, but just kept extending it, and we thought, well, we'll keep the kids out for half a term and let them experience school over here for a bit. It was something Tracy, my wife, and I always wanted to do, spend some time here together. Then my mixing work transferred to here from the UK. I'd say 60 to 70 percent of my work in England was for the U.S. anyway, whether it was from Olympic, where I had a studio for many years and worked, or my home studio, which was down in Salisbury, in Wiltshire.
Then we got a phone call from Madonna, who I've worked with a lot over the last 14 years, saying I'm going to be working in L.A., can Spike come out to L.A.? My wife, who's my manager, spoke to her manager and said well, he's actually here already. So we stayed even longer. One thing led to another, and we just sort of decided to stay. I had to get everything in line, visas and schools, and all that kind of stuff had to be sorted out early on. We didn't plan to stay here. Definitely our houses still sit there in England, and my dog's still there. My brother's still looking after the house and my studio's there. Unfortunately Olympic is now closed. It closed in January, which was very sad. So my home studio, where I've got an SSL room, a duplicate of the Olympic room, has now got all the equipment from Olympic as well. … It's an engineer's dream, that house.

Do you ever have communication with the engineer, or the producer, when they're tracking?
No, not normally. Well, it depends really. Sometimes it's an artist I've known, so I'll speak to the artist before they go in. With the Beyonce project, because it had so many different producers, they kind of looked to me to pull it all together--just make it feel like a record.

Let's talk about what setup you're using at Chalice Studios . You did the Beyonce and the Yeah Yeah Yeahs at Chalice?
Actually, I did Beyonce at Record Plant. I based myself at Chalice, pretty much, since I've been out here, but I just stepped out for a little while to the Record Plant for that one record. Here at Chalice, I run a [Pro Tools] HD rig through an 80-input SSL G Series console along with bits of outboard that I had sent over, and then obviously the bits that I love, that I've discovered from you guys.

Did you use UA gear on Beyonce's vocals?
Yeah, the 1176 Aniversary Edition. The first time I plugged that in was on like Day One of that record, and it's not left my vocal chain since.

Beyonce has such a gorgeous voice, it would seem like you really wouldn't do a lot to it.
Well, with the 1176 I have it set for 2:1, and I love it--love the sound of it. It just brings vocals to life, sonically. It really excites it without it sounding over-compressed, and right in your face. I love that about it. You know, with some compressors, they just sound like the life's been squeezed out of it, but the 1176 doesn't do that. It still sounds rich, and full. It's brilliant.

What's the complete vocal chain?
It goes from the computer into the console, then through a dbx 902, then the 1176. On another channel, we'll have the UA 610, and a 902. It's kind of a mixture between the two… but it's mainly that 1176 that gives it "the sound."

Karen O [Yeah Yeah Yeahs] has a very distinctive, very different voice.
Yeah… I used the same thing, same chain. Love it.

Really? The same chain as Beyonce's. That's really fascinating.
Yeah. Obviously the EQ changes, and I do a lot of automation in the box, whether it be effects sends, different effects, stuff like that. There's a lot of automation. The EQs are automated in and out of different sections, because they need different treatments. That kind of thing definitely happens a lot in my mixes.

How do you see using it in the future?
Basically, for me, that's my vocal chain, and it's not changing. You know, I'd always been an LA-2A man. I mean, when I built the room at Olympic, over ten, eleven years ago, I went through eight LA-2As to find the one I loved. That was the big part of my vocal sound for many years. But this 1176 Aniversary Edition, it just does something else. It just sits--it just does it for me. The way it makes vocals sit in the track, without it sounding compressed. It's just got a presence, and a punch to it, which I love.

Do you have any secrets to mixing Edge's guitar? The big question everybody wants to know.
Yeah … LOUD [laughs.]. It all depends on the song with them. Edge's sound is so unique, the way he plays, and the effects, it's just a question of balancing it. It's not like with a lot of modern rock records where you've got to have the guitar blisteringly loud. It's more about what's sympathetic to the overall music at particular points in the song, and whether it moves you emotionally. With them, mixing is an interesting process. It's more about the emotion than making something ridiculously dynamic and larger than life, and swamping the speakers. It's more about trying to find the right sort of space for it.

I heard a quote from you that you don't look at meters, you're listening.
I use my ears, that's kind of my thing. Obviously if something's crapping out, then you check meters and things. I love G Series consoles because of the way they sort of distort. You can just drive them hard, unlike the more modern SSL consoles, which tend to spit and go [spitting noises].

Why do you think you're a good mixer? Because you listen?
No. I don't know, I've been doing it an awful long time, and I think I learned by my own mistakes, really. I don't know why I'm a good mixer. Maybe because I kind of understand artists, and I get a sense of what they're looking for. Anyone can--I say this broadly--anyone can learn how to work all this equipment. I always tell young interns, you can learn how this stuff works in a matter or months, but it takes years to learn how to "work it." Do you know what I mean? If someone like Bjork, says, "I want it to sound like a waterfall" [laughs], you've got to try and take that creative explanation of what they're looking for, and try and put it into sonic terms.
With some compressors, they just sound like the life's been squeezed out of it, but the 1176 doesn't do that. It still sounds rich, and full. It's brilliant.

Their vision …
Yeah, you've got to understand their vision. You've got to translate that. That's the thing that takes time and experience. I've had some strange requests over the years [laughs]. You should always listen to everyone. The thing is, with mixing and making records, everyone's got a point of view, an opinion, and it's good to listen because you know what? We can all learn from this. Every day I learn a new thing.

Are there any classic recordings that have a sound you try to emulate, or try to achieve?
Oh, there were so many. When I was young, from the age 12, I used to sit in my bedroom with headphones on, studying all these records, trying to work out how they did them. I used to listen to Grace Jones records and Kraftwerk records, and all this kind of stuff, to figure out how they did them. This was the late '70s. I started in studios in 1981. It's not like with the internet now, where you can find out how things are done.
I was very lucky, when I started out at Jacobs, there were still a lot of punk, post-punk bands, and we did a lot of reggae bands, and all kinds of different things. So I got to record bands, and understand that kind of stuff. But also dealt with electronics, and computers. It was the early days of computer technology, and drum machines and stuff. I worked with Fairlight and Synclavier and all that kind of stuff.

Did you take to computers really quickly?
Yeah, I guess so. I had an early [Digidesign] Sound Tools 2 system, which a band gave me.

That must have been around '88, '89?
I got it around '90. Then when I built the mix suite at Olympic, it was totally Pro Tools based. I've always stayed on top, tried to keep everything cutting edge as possible--be ahead of the technology, ahead of the trend, as much as you can.

What are you working on now?
I'm about to start Massive Attack, again, in the next couple of weeks. So that's going to be good. There are some very exciting records about to happen but I can't really talk too much about it yet, because I'm very--what's the word?--superstitious.

Do you listen to music recreationally, or do you have to give your ears a break?
No, I do, very much so.

What do you listen to?
Oh, all kinds. I mean, I've got four children and they turn me on to things, which is great. I've got one son who's totally into rock and the Beatles and alternative things, and another one who's Mr. Urban. So it's quite good, our household.

If Universal Audio could design you your dream product, what would it be?
What would my dream product be? That'd be a very interesting thing. It'd definitely have distortion in it… some controllable distortion-type of setting. I like to hear things working. I like processing to color sound, add character. Especially now, because we're in the digital domain so much. I think it's important that any pieces of hardware add color and character. So anything that does that, I'll be very excited by. If you could design a compressor that really colors the sound, in multiple different ways, not just one, I think that'd be exciting.
By Marsha Vdovin
http://www.uaudio.com/webzine/2009/may/artist.html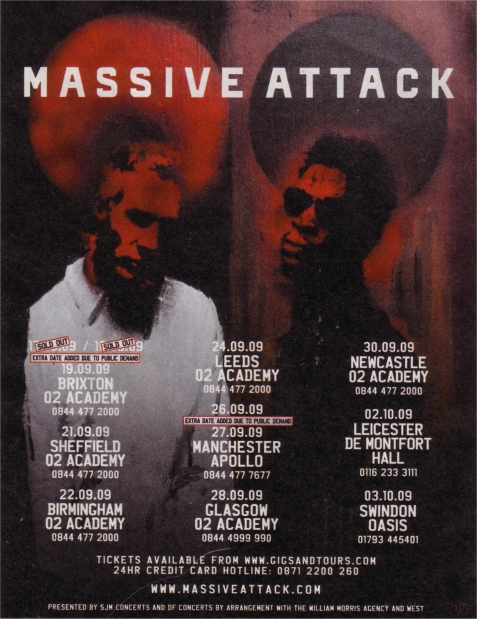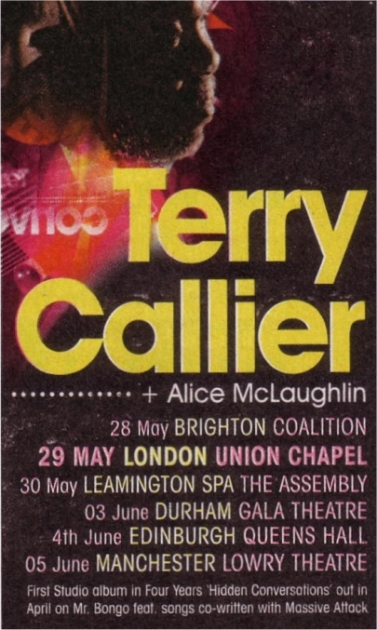 15th May 2009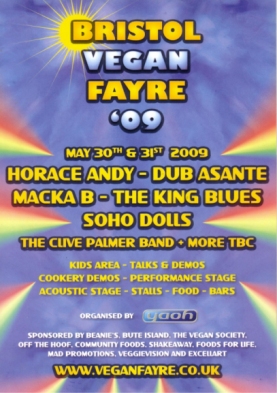 3rd May 2009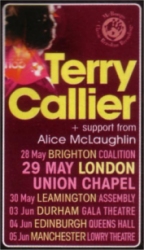 2nd May 2009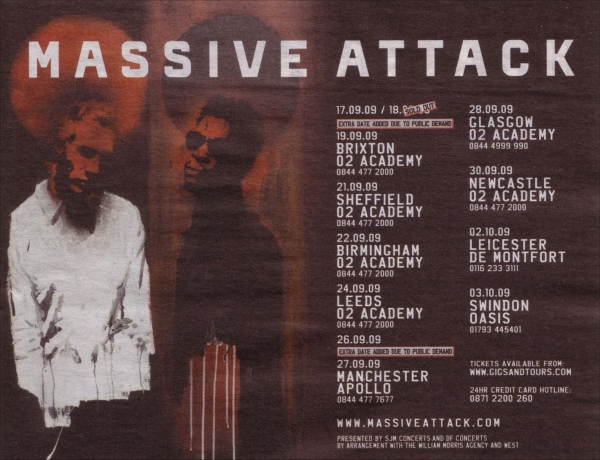 1st May 2009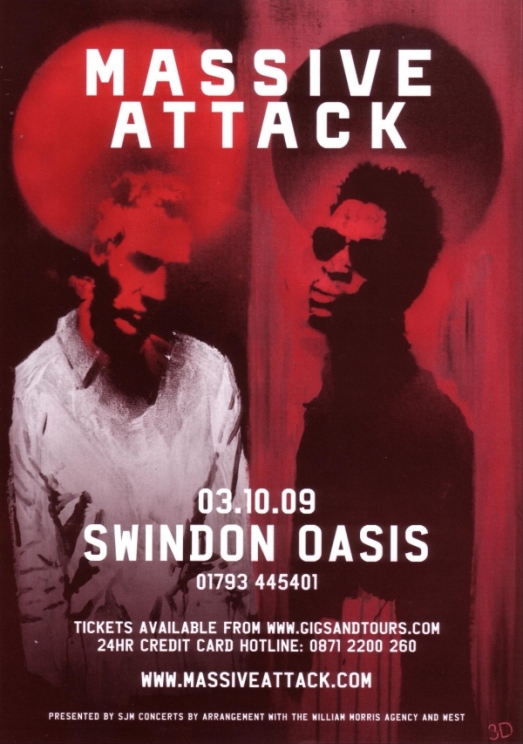 26th April 2009
Test pressing: Radio Show: Massive Attack - Kiss 07:09:94 (Part Four)

21st April 2009
Gang Of Four: "Fat Men" Says Pop Group
Founding member of The Pop Group and The Maffia, Mark Stewart claims band will reform and announces future collaborations with Massive Attack, Richard H. Kirk and Keith Levene.
At a Q&A session last night following the world premier of his documentary On/Off, Mark Stewart announced that seminal post-punk-funk band The Pop Group might reform for a future ATP.
As he put it: "That kid from ATP has been bugging me for ages, offering me thousands of pounds to reform The Pop Group". Quickly dispelling any notions that the politically charged singer would be selling out and cashing in like so many of his musical peers, he added "There are too many fat men like Gang of Four trying to get attention these days."
Stewart explained that he would instead use ATP as a mass media platform for promoting his subversive message - "An explosion in the heart of the commodity".
The documentary features footage of Stewart recording with Massive Attack on their forthcoming album. He also claimed to be working with Cabaret Voltaire's Richard H. Kirk and former PiL, Sex Pistols and Clash guitarist Keith Levene.
http://thequietus.com/articles/01573-mark-stewart-to-reform-the-pop-group-work-with-cabaret-voltaire-massive-attack-and-pil-clash-guitarist

20th April 2009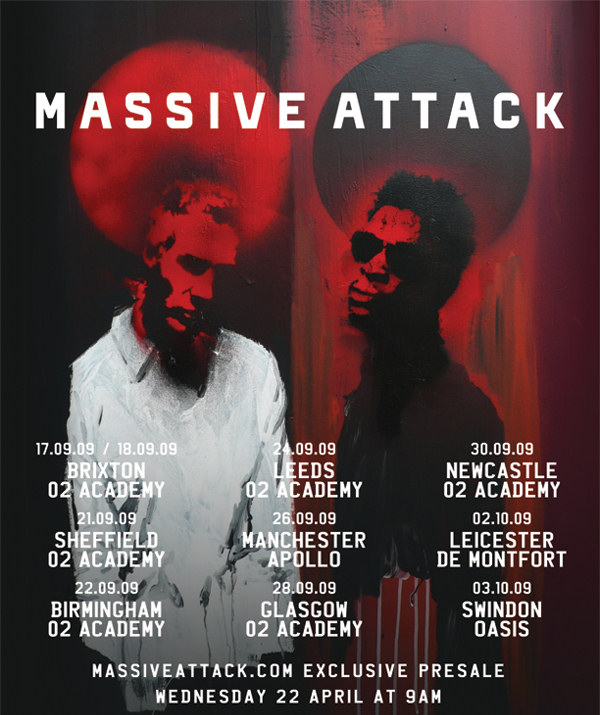 19th April 2009
Test pressing: Radio Show: Massive Attack - Kiss 07:09:94 (Part Three)

18th April 2009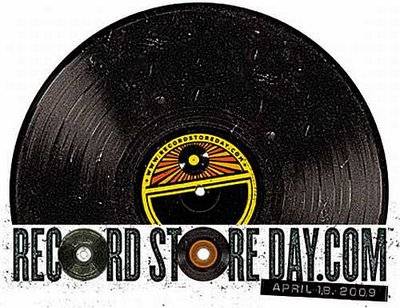 Today is the International day of the record shop, so if you still have a local record shop get down there and support it! I'll be making my way over to Rooted Records later - there's a reggae soundsystem and free beer apparently! Check The Offical Record Store Day site to find a participating shop near you.
8th April 2009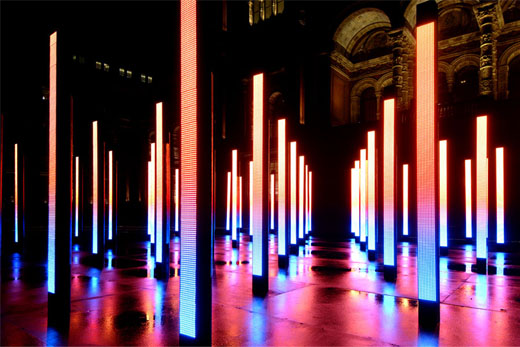 Light sculptors United Visual Artists have developed a world-wide reputation through their ambitious design - which has been featured in tours by Massive Attack, Kylie and others.
UVA's installations have also cropped up in the V&A , Tate and Royal Festival Hall , and in music videos for the likes of Arctic Monkeys and Battles . With all members having their own field of expertise, including design, architecture, art, animation, photography, and software engineering, U.V.A. use a diverse range of media to create seamless and brilliant real-time immersive experiences that combine seductive imagery with light and sound.
"We're fascinated by the notion of light as a presence," they say, "and how it changes the way people feel about the space around them, and their relationships with others." The exhibition runs from the 3rd to the 26th of June at London's Smithfield Gallery and signals a departure for UVA as they transform themselves from being lighting designers into being fully fledged artists.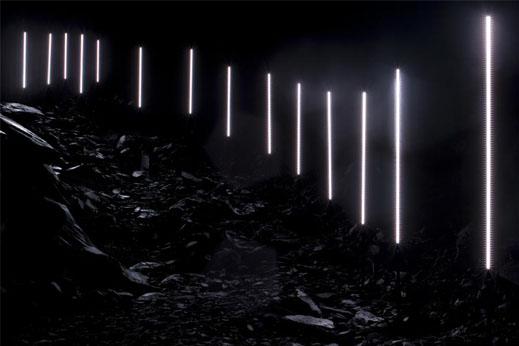 http://www.factmagazine.co.uk/index.php?option=com_content&task=view&id=2306&Itemid=26

4th April 2009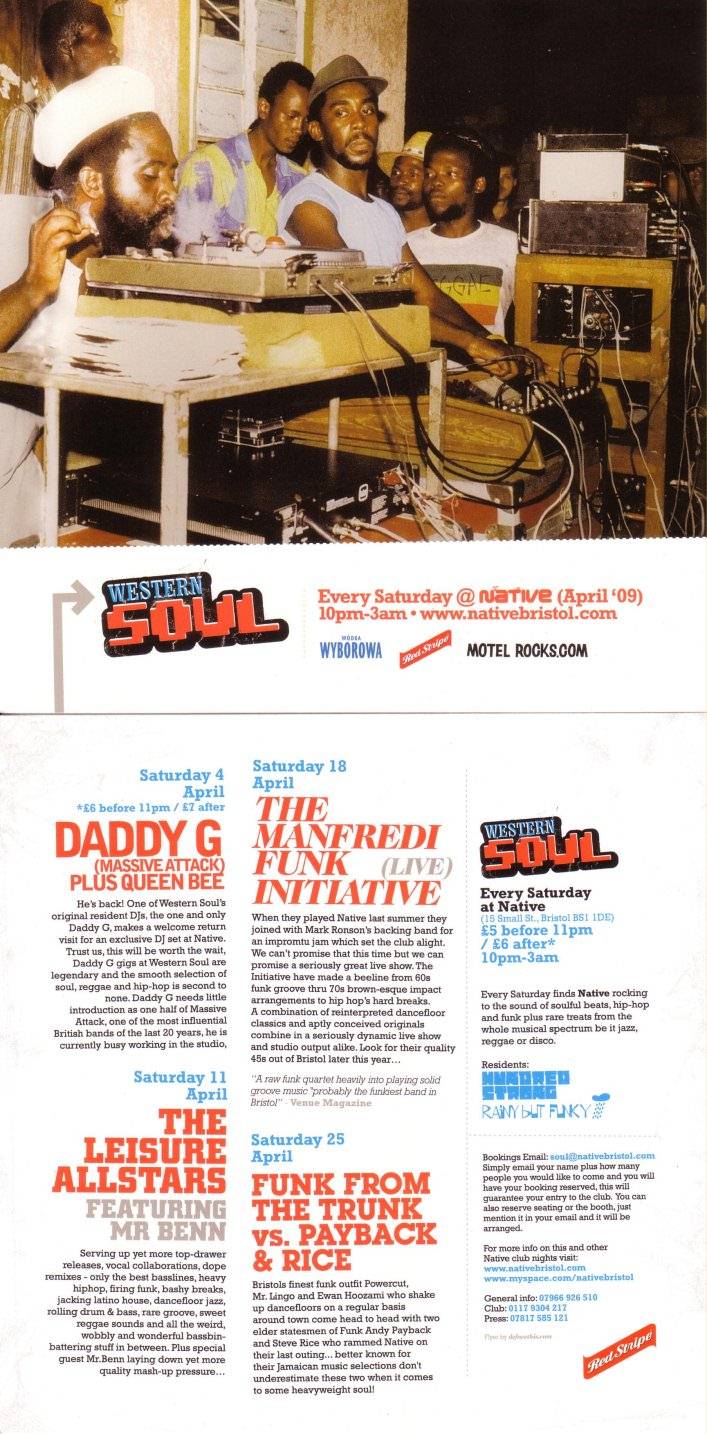 3rd April 2009

If you turned up early for a Massive Attack concert last summer, then there's a good chance you heard an album called Come From Heaven by Alpha. As I stumbled into the vicinity of The Other Stage at Glastonbury festival last year, I heard something familiar that was both comforting and familiar. Hearing it in this environment made me see listen to it in a way that saw me pay more attention to it than I have for some time. From the opening chords of My Things to the closing textures of Somewhere Not Here, I took it all in and remembered again what a truly great piece of work it really is - it's a masterpiece.


Originally released in September 1997 on Massive Attack's Melankolic imprint, here Alpha explore downbeat soulful jazz soundscapes. This is romantic music to give a loved one - allow them to dream in the spaces between the music which Alpha have created with such care and attention.
They continue to explore their version of the Bristol Blues to this day and I have compiled a selection of my favourite pieces from across all their releases for your enjoyment -> Avalanche's Alpha Heaven
Next up from Alpha is the collaboration with Horace Andy called Two Phased People. Soon an exclusive track from this new album will be available from www.donttouchrecordings.com - they are currently experiencing technical difficulties but promise to be back up soon, so keep checking back as I'm sure it will be worth it. In the meantime check out their other presences on the net and enjoy the music.
myspace.com/alphastargazing
www.alphaheaven.com

21st March 2009
Hello there - it's been a while since I spoke to you all proper, so here's a quick round up of stuff I should have probably told you a little earlier than right now.

Well it is actually going to be this year, surely? It is looking very likely that we shall see the eagerly awaited new record from Massive Attack released around September. Don't quote me on that mind. Very close to that, they will be making a headlining appearance at the Bestival. The event on the Isle of Wight, will run from September 11th to 13th - organisers have promised "a very special Sunday headliner" to join Massive Attack, as well as Kraftwerk as fellow headliners, which will be announced shortly. Further details regarding touring plans are apparently imminent, so keep an eye out on all the usual places.

Terry Callier will be performing a small European tour to support his new album "Hidden Conversations", forthcoming on Mr. Bongo Records, which features songs co-written with Robert Del Naja. Terry recorded a 7 piece choir in Chicago, to finish the lead track Wings which was one of the three co-written tracks along with "John Lee Hooker" and a new version of "Live With Me". The dates are as follows: Thursday 28th May - Brighton, Coalition / Friday 29th May - London, Union Chapel / Saturday 30th May - Leamington Spa, The Assembly / Wednesday 3rd June - Durham, Gala Theatre / Friday 5th June - Manchester, Lowry Theatre / Sunday 7th June - Amsterdam, Jazz Festival

Meanwhile Horace Andy has been involved in two collaboration projects that will come to fruition this year. Already released is Inspiration Information with Ashley Beedle, that I spoke about the other week, whilst another album with Alpha is on the cards.

11th March 2009
Test Pressing: Radio Show: Massive Attack - Kiss 07:09:94 (Part Two)

5th March 2009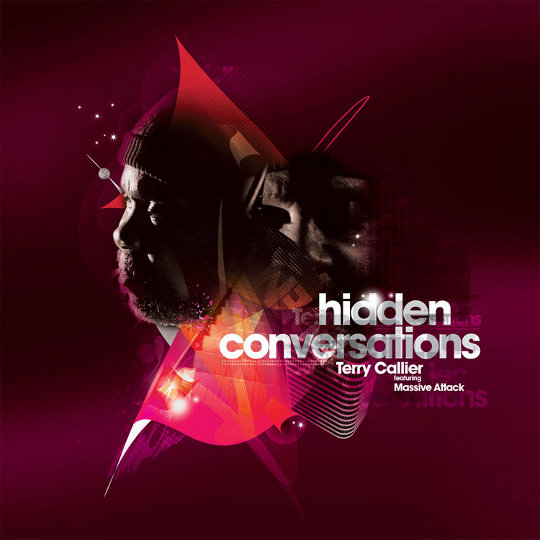 Terry Callier's brand new studio album is finished! Hidden Conversations, features three tracks co-written by Robert Del Naja from Massive Attack and is set for a Summer 2009 release on Mr Bongo Records. Terry recorded a 7 piece choir in Chicago, to finish the lead track Wings which was one of the three co-written tracks along with "John Lee Hooker" and a new version of "Live With Me". He will be performing a small european tour to support the new album - the dates are as follows: Thursday 28th May - Brighton, Coalition / Friday 29th May - London, Union Chapel / Saturday 3th0 May - Leamington Spa, The Assembly / Wednesday 3rd June - Durham, Gala Theatre / Friday 5th June - Manchester, Lowry Theatre / Sunday 7th June - Amsterdam, Ijazz Festival

http://records.mrbongo.com/releases/TerryCallier/MRBCD066/
http://www.myspace.com/terrycallier

28th February 2009
Test Pressing: Radio Show: Massive Attack - Kiss 07:09:94 (Part One)

27th February 2009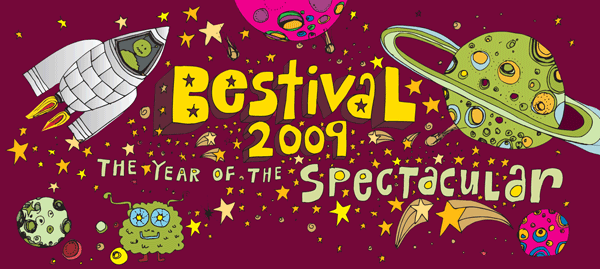 Massive Attack will headline Bestival on September 11th. Other acts at the Isle of Wight Festival include Kraftwerk, MGMT, Fleet Foxes, Klaxons and Diplo. More touring news soon.

22nd February 2009
Wild Bunch Vs Soul II Soul - New Year's Eve 1987

20th February 2009


The second in the new Inspiration Information studio album series on Strut Records pairs up Studio One reggae legend and continuing Massive Attack collaborator Horace Andy with UK producer and remixer Ashley Beedle (X-Press 2 / Ballistic Brothers / Warbox / Black Science Orchestra) for a new and unique soundclash. Recorded during an intensive five-day writing and recording session in London in September 2008, the album stretches out lyrically on a series of commentaries around brotherhood, love and the family, all rooted in his rasta beliefs. Andy also voices two diverse covers, Bob Marley's 'Hypocrites', and a new acoustic take on The Rolling Stones' classic, 'Angie'.


Interested in how it sounds? Then get on over to the Strut Records site and register for a free mp3 of "Babylon You Loose".

Here's an interview with Horace Andy & Ashley Beedle about their upcoming release, which is due out on 3rd March:


16 January 2009


This statement was signed by a number of prominent and distinguished British citizens, on behalf of HOPING for the people of Gaza, and they hope it will be widely publicized.

"As supporters of HOPING, a charity working to strengthen the lives of Palestinian refugee children, we are horrified by the cruel and massive loss of life of the citizens of Gaza, and by the failure of our politicians to put adequate pressure in order to achieve an immediate end to the carnage. HOPING's work with UNRWA in Gaza and elsewhere is centred upon building hope for the young generation of Palestinians that they might have a life with peace, justice, and dignity. We are shocked by the bombing of three UNRWA schools in Gaza where families have taken refuge, killing so many of them, and by the deaths of dozens of children this past week. We demand immediate action from our political leaders, and the leaders of Europe, who under the Geneva Conventions and international humanitarian law have a responsibility to stop the continuing assault, and who have not done enough to ensure a ceasefire. We call for an immediate end to the Israeli attack on the citizens and civic institutions of Gaza; for an opening to all crossings points into Gaza; and for an end to the siege and blockade of Gaza. We insist upon hope for the children of Gaza, and the children of Palestine wherever they live in refugee camps across the Middle East, so that they can live in freedom from injustice, war, and military occupation."


Bryan Adams
Laura Bailey
Russell Brand
Jake and Dinos Chapman
Caryl Churchill
Lily Cole
Sophie Dahl
Robert Del Naja (3D)
Harry Enfield
Rupert Everett
Eric Fellner
Colin Firth
Robert Fox
Stephen Frears
Bella Freud
Bobby Gillespie
Jools Holland
Bianca Jagger

Stephen Jones
Jemima Khan
Hanif Kureishi
Annie Lennox
Christian Louboutin
Shane MacGowan
Davina McCall
Samantha Morton
Karma Nabulsi
Philip Pullman
Hannah Rothschild
Will Self
Alexandra Shulman
Sharleen Spiteri
David Tang
Philip Treacy
John Galliano

2nd January 2009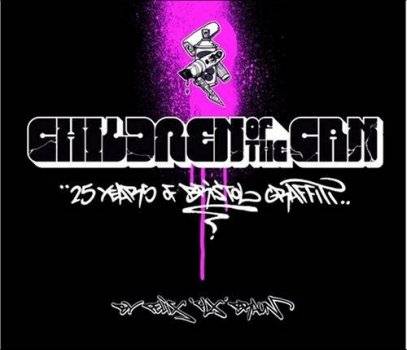 Children of the Can documents the Bristol graffiti story from the early days of 3D's New York inspired work and John Nation's grass roots influence at the Barton Hill Youth club to the current crop of artists who have helped make Bristol's graffiti scene one of the UK's most respected anmd diverse. Children of the Can features the work of all the city's best known and (until know) slept-on talent. On sale now!
www.tangentbooks.co.uk
www.childrenofthecan.blogspot.com/
Purchase the book on Amazon.co.uk using this link and help redlines pay for itself.