28th December 1999
Check out the video for Day One "I'm Doing Fine" on
http://www.astralwerks.com/highfidelity/video/
Their debut album,"Ordinary Man," will be released in February 2000 and was produced by Mario C. This first video was directed by Nick Wood, the man behind the camera for Alpha.
20th December 1999
Some interesting quotes from this weeks edition of Venue which celebrates the events of the decade:
"Massive Attack, Portishead and Tricky were all approached but couldn't come. Anyway, I guarantee the Wurzels will end up with a huge audience and be the hit of the weekend." Bristol Community Festival's Stuart Marshall, 1995. And he was dead right!
"For the last ten years Bristol has been very influential in music has been around the world, but there's hardly anywhere for Bristol music to play in it's own town, let alone for anyone else to come around and visit. I think that's a really sad lack of communication from teh Arts council, the local council and -apart from Venue - the press as well." 3D of Massive Attack, 1998
"Most normal people come uo to me, and I end up having a drink with them. But some people, just 'cos they're famous, they don't think you're going tell them to fuck off." Tricky, 1999
"People would say, 'We're having a fondue party Friday night and we're playing the Portishead album'. I'd put so much of my life into something and it was being turned into muzak." Portishead's Geoff Barrow on the the success of 'Dummy', 1997
17th December 1999
Day One will conclude their first headlining tour with a hometown show at the Fleece and Firkin. This nationwide outing in March marks a remarkable year for the innovative duo, comprising singer Phelim Byrne and programmer Donni Hardwidge. Signed to Massive Attack's Melankolic label early in 1999, the pair toured with Gomez and were responsible for the mooching, infuriatingly catchy 'Waiting For A Break' EP following by the album 'Ordinary Man', which showcased Byrne's lyrically sharp observations and Hardwidge's ear for a classic groove. All the signs point to Day One being one of the most exciting bands to start a new century with. They play Fleece & Firkin on March 7th 2000. Tickets are £6 adv and go on sale from December 18th at all the usual outlets.
14th December 1999
This from the official site: (nice to see some activity beyond the usual offical one off commissions)
Robert Del Naja has collaborated with Damon Albarn on the soundtrack to "Ordinary Decent Criminal" starring Kevin Spacey. Damon has written and produced the music for the film which will be released early next year. Robert has co-written and produced the track with Damon which features Spacey's vocal taken from the film. The soundtrack LP will be released on Atlantic Records in February.
Massive have commenced work on their new album in their studio in Bristol. The boys have been jamming with Lupine Howl, who are Damon, Mike, and Sean from Spiritualized. More news soon.
Massive have collaborated with the Prodigy on a track called "No Souvenirs." Robert and Liam have written and produced the track which features Robert on vocals and will be released as a single next April.
Massive and Portishead are planning to share a stage for the first time next summer. The two bands will headline an outdoor charity show in Bristol to raise money for local homeless organizations.
Robert and Grant will be special guest DJ's at the Super Furry Animals show at the Cardiff Arena in Wales on Dec 20.
23rd November 1999
The Sounds of Millennium magazine free CD rom features a video of an interview with Dee talking about Public Image Ltd. But to save you wasting you money check it out in the video section of this here site.
20th November 1999
Here is something I found on the Acid Jazz newsgroup that may be of interest. Make of it what you will:
http://www.geocities.com/SunsetStrip/Villa/8962/ "This is "The Thinner the Air" by the Cocteau Twins mixed with the beat from Protection by Massive Attack. I don't know where it is from, the original poster didn't say and there is no info on the site. I do seem to recall reading years ago (around the time of Protection) that 3D and Craig Armstrong of MA wanted Liz Fraser to do tracks for Protection. They put together some demos using existing CT stuff to give her an idea of the sound they wanted. I think this link might be one of the demos they put together. Anyway, Liz was busy at the time and couldn't work with them but the effort paid off for them as they got her to work with them on Mezzanine. Xon"
16th November 1999
Unfinished Sympathy was voted 10th best song of the Millennium in Channel 4's poll last week. There is also an accompanying magazine with a multimedia CD that includes an interview with Dee about his favourite music I presume. I haven't heard it yet because I'm skint.
15th November 1999
Anyone who noticed the filming going on at the New Trinity last week will be pleased to hear that a Horace Andy documentry is planned for the future.
Check out this site for details on Caroline 'Rhythm Queen' Williams who collaborated with Massive on Blue Lines and Horace Andy on many occasions including his current tour:
14th November 1999
DAY ONE will be performing live at the Fleece and Firkin on Monday 13th December 1999. Tickets are availiable from Our Price, Replay, Disk N Tape or by credit card payments on 01179299008.
12th November 1999
Last nights Horace Andy gig at the New Trinity was excellent. It was so very brilliant. Walked in and Gee is playing some selections from his famous record collection and Dee is at the bar looking shady. Grabbed a Red Stripe and waited patiently for Sleepy to come on. He played lots of brilliant tunes especially an excellent version of Skylarking and a groovy uptempo version of One Love (although it could have done with a bit more bass) All I can really remember is that he was as sweet as ever and I do feel so very rough this morning. Here's a review from my mate Phil:
VERY VERY GOOD
wasn't sure what to expect - not over impressed with the new album, the production is so polished theres no edges to it & the last few reggae events here have been poorly attended. Get to the venue and it's totally rammed.
Daddy G of Massive Attack playing a sweet selection of Studio 1/early 80's dancehall. 'Whop Dem' band featuring the Rhythm Queen warm up the crowd with a little ska then drop into Satta - hang on is that Freddie McGregor on percussion ? ( I'm fairly sure it was - especially after his Satta vocals - but I'm drunk and stood at the back of the venue).
On comes Sleepy - band launches into Heavenless and from there on he's got the crowd under his spell.
Fever / Money Money / Zion Gate / most of the new album / Skylarking / Cuss Cuss (particuarly devastating) One Love / Spying Glass / and many more.
big responses to all the old tunes & some of the new tunes got forwards as well.
Those lucky enough to be near any of the places on the tour can look forward to a really good night's entertainment.
Phil.
11th November 1999
On the new Horace Andy album, Living In The Flood, it would appear that there is a secret track which cuts in at 6mins 51secs on track 13 (about 2mins after Don't Blame The Children finishes). This is on my Digi pack version so it may be the case that it isn't on the Jewel case version. Exciting stuff indeed, although I am more excited about his gig tonight at the New Trinity ;o)
7th November 1999



The official Horace Any Website is now finally up and running. Check it out at http://www.horaceandy.com
4th November 1999
To celebrate the release of his new album, Living In The Flood, the legendary man with the voice like candy, Horace Andy will be taking part in an exclusive Web chat at the Raft on Monday November 8th at 7pm (UK time). You can get your questions in now to have a better chance or simply make sure your tuned in to Raft Talk on the day.
The newest Melankolic act, Day One now have launched a spanking new website chock full of essential info The chilled hip hop duo make witty, laid-back hip hop wrapped in lush strings and acoustic guitars... Their site contains everything you need to know about them - including a track-by-track interview with audio snippets from their debut LP Ordinary Man. Mind you don't forget to check out the Red Lines Day One page in the Melankolic section over there to the right ;o)
The new Everything But The Girl album apparently includes some lyrics originally written with Massive Attack. In the press release it says, "other lyrics on the album include "Blame" that Tracey originally wrote for an unfinished collaboration with Massive Attack for the 1997 Welcome to Sarajevo. "Massive were ultimately unhappy with the song's arrangement and the track was amicably abandoned. They kept the music, some of which went into Mezzanine. We kept they lyrics", says Tracey.
29th October 1999
Daddy G will be playing a benefit on behalf of Jpanna Dacosta on Sunday 7th November in Gallery Two at the Watershed. Also playing will be Nick Warren, Queen Bee and Task & Stevie Bear. Tickets are £8 from either the Watershed or Our Price, be quick as it is limited to the first 400 people.
28th October 1999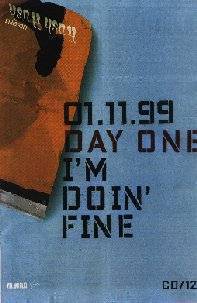 Melankolic will be releasing the new Day One single "I'm Doin' Fine on 1st November 1999 in CD and 12" formats
26th October 1999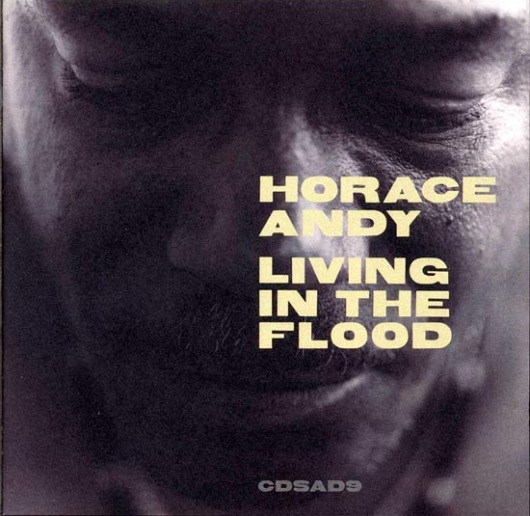 The new Horace Andy album Living In The Flood was released yesterday by Melankolic and very brilliant it is too. Recorded and mixed at the Tuff Gong studios in Jamaica it includes a track written by 3d, surprisingly titled called Doldrums.
21st October 1999
Horace Andy is launching his brand new album, Living in the Flood, with a gig that will form part of David Rodigan's Wednesday night reggae set this week at the Subterania in Acklam Road, West London. He'll be performing three or four songs backed by a live band. Horace will also be playing a 45 minute acoustic set at the Heavenly social Bar, Little Portland Street on October 27th. Then, on November 14th, he'll be playing a full set at The Scala in King's Cross, where he'll be singing old songs and new. There is also an excellent interview in this weeks edition of ECHOES.
18th October 1999




Melankolic DJ Andy Jenks from Alpha will be playing at RSVP ON 31st October.
14th October 1999
On February 22, 2000, Melankolic will be releasing Ordinary Man, the debut album by the Bristol, England based duo Day One. Signed by 3D from Massive Attack, Day One are a laid back duo who make slo-mo languid pop music underpinned with burbling beats and a healthy hip hop spirit. The album, which was produced by Beastie Boys' producer/engineer Mario C, is a melting pot of musical styles and moods; an album full of hazy midsummer grooves and wonderfully catchy melodies.
12th October 1999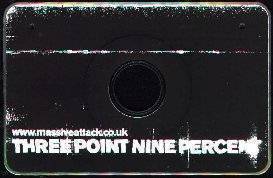 The official Massive Attack website has been updated and very good it is to.
8th October 1999



Check out the Baby Namboos album, Ancoats 2 Zambia because it's dope. Artists on it include Mark Porter, Tony Quigley, Aurora Borealis, Willy Wee (from the Massive Attack Sound System days), Leona Thaws (Tricky's sister).
7th October 1999
PRODIGY's Liam Howlett has once again collaborated with Massive Attack's 3D, this time on the soundtrack to the forthcoming Leonardo DiCaprio movie based on Alex Garland's bestselling novel The Beach. The as-yet-untitled song has been described by Howlett as "some warped Beach Boys-type shit" but it's not known when the soundtrack - a London Records project - will be released. The Beach is due out in the new year. Howlett and 3D teamed up earlier this year to record a song called 'In-Flight Data' for The Uranus Experiment, a hardcore US porn film that featured "the world's first ever zero gravity cum shot". Massive Attack, now without Mushroom, are recording at a studio in Bristol. Mushroom is also recording, at a studio in Bristol with Milo.
6th October 1999
New Melankolic signings Day One will be supporting Gomez at the Anson rooms on Monday 11th October as part of the Bristol Sound week. Unfortunately it's now sold out ;O(.
31st September 1999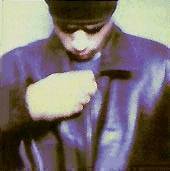 Mushroom (aka Andrew Vowles) has now offically left Massive Attack according to represenatatives of the band. His departure (a decision he actually took at the start of the year) ends months of speculation as to his position within the acclaimed Bristol trio with who Mushroom recorded with 3D and Daddy G. Rumours of a musical rift began circulating last year after Vowles revealed that he was unhappy with the musical direction the band were taking leading up to the release of their third album, 'Mezzanine'. Vowles, who has been with the group since their early days as The Wild Bunch, was reported to have been disappointed that Massive Attack appeared to be moving away from their hip-hop rootswith each album, eventually deciding that he could no longer contribute to them.
Mushroom's last live appearance was at the bands series of shows at Bristol University last christmas. Since then he has been working with former Wild Bunch collaborator Miles Johnson. 3D, aka Robert del Naja, revealed to the press that the split was not acrimonious and that the three remain friends"...as long as we don't talk about music. As soon as we do, we argue," he said. Del Naja also confirmed that he and Grant will be continuing as Massive Attack.
24th September 1999
Horace Andy will be appearing at the New Trinity on the 11th November with some surprise Special guests. Living In The Flood, Horace's Andy's first collection of all new material in a decade, is released on 25 October on Massive Attack's Melankolic label and includes tracks with Massive's 3D and former Clash frontman Joe Strummer. Since kicking off his career at Jamaica's infamous Studio One, Andy's haunting falsetto voice has continually been in demand resulting in collaborations with the likes of Neneh Cherry, Sly & Robbie and the Mad Professor.But it's been his work with Massive Attack that has brought the vocals of a man once dubbed 'Sleepy' to a new generation of followers After adding vocals to all three Massive albums, as well as touring with them worldwide, Living In The Flood sees the dancehall don storm it once again, delivering love songs that take him into uncharted rock territory. Living In The Flood is the follow up to Skylarking,his first album for Melankolic and a hits compilation for celebrated producers Bunny Lee, Augustus Pablo and Coxson Dodd. Taking his roots legacy equally seriously on the new album, Andy has worked with Jamaica's finest. Production credits go to reggae legend Clive 'Azul' Hunt,who has previosuly worked with Jimmy Cliff and The Abysinians among others. Andy is promoting the album with a tour, preceded by a special acoustic show at London's Heavenly Bar on 27th October. The full tour dates are: Nov 11 - Bristol New Trinity, 12 - Manchester Uni Hop & Hop, 14 - London Scala, 16 - Munich Incognito, 17 - Berlin Kesselhaus, 18 - Hamburg Mojo, 20 - Paris Elysee Montmartre, 21 - Luxembourg Dan Atlier, 23 - Brussels Ancien Belgique, 24 - Amsterdam Paradiso, 25 Rotterdam Nightown, 26 Tilburg.
17th September 1999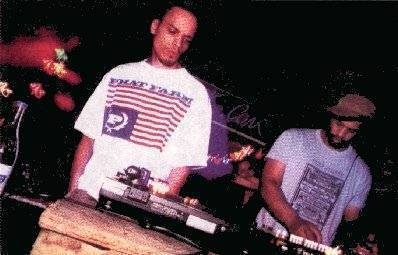 <Milo & Mushroom @ Thekla earlier this year
The latest news from a Massive Attack spokesman at a recent press conference is that Mushroom has not left Massive Attack but he is not going to perform live any longer becasue he hates touring and everything involved with it. He´s currently taking his time, performing with Milo (Essentially playing hip hop tunes - his main love) and developing new material (possibly with Milo), while 3D and Daddy G are to begin recording the new Massive Attack Material (with or without him is not clear in the light of so much conflicting news/rumours).
MILO (Miles Johnson) was a founder member of the original WILD BUNCH crew from which MASSIVE ATTACK were born. Shunning the limelight he disappeared to New York where he has been furiously relevant and underground ever since.
July 20th 1999
Bel Canto's singer Anneli Drecker has been approached by MA to discuss a possible collaboration in future. Drecker and Massive Attack met each other during the Quartfestival in Kristiansand in Norway last week.
16th July 1999
Mushroom Gives Up His Massive Career ?
Massive Attack member Andrew 'Mushroom' Vowles has announced that he has stopped touring with the band. The Bristol based DJ did not appear for the recent festival performances in Germany and Scotland at T in the Park. He also announced, as previously revealed that he will be performing with Milo (under the dubious Wild Bunch banner) at Cornwall's Lizard Festival next month, fuelling rumours that he is set to quit the band completely.
2nd July 1999
Mushroom and Milo are set to play the Lizard Eclipse festival , although this is not a Wild Bunch reunion as some sources are claiming. A Wild Bunch reunion would involve them plus Grant ,Delge, Trickster ,Nelle & Claude. This is just a DJ booking (a very good one right enough :) Mushroom and DJ Milo will join the Hope Recordings stage on Saturday 7th August for their festival debut. "So Lizard-heads can expect dubby delights of the highest calibre. Sweet as...... "For more info check the funky Lizard site @http://www.lizard.net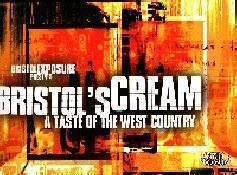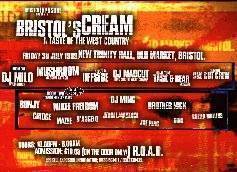 They are also playing New Trinity in a couple of weeks in an Event entitled Bristol Cream.
1st July 1999
This just in from MTV US:
Massive Attack Loses Member?
Massive Attack, arguably one of the most influential electronica acts of the last ten years, may be slimming down from a three-piece into a duo. MTV Europe is reporting that Mushroom, one of the co-founders of Massive Attack, has left the band after months of media speculation about creative conflicts with Daddy G and 3D. Massive Attack played several shows last weekend in Germany as two-piece, and there's talk that Mushroom might have actually left the band earlier in the year to pursue his own solo career. A publicist at Massive Attack's U.S. label, Virgin Records, could not confirm the reports, saying that the label was unaware of any shake-up with the Massive Attack camp.
28th June 1999
This just in from MTV Europe:
Massive Attack Split
Massive Attack are down to a two piece. After much speculation about inter band conflicts, it appears that Mushroom has left the band. In Germany over the weekend, the group played their first gigs without him. It's believed that Mushroom left the band earlier in the year and has a solo deal with the bands record label, Virgin Records. Meanwhile Daddy G and 3D will continue as Massive Attack..
28th May 1999



Daddy G will be playing some of his reggae tunes down the Thekla tonight.
26th May 1999
Saw Presence last night at the Fleece and Firkin. Haven't got round to talking about them before, but their album, All Systems Gone, features Sarah Jay and Shara Nelson and is well worth checking out. Very Groovy.
23rd May 1999
Craig Armstrong is currently scoring Dangerous Liasons update Cruel Intentions, an as yet untitled Al Pacino vehicle and Best Laid Plans Even better, in the latter, Reese Witherspoon's character turns to co-star Allessandro Nivola, and sneers "Don't you know who Craig Armstrong is? It's what the kids are listening to, " before slipping The Space Between Us on to the deck. It's wishful thinking to imagine "the kids" are snapping up soundtracks in droves but it's probably safe to say that, sometime next year, you should look for Craig Armstong composing this years Oscar.
5th May 1999
This summer Melankolic will be releasing debut albums from Day One and Suna. A taste of Day One can be found on the Cruel Intentions movie soundtrack, to which they contributed their "Bedroom Dancing" track. Alpha have just begun recording their next album and will be teaming up with Pulp's Jarvis Cocker on an as yet unnamed Jimmy Webb cover version, as well as collaborating with Melankolic labelmate Lewis Parker on his new album. Craig Armstrong has contributed six new tracks to the movie soundtrack for Best Laid Plans which is released by Virgin in July. Also featured are Massive Attack and Neneh Cherry.
1st April 1999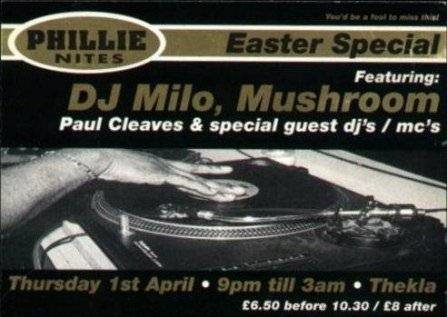 Phillie Nights bring as an Easter Special tonight featuring DJ MILO and MUSHROOM. A Wild Bunch reunion? - I don't think so, but this promises to be absolutely rolling with special guest dj's and mc's also promised. It's at the Thekla and runs from 9pm to 3am. Entry is £6.50 before 10.30pm, £8 after.
TALKIN' LEWD Prodigy's Liam Howlett and Massive Attack's 3D are working on the soundtrack to a porn film soundtrack. The two will contribute a song to 'The Uranus Experiment' which is being billed as 'one of the most ambitious projects of the adult film industry'. The film features, among other things, the world's first 'zero gravity cum shot'. A spokesman for Liam Howlett told NME: "Apparently they made the zero gravity cum shot possible by taking the stars of the film up in an areoplane, very high and then plunging downwards very fast. "In the end they managed it and it will be something that will get American scat-addicts highly excited." It's not known how the two music stars became involved in such a project but Liam's press officer is claiming it was 3D who started the ball rolling. It's not the first time porn has raised its head in Prodigy's career. The controversial 1997 'Smack My Bitch Up' video featured lapdancing, and an explicit lesbian sex scene. The video only recently got its first terrestrial TV. Press officers for both Liam and 3D insist their involvement with 'The Uranus Experiment' is purely musical.
29th March 1999
Today sees the release of the new Craig Armstrong album, Plunkett & Macleane on Melankolic. It is the grandiose and immense soundtrack to the similarly titled, new Jake Scott directorial debut.
19th March 1999


The man with the voice like candy, HORACE ANDY is petrforming at a Rasta Jubilee in Bristol tonight, which will be celebrating and Reliving the Golden Age of Roots, Reality and Culture. Live from Kingston, Jamaica The Twelve Tribes Of Israel's JAH LOVEMUSIK International Sound. Belcher, Jeremiah, Culture Dan, Champion DJ Brigadier Jerry and the Legendary HORACE ANDY will be playing in harmony alongside the JAH REVELATION SOUND SYSTEM. So get yourself down to the Black Swan 438 Stapelton Road in Easton. Tickets are £12 in advance from Our Price 0117929908 or BREAKBEAT CULTURE 01179297232 (more on the door). The event runs from 10pm tp 6am.
17th March 1999
Massive Attack will be appearing at the T in The Park' which takes place on 10th July at Kinross in Scotland. They will also be one of the second stage headline slots for V99. The two-day, two-venue event takes place in Hylands Park in Chelmsford and Weston Park in south Staffordshire on August 21-22
17th February 1999
Massive Attack did not win anything in the Brit Awards 99.
15th January 1999
Massive Attack have received five nominations in the Brit Awards 99. They are for the Best British Group, Best British Album (Mezzanine), Best British Dance Album ( Mezzanine), Best British Single (Teardrop) and Best British Video (Teardrop).
The 1999 BRIT Awards show will be at The London Arena on February 1999.
They earned their first BRIT award nomination for Best British Album (Blue Lines) way back in 1992 and then again in 1995 for Protection.
This is their third listing for Best British Dance Act, which they won in 1996.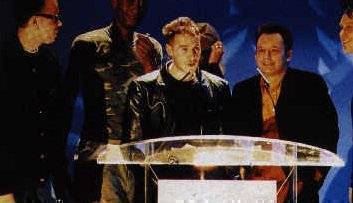 They were also nominated for Best Video in 1996 (Protection).
www.BRITS.co.uk
Mezzanine is now a platinum certified album.
14th January 1999
Craig Armstrong has written the soundtrack for the UK movie Plunkett & McCleane. Centered around two famous British highway robbers, the movie stars Robert Carlyle (The Full Monty) and Liv Tyler and was directed by Jake Scott (son of Ridley Scott of "Bladerunner" fame). The movie's UK release is slated for April.
In a year end poll issue of Rolling Stone, Madonna named Alpha's "Pepper" her favorite album of 1998.
RADIO MELANKOLIC, an hour of sounds from the Melankolic crew in real audio. Something to make the day a bit nicer. [>_]
10th January 1999
Massive Attack have received five nominations for the 1999 Brit Awards. They are Best British Group, Best British Album ("Mezzanine"), Best British Dance Act, Best British Single and Best British Video ("Teardrop"). The ceremony will be in February sometime.
7th January 1999
Massive Attack has made every single top album list of 1998.
The Wire listed Massive Attack's Mezzanine album on their top 50 records of the year.