24th December 2007

UNKLE has announced some UK tour dates for 2008! As a lead up to the Brixton Academy show on 1st March 2008, UNKLE will perform three UK dates, starting in Bristol on 27th February 2008 . Pre-order tickets will be available exclusively through
unkle.com
beginning 4th January 2008. General on sale date starts 7th January. Let's hope someone tells Mr Del Naja so we can hear Invasion and Twilight.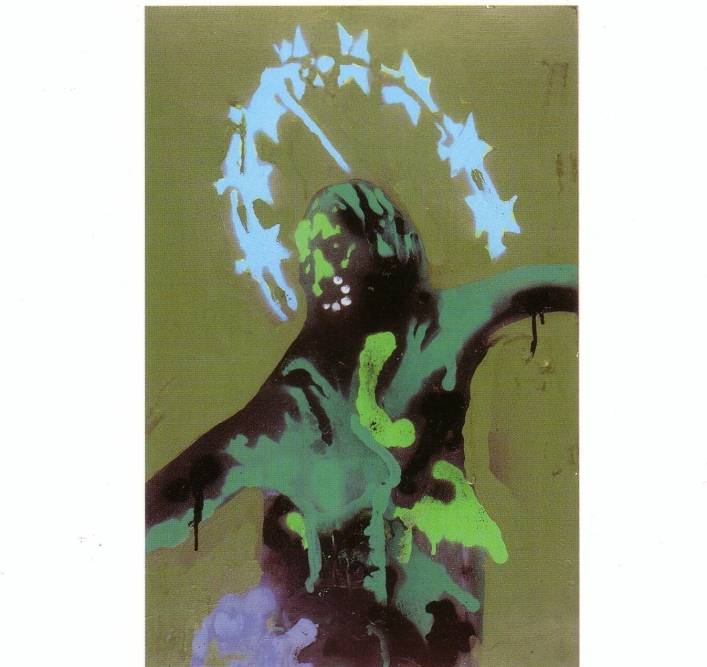 Copyright 1995 by Robert Del Naja (3D) of Massive Attack
Peace
This was the front image on a Christmas card, which 3D created for
War Child
in 1995.
War Child
was founded in 1993 to focus public attention on the plight of children caught up in the horrors of war.
War Child
works with children affected by war in Afghanistan, Iraq, Democratic Republic of Congo and Uganda. Our work with former child soldiers, children in prison and children living and working on the streets gives them support, protection and opportunities. To make sure we provide them with what they need we involve them directly in all our decision making.
Wishing a Happy Christmas to all visitors here at red lines, from Avalanche x
www.warchild.org.uk
www.warchild.org


4th December 2007



red lines was born in 1997, the year Massive Attack released Risingson.

I have now been running this site for ten years and it's certainly come along way since it's birth on the CompuServe ourworld domain. It will be going into hibernation soon and may not wake again.
1997
• Labour won the general election and Tony Blair became prime minister... Katrina and the Waves won Eurovision with 'Love Shine A light' ... The first Harry Potter book was published ... Sovereignty of Hong Kong was handed back to China... Princess Diana died... British nanny Louise Woodward was found guilty of shaking baby Matthew Eappen to death... BBC News 24 launched... Michael Hutchence was found hanged in a Sydney hotel room.


ROUND THESE PARTS
• Some 40,000 Bristol households got their first black plastic boxes for recycling newspaper, cans and bottles... Bath was promised a load of lovely Lottery money for its plan to once again bring the city's historic spa waters to the public... Lottery money was also pledged for Bristol's proposed Centre for the Performing Arts... The Ministry of Defence's Procurement Centre at Abbey Wood officially opened, at a cost of £245m. An urban legend soon grew up that the big lake at the front was patrolled by piranhas for added security... Bristol City Council sold its controlling interest in Bristol Airport, now relaunched as Bristol International Airport... The general election returned new Labour MP for Bristol Valerie Davey, Dan Norris in Wansdyke and Dr Doug Naysmith (Bristol NW)... Bristol & West Building Society, like a lot of others, demutual-ised... Former Bristol West Tory MP William Waldegrave took up a position as a non-executive director of Bristol &West Not-Building-Society-Any-More. He got a £20K salary and had to turn up to one meeting a month... Eastville Stadium was demolished, and the sacred turf was sold off to Rovers fans in pizza boxes... Also auctioned off were Bristol's old parking meters. You could get one off the council for £15. One man used his to charge guests for food at his barbecues, while another buyer used hers to remind her husband when it was time to wash up .. .The recessionended. By spring, almost all homeowners in Bradley Stoke (long known ruefully as Sadly Broke and the negative equity capital of the UK) owned homes that were worth more than they'd paid for them... John Dean, 83, was jailed for six months on the 65th anniversary of his first ever court appearance. Nicknamed 'The Artful Codger' by the tabloids, he was sent down after admitting to burgling the home of an 80-year-old woman in Knowle. "This man has been in court more times than I have," said the judge...Bristol City Football Club celebrated their Centenary...Reprazent's debut album New Forms won the Mercury Music Prize.
SIGNS OF THE TIMES
Dave Thompson, Fishponds-bom classically trained actor and sometime local comedian, made the big time, then fell out of it again. As Tinky-Winky on kiddie TV sensation 'Teletubbies', he was sacked. The Sun campaigned for his reinstatement, with headlines like 'Axing Tinky Is So Stinky'. And the News of the World got in on the act, with gyaecological details of Thompson's on-set lovemaking antics with girlfriend Petra Lovell: 'I Was A Kinky-Winky On Teletubby Table'. "Dave's no Tinky-Winky in bed," she told the newspaper. "He's more of a Stonker-Wonker."
There was a rash of private security companies patrolling the wealthier parts of town. Andrew Burke of SAS Security put out flyers with pictures of Bristol youngsters whom he said were wrong 'uns. This was in the days before you could get a libel lawyer on a no-win-no-fee basis.
John Elliott, a cerebral palsy sufferer in Didcot, was using the newfangled internet to play Scrabble with a woman in Chicago when he lost consciousness. She didn't know where he lived, but knew that he had a friend in Cheltenham so called the Gloucestershire police. They launched a nationwide search, trawling hospitals, registers of disabled people and the National Criminal Intelligence Service. He was found, alive and well.
The Soviet empire continued its decline. Lada enthusiasts besieged dealerships as the final 1,000-strong batch of the Russian cars were imported. Weston-super-Mare hairdresser Craig Guy was not among them - he'd bought a new Lada Samara 1.3S that within a few months had needed two new gearboxes, two new clutches, four replacement carburettors, a brake cylinder system, a handbrake, two new head gaskets and a bumper after one fell off on the road.

Words of wisdom
The theme of my 18th birthday party was Absolutely Fabulous' and everyone had to come in drag. Then my Mum and Dad walked in. They'd been away and were back early. My Mum went ballistic... Then she forced her way into my bedroom and found my boy-friend passed out on the bed wearing one of her dresses." Bill, 18, on the day his parents found out that he was gay.
"As for Madonna's 'Sex' book- the one with the metal cover- I'd like to go on record as saying that it's very heavy on one hand. I don't want to endorse Paul Raymond, but his Club International is my favourite magazine. But just in case my mother is reading this, I'd like to state categorically that I don't buy it for the articles, or the stuff about cars. I buy it for the 180-degree bum shots."
Marcus Brigstocke, comedian.
"When the Conservative Party came to power in 1979, a third of school leavers went to university. Now it's one in three." William Waldegrave, on the election trail.
Chairman: "Let's talk about the 'cash for questions' affair. Justin, perhaps you'd like to start?" Justin: "OK, but it'll cost you." Bristol West Green Party candidate Justin Quinnellatan election meeting.
"Just the grotesque hypocrisy of the press in literally turning around within an hour from saying 'silly, neurotic, manipulative loony' into 'compassionate, queen of hearts, people's princess, saint' - without even a pause for breath." Private Eye editor lan Hislop on the death of Diana.
"I saw this documentary on Channel 4 about two women going to America to fight. I looked at them and thought, I could fill them both in." Jane Couch, women's world welter-weight boxing champion, on her decision to take up boxing.
"It's not a town with much going for it really. But it has got free car parking. And just in case you forget,there's a big sign outside town saying: 'Keynsham - Free Car Parking'." Comedian Bill Bailey on his home town.

Going Out: Venue A&R Showcase nights at the Louisiana... Bristol Sound 1997... Respect in the West 1997, an anti-racism mini-fest in Eastville Park headlined by Dreadzone... Roni Size/Reprazent at theAnson Rooms... Big films: Titanic, The English Patient, Austin Powers, The Full Monty.
with thanks to Venue

26th October 2007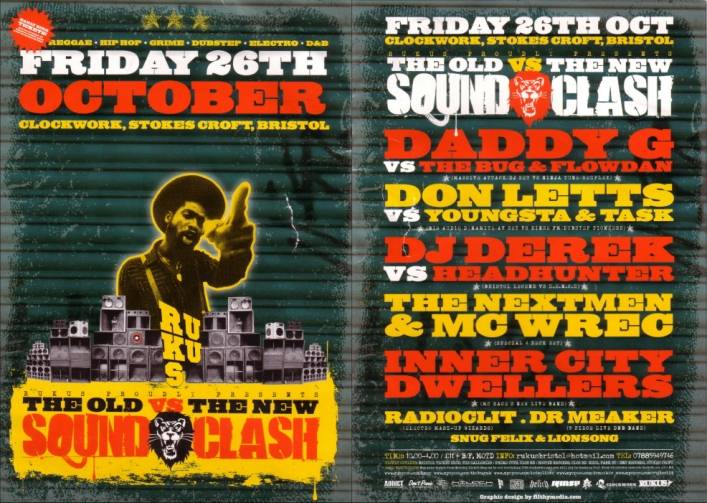 1st October 2007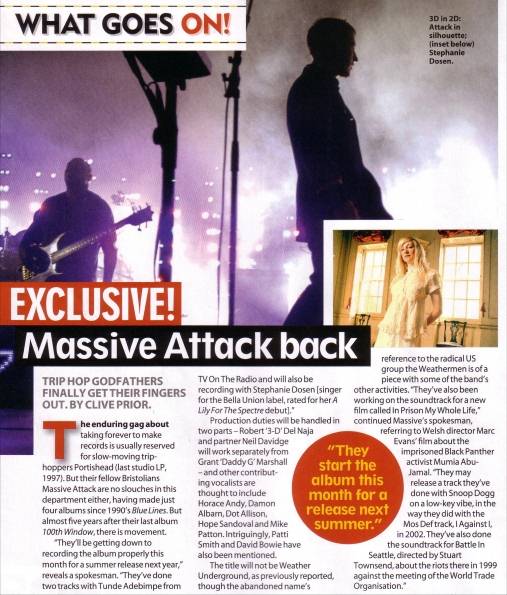 17th September 2007



29th August 2007
Insects & bugs & rock 'n' roll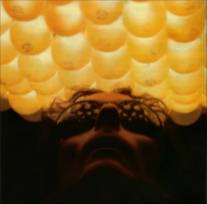 You'll know him from Spiritualized and Lupine Howl, but can Sean Cook's new band The Flies create the same kind of buzz? asks Venue's Anna Britten.
I was famous once," says the man in bug shades drinking continental lager from a bottle in Clifton Village pub garden. "And it's not all it's cracked up to be. I've had all that groupie stuff, and people chasing me down the street, and it's a fucking nightmare." Sean Cook was the bassist in Spiritualized for eight years. Following a spectacular bust-up with mainman Jason Pierce around the time of 'Ladies And Gentlemen We Are Floating In Space', he fronted his own band Lupine Howl for three years, releasing two acclaimed albums of climactic guitar rock. He called Bristol home for all that time. Now he's in a new band, The Flies, with Bristol production duo Bob Locke and Tim Norfolk, aka The Insects. They have a Primal Scream-esque single out, 'High', which is getting airplay on BBC Radios 2 and 6, a brace of live dates (see below), and have just pressed 'record' for the final time on new album 'All Too Human'. Judging by the five-track sampler Venue has been compulsively sliding in and out of its slipcase all week, it's going to be a beaut. Chilled, slinky and melodic, with echoes of John Barry and even Disney - what happened to drone, white noise and feedback?"I've spent a lot of time doing fairly unhinged psychedelic rock music," says Cook, who contributes vocals, lyrics and some guitar to The Insects'lush soundtrackalia. "And I started to feel I was getting a bit old for all that. I still love that stuff, and I still love to play it, but you start to feel a little bit ridiculous giving it the big 'un with Jimmy Page licks. So this has more subtlety to it; it's more mature and more befitting a man of my age."

Cook describes The Flies as a "happy accident". Some years after first meeting Bob Locke in a bar, Cook found himself working with Massive Attack on sessions (eventually unused) for '100th Window'. The Insects were in the studio upstairs. Chatting became jamming, Cook supplying lyrics and vocals to sundry compositions the soundtrackers weren't sure how to deploy, and finding inspiration in the records of Roy Orbison and 60s girl groups - the music his dad used to listen to.
Eventually, songs emerged which fitted, like a pair of well-worn drainpipes. On each, his voice - equal parts raddled pill-popper and old-style crooner - is centre stage. It's a responsibility he describes as "a hell of a lot easier" than previous jobs. "I'm not one of those vocalists that are very precious. I haven't been very mollycoddled throughout my career. No one's really run around me wiping my arse, so I've had to get me balls out and do it, and that's the way that I am - and if anything, singing on my own is a breeze. In Lupine I used to sing and play the bass, which is really fucking hard."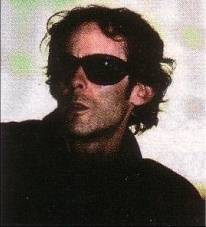 Did he have voice training? He emits a John Lydon-style snicker. "I've never had any training of any kind."

With the formula bagging the three-piece a deal with new Universal label NoCarbon Records, and former Spiritualized nemesis Jason Pierce in absentia, you'd think Cook must have had the odd 'nyer-nyer-look-at-me-now' moment. Yet he insists the thought hasn't crossed his mind. "It wouldn't constitute revenge for me to have a number one album. I don't see what that would prove: I'm more popular than you? McDonald's is more popular than all of us, but is that good? I'm not a very forgiving person, I will say that. Time is not a great healer for me. Things like ten years ago... the issues are exactly the racking same now as they were then."
Venue comments on how the story of the Spiritualized split - Cook, guitarist Mike Mooney and drummer Damon Reece went on strike in protest at pay and were then fired - seemed so depressingly at odds with how it imagined life must be in a top rock band. "When you're all skint, there's a much greater feeling of camaraderie," says Cook, his laconic delivery suddenly shifting up a gear. "When money starts to come into play, some people are prone to disappear up their own fucking arsehole and get greedy, and then obviously it's quite difficult when one person in the band is eating in five-star restaurants and the rest of the band are scraping together change to buy a fucking burger. When you've got gold records on your wall and you have to hide your guitars from bailiffs. Try explaining to a bailiff - when you've got a gold fucking record onm your wall because you've sold a hundred thousand records in this country alone - that aint got any money and they're not going to believe it. There's something wrong, you're not getting your fair share, and ultimately everyone's got a right to a life. If you don;t stand up to that, you're a fucking pussy.

He admits Lupine Howl, which he formed with his fellow exiles, was a form of therapy. Not to mention an absolute scream. "We made far more money with Lupine Howl than with Spiritualized. Far more. Loads more. So we went crazy. Motley Crue had nothing on us, I tell ya. We weren't exactly financially wise with what we spent our money on. Buying houses and stuff, I'm just not interested in that. I had to buy a settee the other day and it nearly killed me. I probably could have bought a small flat in Clifton if I'd have denied myself other things that I liked doing. There's been no official end to it - we've actually got a third album that we've never released. I still intend to get it out at some point."
For now, though, The Flies are top priority, namely preparations for two live shows - one at the Louisiana, and a second at London's ICA. As the Insects don't play live, Cook is drafting in session musicians (including members of Bristol bands Alpha and Sunna). He remains borderline dour about the whole exciting business. "There are a lot of things stacked against us: we could never be a mainstream group. I'd be very surprised. It'd take something odd like Chanel using one of our tracks for an advert worldwide for people to get into us in numbers."
Is this the last band he'll ever be in? "You can die at any moment. I'd say my life expectancy - given the way I've lived my life - is pretty short. There's a price to be paid for everything you do. I'm not concerned about living forever.

The Flies play the Bristol Louisiana on Friday 7th September.
www.myspace.com/thefliesmusic
www.thelouisiana.net/

24th August 2007



Daddy G has recently completed a remix of Morning Child, the next release from 4hero. Originally from their latest album, Play With The Changes, it will be released from Raw Canvas Records, as a single, on 24th September.
www.4hero.co.uk
www.myspace.com/4hero
www.rawcanvasrecords.co.uk

5th August 2007
Craig Armstong has just started a series of live dates in support of Winona, his new electronic project. Check out information on this and other new projects he's woprkign on at the excellent Craig Armstrong Online.
www.myspace.com/winonaofficial
www.craigarmstrong.com
www.craigarmstrongonline.com

4th August 2007
Terry Callier is to play a couple of gigs later this month, at the London Jazz Cafe.

29th July 2007
Dial presents Discobox with Dj Milo at The Light Bar
On Friday 24th August Wild Bunch legend DJ Milo will be flying in from New York to launch Discobox in The Light bar's fantastic loft room in Shoreditch.
Milo who was the founding member of Bristol's Wild Bunch, along with Nellee Hooper (Soul 2 Soul) and Daddy G (Massive Attack) will be playing an across the board mix of boogie, disco and house flavours - this will be his first UK appearance in more than SIX years. (See below for full biography)
Other DJs on the night will be Toru (Vinyl Junkies), Andy Newcombe (DIAL) and Simon S (Futuristica).
Discobox, brought to you by Andy Newcombe from DIAL, is a new series of intimate parties in locations with some of the world's finest DJs playing on great sound systems.
Friday 24th August 2007 6pm - 3am at The Light, 233 Shoreditch High Street, London £5 before 9pm, £7 after
www.residentadvisor.net
www.thelighte1.com

19th July 2007
Massive Attack have announced a series of Iberian dates for August. Support will come from Imani Coppola.
13th September 2007 at BEC, Bilbao, Spain
14th September 2007 at Weekenddance, Madrid, Spain
15th September 2007 at Weekenddance, Barcelona, Spain
17th September 2007 at Coliseum, Lisbon, Portugal
18th September 2007 at Colliseum, Oporta, Portugal

24th June 2007


The new single from UNKLE, Burn My Shadow featuring Ian Astbury, who normally plays for the Cult, is released tommorrow. It features new artwork from 3D, spread over three formats including, a CD, 12" and & 7" picture disc.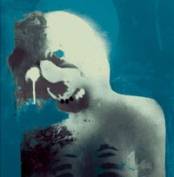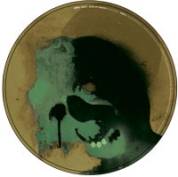 Ben Dury "3D was comissioned to paint the cover image, in the end he used the whole exercise as a way back into painting (I don't think he'd done any for a number of years) a had a bit of overall direction from James Lavelle but essentially he produced a substantial body of work. I then shot it all digitally, selected the images then retouched and recoloured them all."

Purchase them from the official UNKLE online stores:
UK http://www.resonancestore.com/unkle/
US http://unkle.shop.musictoday.com/

http://www.unkle.com/

Thanks to the Shivo, Kee and all those at the ever informative unkle77 message board

27th May 2007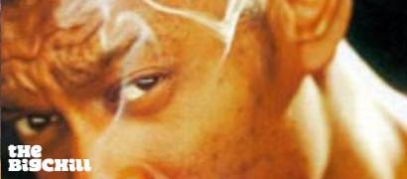 Grant Marshall, aka Daddy G, agent provocateur of the Wild Bunch, Massive Attack mainman and lynchpin of the Bristol music scene, first came to The Big Chill back at the Enchanted Garden festival, as a ticketholder. At Eastnor this summer, his irrepressible mix of hip hop, R&B and rare groove is a welcomed element in the weekend's soundtrack.
http://www.bigchill.net/story/2100/daddyg.html

14th May 2007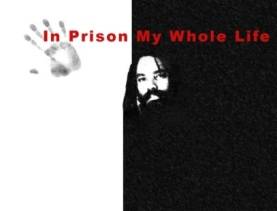 As onepointsix, Neil Davidge and Robert Del Naja have just completed the score, as well as a track with Snoop Dogg for In Prison My Whole Life, a new documentary due for release later this year. Starring Mos Def, Russell Simmons & Noam Chomsky, it's a look at the life of imprisoned political activist and former Black Panther member, Mumia Abu-Jamal. His death sentence for killing a police officer was overturned in 2001, due to errors made during his original 1982 sentencing hearing. The story follows a youth born the day the officer was killed. www.inprisonmywholelife.com

Based at their state of the art studios in Bristol, onepointsix have been producing music for film, tv and advertising since 2004. Partner Neil Davidge is the co-producer of the most recent Massive Attack albums - Mezzanine and 100th window and as onepointsix they have worked on music for high profile European and US commercials including Jaguar, Gorgeous, Smirnoff; worldwide tv series such as CSI and Prison Break; film scores and commissioned installation pieces. As a writing and production team their work includes soundtracks for Danny The Dog, Bullet Boy and they have recently contributed music to Miami Vice. www.onepointsix.co.uk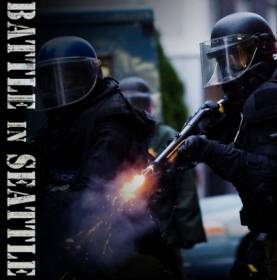 They are now currently working on a score for Battle in Seattle a movie based on a true story. Activists arrive in Seattle, Washington en masse to protest a meeting of the World Trade Organization. Riots and chaos ensue as demonstrators successfully stop the WTO meetings. Starring Charlize Theron, Woody Harrelson and Ray Liotta, this is due for cinematic release in December of this year. www.battleinseattlemovie.com www.myspace.com/battleinseattlemovie

Massive Attack will be doing a handful of live shows in Spain and Portugal in September.

8th May 2007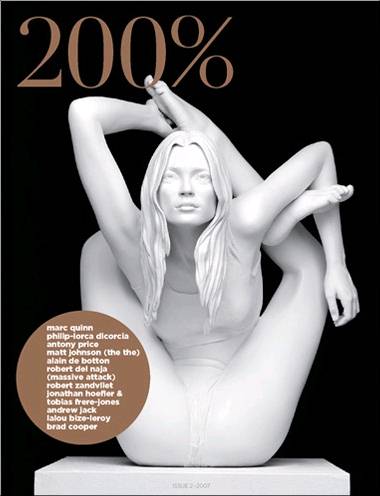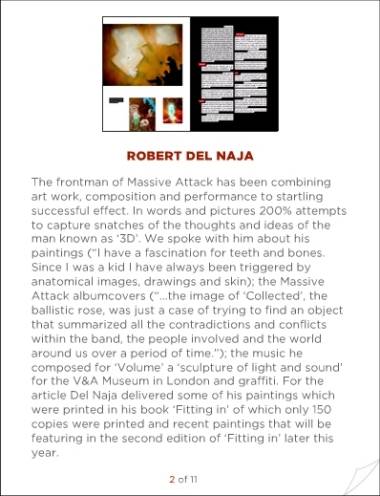 http://www.200-percent.com

7th May 2007

Massive Attack - Teardrop (Dopaminex Remix)

6th May 2007
Profile: James Lavelle
In July, the forthcoming UNKLE album 'War Stories' drops on James Lavelle's all encompassing Surrender All label. Co-produced by UNKLE and Chris Goss (the producer behind the desert rock behemoth steez of Kyuss and later Queens Of The Stone Age) the album sees not only the return of UNKLE - after a three and a half year hiatus - but the emergence of the Surrender gallery/store, clothing label and studio. We caught up with James Lavelle for a talk on the inspirations behind his folkloric career, from Mo'Wax Please through to Fabric and 'War Stories'.
'Bombing'
A film called 'Bombing'; which followed Afrika Bambaataa across the UK and introduced the Wild Bunch and Goldie. It was the first time I saw the Wild Bunch and the first time I saw hip hop on the television and that was basically what got me into hip hop. And the Wild Bunch was what got me into wanting to be a DJ. I was about 12 or something. It also focused on various graffiti artists. When I saw 3D and the Wild Bunch that was it -1 wanted to be a part of that world. I started buying hip hop records, 'Spraycan Art' and 'Subway Art' and those sort of books. That was the pivotal beginning.
Underground Movement
Underground Movement was the soundsystem that I started in and that was obviously very important. That was where I got my initiation into DJing up in Oxford. Typically of that time it comprised of various DJs and graffiti artists. That was in 1989, I got into 12" culture, record buying culture. I was very hip hop influenced, but also heavily into Soul II Soul. We were playing hip hop, soul and early house records.
Raving in '89
It was the outdoor raves like Perception and Raindance. It was where I spent many long lost weekends. You would see people like Fabio, Grooverider, Sasha and Carl Cox and it was just an amazing time as far as hearing music and also the culture - the coming together of people. It was that spirit of being free. I also started working at Bluebird Records, and records like Orbital were coming in. I look back on it now and realise how important a time it was to where I am now as a DJ and my musical taste.
Massive Attack 'Blue Lines'
I've never heard a record since, that affected me as much as that did at the time. It was the basis of everything that I did with Mo'Wax. 3D was one of my heroes and everything about it from the videos to the artwork to the style, the sound, everything changed my life. 3D's now done the artwork for the new album and we have become very good friends. I admire him because he was an icon to me, but was someone that supported me. I admire his attention to detail, his stamina with it, what they've achieved musically and stylistically... I wouldn't be doing what I do now without them. I'm very proud of that relationship.
Gilles Peterson
With That's How It Is, he took me under his wing and broke me as a DJ, supported me. It was me and Gilles who started that club, I was 18 and he helped me blow up. He gave me my big break and I'm very lucky for that. He also taught me about DJing musically, rather than technically, how to listen to music in a different way than just beat-match music. He allowed me to be eclectic and be able to love and play what I wanted. DJing at That's How It Is was an incredibly important time because we were playing everything from Portishead to James Brown, John Coltrane to Rotary Connection, Carl Craig to Roni Size. Without him I doubt I'd be where I am now. He DJed at my night up in Oxford which was called Mo'Wax Please, the first club that I did. He was taken back by how successful the night was. I was 16 at the time.
Fabric
Being part of a whole new movement of club culture here. It was the club that gave me the opportunity to grow into the DJ that I am today It allowed me to create my own identity. What we do at that club has ultimately paved the way of what people are listening to at the moment - both on the Fridays and Saturday nights. Dusted was also very important, which was at Bluenote. That was the Mo'Wax communal. I couldn't play LFO or Nightmares On Wax at That's How It Is because it was still funkified. Whereas at Bluenote I could go back to the whole soundsystem ethic of being able to play the records that I grew up with. It was a combination of hip-hop and funk, but also house and techno and all that I had grown up with when I was raving.
Chris Goss and Queens Of The Stone Age
They're probably my biggest influence of late. Chris has produced most of my favourite records of the last five years - Mark Lanegan, Queens Of the Stone Age and Masters Of Reality. I love psychedelic, desert American rock and that's what we tried to bring into the sound that we've had before. As a human being he's completely blown my mind. But equally Josh from Queens, the fact that they've supported what I've done and allowed me to grow and it really gave me a lot of confidence. To me it's like a new beginning working with them, they taught me to be free again, musically.
I had another, 'Zimbabwe Legit', the record that DJ Shadow did that ultimately changed everything for me and Mo'Wax. It was the record that spurred my idea of trying to take this sound and do something with it. That's how I signed Shadow, got involved with him and obviously the relationship there has had its ups and downs but at one time it was the most important and life changing experience for me ever. That record got me to find him, call him up and do 'Influx'.
James Lavelle headlines Inside Out at Hidden, Vauxhall, London, Saturday 5th May James Lavelle 'Surrender Sound Sessions' is out this week with the forthcoming UNKLE 'War Stories' dropping on the 9th July on Surrender All.
www.myspace.com/djjameslavelle
www.myspace.com/unkle
from www.oneweektolive.com Issue 73 30th April-6th May 2007

4th May 2007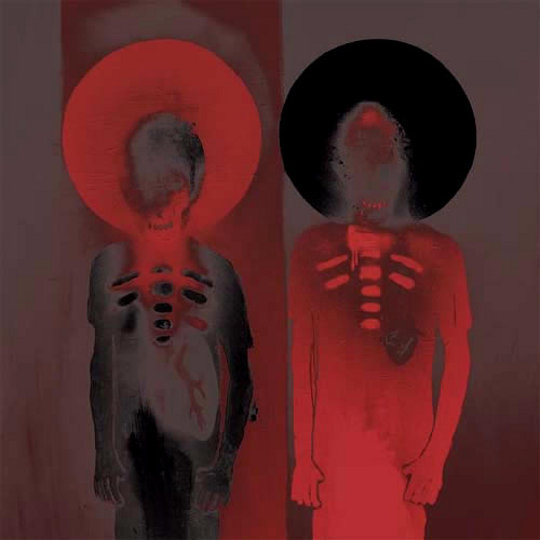 WAR STORIES
UNKLE is back with a third album, War Stories, which finds James Lavelle teaming up with Richard File for a second time. War Stories' guest vocalists include Josh Homme (Queens of the Stone Age), Ian Astbury (The Cult), 3D (Massive Attack), The Duke Spirit, Autolux and Gavin Clark (Clay Hill). James makes his vocal debut on War Stories, singing on Hold My Hand as well as dueting with Richard on Morning Rage.

War Stories will be released on James Lavelle's new label, Surrender All, and the packaging features paintings specially commissioned by Massive Attack's 3D. The standard CD comes with a 32-page booklet. The 2xCD limited edition is a gatefold case, with an extended 50 page booklet and an outer slip-box opening up to reveal the standard CD and a second CD featuring the instrumental versions of the songs appearing on War Stories.

UK/Europe/Australia Release: 9 July 2007
US Release: 24 July 2007
Japan Release: 20 June 2007

To pre-order your copy of War Stories and check out the artwork & packaging visit the UNKLE online stores:
North America | UK/Rest of the World

War Stories
1. Intro
2. Chemistry
3. Hold My Hand
4. Restless (feat. Josh Homme)
5. Keys To The Kingdom (feat. Gavin Clark)
6. Price You Pay
7. Burn My Shadow (feat. Ian Astbury)
8. May Day (feat. The Duke Spirit)
9. Persons & Machinery (feat. Autolux)
10. Twilight (feat. 3D)
11. Morning Rage
12. Lawless
13. Broken (feat. Gavin Clark)
14. When Things Explode (feat. Ian Astbury)

UNKLE is going live as a full band for the first time this summer playing a series of shows and festivals around the world. All confirmed dates are listed on the UNKLE MySpace tour page. See you at the show!
http://www.myspace.com/unkle

1st May 2007
The Mojo Guest List:
Terry Callier
1. Crazy - Gnarls Barkley
2. Shoulder Lean - Young Dro
3. Can't Get Enough - Mary J Blige
4. Accoustic Soul - India Arie
5. Protection - Massive Attack

17th April 2007
Get An Electrician
There's a Massive Attack song on Protection, Better Things, sung by Tracey Thorn. It's a kind of lament for a lover who is trying to ease their way out, simultaneously bitter and resigned, scathing about the explanations meant to soften the blow and knowing that it can be scathing because the chances are that there's nothing to be salvaged. Reading odds and ends of the Observer's attempt at a summary of the Blair years from the weekend before last, I was reminded of it. Jamie had it about right the day beforehand, when the Grauniad ran teasers:
Ten years in office, 54 criminal justice bills, 3000 new offenses and one CCTV camera for every four people in the country and you're left with a sensation of permanent crisis... Endless institutional tinkering doesn't convince people that things are improving. It convinces them that institutions are irrevocably broken.
Tracey Thorn is obviously much more dignified than New Labour, but there's the same sense of desperation. What makes her more dignified is that she doesn't try and hide it. When she sings
You say the spark's gone
Well, get an electrician
everyone, including her, knows it's pointless: this is, after all, not the sort of spark that can be provided by an electrician. That gives it pathos. The general hyperactivity of New Labour's attempts at media management is a desperation that cannot admit it is desperate, a conviction that the public's impression of the government must constantly be massaged which must always deny that any massaging is going on. It therefore lacks the pathos, and so the dignity, not that pathos is top of the list of qualities that are generally looked for in governments anyway. Blair himself may, I concede, have some pathos - the sincerity is so pleading, so brittle-seeming, that it could hardly not be aware of itself - but it is hardly the basis of dignity. This is because, even if it did have pathos, the new Labour approach to its electorate would still be infantilising, since it refuses to believe that, left to witness the results for themselves, the British public can be trusted to credit the achievements of the government. Amongst other things, that's profoundly anti-democratic, since what kind of right to rule themselves could realistically be attributed to people who cannot be trusted to trouble themselves acquire even basic information about the governance of their country when presented with the truth by their government.
The feature that will surely in the end, if it doesn't already, more worry the current government's successors, whoever they are, though, is how counter-productive it is. Of course there are doubtless other causes at work, but one of the causes of the total disbelief with which most government claims seem to be met is surely the awareness that the government does not think that its citizens can always be trusted with the truth. Even more than that, because the government's distrust seems to be quite general, not tied to any particular interest, there doesn't need to be any specific evidence of witholding of the truth for it to be reasonable to think that dissembling is going on, and even more than that, by irritating people, the infantilising makes them much less likely to be reasonable in the first place.
The other way in which it is counter-productive, for a left-wing government at least, is the way in which it totally fails to shift the terms of the discourse. I suppose in New Labour's case that may attribute to it a desire to shift the terms of the discourse which it never really had, but at least for many of those who supported New Labour it must be a disappointment. By focusing on managing the media, on massaging public opinion, New Labour left itself at the mercy of a news agenda dominated by basically Tory newspapers. Because of that, it was never really able to make an attempt to really roll back the ideological damage of eighteen years of Tory rule. Alright, Cameron has pledged to fund public services at the same levels as the current government, but those services are not funded significantly more fairly than they were ten years ago. The social democratic case has not been made, and that's partly because New Labour's belief in the infantilism of the electorate meant it did not think it would stand for it, which, in 1997 at least, was probably unjustified.
The broader point here, obviously, is that how you communicate with other people, the respect with which you treat them, the assumptions you make about how they process information, about their prior beliefs. If you want an open, constructive debate, a discourse where things are genuinely learnt, minds genuinely changed, treat people with respect, read their contributions charitably, be open to the thought that you are wrong. That isn't always easy - misunderstandings occur, tempers flare, and things are said or written which might not be if tongues were bitten, all of which I have been guilty of - but just because a goal isn't always met, it doesn't mean it should not be one, though. Where we have done something wrong, been too quick or too uncharitable, we should make amends, or at least stop flailing about, hoping to hit something in the end. If you're not prepared to do that, then you're probably not looking for the things that doing it would help secure. When that happens, at least one person in the conversation is likely to be asking for an electrician when there's really not much point. At least Tracey Thorn did it with dignity.
by Rob Jubb
http://considerphlebas.blogspot.com/2007/04/get-electrician.html

14th April 2007
LED enlightenment from United Visual Artists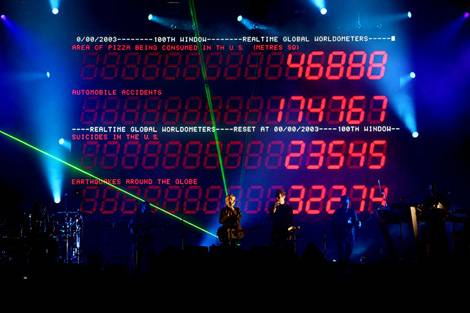 The story goes like this: in March 2003, right after the beginning of the Iraq war, British group Massive Attack came to Japan for their "100th Window" world tour. At the show, opening act DJ Shadow made an anti-war comment and Massive Attack had a moment of silence for the victims. A huge LED board behind them showed the number of casualties and messages people had submitted to their website. The whole venue managed to transform the tense international situation to visual and sound, thus becoming quite an experience for many. Today PingMag finally met the guys behind that memorable show back then, United Visual Artists (UVA). They happened to come to Tokyo for the UK interactive design exhibition RESPONSIVE and Joel Lewis and eventually Chris Bird loved to explain their amazing light works.
So, first to Joel - can you tell us what you do and how you joined UVA?
I'm an interaction designer of UVA. After receiving my MA on interaction design at RCA, I went to Beneton's creative lab Fabrica in Italy. I first discovered UVA's work for a fashion show on Nick Knight's SHOWstudio and it totally blew my mind. It was completely amazing! UVA was quite secretive then but one day I got the contact of UVA's founder Matt Clark. I started to send him emails and kept annoying him - and finally I joined UVA in January 2005! Only two weeks later I then flew to Vancouver for my first music tour with U2…
That is impressive! I have seen a few of your works, but still I can not forget the first time I saw your visuals for the Massive Attack tour in 2003.
That was the first job UVA did for them. London-based creative studio Hi-Res! set up the tour website and UVA were in charge of the stage visuals. On the website you could leave the messages to be displayed on a specific date on stage during the tour. It was all generated in real time by our original software, so that we could do it in 38 kinds of local languages. Rather than being passive, the audience could be a part of the show too. The band was political and we tried to make things more clear by showing statistical numbers like the casualties of the war.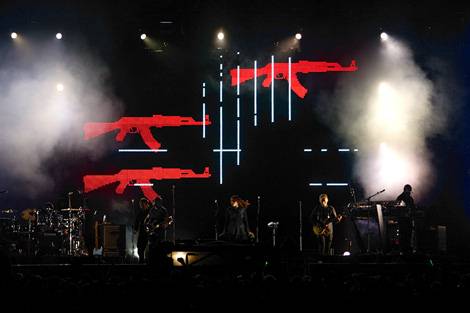 Massive Attack's "100th Window" tour. The stage visual was supposed to visualize the tense international situation at that time. Watch the movie HERE!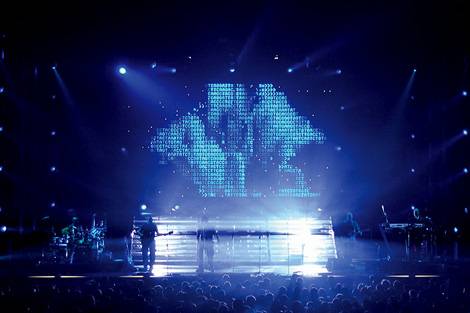 Also from Massive Attack's "100th Window" tour.

One of your recent masterpieces called "Volume" is very similar to the "Monolith", isn't it?
Volume is the one we exhibited in November 2006 for 3 months. It was commissioned by Play Station for their Play Station 3 launch event in the UK. We took what we learnt from Monolith and made something visually beautiful, with strong audio. It consists of 46 columns of lights, each equipped with a speaker, so that there are 46 channels of sound. It uses a camera system to track everyone that moves through the installation and responds to him in a different way. We commissioned Massive Attack to do the audio.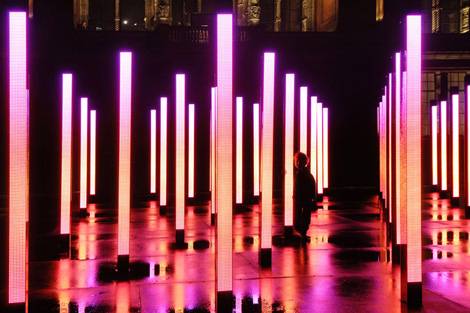 "Volume" consists of 46 columns of lights. It was exhibited from November 2006 until January 2007. Watch the movie HERE!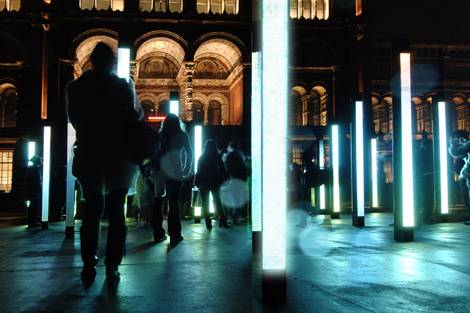 "Volume" was to be exhibited outside for three months, so UVA had to consider the horrible English weather, drunken people, crazy kids and all sorts of other incidents that may damage the piece…

I have seen the "Volume" only on photos, but it surely seems to be an unforgettable piece of work. What was the brief from Play Station?
Of course, Play Station didn't want a work that obviously looks like promotion for a particular Sony product. They wanted something that gave people a similar experience you could get from the technology involved with Play Station. It was to be a very emotional experience. So they were quite happy that we gave them something people would remember.
The most amazing thing was that people started taking lots of images. If you go to Flickr and type "Volume", you will see so many photos of the installation. Today, when you walk around as an adult, nothing is really surprising or new anymore. But you can remind people of experiences they had as a child, and that can be very powerful.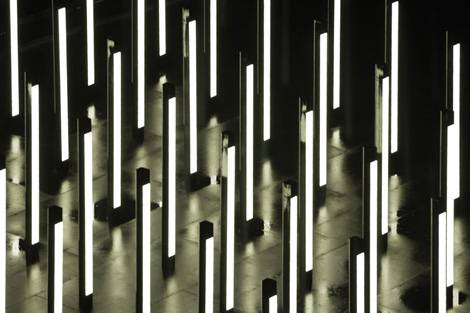 "Volume" - really beautiful!

Written by Chiemi
With kind cooperation of the British Council
read the full interview at http://pingmag.jp/2007/04/13/uva/

2nd April 2007
Oom: Dead Analogue (Series 8)
The Hype Machine, http://hypem.com, set up by 20-year-old computer science student Anthony Volodkin, "follows music blog discussion". As their About Us section continues: "Every day, hundreds of people around the world write about music they love. Then it all shows up here for you to explore."
Searching for Brighton-based four-piece Oom on Volodkin's brainchild yields precisely zero related results. A s(h)ituation which has seen the band turn to PR old hand, Nik Moore. He of the punning Moore Publicity was formerly a partner and account executive at Work Hard PR.
The 2002 winners of Horsham's Battle of the Bands, though, do a good job of selling themselves on their long-awaited debut album. Vocalist Debbie Clare and guitarist/sampler Ed Chivers actually formed Oom as a bedroom recording project. After picking up support slots with local heroes British Sea Power and Eighties Matchbox B-Line Disaster, they've since added one of their fans Alex Hay on guitar and share drummer Darren Lindridge with Jacobs Stories.
Clare herself is a bit of a part-timer, as she's also a member of Massive Attack who recruited her when they heard an Oom demo. Currently she both writes and sings with the Bristol collective, penning, for example, 'Joy Luck Club' which featured on their Collected Best-of album. Fittingly, Oom's signature sound is not too dissimilar from Massive Attack's haunting trip-hop experimentalism.
With more exposure, thanks to Moore Publicity, allied to the efforts of independent Essex-based label Series 8, a search on The Hype Machine is bound to elicit some relevant results sometime soon. Instead of the two for The Rivington's 'Papa-Oom-Mow-Mow'. An obscure title if ever I heard one. (3½/5)
By Matthew Hirtes
http://www.uk-fusion.com/content/view/1571/30/

31st March 2007
Remember 2003 + Mezzanine Live
http://live-bootleg.blogspot.com/search/label/Massive%20Attack

30th March 2007
Xfm Meets Massive Attack's 3D
After organising a last minute Greenpeace protest gig against the nuclear Trident system, we spoke to 3D about his reasons for getting invovled with the campaign.
Always an artist whose worn his political convictions firmly on his sleeve, Massive Attack's Robert Del Naja aka 3D organised a last minute protest gig against the Trident Nulcear Weapons system with Damon Albarn and Brian Eno that took place on board the Greenpeace boat Arctic Sunrise whilst it was docked by the Thames.
With Damon writing a new song for the gig called '5 Minutes To Midnight', Eno and 3D both contributed visual designs and installations that were displayed throughout the show, and staright after the event had finished Xfm sat down with 3D and spoke to him all about it.
What just happened this evening? [listen]
Did you have a strong idea about what you wanted to convey? [listen]
How did the project come together so quickly? [listen]
The ships pretty amazing isn't it? [listen]
Did you put all the visuals together by yourself? [listen]
What did you think of the end product?[listen]
How would you describe the gigs atmosphere? [listen]
Do you feel a responsibility to stand up and say something? [listen]
Will there be more events like this? [listen]
What is currently happening with Massive Attack? [listen]
http://www.xfm.co.uk

29th March 2007
Video Hangover: "Karmacoma" Massive Attack, 1995
Twice a week, we dig in the archives for videos that we find noteworthy, memorable, or just unbelievably stupid. And then, we break 'em down for you. Why Video Hangover? Because when you watch as many videos as we do, you're going to feel it afterwards.
A few things to consider while you're trying to figure out who shot Mushroom…
V for veggies and cheese, hold the mayo - We like videos that reference pop culture, but this is a bit ridiculous. Pulp Fiction, Reservoir Dogs, Barton Fink, The Shining -- was "Karmacoma" directed by the same guy who picked the posters for the common area in our freshman dorm? Luckily there are some original images tucked among the spotty Tarantino and Kubrick references. The guy with his finger in his belly button, for example, and the guy with the tongue stud who's looking to get a little American Psycho on a prostitute. And then there's our favorite: the freaked-out delivery man trying desperately to get a hoagie to Alan Moore.
Peter, Bjorn, John, and three bottles of Dimetapp - Sometimes a memorable video can redeem a crappy song, and sometimes a great song can make a ho-hum video worth watching. "Karmacoma," despite all its visual pretensions, falls squarely in the latter category. The forced weirdness, quirky characters, and the borrowed elements of "cool" movies get old quickly, but something about the music makes it hard to change the channel (or close our browser) until it's over. The unrelentingly creepy backbeat is like a cross between the second half of Sandinista! and a chopped and screwed version of "Young Folks."
It's ironic, smoking hydroponic - Tricky isn't exactly Bob Dylan when it comes to writing memorable lyrics, so we always wondered how the same verses ended on both this track and Maxinquaye's "Overcome." DAT mixup? Photocopier error? Extreme laziness? Whatever the cause, it's one of the only documented instances of a musician getting so stoned that he accidentally covers himself.

http://www.stereogum.com/archives/004960.html

28th March 2007
TV On the Radio architect David Sitek is adding Massive Attack to his production resume, collaborating with the trip-hop innovators on their long-awaited follow-up to 2003's '100th Window.' Sitek recalls that when he first met the band, at a Brixton show, he was a little nervous. "When we found out we were playing with them, I was like, 'How the f*** am I . . . 'cause it's obvious that I steal s**t," he tells Spinner. "I thought he was going to take my lunch money or something. Then to be asked to work on it I was like, 'Holy f***.' It's one of those things I don't even question."
While Sitek was intimitated by a band that's been incredibly influential for him, Massive Attack's Robert Del Naja was equally apprehensive. To that end, he recruited rapper Mos Def to break the ice. "Mos Def did a track with us from the stage," Del Naja recalls. "I was there with a CD in my pocket and Mos Def goes backstage [and says], 'These are my boys.' [I thought,] 'Well, in that case.' [I said] 'Here's a CD by the way -- not from Mos Def but from me.'"
http://www.spinner.com/2007/03/28/tv-on-the-radio-team-with-massive-attack/

16th March 2007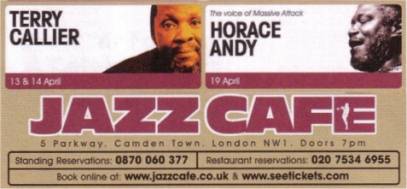 9th March 2007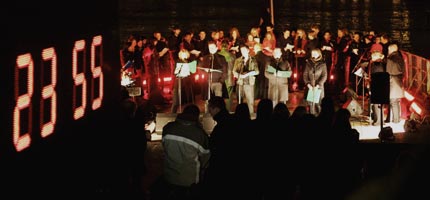 http://weblog.greenpeace.org/uk/archives/2007/03/5_minutes_to_midnight.html#more
&
http://moblog.co.uk/blogs.php?start=40&show=9068

8th March 2007
Protest over concert hall's name
A group in Bristol has called for the Colston Hall's name to be changed. Artists For A Name Change said the concert venue should be re-named because of Edward Colston's association with the slave trade. The group says 2007 is the perfect year for the debate as it is 200 years since the slave trade was abolished and the hall is undergoing a £20m development. Manager Graeme Howell said it was incredibly important that the topic gets some kind of resolution this year. "I think it's a very important debate to have and it's a great year to have that debate," he said. Mr Howell added that it bothers him that some communities feel they aren't able to go to the venue. Bristol-based group Massive Attack have refused to play the hall in the past because of its association with slavery. A spokesperson for Artists For A Name Change says the name does matter as it is a publicly-funded building. He asked why the city should retain a name from the mid-19th century when Bristol prides itself on having a forward looking cultural arts scene. Roz Martin from the campaign group said: "You hear a lot of statements of regret, and what Bristol is doing in particular to get black minority citizens more involved with city life. "This is an example of something they could do - it's not just for black citizens, it's about all of us taking pride in the city." The new name for the Broadmead shopping centre, Merchant's Quarter, was changed to Cabot Circus after residents found the merchant name offensive because it glorified the city's historic slave trading past.
http://news.bbc.co.uk/1/hi/england/bristol/6432851.stm
7th March 2007
THE RIVER THAMES TO HOST PROTEST AGAINST TRIDENT RENEWAL
The campaign against the Governments proposed Trident Nuclear renewal will take to the Thames tomorrow (Thursday) when The Greenpeace Arctic Sunrise docked in the shadow of Tower Bridge plays host to a 50 strong choir.
The choir 'Sense of Sound' will perform a piece composed by Damon Albarn. Entitled "5 Minutes to Midnight" the performance will represent a peaceful demonstration against renewing Trident and against Britain possessing nuclear weapons. Directed by Hannah Eidinow with visuals designed by Robert del Naja of Massive Attack, and contributions from Brian Eno, "5 Minutes to Midnight" follows the launch of
www.no-bomb.com
an anti trident website, announced last week.
"5 actors will join the choir on the Arctic's deck in a cycle of meditations using public statements, quotations, reports and statistics on the British government's part in this debate," said director Hannah Edinow.
Opposition is growing to the government's efforts to rush through a decision on Trident renewal, with a House of Commons vote expected on Wednesday March 14th.
Greenpeace director John Sauven said: "It's not too late to stop Tony Blair wasting billions on new nuclear weapons. Trident is a cold war relic designed to destroy Russian cities and has no place in 21st century Britain".
The event is planned to start at 6.30pm at Shad Thames, Southbank, SE1 and will broadcast live on the internet from 7.00pm see
www.greenpeace.org.uk
where it can be accessed for 24hrs
6th March 2007
On Thursday night a very special - and dare we say it - delighfully pretentious gig takes place on the Greenpeace ship My Arctic Sunrise. The show on the Thames, taking place between 6:30pm and 8:00pm and featuring a unique piece of music, will be performed by the collaborative talents of Damon Albarn, Brian Eno and Robert del Naja (3D from Massive Attack), and director Hannah Eidinow.
The gig is a protest against the government's desire to rush through a bill which allows them to waste "£76 billion on a new nuclear weapons system and commit the UK to nuclear weapons of mass destruction for the next 40 years."
The docking point is Butlers Wharf, near Tower Bridge, London at 6.30pm on Thursday.
Go to
http://www.greenpeace.org.uk/voicesforpeace
for more information.
http://www.contactmusic.com/news.nsf/article/albarn%20and%20massive%20attack%20launch%20anti-bomb%20website_1023109
4th March 2007
Tribute
: A Hop, a Trip and a Jump: Retracing the Road to Bristol with PORTISHEAD, MASSIVE ATTACK, NENEH CHERRY & SJ ESAU.
In the recent Filter Magazine there's a terrific article about the Bristol trip-hop scene with Massive Attack, Portishead, Neneh Cherry, and SJ Esau. Here's a youTube tribute to this golden era of trip-hop:
http://somevelvetblog.blogspot.com/2007/03/putting-bristol-on-musical-map.html
http://filter-mag.com
23rd February 2007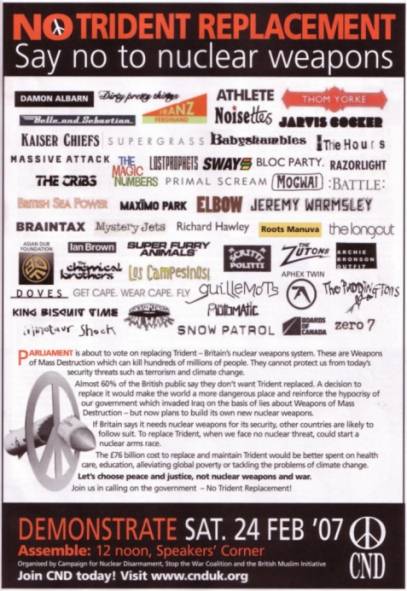 The UK Government wants to spend £76 billion of our money on renewing the UK's nuclear defence system, Trident. We don't think we should be spending billions on weapons of mass destruction and we don't believe we'll be any safer with a new generation of Trident.We don't want go quietly in to the darkness of a new nuclear age. If you want to let the Government know that you don't want Trident, you should March in London tomorrow. Assemble 12 noon, Speaker's Corner, Hyde Park.
Find out more:
www.no-bomb.com
or
www.Myspace.com/no_bomb
16th February 2007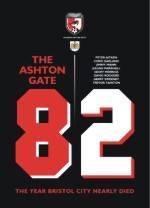 Brought to Book: 82 – The Year Bristol City Nearly Died is now on general sale, price £5.The limited edition booklet was published by the Supporters Trust to coincide with the 25th anniversary of the historic events of 3rd February 1982, when eight Bristol City players tore up their contracts to help save the Club from extinction. Copies were distributed to guests who attended the Trust's Commemorative Dinner for the Eight earlier this month.
Packed into the 40 full-colour A4 pages you'll find profiles and interviews with each of the players, along with candid comment from the likes of Deryn Coller, who was one of the driving forces behind the establishment of Bristol City (1982), PFA Chief Executive Gordon Taylor, who negotiated with the Club on behalf of the Eight, and Roy Hodgson, who was part of the management team in those turbulent times.
The booklet also includes a historical overview of the events leading up to February '82 and fascinating reflections from the Evening Post's sports editor at the time, Peter Godsiff. There's even space for supporters' memories, including those of Paul Williams of Bristol Blue Glass, who sponsored the decanters presented to the players at the Commemorative Dinner.
Massive Attack's Robert Del Naja, whose financial support for the booklet made publication possible, also gives a highly readable two-page interview!
Whether it's for the sake of nostalgia, to brush up on your Club history, or just to have a good Bristol City read, be sure to get your copy of 82—The Year Bristol City Nearly Died as quickly as you can. The Trust now has only a few hundred copies left in stock.
Click on the image below to buy online or look out for copies being sold around the ground. Alternatively, write to info@bristolcityst.org.uk outlining your needs.
Funds raised from sales of the booklet will go toward production of a commemorative plaque for the Eight, with excess going to the Trust for sound investment in the Club.
http://www.bristolcityst.org.uk/trust_news/article000266.shtml

15th February 2007
AUDIOSUSHI! Featuring: Daddy G, Vicarious Bliss, Wrongtom & Many More
Saturday 17th February, 7pm - 4am
The Dogstar, Coldharbour Lane, Brixton £5 / £10
It's a huge party at the refurbished Dogstar as all 3 floors are opened this Saturday, on the ground floor Massive Attack's Daddy G will be spinning alongside, Disastronaut, Wrongtom and many more. Upstairs sees the likes of Ed Banger's Vicarious Bliss and Furthur's John Power dropping electro and new wave, whilst on the top floor it's anything goes with Tony Poland, Lina Riot and more special guests than you can shake a stick at.
We have a special Hot Sauce discount for our mailing list members, email us at furthur.promotions@gmail.com and we'll put you on the £5 door list.
http://www.thedogstar.co.uk/

2nd February 2007



Soul was in a state of flux in the mid-1980's. British pop-soul was certainly growing into a global force: Sade conquered the world's coffee tables and solo George Michael demonstrated a far deeper understanding of R & B than was ever expected from a man last seen in tight shorts..
Those embracing sampling, sound system culture and hip-hop were more fortunate than these traditionalists. Bristol's Massive Attack used these very ingredients as the bedrock to their cinematic soul. So too did the Junglists and Drum N' Bass brigade, utilizing the same tools to fashion a frenetic new urban soundscape.
http://www.bbc.co.uk/music/soulbritannia/episodes/3/

29th January 2007
The support acts, for next weeks Massive Attack Hoping benefits have been announced and will be:
J.Spaceman® Acoustic Mainlines - Jason Pierce with gospel singers and string section. www.spiritualized.com
Le Trio Joubran - From Nazareth via Paris - amazing players of traditional Arabic oud music. www.eyefortalent.com
Checkpoint 303 (DJ Set) From Palestine and Paris - these guys take field recordings from the occupied territories and add beats and fx. checkpoint303.free.fr/

21st January 2007



Live from Abbey Road
A live TV special filmed at Abbey Road on Massive Attack, will be airing on More4 and Channel4 on the 2nd and 5th of February respectively. There's a clip of Angel and a quick interview from the full show, to watch now on this site. They will feature on Show 4 of this new series, along with Dr John and LeAnn Rimes,
which will be on More4 Fridays 12th January to 30th March 2007 (repeat following Monday on C4). Filmed at the legendary Abbey Road Studios, this More4 series features performances from the best musical talent, old and new. Each 60 minute show has three artists. There is no studio audience and no host, but each musician speaks about their work, and there is behind the scenes footage of the musicians working on their music and preparing for their performance.
www.livefromabbeyroad.com/

20th January 2007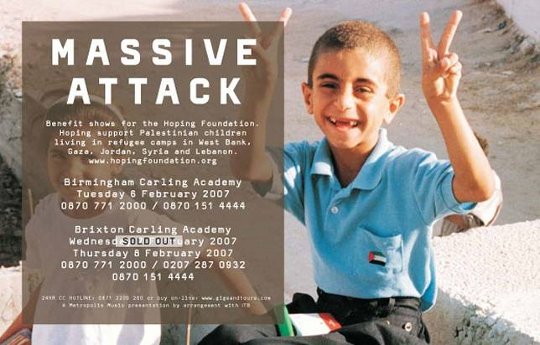 Massive Attack will play three benefit gigs in February 2007 in aid of the HOPING Foundation. HOPING stands for Hope and Optimism for Palestinians in the Next Generation. Established in January 2003, the charity is supported exclusively by private donors and public fundraising events, such as concerts and auctions.
The charity was launched in order to offer support and encouragement to Palestinian children living in refugee camps in the West Bank, Gaza, Jordan, Syria, Lebanon and elsewhere in the Middle East. HOPING's aim is to help generate possibilities, giving refugee children a belief in the promise of a better future, and show them that their struggle to transform their lives is encouraged and supported by people in Britain and throughout the rest of the world. HOPING is a small charity with minimal administration, which insures that funds raised are given directly to local Palestinian community projects that work with children in the refugee camps. It focuses specifically on small grassroots organisations, such as youth centres, local committees, and disabled centres, and supports libraries, summer schools, as well as theatre, music, art, and dance groups.
The three shows will take place in Birmingham and London and will feature some very special guests, to be announced in due course. All profits will go to the Hoping Foundation.
Details for the dates are:
6th February 2007 - Birmingham Carling Academy (0870 771 2000 / 0870 151 4444)
7th & 8th February 2007 - London Brixton Academy (0870 771 2000 / 020 7287 0932 / 0870 151 4444)
Tickets are available through the 24Hr CC Hotline: 0871 2200 260 or online www.gigsandtours.com
Massive Attack are currently back in the UK and completing work on their fifth studio album after touring for the majority of this year. They played the festival circuit as well as their own dates, including headline shows at Coachella, Wireless and the Hollywood Bowl.
http://www.hopingfoundation.org