15th December 2000



Check out the South Bank show on Satrurday Night (171200) @10:45. A far more experimental show than most, with sculptor Marc Quinn crafting a bold art film to an original Massive Attack soundtrack.
27th November 2000
Blur's frontman Damon Albarn is all set to join Massive Attack's 3D in the studio to write a collaboration for reggae legend Horace Andy. The Bristol duo have, of course, worked extensively with Andy in the past and Dee recently revealed on the band's official website: "Damon's Albarn's coming to our studio soon to work on a special track with me for Horace Andy to sing which might be a bit more blues-ey than straight reggae." Damon, who owns an enormous reggae collection, is apparently "really chuffed" to be writing for Horace. Dee formerly joined forces with Albarn when they wrote the track 'One Day At A Time' together for the 'Ordinary Decent Criminal' soundtrack earlier this year. Del Naja has talked about how much he admires Damon's way of working. He has said: "He'd turn up with a bit of kit and work through it in a couple of days. "It's quite spontaneous rather than the usual sending tapes back and forth routine, which is the way a lot of people work in these circumstances. I think it's better for people to lock themselves away for a few days and get on with it."
Massive Attack have jumped on the recent bandwagon criticising current pop music. Dee complained: "I'm quite happy to be releasing nothing at the moment because music seems so dire. "It's a waste of time releasing singles when no-one's got anything creative to say and not much better putting albums out. It's really piss poor out there." The singer has insisted that TV and radio have really "dumbed down" over the last few years and that it is all "f***ing banal". He continued: "I've tried to keep away from the media for the last six months just because I find it so nauseating. I find it much better to concentrate on what I'm doing in myself rather than look around for inspiration." Crikey - I can see where you're coming from mate.
Massive Attack's as-yet-untitled new album is due for release in Summer 2001.
18th November 2000



After so much hype could it really be that good? Can a whopping £8m transform a dingy old cinema into one of the city's biggest clubbing attractions? Bristol clubbers enjoying themselves Well if the opening night is anything to go by then the answer is yes. True to Bristol form, the guestlist queue seemed bigger than the paying customers. Once inside it was apparent that Piers Adam's mission - to bring a taste of London glitz to downbeat Bristol - has paid off. The place was crammed, almost too much. A flood in the gents led to everyone using the ladies, this soon cleared a few lightweights out! However from the plush bar-side lounge area, superb sound-system and very nice sofas in the ladies toilets, to the sweeping balcony, massive dance-floor and intimate upstairs room, it is obvious a huge amount of thought has gone into the venue. It is big, but not impersonal, glitzy or pretentious. Bristol's great and good were out in force in the upstairs room which had been transformed into the VIP area for the night. Massive Attack put in an appearance fresh from their live webcast that night, Geoff Barrow and Ben and Scott were trying out the decks in anticipation of their future residencies. Other Bristol club bosses were checking out the Nick Warren competition, plus a host of assorted press, DJ's liggers and guests from London all enjoyed the free bar. Rock resident and musical director Nick Warren got the paying crowd going in the main room with a choice selection of tunes, albeit pretty banging, and reaction was good. Micky B, Nick Warren's manager, said: "I've been around and seen a lot of things come and go in Bristol. I think it'll be good for the local music scene and will give the city a new image."
Massive's Daddy G was also impressed. "I think it's got a lot of potential and is a good thing for Bristol. The decor's good, I like what they've done with the space and I reckon it will be popular." Geoff Barrow, who is set to play one Friday a month, was more cautious. "It's always impossible to tell from the opening weekend as there's always so much hype surrounding these things. I'd be interested to see who comes on a regular basis." The clubbers' reaction was more mixed with many feeling that the glamour might mean expensive entry and drinks in the future. Many were also students hoping there would be a series of nights for them. Some felt it was too dressy but nearly all said they would be back

11th November 2000



Robert - How can you have let this happen?
Man United - Beyond the Promised Land The greatest story ever told? Well, many a United fan would agree - not sure about the rest of us! 'Beyond the Promised Land' tells the incredible success story of the best loved (and hated) football club in the world. Basement Jaxx, Massive Attack, Stone Roses are just 3 artists who have confirmed their involvement on the accompanying soundtrack... The soundtrack is on course for a November 27th release. So far the following artists have confirmed contributions : Human League with Toni Halliday -The Things That Dreams Are Made Of Massive Attack - Protection Buzzcocks - Ever Falling In Love King Biscuit Time - I Walk The Earth Basement Jaxx - Red Alert, Stone Roses - Falls Gold...
The Massive Attack track is a new remix of Protection by Flood. Better load up the Napster then, because I'm sure Manchester United don't need any more money, certainly won't be getting any from me.
10th November 2000
Massive attack will host a DJ jam featuring Liam Howlett, Richard Fearless and James Lavelle at Rock in Bristol on December 16th. For more information, call 09012010201.
9th November 2000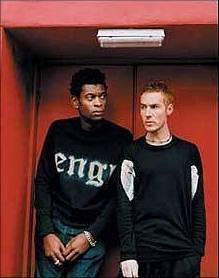 Massive Attack are working on 15 new tracks for their highly anticipated new album schedueld for release in Summer 2001. D has explained making the follow-up to Mezzanine had been affected by Mushroom's dicision to quit the band last year. He said " It's kind of weird, because after working with someone for so long, it's going to be different. You miss the dimension they bring to it, but also what you're getting out of that, you've got to put your self into new areas, which is good because you explore yourself personally."
Massive began work on their new album in Barbados at the start of the year but since then have been recording the majorityof it in Christchurch - their Bristol studio.
New tracks slated for the as-yet-untitled album include 'The Nature Of Threat' , 'Antistar', and 'Aftersun'. Dee added, "Normally we start an album off with a few tracks, but this time we started off with loads of tracks. I thought, 'This is great, we've got so much material',but it's proved to be harder than ever. We've got hours of fucking really cool bits of music but to actually make an album out of it is really difficult."
"We've finally narrowd it down to like 15 tracks that we're working on seriously - we're finally doing vocals on them, arrangements, that sort of thing. A the moment it's me, Daddy G, Liz and Horace."
He continued " What I wanted to get out of this was a deliberate contrast. Mezzanine had a mood, but by the middle of the album it started to piss me off a little bit. The last two albums had a definate mood to them, which is cool, but with this one, I wanted to make it a bit more messy."
8th November 2000
From 6pm today a Massive Attack webwheel will appear on 10 different websites. The wheel is the band's first-ever online event. Each participating site will feature downloadable images by Robert '3D' Del Naja as well as rare tracks from the band. However, NME.COM will be the only site on the webwheel to feature a total world exclusive - a brand-new Massive song called 'The Nature Of The Threat'.
Of the track 3-D says: "We wrote this for a movie last year but we're now adapting it for the artist, Marc Quinn. It's not intended to be an LP track at the moment, it's more of a sketch."
Open the Massive Attack Webwheel PC Mac
The webwheel will be available until November 22 2000.
But wait, there's more. At 9pm on November 17 2000, 3D and Daddy G will get comfy for a live 'after hours' webchat where you ask the questions. "It's all right updating your website but it takes so long you never get the chance to communicate closely with everyone," says 3D. "We thought that if we did something a bit more specific, we could draw people into a closer interaction with us." The event promises to be something out of the ordinary and demand on the night will be, erm, massive. To get your question for Massive Attack in early, click here
7th November 2000

Robert '3D' Del Naja book, 'Fitting In', features images and paintings from the past 10 years as well as piece's never before seen. Only 50 books will be made available with the proceeds going to the Red Cross. For more information visit art retail site, eyestorm.com
1st November 2000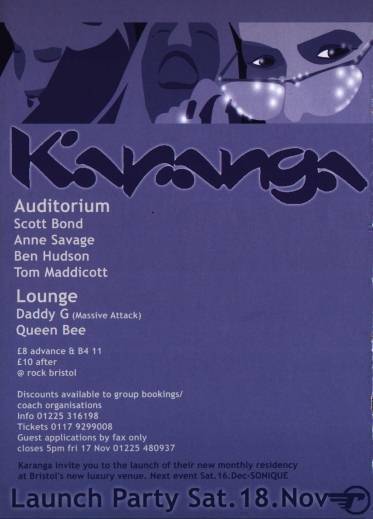 27th October 2000
Having recently come off a tour with Smashing Pumpkins in France, Sunna head back out across the UK in November. Mon. Nov. 06: Glow 303 - Aberdeen, Scotland Wed. Nov. 08: Cathouse - Glasgow, Scotland Thu. Nov. 09: Attic - Edinburgh, Scotland Fri. Nov. 10: Lomax - Liverpool, England Sat. Nov. 11: Little Civic - Wolverhampton, England Mon. Nov. 13: Victoria - Derby, England Tue. Nov. 14: Casbah - Sheffield, England Wed. Nov. 15: Roadhouse - Manchester, England Thu. Nov. 16: Princess Charlotte - Leicester, England Sat. Nov. 18: West End Centre - Aldershot, England Sun. Nov. 19: Fleece & Firkin - Bristol, England Mon. Nov. 20: Cavern - Exeter, England Tue. Nov. 21: Army & Navy - Chelmsford, England Thu. Nov. 23: Garage - London, England Sat. Nov. 25: Joiners Arms - Southampton, England
20th October 2000
Dee has spared some time from his busy schedule recording the band's fourth album to remix a single by A Perfect Circle entitled '3 Libras'. Dee mixed the track in Bristol and has named it the 'All Main Courses' mix. It's said to sound more menacing, dirtier and edgier than the original version. '3 Libras' is due for release in January 2001 and will be the third single to come from A Perfect Circle's eponymous debut long-player. Listen out for Massive Attack's next offering in the autumn of next year.
16th October 2000
American indie-rockers, the Dandy Warhols, have recorded a song with Massive Attack which may appear on their next album. Singer Courtney Taylor has spoken to an American website about the unusual collaboration with the British trip hop duo which was recorded during the band's last European tour. "We did one song so far that's kind of inspired by this crazy dream I had about the film 'House Of Yes', which is also the song's working title," revealed Taylor, "and the only think I can say about it is that it's everything you would think the Dandy Warhols with Massive Attack would sound like. "It's low and gooey, with a fat, tight, slow beat, a tight groove, lots of space, acoustic guitar, vocal harmonies. It's like, 'Wow.'" Taylor and co, who are currently on the second leg of their US tour, say the release of the track will depend on how long they stay out on the road but both bands are definitely keen on the idea. The frontman said: "We decided that night [that they recorded 'House Of Yes'] that we should. We were pretty loaded, though. But we're all very excited about it. They're making their own record right now, and we just need to see if we have to keep touring or we can get back into the studio."
15th October 2000
The new single from Sunna 'Power Struggle' is out on Monday October 16. The album 'One Minute Science' is out on Monday November 6 Check The Bristol Sound website for an interview.
29th September 2000
Following a fantastic sweep through the US, Sunna now perpares to take on France with Smashing Pumpkins. Catch them live on the following dates:
Sun. Oct. 01: Zenith - Marseille, France
Mon. Oct. 02: Zenith - Toulouse, France
Mon. Oct. 16: Tony Garnier Hall - Lyon, France
Tue. Oct. 17: Ampitheatre - Angers, France
Thu. Oct. 19: Bercy - Paris, France
16th September 2000
TORIES ARE UNDER MASSIVE ATTACK The Conservative Party are facing legal action from Massive Attack, after their music was used to accompany William Hague's entrance at a conference. Hague strolled up to a podium in Birmingham last week to launch the Tories 'Believing In Britain' document with 'Man Next Door' blaring from the speakers. However, just how misconceived the party were in their choice of music became clear, when the band released a statement berating the Tories.
A statement from Massive Attack stated, 'Massive Attack have not and will never support the Conservative party or their policies'. 'If our music has been used by the Tories it is without our knowledge or our permission. The misappropriation of our music by any organisation or broadcaster will be dealt with in the strongest way we can.' A spokesman added, 'The Tories couldn't have picked a worse band politically. Massive's political leanings are far more to the left than Hague, although I'm not sure they would give permission to any political party use their music.' A Conservative spokesman attempted to play down the incident, suggesting 'it's a massive attack over nothing. The music was for background and was not intended for broadcast.'
10th August 2000
Want to hear the entire Sunna debut "One Minute Science" before it hits the streets? Head over to iCast for a full length listening party going on right now!
4th August 2000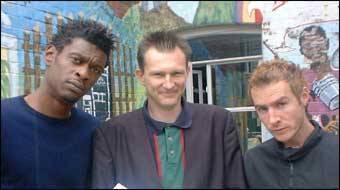 Bristol band Massive Attack today pledged £30,000 to help rebuild schools in a flood-hit town in Mozambique. The band, comprising Daddy G (Grant Marshall) and 3D (Robert Del Naja), have donated money made from licensing their track Angel to the fashion designer Giorgio Armani. The money has been donated to the Bristol Twinnings Association. It will help schools in Bristol's twin town of Beira in Mozambique which was ravaged by floods earlier this year. Daddy G: "I was very moved to see the flood images of Mozambique on TV earlier this year and I DJ'd at a benefit gig at The Maze club in February to raise money for Oxfam.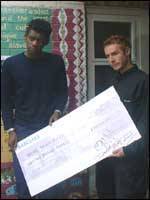 "We wanted to help the Beria Fund and this method is the quickest and most direct way for Massive Attack to do so. We could have done things like release a special record or do a one-off gig but all those things take time and as we are so busy this is the easiest way for us to give money. "We already do loads for charity and were very glad to help. At some point I would like to go out to Beira and see the developments that our cash has generated. Maybe a visit could be on the cards next year. "We are also looking at staging a massive DJ and music event in Bristol in the autumn as a benefit for Beira and would be bringing in a lot of well known acts from outside of Bristol to perform. "It's up to people like us who are high profile to make a point of doing things like this. We have the contacts and we know so many people that we can really make things work."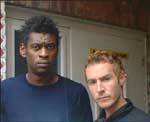 3D said: "Anything we can do we will and I'm pleased to be able to support the fund. I'd like to stage a fund raising event next year around the time of Ashton Court. "However it's a fine line with organising a live event as by the time you've laid out for staging, acts, insurance and all the other costs there is nothing left to give away." Alix Hughes from the twinning association said: "We are delighted to have a band like Massive Attack supporting us and our friend in Mozambique in the re-building efforts."

28th July 2000
Check out the new official SUNNA site: http://www.sunna-official.co.uk/
26th July 2000
Massive Attack's founder member Mushroom releases his debut album later this year through EMI. Mushroom, aka Andrew Vowles, left Massive Attack last year and has been charging up to $3,500 for a DJ set in nightclubs around the world for a two hour set. A source close to Vowles has said of his first solo long-player: "The album is going to be street soul music. With Mushroom's R&B and soul roots coming through. Definitely more upbeat than Massive Attack. He has signed a label deal with EMI and hopes the album will be out early next year."
In the meantime Massive Attack are working on their follow-up to 1998's 'Mezzanine'. The bands spokeswoman said: "Daddy G and 3-D are in the studio but it is very early days. The album probably won't be ready until late next year."
15th July 2000



It's Ashton Court Festival weekend! Full reports and photo's of the Day One performance tonight will be up as soon as I can be arsed to do it.
14th July 2000
Sunna have been chosen by A Perfect Circle to join them on their first headline tour of the US! The tour will begin on August 18th in Boston. This tour coincides with the release of Sunna's debut album, One Minute Science, on August 15th. One Minute Science, on Massive Attack's Melankolic label, combines malevolent, dark and sinister post-millennial rock with aggressive guitars and looped beats. Sunna's first single "Power Struggle" will be featured in the major motion picture, "Hollow Man", to be released by Columbia Pictures on August 4th. Directed by Paul Verhoeven of Robocop fame, the film is packed full of action sequences and dazzling special effects that recall The Matrix at its groundbreaking best. One of the movie's key scenes features Kevin Bacon singing along to "Power Struggle" while driving in his car.
One Minute Silence can be heard here at Astralwerks.
Tour dates for Sunna/A Perfect Circle:
Fri. Aug. 18: Avalon - Boston, MA
Sat. Aug. 19: Roseland - New York, NY
Sun. Aug. 20: Electric Factory - Philadelphia, PA
Mon. Aug. 21: Nation - Washington, DC
Wed. Aug. 23: Tabernacle - Atlanta, GA
Fri. Aug. 25: State Theatre - Detroit, MI
Sat. Aug. 26: Agora - Cleveland, OH
Sun. Aug. 27: Riviera Theatre - Chicago, IL
Tue. Aug. 29: Quest - Minneapolis, MN
Wed. Aug. 30: Memorial Hall - Kansas City, MO
Fri. Sept. 1: to be announced - Denver, CO
Sat. Sept. 2: Salt Air Pavilion - Salt Lake City, UT
Mon. Sept. 4: Paramount - Seattle, WA
Tue. Sept. 5: Roseland - Portland, OR
Wed. Sept. 6: Warfield - San Francisco, CA
Fri. Sept. 8: Palladium - Los Angeles, CA
Sun. Sept. 10: to be announced - San Diego, CA
Mon. Sept. 11: to be announced - Las Vegas, NV
Tue. Sept. 12: to be announced - Phoenix, AZ
Thu. Sept. 14: Bronco Bowl - Dallas, TX
Fri. Sept. 15: Music Hall - Austin, TX
Sat. Sept. 16: Ariel Theatre - Houston, TX
10th July 2000
Massive Attack have announced plans to establish a new centre in Bristol to improve facilities for local and national musicians.
'We're looking for a building, preferably something like a warehouse, to be turned into a multi-media centre,' said Robert Del Naja (Massive Attack's 3D).
'We're talking to different people from businesses in both Bristol and London. There are a lot of people who want to invest in it because it's going to involve multi-media, with film and Internet as well as music. Funding isn't a problem; it's more about finding the right building. We need to find somewhere big enough that isn't going to hit a dead end in two years time.'
'Our ultimate plan is to bring people into Bristol. Everyone talks about how good it is here, but there's not really anywhere to work. The studios in Bristol are all very much local and personal. So we want to try and create a studio which has a really good mix room, a really good live room and a really good environment to make, record and mix music.
'It'll have a lot of smaller suites and programming rooms and hopefully it' ll bring everyone into one building. It'd be great to have everyone under one roof, because we're all working in film and music now.
'We would also link it to community work, where people who need to can come and get some experience of working in a studio. Often there's a big gap between what people can do at home compared to what they can do in a studio.'
Work on the centre is set to begin in the next six months.
9th July 2000
Check out some remixes here. - Groove Armada chill with Day One and Massive Attack take on Primal Scream.
8th July 2000

D talks about working on the next album, videos, touring, Melankolic, clubbing in Bristol and Football.
5th July 2000
Most of Massive Attack's 2000 schedule will be taken up with work on the new album, the follow up to the platinum selling 'Mezzanine'. On board for the creation of this album is new programmer Alex Swift and Mezzanine Co-Producer Neil Davidge is back in the same role.
3D on the new album : "... when I went away to the Caribbean in April last year I was writing. I've also been buying records avidly, a lot of 60's and 70's jazz and prog rock."
The initial recording took place last September, in Surrey's 'Ridge Farm Studio'. Massive Attack spent 10 days there along with Lupine Howl, a new band featuring ex-members of Spiritualised. From these intense jam sessions sprung forth a staggering 85 tracks, culminating in over 10 hours of music!
The next stage involved 3D and Daddy G taking the CD's of these jams to Barbados to begin assembling them into more defined song structures.
3D : "If we were to sit in the Bristol Studio we would just delve into it randomly, I wanted to go away and listen to the tracks over and over again, write lyrics and get some ideas together for arrangements. We need to sort out which tracks work into each other well, which ones sit properly together and what kind of atmosphere they create together. With Mezzanine we only had 5 or 6 decent ideas which we expanded. With the amount of material we have for the new album, it could go in a lot of directions. We want it to be different and more exciting than the last album, but still carry the trademarks forward. We're going to Barbados to be as creative as we can and stretch ourselves as much as possible again. We need to make it easier for ourselves by having a solid direction in the beginning."
4th July 2000
Day One will be headlining at the Bristol Community Festival at Ashton Court
28th June 2000
Possible upcoming remixes from Massive Attack include The Perfect Circle (featuring some bloke from Tool) and Cyprus Hill.
25th June 2000
One Minute Science will be the debut release from new Melankolic artist, Sunna. It's apparently a malevolent, dark and sinister post-millennial rock album punctuated by aggressive guitars and looped beats. Jon Harris, the singer and visionary behind Sunna, was asked to contribute guitar to Massive Attack's Mezzanine and Sunna was subsequently signed to Melankolic. PowerStruggle, the debut single, will be prominently featured in the upcoming summer film, The
Hollow Man. This film, an update of The Invisible Man, stars feature Kevin Bacon, is directed by
Paul Verhoeven (of Robocop fame) and features action sequences and dazzling special effects recalling "The Matrix" at its groundbreaking best. One of the movie's key scenes has Kevin Bacon singing along to Sunna's Power Struggle while driving in his car. One Minute Science will be released on 15th August followed with a major national tour this Autumn.
20th June 2000



The official Massive attack site has had an update. New album info, new tour video, other project news, and the Inflight Data audio works now. There are some new pictures from Barbados as well as some other random photos. Big up to Jeramiah, the slickest Massive Attack surfer, for keeping us all posted.
14th June 2000
A number of successful Day One parties at the Dojo Bar has led to the band setting up their own series of DJ nights in aid of charity, the first of which will be held on Thursday 15 June with all proceeds going to the NSPCC.
Phelim Byrne told bristolsound.co.uk, "We wanted to start doing something on a regular basis that was a bit more positive than just waking up with a hangover. This is going to be the first of many but because we want them to be a bit of an occasion we'll be holding them three or four times a year."
All proceeds from the first Day One party will be going to the NSPCC's Full Stop campaign, to stop cruelty to children. "Kids are the future," said Byrne. "It's important to focus on the new generation. In many ways they're helpless and it's even more difficult for them to get help, especially when there's not enough money and resources. We also want to look at homelessness, that's another big thing in Bristol and the two go very much hand in hand. A lot of these kids have to leave home because they're suffering so much and then they fall into the homelessness trap and there seems no way out for them. But it can be solved, it's not out of control, it just takes a lot of positive action.
"There's so many people doing well in Bristol and we just want to bring that all together and do something good with it," said Byrne. "It's about bringing a positive focus to Bristol, to all the talent and creativity here. We want to create a good night with good DJs and a good party buzz, where people can go and listen to music and drink. It's about having a good time. It's not a function, it's a party."
Local businesses have also dug deep into their pockets for the occasion and Hotel du Vin, Phonetech, Hewitt & Stott Publishing and Joy Promotions are the official sponsors for this first night.
Tickets for the Day One - Nite Two party cost £25 each (strictly in advance) and include free champagne all night (Moet and Bolly so we've been told). For further information and tickets call Osine on 0771 4495873, Dominic on 07989 288080 or Paul on 079777 34067. DJs include Rob Morris, Styles, Lashes Degree, Selecta, Watson, Bungee and Mad Cut. Please note that Day One will not be performing at this event.
10th June 2000
This one is for you lot up in the smoke you lucky people - what a result.

4th June 2000
Horace Andy, Day One and Smith & Mighty are all set to play at the Glastonbury Festival, which is between the 23rd - 25th June. Horace Andy is also playing the Essential Festival in Brighton on 16th June.
29th May 2000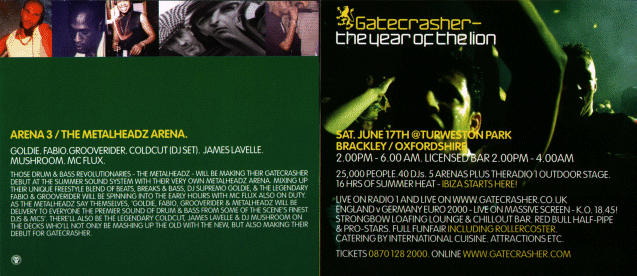 Mushroom will be spinning his dope hip hop tunes (unless he has been tempted to the Dark side by the Rider) at the Gatecrasher event on June17th inside the Metalheadz arena with all the usual rollers.
17th May 2000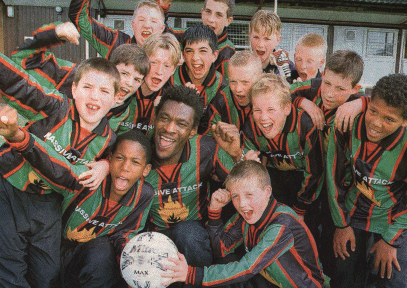 Massive Attack have presented a team of young footballers with a new set of shirts and tracksuits. They made the generous offer after Backwell Under-12s clinched promotion to the Woodspring and District League's top division. Grant used to play for the team as a youngster and showed off his silky skills by popping in to goals for the dads against the lads in an end of season friendly. Club spokesman Ash Barrington sad: "Grant was quite an accomplished footballer when he played for the side and this is a marvelous gesture for the band to buy the kit. The team will look really smart when they run out to play in the top division for the first time next season."
14th May 2000
There is a Horace Andy special called Living In The Flood on Channel Four this Wednesday night at 1.35.
13th May 2000
It's Horace Unplugged! Saw Horace Andy perform a blinding set last night down the Watershed as part of his current UK accoustic tour. He sang loads of tunes from his current album Living in the Flood as well as some old classics like Money Money and Skylarking which all received an ethusiastic Rewind from the great man himself! The audience reaction was lively and all were on their feet dancing from the 1st number. The sound was exceptional from a backing of tabla and guitar/bass (The bass sound was stunning). If you can catch the remaining date tonight in Norwich it's recommended.
20th April 2000
Massive Attack have agreed to license Angel to an Emporio Armani fragrance commercial for HE/SHE only after agreeing that the band's fee be donated to the Red Cross.
The band who normally do not allow their music to be used in this way, made a special arrangement because the amount of money being offered was significant and would be of real immediate value to two charities.
The British Red Cross will be the main recipient of the donation but a portion will also be given to the Bristol-based Beira Fund. Bristol is twinned with a town Beira in Mozambique and the money will go immediately to rebuild the various schools in Beira devastated by the recent floods.
"The music that's used in ads is becoming increasingly homogenised and the agencies are resorting to cheap rip-offs of other peoples' styles. This is not something we want to be part of, but if we can re-direct money to people that need it then it's worth it.
Massive Attack have openly invited Armani to match their contribution. "If Armani does the right thing, the track will raise over $500,000 which will justify allowing 'Angel' to be used."
Massive Attack are currently recording the follow-up to 1998's Mezzanine, which to date has sold 2.5 million copies. The album is due for release in 2001.
9th April 2000
Massive have announced plans for a star studded charity concert for Mozambique. They hope to bring friends from Blur, the Prodigy, Radiohead and U2, as well as actors and directors such as Robert Carlyle and Guty Richie. Daddy G said" When we first saw the images of people suffering we were quite shocked. It made us want to help."The pair unveiled their plans at the Bristol United For Mozambique fundraiser at the Bierkeller last night. 3D said "We're here because we know the people who are organising the event and because Bristol is twinned with Beira in Mozambique. It's something we felt we should be involved in.
Neither a venue or a date has been confirmed but Massive Attack did hint that the event night be held at the Piers Adams owned nightclub Rock on Frogmore Street, which is due to open in the summer. And both insist they don't want it to be a one off.
7th April 2000
Check this Horace Andy Interview - very enlightening.
30th March 2000
Latest On Melankolic:
Alpha are just doing final mixes on their new record. Horace is still touring, copies of 'living in the flood' are being pressed in Jamacia through Tuff Gong.
Lewis Parker is just about to finish his new one, a single will be released this summer.
Day One are on tour in Europe and release 'Waiting for a Break' in May that
will feature a Groove Armada remix.
Sunna the latest signing and is essentially a rock project. It was co-produced by Davidge and mixed by Dave Eringa (Manics) and Andy Wallace (Nirvana). Apparently it's pretty amazing. There will be a single 'OD' out on May 14th.
Craig Amstrong is writing and recording his new album at the moment and will probably come out at the end of the year.
29th March 2000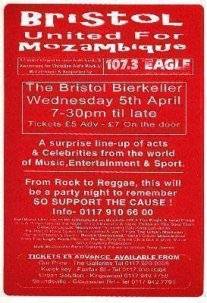 Daddy G and Rob from Smith & Mighty amongst others, will be the selectors at a special benefit for Mozambique flodd victims at the Maze club, Stokes Croft tonight.
22nd March 2000
The new release from Horace will be in stores in France from 28th March. The maxi CD includes After All, Some People, Girl Of My Dreams plus live versions of Skylarking and Spying Glass recorded at Horace's Scala show in London, November 1999. For those of you in France; look out for Horace and his band when they will perform live on Nulles Part Ailleurs in Paris on April 19th and will also be featured on France Deux prior to the Bourges Festival in France.
21st March 2000
Catch Day One live at Dingwall's in London on the Astralwerks Day One audio/video page
20th March 2000


Primal Scream release Kill All Hippies today which includes a Massive Attack remix of Exterminator. The additional production and mix is credited to Del Naja / Davidge and addtional programming by Alex Swift. It was engineered by Lee Shepherd and Dave Jenkins, additional engineering by Ben Findlay at Real World in Bath. So lots of new personnal and perhaps an indication of the direction of the next album. Maybe.
19th March 2000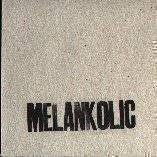 If you buy the Day One album in Virgin you get a free Melankolic sampler CD. If you are unaware of the previous output of the label then this is ideal. However no new tunes from on it as with the previous sampler. Tracklisting: 1.Alpha - Nyquil / 2.Horace Andy - Seven Seals / 3. Lewis Parker - Crusades / 4. Craig Armstrong - Houses In Motion / 5. Alpha - With (Underdog remix)
16th March 2000
It turns out that the Horace Andy flyer states an incorrect date for his forthcoming Watershed Accoustic concert. The correct date is as stated on his website - 12th August.
11th March 2000
Between pop and hip-hop, this is the next 'big thing' from Bristol in MP3. Their name is Day One, they are signed by Melankolic, Massive Attack's label, and they gave us this exclusive rare track, a b-side from their 'out of stock' first rare single released in july 1999.
Where can you download it? On MCM On Line.
10th March 2000
A report from Melankolic predicts new albums from Alpha, Craig Armstrong and Lewis Parker, this Spring/Summer. Check http://melankolic.astralwerks.com from time to time for details as they become available.
The Day One debut album "Ordinary Man" has already received glowing praise from the American music press:
"The songs possess the rolling lyricism of D.A.I.S.Y. age hip-hop, without the hippinness..a vivid, vibrant brew" - SPIN
"One of the year's freshest-sounding debuts...Day One fuse hip-hop beats and street poetry with electronic mood music and the melodic snap of great pop tunes." -Interview
What makes Day One so unusual and enjoyable is their ability to fuse their collective influences; hip-hop, jazz, classic singer-songwriters, and the dark, trippy atmospheres of their label founders Massive Attack. So discover one of the year's most rewarding listening experiences.
9th March 2000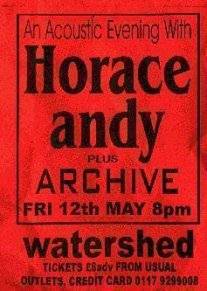 Horace Andy will be performing an accoustic set at the Water shed on Friday 12th May. Tickets £8adv from usual outlets, credit card 01179299008.
Further dates have also been released on his site:
April 04 Band On The Wall, Manchester / April 05, Venue, Edinburgh / 06 King Tuts, Glasgow / 07 The Social, Nottingham / 08 University, Shefield / 09 Lomax, Liverpool / 11 Roadmenders, Northampton / 12 Watershed, Bristol / 13 Arts Center, Norwich / 20 Bourges Festival, France / June 22 Toulouse, France / 23 Bordeaux, France / 24 Paris, France / 25 Glastonbury Festival / 27 Marseilles, France / 28 Montpelier, France / 29 Nancy, France / July 01 Werchter Festival, Belgium / 02, Koln Summer Jam, Germany.
As you may have noticed the flyer says that the Watershed date is in April whilst the site states that it is in May, so either he is doing two dates in Bristol or one of them is wrong. Confirmation will occur when I can be arsed to go into Our Price and ask the petulant staff when the gig actually is.
7th March 2000
Day One are to do an Acoustic Set in the Virgin Megastore in Bristol on Monday 13th March. Donni and Phelim will be performing an exclusive acoustic set at the Virgin Megastore. The show is kicking off at 4.30 PM. There will also be a webcast of their gig in London on Monday 20th March at 8.00PM.
22nd Febuary 2000
Horace Andy, recorded live at Scala, London, will be appearing on-line as mix of the day at ministryofsound.com, from 6pm on Wednesday 1st March, until Monday 6th March, on the radio session on Channel 3. The hour radio session will then be available to hear on Channel 3 for at least a further 5 weeks. The session from Scala features tracks from Horace's new album 'Living in the Flood', and classic songs such as 'Fever', 'Cuss Cuss' and his most famous track 'Skylarking'. Horace will also appear as a featured DJ on the main radio page for the first week. There will be a chance to win signed albums and 12" promos from March 1st on the music section of the site. Exclusive footage of 2 tracks from the live recording at the Scala will also be featured on the CD covermount, which is free with the March edition of The Ministry Magazine.
17th Febuary 2000
No doubt returning the favour, Massive Attack have remixed Primal Scream's 'Exterminator', maybe it'll surface as a b-side on the Scream's new single, 'Kill All Hippies' which is out sometime next month.
15th Febuary 2000
Latest news from the official massive site:
Massive Attack have begun work on their new album as well as collaborating with the likes of Prodigy, Damon Albarn and Portishead.
Massive have commenced work on their new album at their studio in Bristol. The boys have also been jamming with Lupine Howl, who are Damon, Mike and Sean from Spiritualized.
Meanwhile, Robert Del Naja has collaborated with Damon Albarn on the soundtrack to Ordinary Decent Criminal starring Kevin Spacey. Damon has written and produced the music for the film which will be released early next year. Robert has co-written and produced the track with Damon which feature's Spacey's vocal taken from the film.
Massive have also collaborated with The Prodigy on a track called 'No Souvenirs'. Robert and Liam have written and produced the track which features Robert on vocals and will be released as a single next April.
And finally - Massive and Portishead are planning to share a stage for the first time next summer. the two bands will headline an outdoor charity show in Bristol to raise money for local homeless organisations.
12th Febuary 2000
Rob Smith and Ray Mighty put out the album they should have released back in the day on Monday:
It must be gutting to watch your young charges take the dub-for-the-masses blue print you patented and sell zillions of records with it. Massive Attack will always eclipse Smith & Mighty: however, now they're signed to sympathetic !K7 and working to their formula of treacle-thick dub with guest vocalist, Big World Small World suggests they are thriving on adversity. No Justice, a conscious drum and bass lament, is thunderingly good. Tammy Payne and her blue-toned dub psalm Move You Run is soaraway soul.
Big World Small World is an uncommonly articulate album, speaking fluently in rap, dub, jungle, soul , house and much more. Had it only come out sooner, Smith & Mighty may have had the success they so blatantly deserve.
10th Febuary 2000
This weeks NME has a free CD which includes a track by Lupine Howl called Sniff The Glue. So what, I hear you all say. Well it's a demo that was mixed at Massive Attack's studio.