17th December 2001
Horace Andy made an appearance on a tv show in Paris on Friday night. An interview was followed by a 2 song opening act by Négresses Vertes, a leading French rock+accordion+parisian vibe + world music vibe + acoustic+ combo. They did a third tune with Horace: BIG WHEEL together with a gypsy acoustic guitar, accordion, bass, light drums / percussion and trumpet (like miles davis with a plunger at the end). Very nice. Nice to mix reggae vibes with non reggae, but admiring bands. Horace's gig was strong and got great response from the crowd when he did Dancing Shoes a ska tune on his next album. His classics were all cheered nicely too. And guess what? LONE RANGER came onstage to do cuss cuss with Horace as a surprise guest. Awesome. For French and German viewers, the show will be broadcast in April 2002, shortly after Horace's MEK IT BUN album is released. (thanks to Guillaume Bougard)
22nd November 2001
Check out NME for a Massive Attack Bonanza!
21st November 2001




The present situation in Afghanistan and the untold suffering currently being endured by its people, once again, is a crisis that has affected us all. In response to this, Damon Albarn, Robert Del Naja and James Lavelle have put together two benefit events. Everyone involved has pulled together with very short notice and offering their services for free. The nights will benefit the British Red Cross and Red Crescent, and specifically, their local community health and first aid programmes in Afghanistan.

The line up is as follows:

15th December - Bristol, Academy
Gorillaz (live)
Unkle Sounds (James Lavelle)
Geoff Barrow (Portishead) with Scott Hendy (DJ Set) (Bristol only)
Massive Attack (DJ set)
ADF Sound System featuring Invasion
Richard Fearless
Howie B

17th December - London, Fabric
The line-up is as above but will also feature:
Daft Punk (DJ set)
Desperate Sound System (featuring members of Pulp)
Plump DJs

This will be Daft Punk's first UK appearance for two years.

Ticket prices are as follows:
Bristol - £15.00 in advance, available from:
Ticketweb - 0207 771 2000
Bristol Ticketshop - 0870 4444400
Way Ahead - 0207 403 3331

London - £17.50 in advance, available from:
Way Ahead - 0207 403 3331
Stargreen - 0207 734 8932
Ticketweb - 0207 771 2000
Ticketmaster - 0207 344 4040
Rough Trade - Covent Garden and Portobello Road
Rhythm Records - Camden
Tickets for both events can also be bought online via www.gigsandtours.com
For information about the ongoing situation visit:
www.cnduk.org
www.redcross.org
19th November 2001
Massive Attack will be presenting a CND/RED CROSS benefit night this December at the Rock in Bristol. For more information, straight from the horses mouth check the redlines message board.
10th November 2001



WWW.MASSIVEATTACK.COM has been drastically updated with loads of new stuff to check out.
You still here? Get over there now.
9th November 2001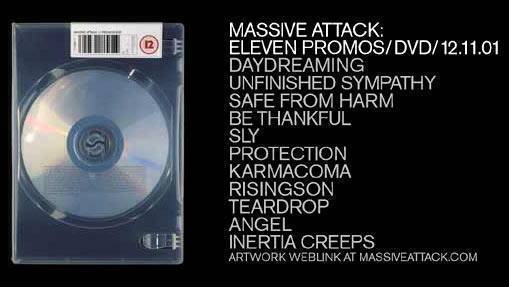 8th November 2001
The Horace Andy gig at the Blue Mountain tommorrow night has been cancelled because Horace has hurt his leg. It will happen in a month or so. Ticket refunds are avaliable or they will be valid for the rearanged fixture.
26th October 2001
MASSIVE ATTACK have teamed up with rapper MOS DEF to record new material, NME.COM can exclusively reveal.
The track, titled 'Eye Against Eye', has been recorded and was set to appear on an undisclosed film project, but the group are now considering other avenues for release. Speaking exclusively to NME.COM in London this afternoon), group member Robert '3-D' Del Naja said that Mos Def sent a tape of the track to the Bristol-based collective, who put the finishing touches to the song. He said: "We're not sure what's going to happen to it at the moment. It's a good track actually, it's called 'Eye Against Eye'. He (Mos Def) did the lyrics and we completely reconstructed the track, took the lyrics off and started again in our usual fashion. Everyone really likes it so hopefully it'll appear in some form or another." Massive Attack continue to work on their new album, due for release in 2002. A source close to the project told NME.COM vocalist Dot Allison has contributed guest vocals on two tracks during the album sessions, although this could not be officially confirmed at press time.
For a full Massive Attack feature, as well as exclusive news on the group's new album, click back to NME.COM next week.
17th October 2001
This week sees the release of a new soundtrack from Craig Armstrong. Entitled "Kiss of The Dragon - Symphony For Isabelle", this time sees armstrong scoring a martial arts film. There is also a second CD featuring songs from the film which actually looks quite good, baring in mind these things usually have the latest lame hip hop. Check out the official site at www.kissofthedragon.com

1. As If You Said Nothing 2. Symphony For Isabelle (Parts 2 to 19)


1. Mystikal Fever - Mystikal 2. Lapdance - N*E*R*D 3. Aerodynamic (Slum Village Remix) - Daft Punk 4. F*ck That - Bathgate 5. What You Got? - Chino XL 6. Sing - Mouse 7. Cheatin' - Liberty City Fla. 8. Don't Blame It On I - The Congos 9. Ghir Dini (Version Anglaise) - Assia 10. As If You Said Nothing - Craig Armstrong 11. Adore You - Lisa Barbuscia
15th October 2001
HotPress, the Irish NME, has revealed that Massive Attack and Sinead O'Connor have been working on two tracks together. One of the tracks is written by Sinead and Massive and is yet untitled, but Sinead says that the track can best be described as "a prayer with music" The other track is a cover version of Damien Dempseys "It's All Good" off the album "They Don't Teach This Shit In School". Damien Dempsey is a singer/songwriter from Dublin, and it was Sineads idea to use this song that she thinks is "one of the best songs she's ever heard". Sinead says that the tracks have a "trancey, trippey feel to them" and she thinks they have got something special with these tracks. She is not sure whether these tracks will feature on the new Massive album or not.
11th October 2001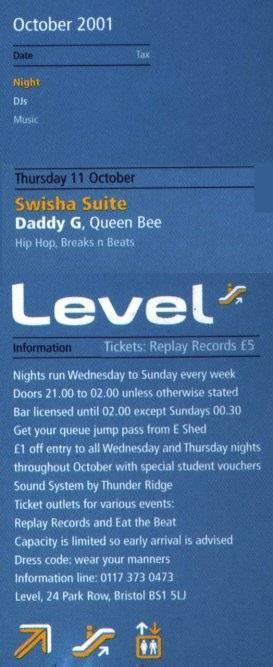 9th October 2001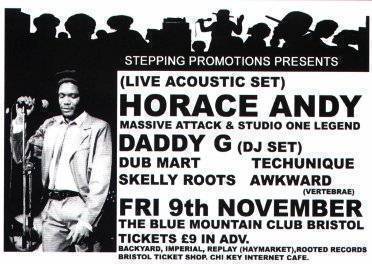 24th September 2001
I can now confirm that Massive ATTACK are going to release a DVD on the 5th November.
It will feature every single videos the band have made. Yes thi smeans it will include Angel which has never been seen before. All the promo's are full length and directors cuts which rarely get seen in their entirety on TV.
There are to be no extras which you would usually find on the dvd format as the band wanted the disc to be honest and direct.
The packaging will also be very minimal - there isn't any artwork. If you desire a sleeve, you can simply download a choice of images from a weblink on the DVD itself.
Massive are donating their royalty to The Red Cross in light of recent events, especially given the disaster in Afganistan.
In tandem for the release of the DVD, there will be a major update and redesign of the official site including a message board.
The tracklisting is as follows:
'Daydreaming': Release date: 15/10 90 Director: Baillie Walsh
'Unfinished Sympathy': Release date 11/2/91 Director: Baillie Walsh
'Safe From Harm': Release date: 28/5/01 Director: Baillie Walsh
'Be Thankful For What You've Got'': Release date: 10/2/92 Director: Baillie Walsh
'Sly': Release date: 17/10/94 Director: Stefan Sedanoui
'Protection': Release date:9/1/95 Director: Michel Gondry
'Karmacoma': Release date: 20/3/95 Director: Jonathan Glazer
'Rising Son': Release date: 7/7/97 Director: Walter Stern
'Teardrop': Release date: 27/4/98 Director: Walter Stern
'Angel': Release date: 13/7/98 Director: Walter Stern
'Inertia Creeps': Release date: 19/10/98 Director: Wiz
Result!!!!!!! Will anybody donate Redlines £200 so he can go and buy a DVD machine?
19th September 2001



8th September 2001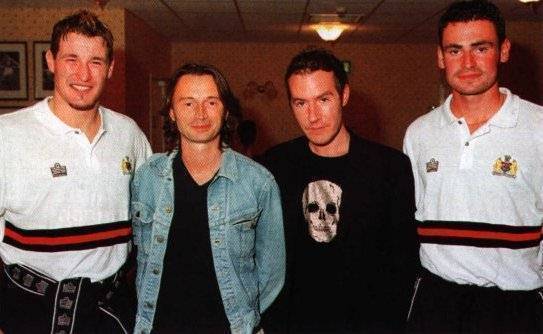 3D brought his friend (and superstar actor) Robert Carlyle to Ashton Gate for the City V Swindon Town game. They are pictured above with first teamplayers Lee Peacock and Steve Phillips. They both enjoyed pre-match entertainment in the Centenary Restaurant and Lounge, before watching the City trounce Swindle 3-1.
7th September 2001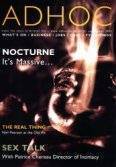 NOCTURNE. Bristol's massive new bar. It's quite pokey actually. Read all about it with this article from ADHOC a free entertainment listings magazine, avaliable around the city.

31st August 2001


Check out the digidesign site and learn about PROTOOLS. This is the system Massive Attack use in their studio at Christchurch. You can even download the software for gratis and order a free DVD which features a tour of the new surround mixing, editing, MIDI, session interchange and video capabilities of Pro Tools — complete with 5.1 surround sound examples. The new Control Surfaces DVD from Digidesign features information and live demos of the latest control surface options available for Pro Tools. Witness completely flexible integrated surround mixing performed in Pro Tools 5.1 with Control|24 — the new control surface for designed by Digidesign and Focusrite. You'll also get information on Edit Pack — the newest option available for ProControl — as well as hear about the many other control surface options available for Pro Tools.
I'm not on commission it's just quite interesting to those of us who have to make do with dodgy cracked version of Cubase.

1st August 2001
On this very site 3d posted a message telling us what's going on;
later will be greater
Posted by 3d on 7/31/2001 18:07:20
we are writing and recording new vocals -hope to overdub strings in oct/nov-will also start mixing new tracks before dec.2000 was an experimental year-a lot of time wasted .as a result of this 2001 has been all about redesigning-and i'm very glad .
have laid all mezzanine ghosts to rest-am in a new place-unsure and happy-thanks for everybody's patience-it will be worth the wait.new pictures are nice and fucked up too-redesigning the anatomy of my friends and enemies.
23rd July 2001
Check out some images from the Bristol Community Festival, featuring the sublime performance from Alpha.
5th July 2001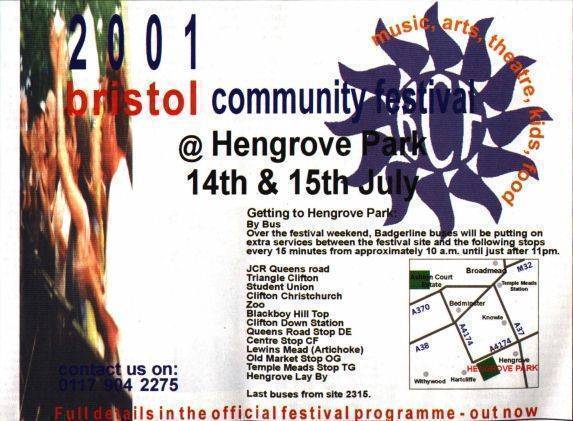 This weekend sees the event of the annual Bristol Community festival, which this year is located at Hengrove Park, due the the foot and mouth epidemic forcing a move from Ashton Court. Running from 12 noon to 11pm on Saturday & Sunday this is a virtually priceless affair at £3. Those performing will include Mad Professor, Static Sound System, Alpha, Si John's new Mighty Ging project, Lupine Howl, Stereo MC's and a surprise TBC. Up Bustle & Out will be presenting the film of their Cuban Master Sessions project plus live percussion, spanish guitar and DJs in the cinema tent. In the dance arena expect to see and hear the cream of Bristol's DJ's including the Full Cycle crew.
For full details buy a programme. This and the entry fee will ensure that the event keeps on keeping on.
The OFFICIAL Bristol Community Festival Web Site
Bristol Community Festival 2001 website, brought to you by the Bristol Evening Post
25th June 2001
Alpha are playing Miles Davis Hall in Montreux, Switzerland on 12th July.They recently played London's 'Dingwalls' are were said to be exquisite in the extreme.
24th June 2001
Sunna have been confirmed to play T in the Park in Glasgow in July and will also be playing the Reading/Leeds Festivals Bank Holiday August. Read on for the European dates...
June
Sat 2nd - Germany Rock Am Ring / Sun 3rd - Germany - Rock Im Park / Mon 4th - Holland - Pinkpop
23rd June 2001
Massive Attack have been approached to appear at the TIBET FREEDOM CONCERT, but are unlikely to appear because they want their live return to be "really radical and different".
Speaking in an interview on the official Masive Attack website , Robert '3-D' Del Naja said that the band have received "all sorts of interesting offers" for their return to the live arena later in the year, but have so far not confirmed any appearances.
He said: "Adam Yauch from the 'Mezzanine' and we really worked that format. But you have to rewrite the script and start all over again and we won't be ready to do that until we've defined the album. We've gone out live as DJs, with turntables, as a sound system, with instruments, without instruments and I think they've all been quite successful in their different ways. They all have their place so we're not going to even predict which way we're going to go."
The band continue to work on the follow-up to their 'Mezzanine' album, although Del Naja confessed the band are still some way from completing the record.
He said: "We started to have great difficulty with all the things which came out of the Ridge Farm sessions ...The difficulty is we don't really have a lead vocalist in the band. I can only get away with doing about four or five tracks on each album before it gets too one-dimensional because of my limitations as a vocalist."
Del Naja said that Masive Attack are still planning to use Liz Fraser and Hoarce Andy guest vocalists on the album. However, he said there is "a lot of waiting involved".
He continued: "We're not in a hurry to put anything out because, even though we know there's a lot of really appreciative people out there, we're a bit put off by the way the market is. We're not in a hurry because we don't feel like there's any time frame we have to fit into."
He added that the band still hope to release a record in the autumn, because if not, it will not be released until "spring 2002".
14th May 2001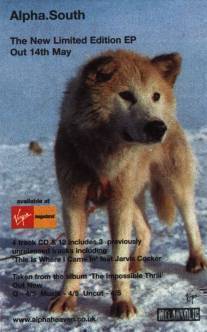 Today sees the release of the special limited edition 4 track Alpha.South ep, which is avaliable in CD and 12" formats.It includes 'This Is Where I Came In' with vocals by Jarvis Cocker, a new remix of South and two new tunes, Sea & Rum
11th May 2001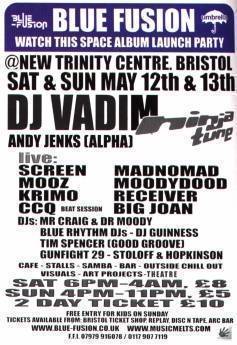 10th May 2001
Godfathers of the Bristol sound, The Wurzles are to re-release their 70's hit "Combine Harvester" complete with bang up to date for the kids remix. For every CD sold ,The Wurzles have pledged to donate 50p to Farm Aid, in aid of farmers stricken by foot and mouth. Accordian player Tommy Banner hopes that the single will enjoy the same success as their Best Of compilation released last year. He said, "It's been 25 years and somebody mooted we give it a remix. We wanted Fat Boy Slim to do it but he wasn't free."
9th May 2001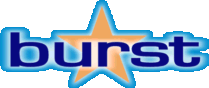 Day One will play a live radio session next week, previewing new material on Burst 106.6FM. They will appear on James Brewster's Thursday show, BSX, on May 17th. As well as playing acoustic versions of new and old songs, they will play a choice of favourite records.
8th May 2001
Apparently Massive Attack's new club is to be called Nocturne.

21st April 2001


Register on the official site and get a free T-shirt - result!
20th April 2001


April 18th 2001
Massive Attack, Asian Dub Foundation, Courtney Pine, Des'Ree and Mica Paris are among the artists set to appear at a memorial concert at the London Kentish Town Forum on April 22 for murdered black teenager Stephen Lawrence. All proceeds will go to the Stephen Lawrence Charitable Trust. The Prodigy are also rumoured to be amking a rare live appearance. For tickets, ring NME's 24-hour Ticketline on 08701663666.
March 30th 2001
Madonna, Radiohead and Paul McCartney are possible names being lined up by Glastonbury organiser Michael Eavis for a Farm Aid style festival to help beleaguered farmers hit by the foot and mouth crisis.Eavis has confirmed that he is considering staging the event.Bath may be a possible venue and a possible date could be 17 September. 'Artists seem to think it's something worth doing, so that's promising,' says Eavis who has refused to confirm which artists he's approached. 'The artists I'm speaking to all have an affinity with the countryside and want to do something to help,' he says. 'We have a beautiful countryside and we should be proud of it.' A spokeswoman for Eavis told worldpop: 'The negotiations are still tentative and nothing has been lined up yet but it's definitely something Michael is considering.'Anthony Gibson of the National Farmers Union has welcomed the idea. 'It's a wonderful idea,' he says. 'Farmers in this country are hurting and this will really give them a lift.'Paul McCartney and Jethro Tull frontman Ian Anderson, who both have farms, are believed to be considering offers to play at the event.Eavis cancelled this year's Glastonbury Festival over safety fears and concerns about overcrowding due to fence jumpers. He was keen to ask Madonna to headline this year's Glastonbury festival if it had gone ahead, so she may headline this alternative event instead. Eavis' Worthy Farm has, so far, escaped the foot and mouth crisis but Eavis has admitted he would have been forced to scrap this year's Glastonbury festival anyway over the current crisis.
March 28th 2001



The Bristol Community Festival will not be taking place in Ashton Court this year, due to the Foot and Mouth epidemic. Other locations considered have been, the Downs although, surprisingly, the residents said no chance. Somehwere in South Bristol is rumoured.
March 27th 2001
Check this out: Music by SUNNA has been used in a cartoon.
March 27th 2001
A new single will be released by the Prodigy at the end of the summer. The track, 'No Souvenirs', is a collaboration between the band and Massive Attack's 3D. Written in 1999, it was originally scheduled to feature on the soundtrack to 'The Beach'. According to 3D, the track is "slightly Pink Floyd, slightly Beach Boys in places; full-on dark but very musical with some great arrangements." It wasn't used on 'The Beach' because "the rest of the album was too dance- and pop-orientated". The single looks likely to be released between July and September. However, their new album is still unlikely to be finished until next year.
March 26th 2001
Those of you in or around London tomorrow (Tues 27th) can catch Alpha live at Dingwalls in Camden. On stage @ 10pm for a BBC Radio 3 recording to be transmitted on Sat 31st March @ 22.45 (UK time) (those of you overseas should be able to hear this on the internet through the BBC's site)
March 23rd 2001



The new album from Alpha: The Impossible Thrill, OUT NOW!
To download an interactive sampler
Mac users Click Here PC users Click Here
March 20th 2001
The Official Alpha Website has gone beyond the initial teaser and is fully up and running.
March 19th 2001
David Bowie and Massive Attack have recorded a track together for a forthcoming soundtrack. The reworking of the classic 'Nature Boy' was put together in a cross-continental fashion, with Bowie laying-down his vocals in New York. 3-D apparently completed the recording in London. According to reports in the UK, Bowie describes the track as slinky and really mysterious. He said: "3-D has put together a riveting piece of work."Previously recorded by the likes of Frank Sinatra, Nat King Cole and John Coltrane and will feature on the soundtrack to the forthcoming Ewan McGregor and Nicole Kidman film 'Moulin Rouge'.
On the band's website, 3-D confirmed that the band had been recording with a fresh slew of contributors, believed to include Blur's Damon Albarn and Bowie. He said: There's other people we want to work with and we're sending tracks to them at the moment so it should be interesting to see what happens there.
March 16th 2001
Sunna played the Fleece and Firkin lastnight and it was my first opportunity to witness the full Metal Fury live. What can I say - they were excellent as they powered and rumbled their way through the album. Full marks to the guitarist for playing with broken legs or something. Sound could have been louder but all in all a great gig. Particularly enjoyed the Opener - I'm Not Trading, Power Struggle and the one that sounds like Breath of the Pink Floyd Album Dark Side Of The Moon. I think the last one was a new tune, as I don't recall hearing it on the album, so the next release will be essential as it was a corker.
Both the support bands were shite, one attempting to be a Metal Pixies complete with american accent, but then I don't think they were targeted at me. Apart from this it was my first rock gig for a while and very enjoyable. Recommended.
March 14th 2001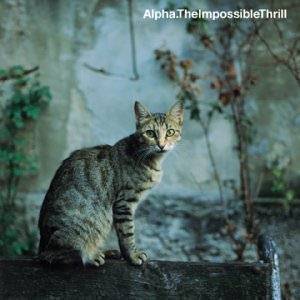 The Impossible Thrill is the sophomore album from retro futurists Andy and Corrin. They are signed to Massive Attack's label Melankolic and fuse of blend of influences from the likes of George Martin and Minnie Ripperton. The album illustrates Alpha's slow and emotive song writing and production. Believe it or not the album was recorded in a barn in Bristol where they live and add gravely to the mood of the sounds on this masterpiece. The duo have taken their other-worldly downtempo songwriting to another level, and created an album full of liquid torch songs and soulful sampladelia. They have also enhanced the dynamic of their sound by using more live instrumentation and more upbeat tempos. Vocal contributions come from Wendy Stubbs, Helen White and Martin Barnard, the same talented crew who sang on the debut album, as well as one vocal from Massive Attack's Daddy G. Alpha have attracted the attention of several big artists in recent years, not least of them Madonna, who voted their "Pepper" remix collection her favorite of 1998. "The Impossible Thrill" will be released on March 20.
Also watch out for other fantastic sounds from Alpha who will also release an EP full of alternative material as well as a cameo from Pulp front man Jarvis Cocker. It is released on March 19th. Check the extemely dodgy raft for new sounds. I would have to recommend the stateside virgin records, astrelwerks site as a better option mind.

12th March 2001
Day One will be releasing a new album, the follow up to Ordinary Man, this year.
2nd March 2001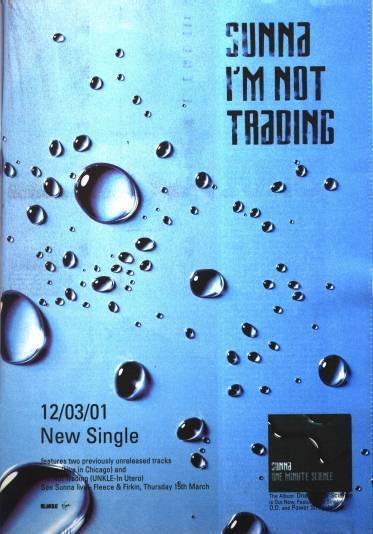 Melankolic Metalers, Sunna release a new single on 12th March. I'm Not Trading includes two previously unreleased tracks, one recorded live in Chicago and an In Utero- Unkle Mix. They play the Fleece & Firkin on Thursday 15th March.
The Bristol natives have spent the last few months on the road. As a reward they have just embarked on a UK tour which they are headlining. Not bad considering they released the first single 'Power Struggle' a mere 3 months ago. Expect more from this talent as 'I'm Not Trading' proves that they have far more to offer on their enchanting debut album 'One Minute Science'. Check their website for a groovy video.
February 23rd 2001



Massive Attack have bought city centre nightclub The Silent Peach, a basement club in Unity Street, Bristol. The club's previous owner Jez Avern-Kramer said he decided to sell up so that he could soend more time concentrating on making a film. He said he had spoken with Robert Del Naja in London since the sale thi sweek, but was not certain what plans the band had for the club. Jez said, " I imagine they'll change it's name, because we're calling the film company Silent Peach productions. Apart from that i'm entirely in the dark. I've been caught up in post production on the film, which is going to involve a lot of people from Bristol."
Alan Wood of property agent Moore Wood & Cockram confirmed that offers invited for the lease of the club were in the region of £120,000.
A spokesman said the group had no comments on their purchase of the club at this stage.
A Former Silent Peach welcomed the club's new owners. DJ Fat Paul ran the popular Espionage night at the club for five years, then switched it to the Hatchet, when the club shut in December. He said that he did not think Espionage would return to the Silent Peach. because it's retro psychedelic music would not suit Massive Attack's style. Paul said "Good on them. I don't think they'll want my type of music, but I'm happy at the hatchett and wish them the best of luck. I'm sure they'll make it an interesting club. It's a very intimate venue, so when you go there it feels like you're at a house party. It had a good refit about a year ago, and it's a difficult place to redesign because all the walls are supporting ones. The club is known to get quite hot so they could have a go at improving the air conditioning."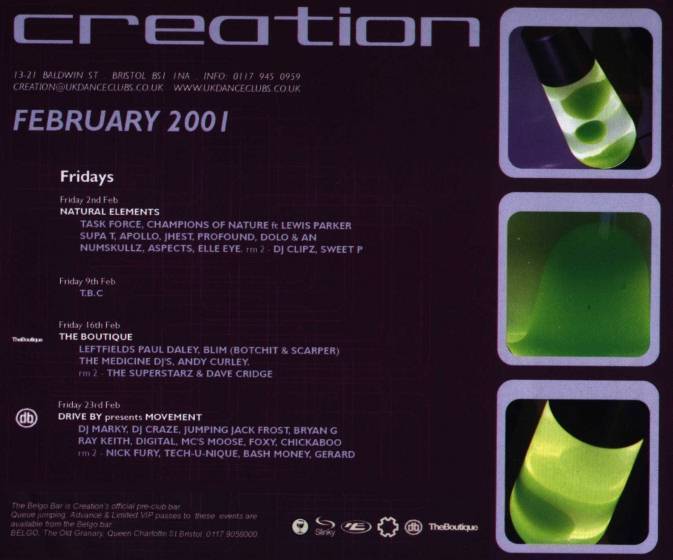 11th January 2001
Massive Attack have provided further clues to the direction of their upcoming fourth album with their remix of A Perfect Circle's "3 Libras," released in Britain this week. Featured as a B-side to the "3 Libras" single, the "All Main Courses mix" spins the original song out to more than double its three and a half minutes, drowning it in a deep, dark collage of looped vocals, haunting keys and otherworldly echoes. It's uncertain whether the A Perfect Circle remix, which is available for download on MTV.com , will be >released commercially in the U.S., according to Virgin Records. In remixing "3 Libras," the members of Massive Attack - Robert "3D" Del Naja and Grant "Daddy G" Marshall - ended up with two distinct songs: the remix itself and a track of their own, called "All Main Courses" - according to a post from Del Naja on the group's official Web site, "All Main Courses" may appear on the forthcoming Massive Attack album, which will also feature vocal work from previous collaborator and former Cocteau Twin Liz Fraser along with other, as-yet-unnamed vocalists (very possibly including reggae veteran Horace Andy, who has appeared on every Massive Attack full-length to date). The "3 Libras" remix follows the band's offering late last year of a new track, "The Nature of Threat", for download on its Web site. Other recent work for the U.K. trip-hop originators includes scoring a boxing sequence in Guy Ritchie's latest film, "Snatch," which hits theaters Stateside on January 19. The new offering won't appear on the film's soundtrack, which comes out Tuesday, though the group's single "Angel", from 1998's Mezzanine, will.
10th January 2001
MASSIVE ATTACK's fourth studio album could feature two tracks that the band collaborated on with BLUR frontman DAMON ALBARN. The Bristol trip-hoppers have a total of 85 possible tracks for the as-yet-untitled album, and in this week's NME, on sale throughout the UK today (January 10), Robert '3D' Del Naja said they were working on 15 of those "more seriously" than the others. He said: "It sounds ridiculous, but that's the way we work. There's about 20 tracks knocking around and I think 15 of those that we're taking more seriously than others. Elizabeth Fraser's (former Cocteau Twin and frequent collaborator) been working with us again, of course, and myself and Grant ('Daddy G') Marshall have been working on vocals. . We've been looking at another couple of people, but I don't know if we want to have too many voices on the album... We might want to simplify it this time." "The idea is it will tell a story, but there will be more up and down, with a greater contrast between the tracks themselves." But he added that Damon is unlikely to appear as a guest vocalist. "He's got a lot on his plate at the moment and I think he liked the idea of writing something for someone else... The last two Blur albums have been brilliant, really interesting. It's not so much a musical crossover, but there's that willingness to experiment... that's what I've got in common with all the bands I respect - with Prodigy, with Blur, with Radiohead. They're never going to be satisfied staying where they are, they're always going to be pushing themselves." The album is due for release in the summer. Del Naja said last year that he wanted to hold back on releasing new material because of the "piss poor" state of the UK music scene.