31st December 2003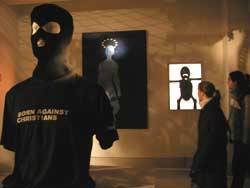 Check out
http://www.picturesofwalls.com/
for exclusive prints by 3D. They aint cheap mind.

10th December 2003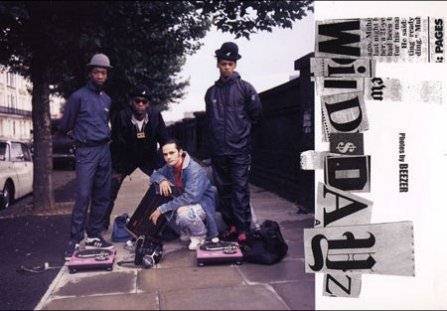 PHOTOS BY BEEZER/THE WILD DAYZ

NEW WAVE
HIP HOP
MIX
MILO & NELLEE HOOPER
REGGAE
DUB
DADDY G
3D
MASSIVE ATTACK
SMITH & MIGHTY
JAH SHAKA
ARI
THE BLUE AEROPLANES
MARK STEWART
ADRIAN SHERWOOD
THE BRILLIANT CORNERS
WILD BUNCH
BRISTOL



BOOK/DVD released in Japan 28th November 2003 by RUSH PRODUCTION / ASMIK


9th December 2003

3D has condemned the decision to release a POP IDOL version of JOHN LENNON's single 'HAPPY XMAS (WAR IS OVER)' this Christmas, calling it "utterly repugnant as a choice of song by anyone right now".
Massive Attack have joined up with the Campaign for Nuclear Disarmament (CND) in opposing the single and are calling for all profits from the sale of the CD to go to humanitarian aid organisations working in Afghanistan and Iraq.
3D said"This is a new low - it is utterly repugnant as a choice of song by anyone right now. US planes bombed and killed children in Afghanistan this week, US troop deaths since May have topped 200 and there have been thousands of Iraqi civilian casualties since Bush declared the war to be over."
Kate Hudson, CND Chair, said: "This move is both insensitive and offensive to those that have lost friends and family in the war."
However CND said that they have not heard the single and has no criticism of the singers or their ability.


28th November 2003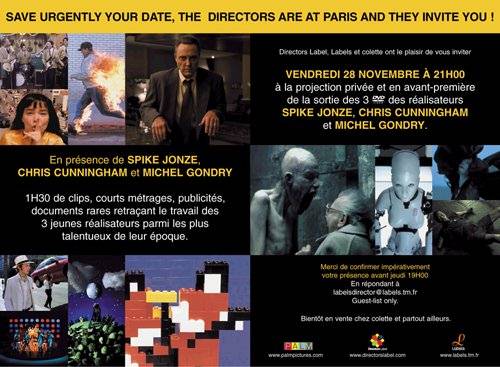 24th November 2003

Check out
Horace Andy live in Paris last week - cheers Florence.


19th November 2003

RADIOHEAD's THOM YORKE is spearheading a growing chorus of protest aimed at US President GEORGE BUSH's visit to the UK – branding him and TONY BLAIR "liars".
Bush and a massive entourage came to London this week (November 18) for a rare state visit. Even before he arrived the trip provoked fury, with reports that US security officials wanted to create a three mile 'exclusion zone' around him, effectively shutting down central London and stopping legitimate protesters from getting anywhere near the President.
Angry at what he sees as using the "threat of terrorism to suppress whatever they choose", Thom Yorke e-mailed NME last week, urging people to protest against the visit.
When asked why he'd chosen to speak out, Thom told NME: "To make Blair squirm over his decision to take us into a illegitimate war (In Iraq) and follow this religious lunatic (Bush) toward a dangerous future for the whole planet.
"Both of these men are liars. We have right to call them such, they are putting our children's future in jeopardy. They are not controlling the terrorist threat, they are escalating it. Blair will not be allowed off the hook by his pathetic pleading for us to 'move on', neither shall Bush."
Thom continued: "(The visit) will be heavily staged I think. I expect they will use the threat of terrorism to suppress whatever they choose, intimidate and arrest whoever they wish. The majority of British people were against this war, and Bush's visit will just taint Blair even further."
While in the UK Bush will be staying in Buckingham Palace. Yorke urged the Royal Family to "do something useful" and protest too. He continued: "This is a royal invitation isn't it? How about one of the little heirs to throne doing something useful with their lives and speaking out? Refusing to shake hands for example? As we are still awaiting the results of the Hutton Inquiry I think now is a good time to remind Blair that he's on very very very very very very very very thin ice."
Anti-war protesters Damon Albarn and Robert '3-D' Del Naja have also spoken out. 3-D told NME.COM: "The state visit of George Bush is an insult to the entire nation. The daily death and chaos in Iraq is escalating. This visit divides our people and our communities. The war on terror has only created more anger, more frustration and more militants. And the country continues to evolve into a future target for extremists."
Albarn added: "We are still at war. We are still good at watching war. What does watching war tell us about ourselves? How does war lead to peace? How does watching war lead to peace? Two million people asked a question on February 15 - Why War? We haven't had an answer yet."
Travis singer Fran Healy also contacted NME.COM. He said: "Terrible timing from our government. WHY NOW? How insensitive is this? Nothing surprises me any more. The whole thing stinks. A three-mile bubble. Impressive. And the great thing is- we pay for it. We pay for all of it and we'll keep paying in money and in lives for a long time to come. I wonder if Bush realises he's the most unpopular man in the world. That is some feat. How does that feel? I am interested to see what happens. The police are gonna have their jobs cut out for them."
CND are helping organise a protest march in London, which assembles tomorrow (November 20) at 2pm on Malet St. The march will go on to Trafalgar Square.
NME 191103


16th November 2003

http://forums.massiveattack.co.uk

ROBERT DEL NAJA 2
Guest
Posted: Sun Nov 16, 2003 2:03 pm Post subject: 51ST STATE VISIT
--------------------------------------------------------------------------------
COOL-SOME FUCKER HAS REGISTERED IN MY NAME-SO MINE WILL HAVE TO CHANGE-SORRY ABOUT THE DELAY IN RESPONDING-I WROTE A LIST OF ANSWERS AND LOST IT LIKE A C**NT-BEEN MANIC THE LAST 2 WEEKS-WE LOST OUT ON BUYING THE CLOCKTOWER OF AN OLD HOSPITAL-AND HEVE THE OPPORTUNITY TO BUY SOME BARNS JUST OUTSIDE BRISTOL-WE ARE ALSO WRITING OUR FIRST FEATURE LENGTH SCORE FOR THE MOVIE "DANNY THE DOG"-A LUC BESSON PRODUCTION STARRIN JET LI, MORGAN FREEMAN AND BOB HOSKINS-WE HAVE TO COMPLETE IT BY XMAS-GREAT TO WORK WITH A DEADLINE-MADE A COOL START TO LP5-EVEN DONE SOME NEW VOCALS-WHWN I SAY WE.....STILL WAITING FOR OUR KID TO MAKE AN APPEARANCE AT THE STUDIO.GONNA DO SOME BIZNIS WITH BANKSEY-SELLING MY WORK ON HIS "PICTURES ON WALLS" SITE-GONNA OPEN A NEW SITE NEXT YEAR SELLING ONE OFF ART BOOKS AND CLOTHES AND TOYS ETC-WE WILL RADICALLY UPDATE AND IMPROVE THIS SITE ASAP-"NO SOUVENIRS" MAY SEE THE LIGHT OF NIGHT SOON-AS LIAM IS WORKING TO COMPLETE NEW PRODIGY ALBUM-
NOT SURE IF WE STILL WILL RELEASE A DVD-BUT WIIL LICENSE THE LIVE FOOTAGE TO TV NETWORKS ALL OVER EUROPE AND JAPAN-WILL BE IN TOKYO AGAIN IN DECEMBER TO HELP MAY OLD MATE BEEZER LAUNCH HIS BOOK"THE WILD DAYS"-2 BOOKS WILL BE IN PRODUCTION NEXT YEAR FEATURING PICTURES AND WORDS AND DATA FROM THE LAST YEAR-"FITTING-IN" IS GOONA BE REPRINTED AT AN ACCESSIBLE PRICE-ANY MORE QUESTIONS PLEASE WRITE EM-LETS GO ANNOY THE FUCK OUT OF THAT PRESIDENT AND SMASH THE PLACE UP NEXT WEEK-LOADS OF LOVE AND PEACE-DEE

12th November 2003
Daddy G is apparently playing some records at Foundation in Newcastle on 21st November.

10th November 2003
Alpha have returned home from a great tour of France and Spain and would like to thank all that came to the gigs. They plan to return in the spring.
Next up....
Alpha will perform a ciné-mix at the "Forum des images" of the city of Paris (Institution dédicated to all kind of images)
Title: Le Brasier Ardent selon Alpha
Samedi 15 Novembre 21h30
Forum des Images/ Auditorium
Forum des Halles/ Porte Saint-Eustache
75 001 Paris
Tel: 01 44 76 62 00
Andy will DJ at the Toyota gallery on the Champs Elysées, Paris, from 8:30 pm till 10:30 pm on 19th November.
Alpha play Cube cinema Bristol again on the 18th December.
www.alphaheaven.com is about to be updated in the next couple of days with a free unreleased alpha song 'Morning Jam', featuring Helen White at the download page. The News page will be updated, there are some photos now within that page.
There are posters of the 'Come From Heaven' and 'Stargazing' covers at the shop.
If you haven;t already, do join the mailing list, which is where all this information came from - They will be sending a short MP3 of a live tune to the mailing list soon.

1st November 2003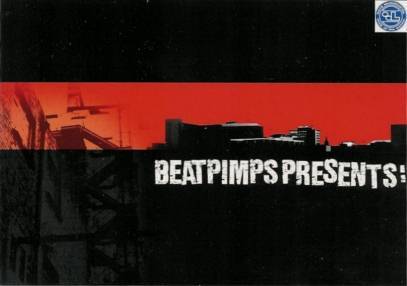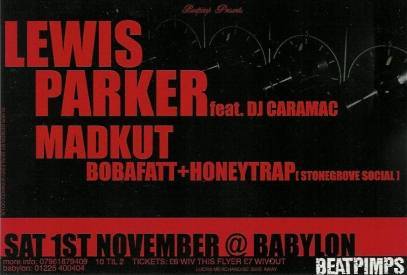 "Club was busy but not packed. DJ's were good - (don't know who was who tho, sorry!) playing good mixture of proper hip-hop - none of that Nelly shit. Variety- from Snoop and Dres Deep Cover thru to instrumental of that Roots Manuva tune (name escapes me but the one you hear everywhere with the weird spacey sounds). Lewis didn't go on til about 12:30 and had shot his load by 1:15 or so so short and sweet. The advantage of Babylon is its so small and personal I could have reached out and touched him (but I aint that way inclined). He got the crowd going with shouts of "take money, money" and the usual. Sound isnt great in there but mainly because of weird shape - all little rooms and corridors - acoustics not good at all. Some areas all bass and high freq. with no mid-range. Got to be near the front on the floor. Young bi doriss dancing there too so all good! Young crowd in general as usual.
You prob didn't want to know all that but I thought I'd tell you anyway." DJ Muppinski

27th October 2003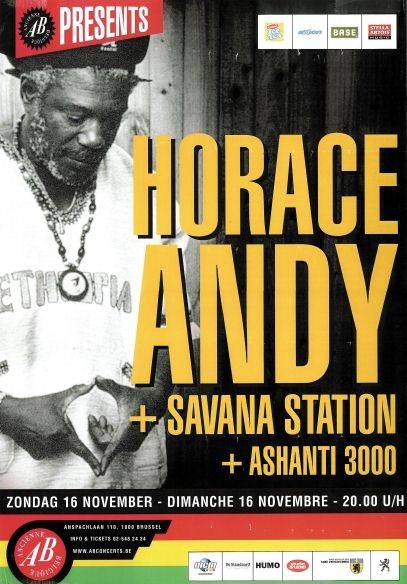 Palm Pictures in collaboration with Spike Jonze, Michel Gondry and Chris Cunningham unveil The Directors Label, a unique director-created and compiled DVD series featuring music videos, shorts and commercials, and special features including interviews, alternate versions, unseen short films & documentaries, behind the scenes footage and commentaries from various featured artists and collaborators. Each release will be specially packaged and include a deluxe book full of never before seen photographs, storyboards, drawings and interviews. The Directors Label will debut on October 28 with the simultaneous release of The Work of Director Spike Jonze, The Work of Director Chris Cunningham and The Work of Director Michel Gondry.
"Michel and I have been talking about this forever," says Directors Label co-founder Spike Jonze. "A couple of years ago we talked to Chris, which got us motivated. I'm so excited we're finally getting it together. I can't wait to see what Chris and Michel put on their DVDs.
"I have long admired the work of Spike, Chris and Michel and feel this DVD series is the perfect way to release all of the best work from a new generation of talented and influential filmmakers," adds Palm founder Chris Blackwell.
French-born Michel Gondry is known for his visually groundbreaking imagery and re-interpretations of reality. A former drummer, his first collaboration with Björk for "Human Behaviour" (featuring Björk as a hunter who eventually winds up inside a bear's stomach), helped revive what was then a dwindling music video industry, and went on to win nearly every music video award. The project sparked a creative relationship between Gondry and Bjork, which led to five more videos. Gondry has also directed the Rolling Stones' "Like A Rolling Stone," Beck's "Deadweight" (set in a world in which everything is reversed); and Radiohead's "Knives Out" (featuring a life-size version of the Operation board game where Thom Yorke and his "girlfriend" play out the demise of their relationship), as well as videos for the Chemical Brothers, the White Stripes, Daft Punk, and the Foo Fighters amongst others.
The series will be produced by Palm Pictures' Richard Brown and Jonze's longtime producing partner Vincent Landay, with Julie Fong and John Payne acting as producers for Gondry and Cunningham respectively. Executive Producer for Palm Pictures will be Paul DeGooyer.
The series will be released in Japan in late 2003 through a licensing arrangement between Palm and Japanese film company Asmik Ace. Plans for additional international releases are currently being completed, and the series will be released worldwide by early 2004.
Additional Directors Label volumes in the ongoing DVD series are slated for release in spring 2004.
E-Card: http://www.palmpictures.com/directorslabel/ecard/index.htm
www.directorslabel.com / www.palmpictures.com

11th October 2003
http://forums.massiveattack.co.uk/viewtopic.php?t=4172
ROBERT DEL NAJA
Guest
Posted: Sat Oct 11, 2003 2:53 pm Post subject: WAXWORKS AND WONDERS
--------------------------------------------------------------------------------
HELLO.STILL REELING FROM SEEING DAMON ON JONATHON ROSS SHOW LAST NIGHT-TOOK 4 HOURS OF THIS IS FOOTBALL 2003 TO SLEEP.CERTAIN BANDS THIS YEAR HAVE BEEN DOING THE PROMO THING IN A MORE CONVENTIONAL WAY THAN THEIR HISTORICAL/POLITICAL POSITION ON THE INDUSTRY WAS-THIS HAS NOT TRANSLATED TO MUCH GREATER ALBUM SALES-A STRANGE TIME .WE MAY HAVE FINALLY FOUND OUR STUDIO-JUST OUTSIDE BRISTOL-PART OF A FORMER LUNATIC ASYLUM[SICK] FINGERS CROSSED-ARE WORKING ON AN EP-8 TRACKS -REWORKS/MIXES AND NEW THINGS-A VIDEO TO GO WITH IT-TO SUPPORT THE RELEASE OF A LIVE DVD FROM THE TOUR-AND AN ENHANCED 5.1 100TH CD WITH VISUAL LEVELS-IDEAS FROM THE 100TH LIGHT/INFO SHOW- GOT A FEW IDEAS ABOUT THE VOICES FOR NEXT RECORD-BUT WOULD LOVE IT TO BE BLUES/SOUL-THEN PSYCHOMONTAGES WITH MORE HIP HOP BEATS AND MORE GUITAR ETC ETC-GONNA BE OUT TO PROTEST BUSH'S UPCOMING STATE VISIT-GOT SOME PLANS WITH CND-PEACE

10th October 2003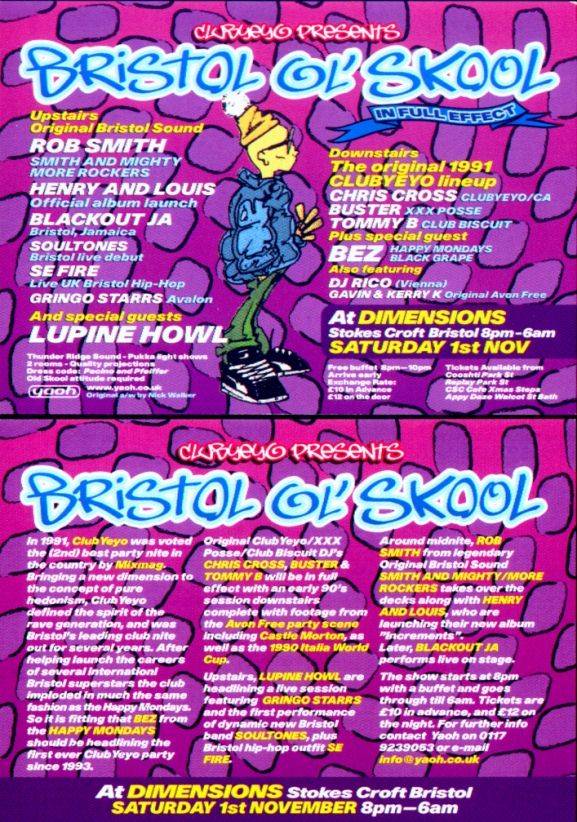 9th October 2003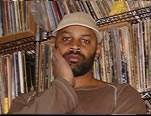 Former Wild Bunch DJ, Milo has recorded a new album entitled 'Suntoucher', which has been released in Japan via Dimid recordings. You can listen to clips here.
thanks to the BZA

8th October 2003
WHAT'S ON MASSIVE ATTACK'S STEREO?
The Mars Volta 'De-Loused In The Comatorium' LP
3D: "It kind of ties in with all the 70's prog rock stuff that I'm really into at the moment. It owes a lot to bands like Colosseum who used to mess around with weird jazz drum kicks and things like that. It's been on my stereo constantly for over a week now."
NME. thanks to the BZA

3rd October 2003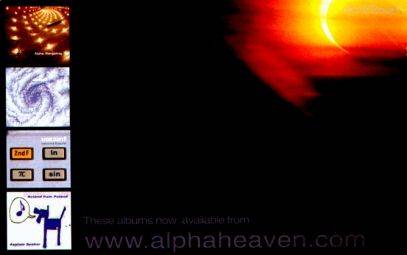 24th September 2003
Check out the following link for a free mp3 of its All Good courtesy of Rolling Stone magazine. This is part of Massive Attack's contribution to Sinead O'Connor's' forthcoming album, "She Who Dwells...", the other being a demo of Love is Ours.
http://www.rollingstone.com/dds/track.asp?rid=40165&listen

22nd September 2003
Alpha are to play the following gigs in October and will be playing other territories in the following months. They are sorry to those who will not be able to see us this time.
Thu 02 Oct U.K. Bristol Cube (Tickets available from imperial, Park Street)
Mon 20 Oct France Montpellier Rockstore
Tue 21 Oct France Bordeau CAT
Wed 22 Oct Spain Barcelona Bikini
Thu 23 Oct Spain Madrid Caracol
Sat 25 Oct France Reims Octobrock Festival
Sun 26 Oct France Paris La Maroquinerie

http://www.cubecinema.com/
http://www.alphaheaven.com/

21st September 2003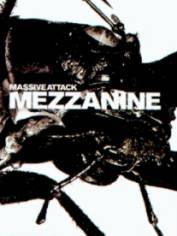 CD Cover Tom Kingston
EVENT LONDON CREATIVE FUTURES
From 22nd of September Hosted by Creative Review, the design industry's bible, Creative Futures is a showcase of up and coming young talents in the creative arts. There's a packed schedule which includes a 3 week stylistic takeover of the Oxford Street Selfridges windows and from October 1st you can study all of the featured artists work in greater detail at the Creative Future's exhibition at the Menier Chocolate Factory Gallery, 51/53 Southwark Street, SE1. A series of talks will also be hosted by Creative Review and speakers will include designer Tom Hingston (clients include Massive Attack, Robbie Williams, NUPHONIC and others), Typographer Swifty, photographers Warren Du Preez and Nick Thornton Jones. A good opportunity for you young design pups to rub shoulders and gleen some inspiration from those considered to be the best in the business at the moment.
For sponsorship opportunities contact Gemma Kay on 0207 9706266
www.creativereview.com

11th September 2003
http://forums.massiveattack.co.uk/viewtopic.php?t=3903

ROBERT DEL NAJA
Guest
Posted: Thu Sep 11, 2003 2:16 pm Post subject: LINE CHECK
--------------------------------------------------------------------------------
LINE CHECK

ROBERT DEL NAJA
Guest
Posted: Thu Sep 11, 2003 2:34 pm Post subject: RE-ENTRY
--------------------------------------------------------------------------------
BEEN AWAY ON MEDICATION -CAME ROUND YESTERDAY-IN THE STUDIO NEXT WEEK,WE ARE IN FACT HOPING TO COMPLETE A PURCHASE OF A PROPERTY NEXT WEEK -IF IT GOES THRU WE MAY WELL SPEND THE REST OF OUR CREATIVE DAYS THERE.SPENT A LOT OF TIME GOING THRU EVERYONE'S THOUGHTS-A SHAME BOUT AMERICA AND CANADA-TOO EXPENSIVE TO TAKE THE 100TH PRODUCTION CONCEPT OVER-INSTANT BANCRUPCY-GONNA TRY A REDUCED CONCEPT NEXT SUMMER-MORE EXPERIMENTAL AUDIO AND VISUAL-ON SMALLER SCREENS-MAYBE LCD-MORE FUCKING AROUND ON STAGE -LESS OF A GRAND SHOW.MAYBE WE CAN DO US/CANADA/S.AMERICA THEN.THANKING EVERYONE FOR THERE TIME AND SUPPORT AND PICTURES AND STORIES AND OPINIONS THIS YEAR-ALOT OF ARTISTS ARE SHIT SCARED OF READING REVIEWS AND ARE TERRIFIED OF WHAT THEY'LL FIND ON FORUMS-I LOVE IT-EVEN WHEN IT HURTS.THE SHOP IS NEARLY READY-IT WILL SELL EVERYTHING AND ANYTHING WE FIND THAT IS RELEVANT-EXCEPT MUSIC-AS U KNOW THAT INDUSTRY IS FUCKED-I REPEAT...WE 'VE GOT SOME AMAZING ONEOFF ITEMS-CLOTHING CUSTOMISED BY THE 100TH SCREEN -ART PRINTS-2 NEW BOOKS IN PRODUCTION-AS WELL AS CLOTHES,BOOKS AND ART PIECES/TOYS FROM OTHER ARTISTS AND PHOTOGRAPHERS-OVER THE NEXT 6 MONTHS,WHILE RECORDING-WILL BE MAKING SMALL DIGITAL FILMS FOR THE SITE-SOME BASED ON THE 100TH SONGS-NOCTURNE IS REOPENING SOON-NEW MEMBERSHIPS ARE AVAILABLE-JUST COME DOWN IF U ARE IN TOWN
LOVE AND RESPECT TO EVERYBODY-ROBERT

ROBERT DEL NAJA
Guest
Posted: Thu Sep 11, 2003 5:55 pm Post subject: USING THE POWER
--------------------------------------------------------------------------------
Opinion
------------------------------------------------------------------------
Losing the faith
Thom Yorke Monday September 8, 2003 The Guardian
The west is creating an extremely dangerous economic, environmental and humanitarian timebomb. We are living beyond our means. The poorest countries need to trade on fair terms with us if they are ever to get off their knees. Handouts are no longer the answer.
When the WTO started out, poor countries were spun the line that they could gain access to western markets if they signed up to a pro-business agenda - even though that agenda was potentially at the cost of their already suffering populations.
The west has not fulfilled its part in those agreements. It has reneged on its agreement to cut subsidies to its own farmers, and rules on intellectual property rights mean drugs are too expensive and 30,000 people die every day as a direct consequence. When developing countries export to the west they have to pay tariffs four times that between western countries themselves, costing £63bn per year.
Why?
Western governments, as they increasingly lose their grip on the reality of the situation, see the key to fixing these problems (that they have helped to create) to be... more liberalisation.
This, to me, feels like a bus full of religious lunatics rolling into town singing free trade songs and banging tambourines as war and famine break out and all about them turns to shit. It's nonsense. Why should the most desperate continue to cooperate with such fools when they increasingly have nothing left to lose? They are not seeing the so-called benefits but they are seeing too much of the costs.
This sort of free trade capitalism is a faith. A faith against all the odds. Nowadays it seems to have taken on the authority of the word of God, as if it has always been thus. But all it is really is a set of trade rules that should and could benefit all, and could be changed. Why should it be a corrupt protection racket?
There must be a change to trade rules in favour of the poor and the environment. International human rights must be respected. There must be corporate accountability so that multinationals are taken to task over corruption, human rights and environment abuses.
What the developing countries need is to be able to protect the livelihoods of their own farmers and allow their industries to develop.
Increasingly the effects of such globalisation make it clear the only ones benefiting are the multinational corporations, who have the ear of our governments and are having their free trade cake and eating it. They make sure any rules affecting their "freedoms" are first on the agenda at the WTO.
Poor countries are told this is free trade - this is the way we succeeded, this is how we built our great capitalist system.
The amnesia and hypocrisy is breathtaking.
Even the World Bank now admits that a nation's economy needs protection for it to grow in its early stages of development, just as it did in the UK, US and Asia. The constant mantra of the "trickle-down" effect of wealth creation is comical. It's so last week, dahling.
What the poorest countries need are specific policies that improve their situation in their terms.
When I got involved in Jubilee 2000, and tried to persuade governments, the IMF and the World Bank to cancel the unpayable debts it seemed like a reasonably fair thing to ask.
The situation was so utterly ridiculous I didn't believe they would deny us. But they did.
They found every excuse they could, but the only reason that I could find was that the west cannot shake its need to control the rest of the planet in any way it can. They cannot shake off this colonial attitude. In order to keep order they have to have fingers permanently wrapped around throats.
Debt burdens are a beautifully tight noose, and now, even better, they have the WTO to do the dirty work for them.
Poor countries at the WTO have been too scared to speak out, for fear of making their situation worse, and they are outnumbered. Sometimes countries cannot afford to send even one representative to the WTO meetings. Yet the EU can send 500. Much of the agenda is still decided by the rich nations in closed meetings. The WTO, thus far, has been hijacked.
But I think this is the turning point. This is a crossroads in the global economic system. Do we carry on preaching this free unfettered trade garbage or do we admit our mistakes and try to do the right thing for once?
The Trade Justice Movement states that if Africa, east Asia, south Asia and Latin America could increase their share of world exports by 1% it would lift 128 million people out of poverty. Just how difficult is that?
· Thom Yorke (lead singer of Radiohead), on my small soapbox in a hotel bathroom in Washington DC.

26th August 2003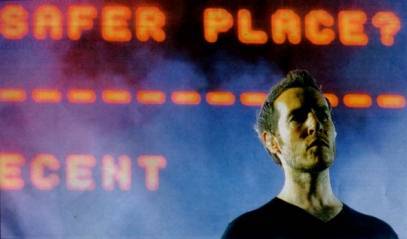 About 20,000 pop music fans packed into an historic square in Bristol on Monday to see Massive Attack play a homecoming concert. Over the past few days Queen Square in the city centre had been transformed into the open air concert venue. It was the first time the group - currently on a world tour - had played in Bristol for five years. Band members said it was great to play in their home city but added it was time the city had a proper concert venue. "Bristol still hasn't got an arena which is a shame because the city's been missed out on the map by a lot of bands on their tours, so this is a way of compensating for that a bit," said 3D. After Bristol, the 100th Window tour heads for Paris and finally Belgium before a return to the UK and into the studio. He added: "We've just bought a building outside Bristol and are installing all our stuff in it so we're waiting to go into the studio to work for the rest of the year. "We've got a massive amount of stuff written on the back of bits of paper and hotel menus."
The group were supported by acts including The Streets, Goldfrapp and The Bees in a concert which went on until about 2300 BST.
http://www.bbc.co.uk/

25th August 2003
Massive Attack fans got a sneak preview of Bristol's music event of the year when hits by the band were blasted out at the soundcheck for today's concert in Queen Square. The event ends a five-year wait for followers of the Bristol-based group, who last played in the city in 1998 at the Anson Rooms. And office staff in Queen Square are coming in to work their bank holiday to get a free view of the gig. Organisers have been inundated with requests from hundreds of staff saying they need entry to offices surrounding the historic square. Massive Attack are headlining the charity concert, which 19,000 are expected to watch. Concert organiser Conal Dodd said: "We have written to all the local businesses. There's about 2,000 people who work in the square. "It is surprising to see the hundreds and hundreds of names that have come through, so we expect to see lots of people beavering away in their offices." It's only the third time Massive Attack have played in their hometown - and they are joined by support acts including The Streets, Goldfrapp, Horace Andy and former Tricky collaborator Martina Topley-Bird.

24th August 2003
Massive Attack Bring Karma to Dublin...
British Trip-Hop band Massive Attack brought their own particular brand of Karma to Dublin last night when they played The Point Theatre...
With worldwide hits such as Unfinished Symphony and Karmacoma the Massive Attack gig in The Point was always going to be exactly that, Massive! And even though she pulled of of their tour due to retirement Sinead O'Connor was at the gig. The talented Irish has contributed her voice to two of the songs on their latest album.
www.showbiz.ie

23rd August 2003
Work has started to transform Queen Square for a major outdoor concert by Bristol group Massive Attack. The stage on which the band will play to an expected 19,000 fans on Bank Holiday Monday is taking shape, as well as the fencing around the site. It will be the group's first appearance in Bristol for five years and could pave the way for future inner-city gigs. The Streets, Goldfrapp and former Tricky collaborator Martina Topley Bird will also perform at the concert, as will hotly-tipped Isle of Wight band The Bees and Lupine Howl, who feature three former members of Spiritualized. Conal Dodds, from concert organisers Metropolis Music, said: "It is a really good bill. It is Massive Attack's homecoming concert and one of their biggest shows. Most of the tickets have been sold but there are some still available." Gates open at 2pm with the first band starting at around 3.15pm. There will be three entrances to the concert at Queen Charlotte Street, Queen Square Avenue and Mill Avenue. There will also be road closures at Welshback stretching from Redcliffe Way roundabout to Queen Square Avenue to allow pedestrians to walk to and from the concert. The concert has been supported by three local organisations - REMIX, the Bristol and Gloucester Youth Music Action Zone along with Bristol Racial Equality Council (Bristol REC) and Bristol Young People's Services.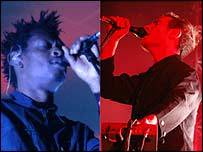 The boys are back in town
They've been on the road all year promoting 2003's smash hit album 100th Window now Daddy G and 3D are coming home for a one-off special in Queen Square.
Up to 20,000 ardent fans will pack the city centre venue for what promises to be a very special day-long festival.
"It's in a cool part of town in the city centre and it's never been done before," said 3D. "I'm torn between making a big deal of it and building it up, and not tempting fate, staying dead subtle about it you know. It's an opportunity to do something at the end of the tour in our home town."
The last time Massive Attack played Bristol was in 1998, when they appeared at the university's Anson Rooms. They have previously said they wanted to play a special concert in their home city and finally this is it, the waiting is almost over. To make the gig even more special, the band will be joined by The Streets, Goldfrapp and former Tricky collaborator Martina Topley-Bird.
"It's really nice to get people involved especially people whose music you respect - it makes the whole day more exciting over all. We're not sort of looking for a hero's welcome or anything ridiculous and we're hoping to put on a really good day for ourselves and everyone else you know," said 3D.
That may well be the case, but when they step out onto the stage a hero's welcome is what they will get. This is where they come from and the crowd knows what they're about. Although it's obvious that they are delighted to playing in Queen Square, they think it's high time the city built a venue big enough to attract top names.
"Bristol still hasn't got an arena which is a shame because the city's been missed out on the map by a lot of bands on their tours so this is a way of compensating for that a bit."
Despite rumours that Daddy G had left the band for good - mostly owing to his absence from the recording of the new album - the pair know that they are onto a good thing with Massive Attack. After Bristol the tour heads for Paris again, and finally Belgium then it's back to the UK and into the studio.
"We've just bought a building outside Bristol and are installing all our stuff in it so we're waiting to go into the studio to work for the rest of the year. We lost a couple of years with various issues with splitting up with Mushroom and we don't want to go back into that negative space again."
As to whether they already have new material waiting to be recorded and the answer is intriguing.
"We've got a massive amount of stuff written on the back of bits of paper and hotel menus but most of it will probably be terrible and 10% OK."
Before all that there's the concert to look forward to and for the boys the knowledge that after their set they wont be going to yet another hotel but instead can put their feet up and relax in the comfort of their own homes must have a positive effect on their performance. Bliss!
by Liz Lewis BBC Bristol website reporter

22nd August 2003
Organisers behind Massive Attack's home-coming concert say if it is a success it could pave the way for more inner city gigs. The band, well known for hits like Unfinished Sympathy, Teardrop and Karma Coma are expected to play to 19,000 people on Bank Holiday Monday at Queen Square - their first home town appearance in five years. Plans have been put in place to deal with the thousands of people expected at the concert with construction work on the stage and fence surrounding Queen Square beginning today. There will be three entrances to the concert at Queen Charlotte Street, Queen Square Avenue and Mill Avenue. They will be sign-posted and will be manned by security staff. An extra four exits will be opened at the end of the concerts. Tickets have been printed with a special hologram and other security measures have been put in place to make sure only people who have bought their ticket legitimately get a chance to see the band. Security staff and police will be on patrol inside and outside the fenced-off area. There will also be road closures at Welsh back, stretching from the Redcliffe Way roundabout to Queen Square Avenue, to allow pedestrians to walk to and from the concert. Conal Dobbs, from concert organisers Metropolis Music, said: "If this event goes well this could be the first of many concerts in central Bristol. "Open-air concerts are always more work and we have been planning this gig for many months. We hope people will come here and behave themselves. "We all live in Bristol and I don't think people would want to spoil it for future concerts. "It is a great bill and I am sure people will have a good time." The band last played in Bristol in 1998 at the university's Anson Rooms and have always said they wanted to play a special concert in their home city. The Streets, Goldfrapp and former Tricky collaborator Martina Topley Bird will also perform, as will hotly tipped Isle of Wight band The Bees and Lupine Howl, who feature three former members of Spiritualized. One police inspector, three sergeants and 18 constables will be on duty at the concert. Paul Gainey, spokesman for the Avon and Somerset Police, said the force hoped the all-day family event would be peaceful. Mr Gainey said: "We anticipate the event will pass without incident. "We have worked very closely with Bristol City Council, the fire brigade and ambulance service to ensure it is a safe event. "Our role is purely as a reassurance and to minimise the opportunity for crime and disorder which sometimes occurs when large crowds gather." The city council, which granted the licence for the concert, made sure there were conditions in place to protect Queen Square with the grass covered by temporary flooring. Provision has been made so residents will be able to access their parking spaces. Helen Parkes, from Bristol City Council, said: "I think the concert will reflect Bristol's commitment to being a city of culture."
Catherine Hole

21st August 2003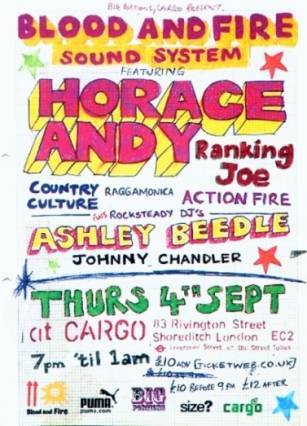 Horace Andy will be playing a gig on Thursday September 4th, starting 7:30, at Cargo in London. He will be joined by such artists as Ranking Joe, Raggamonica, Country Culture, Action Fire, No1 Selector, Steve Barrow, DOM and, Rocksteady DJS Ashley Beedle & Johnny Chandler. Tickets are £10.00, in advance, and can be purchased through www.ticketweb.co.uk.

14th August 2003



In Venue this week you can find an article on Bristol's gig of the year: Exclusive interview - Massive Attack at Queen Square. It's been on eheck of a year for Massive Attack. It started darkly, with the band on the verge of a split and those 3D allegation, before the huge successof 100th Wndow and a mammoth tour snapped them back to form. Venue talks to them exclusively on the eve of their Bristol homecoming gig.

7th August 2003
THE DANDY WARHOLS and MASSIVE ATTACK are to release a joint collaborative album.
Singer Courtney Taylor told undercover.com.au that his band and Massive Attack mainman Robert '3-D' Del Naja had been working on the project as a break from producing the band's next material.
"On and off we keep chiselling away at this sculpture we're sort of making," said Courtney. "Now we've both released records so we're busy on tour a lot. We played together in Holland, so we were talking about what to do and we're thinking since we've just built a new studio we should have them come to Portland and we're thinking maybe next Fall."
It's not the first time the groups have collaborated. In October 2000 they wrote a track called 'House Of Yes' together, and Massive Attack also remixed tracks for the The Dandy Warhols' 'Godless' EP in 2001.
(SOURCE - http://www.nme.com/news/105806.htm)

25th July 2003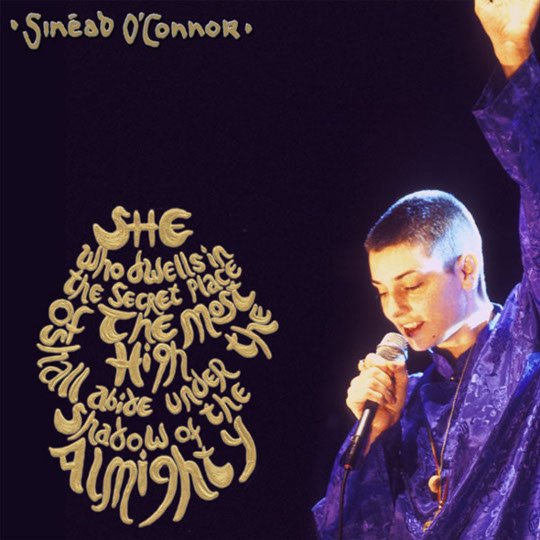 Sinead O'Connor is to release a new album entitled "She Who Dwells" on September 9th with Massive Attack guesting on a track called "It's All Good". It was recorded during the 100th Window sessions but never made it onto the album. The song is originally performed by Irish rapper Damien Dempsey. Check http://www.vanguardrecords.com/sinead/she/ for further details.
thanks to Deniz from Hotpress

17th July 2003
It would appear that Radio 1 will be broadcasting, amongst others, Massive Attacks' performance at Creamfields on 23rd August.
http://www.bbc.co.uk/radio1/events/creamfields.shtml

12th July 2003
UNKLE - EYE FOR AN EYE single launches, 25th August. DVD features antiwar promo with significant contribution from 3D.
UNKLE - NEVER, NEVER, LAND album launches, 1st September. Includes 3D's vocal performance on "In Vasion".

4th July 2003
Wake up! Something's happened on www.massiveattack.co.uk Check it out for lots of lush new pictures fresh in from the European tour. Even the shop is goign to open soon. Apparently.

24th June 2003
Creamfields 2003 is the biggest festival of the summer, which together with the support of the energy drink SEMTEX, takes place on 8th August at the same location as last year – the airfield in Roudnice nad Labem, about 45km from Prague. The musical performances start at 16.00 and continue unabated until the morning of the following day. During this period around a hundred different performances will take place on seven different stages – bands, artists and DJs.
Headliners for the event are Bristol's MASSIVE ATTACK. Their appearance at Creamfields will be their sole concert in the Czech Republic during their current highly successful tour which has broken one attendance record after another. The group's tour promotes their latest album '100th Window' which is released on EMI. In their press release the group acknowledge the extra expense in putting on such a spectacular show. Massive Attack have prepared for their fans an unprecedented audio-visual show, in which visitors to the concert can interact direct on-line using their mobile phones. Massive Attack will also headline the original English Creamfields in Liverpool, taking place two weeks after their appearance in Roudnice nad Labem.
Also officially confirmed for the event is the Break-Beat star Roni Size, whose appearances are always charged with a large dose of energy.
http://www.cream.co.uk/creamfields/index.html

23rd June 2003
The line up for the Bristol Queens Square concert on 25th August is as follows:
Massive Attack/The Streets /Goldfrapp/The Bees/Martina Topley-Bird/Lupine Howl
The day starts at 4pm.
For ticket information call +44 (0)115 912 9000 or the Bristol ticket shop on +44 (0) 870 44 44 400.
Massive also headline Creamfields on 23rd August for info call +44 (0) 870 242 7326

18th June 2003
3D from Massive Attack has admitted he's got a phobia about his own voice.
The singer says it's got so bad he has difficulty doing everyday things:
"Even listening back to my own answer phone outgoing messages I hate - if I'm recording an outgoing message on my answer phone, it'll take about 30 attempts, you know what I mean, until I get the one that I think is right, and that's usually the most embarrassing contrived self conscious bit of crap I've written."
http://www.bbc.co.uk/radio1/news/dancenews/030618_massiveattack.shtml

16th June 2003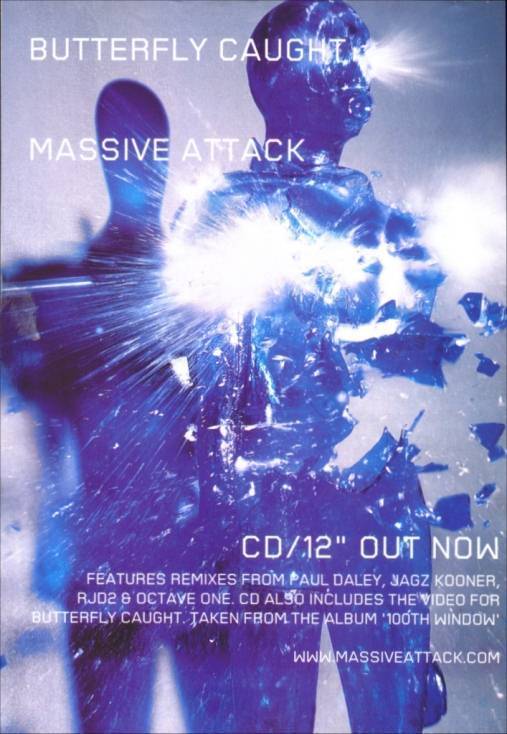 Released today, Butterfly Caught is the second single to be taken from 100th Window; the single features 3D on vocals and is a darkly beautiful track, where dirty beats and the raw, beautiful emotion of eastern strings compliment each other perfectly. The single features four top draw remixes by Octave One, aka Detroit techno legends Lenny and Lawrence Burden, Jagz Kooner, ex Sabres Of Paradise and the Aloof, hot new US hip-hop producer RJD2 and leftfield main man Paul Daley. Massive Attack have just completed the hugely successful UK leg of their world tour and will be returning in August for tow very special shows over bank holiday weekend - a massive homecoming gig in Bristol's Queens Square on the 25th August and two days prior they will headline this years Creamfields festival.The commercial ECD will include the video for Butterfly Caught, with both the ECD and 12" also including a stunning re-working of the track by Massive Attack themselves, 'Version Point Five'.

29th May 2003
The third single from 100th Window will be What Your Soul Sings, which will be released on the 1st September.

28th May 2003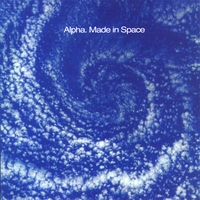 The Alpha site has experienced a major update. Exclusive to the official site only, Alpha loosen off the ropes to produce a new CD of instrumental madness, lost tunes and summered up-beats. This limited edition is packaged in a sliver tin case and individually numbered. Check out the download page for extracts.
Alpha will play Hoxton Hall in London on Saturday 14th June, 6–11pm.. It will be a night of films, live music and soundtrack performance. More of the same but very different. Hoxton Hall is, apparently ,a fantastic Victorian saloon style theatre secretly tucked away in Hoxton High St. £5 on the door (£4 Conc.). Bar and refreshments. - Call 0207 7293815 for tickets. They will also appear Live in Paris on June 20th, where they will perform a Cinemix to the film "The Innocents' by Jack Claton. Then on 3rd August they will be at the "AV /003; AVANT FESTIVAL" in Spain. Also a performance is scheduled for a Bristol Cube gig sometime. A tour of Europe is planned for October 2003
Johnny Brown has requested Alpha's presence on his radio show on Resonance 194.4FM (London) on Friday 6th June at 12.00. to play some favourite records and to perform some tracks from the Album.
In the Planning stages is a live internet radio show broadcasting via satellite from a rural location.
Buy T-shirts from the shop and be entered in a draw to win 2 tickets for the Paris cinema show or the Bristol Cube gig.
A new track, 'Roy' part1 is avaliable now on the downloads page.

27th May 2003
The release date for Massive's new single, 'Butterfly Caught' has been delayed until June 16th. However you can check out the new single and all the mixes
on the new jukebox. To check 'Butterfly Caught' out now, click the link below and you will find this rather cool jukebox which contains not only the stunning original, but also features four top draw remixes - Octave One, aka Detroit techno legends Lenny and Lawrence Burden, Jagz Kooner, ex Sabres Of Paradise and the Aloof, hot new US hip-hop producer RJD2 and Leftfield main man Paul Daley.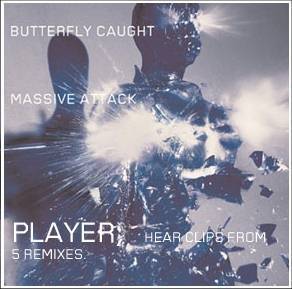 15th May 2003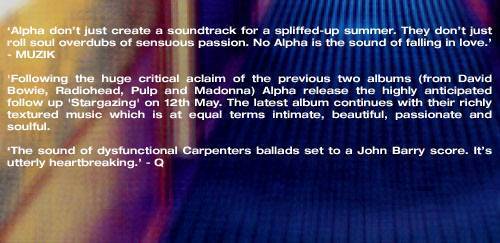 12th May 2003



24th April 2003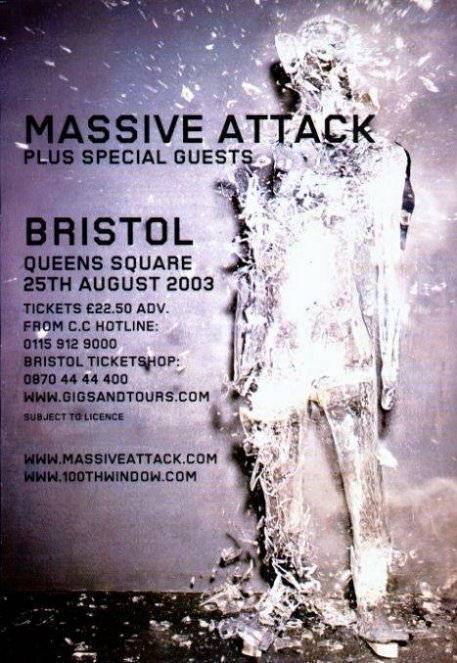 SQUARE DEAL Massive Attack! Live! In Queen Square! On August bank holiday! Sponsored by Venue magazine! Is Bristol good to you or what? Venues' Cris Warren goes behind the scenes of the most anticipated local gig of the year.
Preparations are now underway for the first hometown show by Massive Attack in over half a decade. The band, currently touring their latest album, '100th Window', have announced the outdoor show will be going ahead in historic Queen Square, in the centre of Bristol, and promise it will be a spectacular day out.
Tickets for the Venue-sponsored event on August 25th (bank holiday Monday) are on sale now at £22.50. Ticket holders can expect a whole day of bands and DJs, leading up to a two-hour set from Massive Attack which is expected to end around 10.30pm. The band have a history of supporting local charities and they had suggested in interviews earlier this year that profits from the show would be donated to local charities. A spokesperson for Massive told Venue that he couldn't confirm this at present. Promoter of the show is Ray Cosbert of Metropolis Music. He told Venue: "There'll be 19,000 tickets on sale for the event so, as you can imagine, it's a massive show in every sense of the word. The square will be closed off and logistically it's going to be a huge task. An event on this scale has never happened in Queen Square before, so there are going to be a few teething problems in the run-up, but the Council have been a fantastic help in making this as smooth-running as possible. It's going to be a memorable show for Bristol."
Bristol City Council say they are thrilled with the prospect of the concert. Council spokesperson Simon Caplin said: "Massive Attack are an extremely important part of Bristol's vibrant and successful music scene and we are very pleased that they are so enthusiastic about playing a major concert in their home city. Our officers have been in discussion with the band's promoters for several weeks about a possible concert in Queen Square on August bank holiday Monday which would be part of an enhanced programme of music events in the city this summer. As always with these kinds of events, there are still some outstanding licensing issues to be resolved and the Licensing Committee will be meeting to consider these in May"
Asked if the Massive show could lead to more large-scale events in the city centre, Massive attack: due to pack out Bristol's Queen Square this summer.
Caplin commented: "Since its refurbishment by the City Council, Queen Square has become an extremely successful performance space - hosting the Millennium night events, the Stella Artois film nights and lunchtime jazz concerts. Our aim is to develop an exciting programme of events and concerts for open spaces throughout the city centre - and we will be working in partnership with others to match the right event to the right space."
Massive's homecoming show will hopefully end what has been a troubling couple of months for founder member Robert Del Naja on a high note. In February, the star's Bristol home was raided by the police. Detectives from Avon and Somerset's Operation Ricochet, part of Operation Ore, the national crackdown on child porn, seized computer equipment and a quantity of drugs. Friends of Del Naja who spoke to Venue at the time of the arrest stated emphatically the pornography charges were "ridiculous" and suggested that Del Naja had been the victim of a set-up. Del Naja maintained his innocence throughout, firmly denying that he had ever visited a child porn site and describing such websites as "absolutely vile and hideous". As he predicted, the allegations were groundless and Del Naja was released without any charges relating to internet pornography.
Nonetheless, this experience, which occurred just as the band were preparing to go on tour to promote their new album, mortified Del Naja. He described it as the hardest time of his life. "I had to go on tour with those allegations in the air, which was horrendous, I didn't want to wallow in self-pity or martyr myself on stage, I decided not to get involved with making comments in the press, so I made a statement to the audience each night - 'If everyone's here, I guess you don't believe these ridiculous charges' - which got a big cheer. That's how it went down."

23rd April 2003
In this months Jockey Slut, James Lavelle talks about 3D's involvement on the forthcoming UNKLE album, 'Never, Never Land, which is released at the end of June on Mo Wax.
Lavelle's old mucker 3D also contributes to 'invasion' . "That was one of my boyhood dreams ," says Lavelle. "He was meant to do the last record. I ithink he realised if he didn;t do it this time, we'll never do it. He was really nervous and said look if you don't use it I woin't be offended."
The album will be preceded by single, 'An Eye For an Eye'. The 7-minute long animated video, which accompanies it, was made by London collective, Shynola, and contains animations by Massive Attack's 3-D. It originally previewed on Channel 4 last year and scooped the McLaren Animation Award. Subsequently, owing to its surreal symbolism and Lavelle's own pro-peace stance, anti-war bodies have also adopted it.

22nd May 2003
The new Alpha album, 'Stargazing' will be released in the Uk on 12th May.

21st May 2003
Jazzie B releases 'Soul II Soul - The Africa Centre' on June 23. Documenting the rise of the Soul II Soul collective's parties at the Africa Centre in Londons Covent Garden during the late '80s and early '90s, the collection includes many of the night's anthems, as well as specials recorded for Soul II Soul, including a piece by Horace Andy.

15th April 2003
Massive Attack will play a Bristol summer show in Queens Square on August 25th. The gig will be preceded by a Creamfields performance at the Old Liverpool Airfield two days earlier on the 23rd. The day will include some very special guests to be announced soon.Tickets will go on sale shortly, and are priced £22.50 for Bristol and £47 for Creamfields.

Due to health problems, Sinéad O'Connor is no longer able to appear at any of the forthcoming Massive Attack dates. She apologises for the disappointment caused to those of you who were looking forward to seeing her at the shows, but the situation is unavoidable. Sinead is very disappointed about this, and wants to thank all the Massive Attack fans for supporting her on the few shows she has done.

14th April 2003
Massive Attack will be performing at the following festivals:
Pinkpop - Holland - 8th June
Hultsfred - Sweden - 12th June
Provinnisrock - Finland - 14th June
Hurricane - Germany - 21st June
Southside - Germany - 22nd June
Werchter - Belgium - 27th June
Roskilde - Denmark - 29th June
Quart - Norway - 2nd July
Les Eurockennes - France - 6th July
Gurten - Switzerland - 19th July
Nimes - France - 20th July
Cannes - France - 21st July

7th April 2003
The new single "Butterfly Caught" is the most 'electro' thing on the new album. So, the band have commissioned an impressive set of remixes. Paul Daley (ex Leftfield), Octave One, RJ D2 and Jagz Kooner have all excelled themselves and a series of 12" promos will be promo'd soon - listen out for them on the dancefloor! Also included, will be a reworking of the track by Massive known as 'point five'. The retail release of a 12", CD & DVD will be on 2nd June 2003. The video has been directed by Daniel Levi.

22nd March 2003
Avon & Somerset Police have today announced all enquiries relating to the arrest of Robert Del Naja for Internet pornography have been dropped. All property seized in this matter has been returned to Robert Del Naja.

21st March 2003
MASSIVE ATTACK held a minute's silence at their show last night in recognition of Iraqi citizens caught up in the current war in their country. The group are currently down under playing shows in support of their current album '100th Window'. At the gig at the Adelaide Entertainment Centre (March 20), the band lined-up at the front of the stage before their performance, held hands, and conducted a minute of silence. Frontman Robert 3-D Del Naja said: "As you all know, the war in Iraq started today. We'd like you all to join us in silence to think about the innocent civilians who are suffering as a result of this tragedy."
Del Naja has been one of the most outspoken critics of the war in Iraq. Since last year he has been involved in various demonstrations in London, and along with Damon Albarn, designed and financed a number of anti-war ads that appeared in the NME.

19th March 2003
The two New Zealand dates, Wellington 29th March and Auckland 30th Match have been cancelled. These two dates have already been delayed once, and the reason for the cancellation is that "they have been unable to secure all the production elements they need and are not prepared to deliver sub-standard performances". Ticket refunds will be available from this Friday 21st March. Massive Attack are currently in Japan toruing the world. He is still on police bail in relation to allegations of possession of a controlled drug.
12th March 2003
The legends of trip-hop come together after four years for a mind blowing fusion of sound and visuals.
http://www.inthemix.com.au/photos4/030311-massiveattack-jeremyl

11th March 2003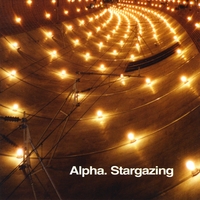 Star Gazing is the new album is forthcoming from Alpha which be released in France through Catalogue on March 19th. It will be avaliable in the UK at
the beginning of May and an American release will follow.
This year, they have already released the Revolution EP on Catalogue in France and a single as Vacant on Secret Agent Records. Recent remixes by Alpha include Robert Plant, Coldplay, Lambchop, Madradeus, Brendan Benson, Benjamin Biolay and Delta.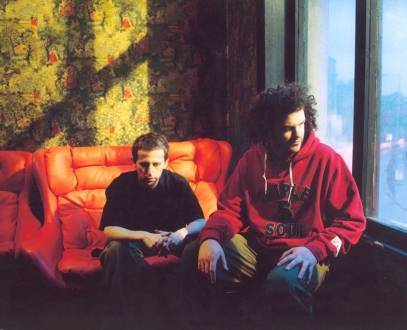 Alpha where the first group to be signed with Massive Attack's label Melankolic. Apparently "they will very shortly fulfill their potential which has been developing since Andy Jenks & Corin Dingley met in Bristol in 1995. After two albums Come From Heaven (97), The Impossible Thrill (2001), a remix LP Pepper (98 ), and the end of Melankolic, the duo has created new links, particularly in France with some artists (Avia), and Catalogue, which now releases the groups discs on the Continent. Andy and Corin have created Stargazing, as usual, in their own studio, in a very intimate atmosphere. Continuing their work exploring new musical frontier, they have recorded nearly fifty tracks, before a rigourous selection process. The result gels incredibily well. On this record, we find Alpha's regular singers (Martin Barnard, Wendy Stubbs et Helen White) but also a new comer Kelvin Swaybe, member of Portishead, who blends perfectly into Alpha's universe."

Listen to new track Elvis here.

The full website, with a shop, will be up in the next few weeks. www.alphaheaven.com

thanks to Alpha, Roland & briaeos

4th March 2003
NEW ZEALAND SHOW DATES TO BE RESCHEDULED
It is with deep regret that Massive Attack have been forced to reschedule their upcoming performances in Wellington and Auckland that had been scheduled for March 7 and 8. These performances will now take place on the following dates:
Sat 29-Mar WELLINGTON - QWEC
Sun 30-Mar AUCKLAND - ST JAMES
NOTE: All tickets purchased for the original performance dates remain valid for the new dates without need for exchange.
Massive Attack co-founder Robert Del Naja feels unable to travel outside the UK until his name is cleared of the allegations that have recently been made against him.
As Del Naja anticipates a positive outcome of these matters in the near future he fully expects to be able to travel to Australia at the end of next week and to commence Massive Attack's world tour in Melbourne on March 11.
Robert wholeheartedly apologies to Massive Attack's fans in New Zealand and sincerely hopes that people understand the impossible position in which he has been placed during the past few days.
MASSIVE ATTACK 100TH WINDOW WORLD TOUR
NOW PLAYING:
WELLINGTON'S QWEC ON SATURDAY 29 MARCH
AUCKLAND'S ST JAMES ON SUNDAY 30 MARCH
Tickets available from Ticketek & Real Groovy Records ph/credit card bookings Akl - ph 09 307 5000, Wgtn - ph 04 384 3840 or book on-line at www.ticketek.co.nz

2nd March 2003
SINEAD O'CONNOR has no plans to cancel her tour with the Massive Attack star who was arrested last week as part of an investigation into child internet porn. Millionaire musician 3D was released without charge and it is understood he may have been targeted by mistake.
His band's latest album, 100th Window, features guest appearances from Sinead O'Connor, as well as Blur frontman Damon Albarn. The Irish singer will continue with her intensive schedule of gigs on the Massive Attack tour which begins next month.
Those who know O'Connor well say she is standing by 3D a close personal friend because she believes he has done nothing wrong. One theory is that the Massive Attack singer visited a harmless site owned by a company which also hosts porn elsewhere online and this connection wrong-footed investigators. Music industry sources are predicting police may issue an apology to 3D tomorrow.
Following the star's arrest last week, New Zealand authorities banned him from entering the country. But after no charges were pressed, the New Zealand consulate in England withdrew the ban and issued an apology.
3D told the Sunday Independent: "I have never looked at child pornography in my life. I am fully co-operating with the police and I would ask everyone not to judge me prematurely. I have total faith in the justice system. I abhor child pornography and child abuse in all forms."

27th February 2003
3D has been arrested and questioned by police over alleged Internet child porn offences. He was bailed by officers working on Operation Ore, the national crackdown on child porn. Detectives seized computer equipment and a quantity of suspected drugs during a raid at 3D's home in Bristol on Monday (February 25th).
A spokesman for Avon & Somerset Police said: "A man in his 30s from Bristol was arrested on February 25 in connection with allegations of the possession of class A drugs and Internet porn offences. "He was bailed pending further inquiries."
The arrest was made under Avon And Somerset's Operation Ricochet, part of Operation Ore, the national crackdown on child porn.
3D said today: "I have never looked at child pornography in my life. "I am co-operating fully with the police and I would ask everyone not to judge me prematurely. I have total faith in the justice system."

Redlines offers it's total support to 3D and his family at this stressful and upsetting time.

24th February 2003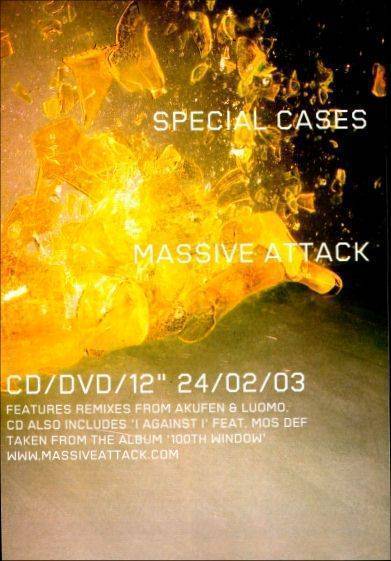 17th February 2003
BBC Collective Massive Attack interview transcript
Do you get fed up doing interviews?
The thing is, you end up doing them all at once. If you did them one at a time you could get into interesting ideas and stuff. But it's f**king doing them all at once which is a pain, isn't it (laughs).
100th Window is out imminently, how do you feel about the album now that it's finished?
Being a slight perfectionist I'm never totally completely satisfied with anything I do, you know.
Have you got a flavour for how it's going to go down with the public?
Yeah, I get more of a flavour from the reviews I guess. I've played it to friends and colleagues but obviously they just tell you they love it, and I'd expect them to. We've had 90 per cent good reviews and the rest have been really scathing. Which I think is the best place to be because the earlier albums, Protection, Mezzanine have all had that response.
How does the sound of this album compare with the previous Massive Attack albums?
We used a lot more instruments than we've ever done in the past. The computing power that's available to us contributes to that. With Pro Tools we can store massive amounts of audio in reservoirs and draw from it. There's also been a lot of intricacy in the way we've arranged instruments around each other and around drum sounds. Before when we sampled breakbeats there'd be this one solid body going through a track, but when you take it away there's a gap. I wanted to create better relationships between the different parts and the beats, so that they would respond to each other as we arrange the tracks.
Would you say it was a more complex album to make then?
Much more, although we did it a lot quicker in the end. We spent a long time messing around with other ideas we weren't happy with. The making of this particular incarnation of 100th Window took about six or seven months, which is obviously not a long time for us. There was a lot of complexity in the arrangements but we had a sort of thing going where we were focused and it was happening quite quickly.
You began working on the album with Lupine Howl. What went wrong?
I had an idea at the time (and it's always interesting to looking back at what you think at a certain time), I thought rather than starting off with a few small ideas and expanding, let's get a lot of things in there and start deconstructing, taking things apart and finding new ideas. But it became a massive task and, in the end, we were so weighed down by the amount of material that we weren't writing songs and distilling anything that we felt we believed in. Starting again was tough as there was a lot of great things to put to one side, but it was something we had to do. And it was unburdening when we said, OK, let's start to write some new stuff. I found that really refreshing, and I started to realise why I was doing this, you know.
From Michael Waring:
Do you construct a track with a rhythm or set of rhythms in mind, or is it more of an organic progression?
You maybe start with a guitar part with a drumbeat to it and a bassline, and suddenly you think, "I've got an idea for a song". There's a lot of beautiful mistakes and a lot of pointless experimentation. Some things work, some things don't. It's just difficult when a lot of things don't work. You come back from the studio and stare at the ceiling and think, "Why?" But then suddenly you start coming back with CDs and being inspired to write lyrics.
Sinead O'Connor sings on this album. Did you approach her?
We'd met her in the past and talked about it, but it didn't happen. But I thought it was the right time to approach her again. Because she comes with such a passion I thought it was important to get some of that, you know. Everything seems so predictable and generic right now, I wanted something that felt very human and real. We never wanted to create a lead singer situation where that person becomes the focus. I just wanted someone who was strong and believes in what they're doing. We've had lots of tapes over the years that have been so insipid you wouldn't touch them, you know. So it's great to get something more powerful.
How do you tend to work with vocalists?
We often send people very simple things so that they've got room to develop them. On Prayer for England we just sent Sinead a bass line. With all the singers we work with we never write their lyrics for them because that's truncating the project before you've started. We want someone to collaborate on a project fully.
You sing on this album. Is that something you felt able to do for the first time?
Well I don't sing really, it's more melodic whispers. It's just a matter of challenging yourself to do something different. I just wanted to push the boundaries a bit. I'm very aware of my own restrictions, as I think everyone should be, but you've got to push yourself. Every time we start a new album there's a challenge to extract yourself from what you did before.
From Pootle:
How do you guys manage to make your albums sound fresh and original, while keeping the Massive Attack sound?
There's no blueprint. I think there's obviously sonic things that turn you on. We've always traditionally started with drums and bass and extended instrumentals. From our history, coming from the sound system thing, from the DJ thing and the sampling ethic, it's something which is always there. One of the things that feels very Massive Attack are those bass frequencies and those elements. And obviously the melancholic aspect is important. All of us in the band always enjoyed sad songs, always thought they had more poignancy and more distance to go, staying with you longer.
There's also a lot of effects and soundscapes in your music, this album in particular. You must spend a long time playing with equipment to get that effect. Do you ever find you can't see the wood for the trees sometimes?
(Laughs). Often, yeah. You can go on forever dealing with the details, looking at things closely, but it's about having the ability to say OK, let's stop there and move on to something else. But you can remix things over and over again on computers these days - it's difficult to know when to stop.
When Mushroom left the band and Daddy G took a back seat did you feel able to go in your own direction?
I think when people realised it was going to be mostly myself and Neil (Davidge), because of Mushroom leaving and G being unavailable, they thought it was going to be a real guitar-fest. Big and very dark, and very heavy. But, being stubborn, I didn't want to prove everyone right, so I did completely the opposite. Something a bit more gentle, more intricate and a bit more thoughtful, rather than just using power to convey emotion.
Most of the fights that took place over Mezzanine were fights between me and Mushroom about the guitar aspect and the new wave approach to it, as opposed to the hip-hop soul approach. But I got over all that. It's not there in this record. When you know someone as well as I know Mushroom as a friend, it's always going to be hard not to work with him again. But the hip-hop or reggae thing is always going to be there in our music.
Neil Davidge is lesser known. What does he bring to the project?
I've worked with Neil for seven years now. He's the co-writer really. He's someone I trust. We have an intuition between each other and a communication process. It's important because, not being traditional musicians, lots of things need to be verbalised. Or even a look can mean, you know, let's try this.
How do you tend to work with vocalists?
We often send people very simple things so that they've got room to develop them. On Prayer For England we just sent Sinead a bassline. With all the singers we work with we never write their lyrics for them because that's truncating the project before you've started. We want someone to collaborate on a project fully.
The tour's coming up. What can we expect to see?
It's difficult because we want to do so many things but we're also aware that we want to keep it quite pure and simple. We've got a lot of ideas about using lights, using pure white light around the stage, not using spots or moving lights. And using LED screens to transmit pure colour because LED is a very pure source of light. And using lasers in a very subtle way. We want to use information and data and code and statistics, then turn that into light and colour.
It's about trying to do all the things you want to do but presenting it in a very simple pure, direct, way. It's the same as the artwork. On this album, creating the glass figures and destroying them again and filming them. There's so much stuff there, you can really go to town with it. Trying to distil it and make something out of it which is direct and pure is a really exciting exercise. You have to challenge yourself to remain subtle and not show everyone everything.
Do you get involved in the graphics and presentation?
I've always loved presentation. As an artist, presenting ideas is important to me, and packaging is an exciting process. I find it amazing that all bands don't want to be involved in it.
You've said that Massive Attack is more of a concept than anything else. Which is why its members have tended to stay out of the spotlight. If that's the case, what is the concept?
I think it's ambiguous. It's more a project than a band. The project is where it's at, at this stage, and it's going to change again. Which is why I baulk when people ask if it's a solo thing because, no, it's just events and history that has led to this moment, and the project was always meant to be so much bigger than that, in terms of its ability to evolve and change. That's why we've worked with so many different vocalists. I've always liked bands that had the ability to evolve. The Clash, Public Image were two bands that I loved when I was growing up that represent themselves, and I find that idea really exciting. I think it's destructive using your own self-image as a presentation of the music, because it's not just about one face or a group of faces. There's so much more that goes into it, so many different layers.
Can you imagine a Massive Attack album without you being involved?
Yeah. Maybe in the future (Daddy) G and Neil and some other people can make an album without me. In some ways that would be a real release. I could go around the world for a year and disappear and get spiritual and pretentious you know, a voyage of self discovery etc.
How has your intake of substances affected the music you make?
It's a balance. Getting out of your head is important because it does what it says. You escape from yourself a little bit. You escape from the usual trappings of your personality. Even the hangovers are good you know. A hangover can lead to different ways of thinking. That fragile, frightened person the next day can often be quite creative. I'm quite hedonistic, I do like to get out of it and enjoy myself, and it can be constructive and destructive.
What other kind of projects do you think you'd like to be involved with, Massive Attack or not?
I'd like to put a couple of books out of all the artwork we've done in the past. It'd be great to compile them in different ways. We're always talking about putting movies to the music, always getting in touch with people about soundtracks. During the Brixton Academy shows we're hoping to do a visual installation at a venue in London, which coincides with the aftershow party of the last night at Brixton. There's so many things we've put together with the visuals that we want to expose it in the right way.
The title 100th Window comes from a book about computer security. Is that something you care about?
It's not about that. It's often referred to in the press but it's not about that. What I actually felt about "100th window" when I saw it written down was that it's a more spiritual place. The third eye, the window to the soul, the whole idea of the place where you can communicate without thinking, examining the world without your personality being in the way. That's what it's about really. If that doesn't make me sound like a total w**ker (laughs).
From Groovypanda:
How do you feel about the fact that your new album has been available on most of the p2p file sharing networks since late last year?
It's a difficult one. When Melankolic was up and running properly as a label, we were in the middle of it and we signed people we new from Bristol that we really liked. Then they started, as bands do, taking the piss. Hiring limos and cars, keeping drivers in hold and spending loads of money, and not paying their bills and having a right old time. Then we get the call from Virgin saying, "These boys are taking the piss."
My first response was "fair play", you know. But then I think, hang on, we're the label here, that's out of order, don't take the piss. Then I think, hang on, I'm contradicting myself here. And in the same way I think that if you can download the album more power to you. You've fond a way of doing it, good for you, it's the age we live in. But, at the same time, it's how I make my living. And it's frightening when you see some sites giving 25,000 downloads. If you times that by all the sites that are doing it then that's my profit gone. That could be it for me, you know.
All bands are struggling with this. People have made grand statements saying piracy's great, but it will cheapen music and it encourages the labels to take more drastic action. And that compromises the bands and the listeners out there. The main thing about it is that it's not people at home doing something cool in a Robin Hood style. There's big cartels involved, and drugs cartels are moving into burning CDs. Piracy accounts for 30 per cent of sales in Germany and you know that money isn't going anywhere good. It's a difficult one to have a clear opinion on it.
From Sharp9:
If you were to create your own bootleg Massive Attack track what would it be mixed with?
I'll get back to you on that! Although Sepultura have just released a version of Angel which I think will be, well, exciting.
From A:
Which track by someone else do you wish you'd written?
Ah, there's been loads of tracks by people that I wish I'd written, though I never really think of it that way. I like being envious of other bands. It's something that spurs you on. It's not very often that I do hear something that's really inspiring. Obviously historically there are loads of things but I'd hate being pressed into naming things because it takes it out of context and cheapens it a bit.
From A:
Do you really hate any particular kinds of music?
It's not so much individual tracks or artists or bands, but the general consumerist culture. The way that record companies market things to people and the way they lap it up really annoys me. The way that everyone is in on the act, the record companies, the radio stations, the TV companies. The franchising of everything really pisses me off. Pop music has become so shallow and dark, that it is simply a process about money. It upsets me seeing people buying into it when there are so many great things out there.
Even if people enjoy it? There's lots of satisfied customers out there with their Gareth Gates CDs.
Yeah, but it gets to the point where you think, "Why don't we all just do a version of Unchained Melody. Every f**king month someone could do it, we could all do it, it's the nation's favourite song so everyone buys it. The record companies don't have to spend money on marketing. It'd be great, save a lot of f**king time (laughs).
From Conquering Munkie:
Do you think there's still a place for sound systems like the old Wild Bunch sound system in today's music scene?
The difficulty with sound systems is buying the kit. When were doing the Wild Bunch thing we never bought the gear, we used to hire it. That was always the difficulty because you never knew how much money your were going to make, so you had to come to arrangements with these guys with deposits and stuff. You had all these scenarios going off, people sharking each other, doing a runner before they come to take the rig down, that kind of stuff. It's a big commitment buying all the gear. Also, times have changed. I don't know whether it's the law or just the time we live in, but to be able set up a system in an empty warehouse and fly it publicly, and get away with it, now seems unlikely. It was a moment in time which sadly is not going to happen again. Now you have to find it in places like Jamaica. That's where it really exists in the culture, and there's also the aspect of the climate.
Can you recommend a piece of music to our users?
Requiem by Gabriel Fauré is always a good one. I find it beautiful, everyone else finds it depressing. It's a guaranteed winner to annoy your mates with.

15th February 2003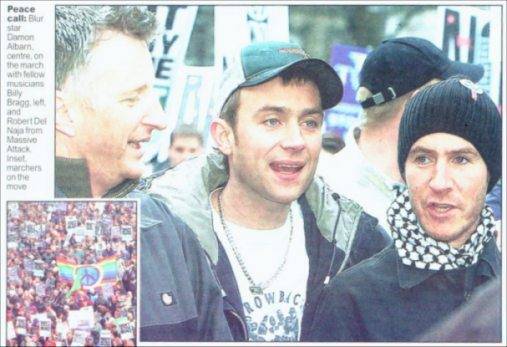 Almost one million people gathered to march through London today (February 15), police have said, in an unprecedented protest against war in Iraq - with Damon Albarn and Massive Attack's 3-D amongst the leaders.
While march organisers have put the figure for those taking part closer to 2million, the official number still marks the event as the biggest of its kind in the history of Britain.
Protestors gathered in London by the Thames from early this morning. One commentator described seeing a "sea of people" snaking along Embankment on the way to a meeting point in Hyde Park.
The Hyde Park rally was addressed by, amongst others, US civil right's leader Rev Jesse Jackson, long-standing Parliamentarian Tony Benn, playwright Harold Pinter and MP Mo Mowlam. Radio 1 figurehead John Peel and veteran protest singer Billy Bragg were also amongst the crowd.
Other similar rallies were held throughout the world today. Tens of thousands gathered in Glasgow where Prime Minister Tony Blair was addressing the New Labour Spring conference. Millions of people also made their opposition to and Iraqi invasion known in New York, Berlin, Athens, Rome, Paris and other major European cities.

11th February 2003
When the online Massive Attack shop open's in March, some of the things you can expect, as well as Massive Attack and Melankolic CD's, are a number of new T-shirts exclusive to the empriom, in addiiton to the new designs which will be avaliable on the forthcoming tour. Also avaliable will be some older stuff from the Massive and Melankolic camps, and it's hoped that stencils will be on offer to make individual designs.
After the excitment that was the massiveattack.com relaunch, the 100th WIndow site should be moving into a new area soon, with the facility to enrol a 100th Window.com email address, so that you can email the led screen in the venue before the live show on the tour.

10th February 2003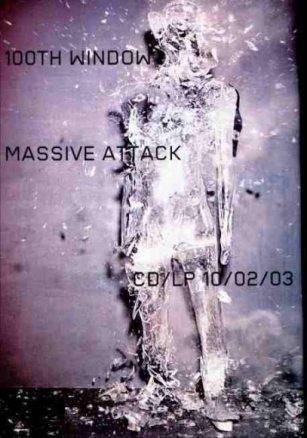 8th February 2003
no war on iraq. Demonstrate in central london febuary 15th meet 12pm at either gower street or blackfriars embankment followed by a rally in hyde park. more info at cnduk.org or stopwar.org.uk

7th February 2003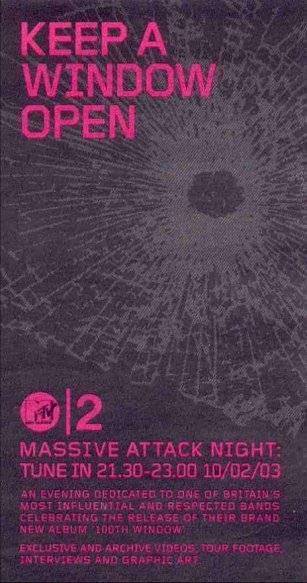 6th February 2003




5th February 2003




4th February 2003
The official site has been relaunched. It's fucking brilliant. The potential there is very exciting. Amongst other things there are details of the opening section of the tour in Australlasia: Sydney Horden Pavillion (July 8), Melborne Myer Music Hall (9), Christchurch West Pac Trust Centre (12), Wellington Queens Wharf Centre (14), Auckland North Shore Events (15), Adelaide Entertainment Centre (18), Canberra Royal Theatre (20), Perth Belvoir Theatre (22), Tokyo NK Hall (25).

2nd February 2003
In todays Observer Magazine there is an unfortunatley titled piece called Bristol's Rover - "As Massive Attack releases its fourth album, Robert '3D' Del Naja - the man behind the brand - talks to Sean O'Hagan about soundsystems, Sinead O'Connor and stopping the Was on Iraq."

1st February 2003
Mushroom is working on an album, which is going by the working title of 'Champagne'.

31st January 2003




30th January 2003
You can now view exclusive Massive Attack content on the official site if you own Blue Lines, Protection, No Protection or Mezzanine. The more albums that you own, the more content you will be able to preview. This is the first time ever that fans have been able to use multiple albums to receive increasing items of content - the technology has been developed by IDIL Systems who 'fingerprint' the albums so that they recognise the valid CDs.
Special Cases is the first single from 100th Window and features the vocals of Sinead O Connor. The single features two remixes by Akufen and Luomo, aka Vladislav Delay, one of Scandinavia's leading artists in electronic music.
Both the commercial CD and DVD formats will include versions of the Special Cases video. The CD also includes the track 'I Against I' featuring Mos Def, (previously available as a download). The Limited 12\" vinyl will feature the Akufen & Luomo remixes.
Massive Attack have just sold out Brixton Academy for the 5th night in succession - the first band ever to do so. Massive will be playing Brixton from the 16th to the 20th April inclusive.

26th January 2003
Inside this months edition of Jack magazine, 3D features in an article on the 90's.

25th January 2003
Bristol's Massive Attack have become the most vocal anti-war band in Britain. 3D: "Myself and Damon Albarn, because we hang out together a lot talking about it, both shared the same kind of blatant anger with what was going on, so we thought 'Let's fucking do something about it'. You can shake your head forever, but let's do something, make a change... And it was good, you know - the NME ads, CND reckoned they got over 20,000 signatures from that, and we're doing two more ads in February to publicise the next month. And we're going next week to lobby Parliament, present petitions and stuff.
"Ten years ago I think Saddam Hussein was a clear enemy he'd invaded Kuwait, so everyone was fighting for freedom and justice -even though I don't think anyone was sure about the way they bombed Baghdad. It was very confusing, what was happening - someone had been invaded, they'd gone in to protect it, fair enough. We decided to drop the 'Attack' from our name, under a great amount of duress, but also because a convincing argument was put forward - if people don't know who you are, you could be seen as making a pro-war statement. We went along with it, but it became apparent later that it was bullshit. Words aren't offensive, bombs and bullets are - I even thought about dropping it again for this album as an anti-war statement, but then I'd be buying into the whole notion that music and words and opinions are offensive. And they're not. (Stephen Dalton, Venue 24th February 2003)

24th January 2003



Child abduction, post-punk, Bauhaus, Sinead O'Connor: yes that difficult fourth album 100th Window is finally upon us. Their first ne material in five years, it is to all intents and purposes a solo LP (Mushrooms jumped ship, Dady G's well, a daddy now). Jockey Slut catches up with 3D to discuss lost friends, rip hop, Simon Fuller and the war on terrorism.

23rd January 2003
MASSIVE ATTACK have announced details of their comeback single, 'SPECIAL CASES'.
Taken from the forthcoming album, '100th Window', 'Special Cases' features vocals by Sinead O'Connor and hits the shops on February 24. The single also features mixes by Akufen and Luomo, as well as a bonus track, 'I Against I', featuring Mos Def.
www.nme.com

22nd January 2003
3-D took his anti-war campaign to the HOUSES OF PARLIAMENT yesterday - on his birthday! Robert Del Naja and his campaigning partner Damon Albarn turned up outside Big Ben as part of a national lobby of Parliament aimed at opposing a future war in Iraq. Protesters met up with their local MPs to criticise the recent deployment of troops to the Gulf region.
"What a way to spend your birthday!" 3-D told NME.COM. "I"ve already faxed my MP in protest. I used the online site www.faxyourmp.com, it's so simple it's ridiculous."
The pair are putting the final touches to a second wave of anti-war ads, which will feature in NME in the coming weeks.
www.nme.com

18th January 2003
MASSIVE ATTACK have extended their April UK tour to include a fifth show in LONDON and a third in MANCHESTER.
The shows in spring come in support of their new album '100th Window', which is released on February 10.
In addition to the UK dates, the band have announced another additional gig in London at the Brixton Academy (April 20), after the first four nights sold out. A third date has also been added in Manchester (April 13). The full tour calls at: Glasgow Academy (April 8-9) Manchester Apollo (11-13) London Brixton Academy (16-20)

17th January 2003
This weeks edition of Venue features an interview with Roni Size, in which he talks about, amongst other things, the Dug Out and The Wild Bunch:
Innovate he does, but he's always ready to acknowledge his influences which started in the home and, not unusual for a Bristol artist, took in the Dug Out. Or at least the pavement outside. "I could never get into the Dug Out. I'd go along and I'd have to stand outside and inagine what was going on inside. I could hear the sounds but never really new what was actually happening. It's a part of my inspiration though, that place, the music that came out of it. But my school, really, was the sound systems. There would have to be places like The Mill, Carnival and Wild Bunch parties, and there were clubs like Raquel's on Frogmore Street on a Saturday afternoon, all playing stuff that influenced me. Back then there was the Wild Bunch who had their own style and records, and then there was City Rockers playing in a different style, and 2 Bad Plus One and UD4...all these crews had different styles and records. It's only really Wild Bunch that people hear outside of Bristol, but all the different crews were doing great things."

8th January 2003
ROBERT Guest http://www.100thwindow.com
Posted: Wed Jan 08, 2003 7:54 am
Post subject: INFOINFOINFOIFNFKOIFNFIFNFINFIIFNFO
SPECIAL CASES VIDEO IS PRESENTED AS A COORPORATE[SIK]VIDEO-PREVIEWING THE POTTED LIFE AND LOVE? OF A CLONED HUMAN CLIENT/PATIENT--THERE ARE 2 REMIXES BEING DONE-MORE LATER-WILL ALSO BE FORMATTED AS A DVD SINGLE AND 12-'I AGAINST I' WILL BE THE EXTRA TRAK-BLACK MILK REDUX WILL BE PLAYED LIVE ON TOUR-AND MAY YET FEATURE AS A B-SIDE-GOT PLANS TO RELEASE 'A PRAYER FOR ENGLAND'LATER-AS AN ANTI-WAR SINGLE WITH ROYALTIES/PROFITS GOING TO THE REDCROSS-IN THE EVENT OF SUFFERING IN THE GULF-BUTTERFLY CAUGHT/ANTISTAR AS A DVD/SINGLE PROJECT WITH A NEW SHYNOLA PIECE BEING FEATURED-WILL BE TAKING LOTS OF IMAGES FOM THE TOUR AND THE WORLD AND UPLOADING TO MA.COM ALL YEAR-HOPE THAT TO BE LIVE SSOOON-SPOKE TO SINEAD YESTERDAY-SHE IS VERY EXCITED.XXX

7th January 2003
ROBERT Guest http://www.100thwindow.com
Posted: Tue Jan 07, 2003 11:07 pm
Post subject: MIXED UP
YES YOU ARE ALL RIGHT-I AM A LIVING CONTRADICTION-PARTLY FACT-PARTLY FICTION-NEVER PERFECT-KEEPS ME GUESSING-KEEPS ME NERVOUS-WISH I WAS A BEAUTIFUL CYBORG-TOO OBVIOUS???-CANT BLAME EVERYBODY FOR DOING THE SAME AS ME-EXPRESSING THEMSELVES AND THEIR OPINIONS-BEEN HOLDING OUT FOR THIS ALBUM-BEEN WAITING A LONG TIME-COOL-PEACE-----THE 100TH FACSIMILE VERSIONS ARE SOUNDING FUKIN GREAT-JUST GOT BACK FROM THE STUDIO-'EVERYWHEN'-WOW!---THE IDEA IS TO RELEASE IT AT THE END OF THE YEAR-NOT A REMIX ALBUM-NOT A LIVE ALBUM-EVERYTHING REDESIGNED IN THE OPPOSITE WAY WE RECORDED 100TH-IT WILL BE THE ULTIMATE IN NOSTALGIA WHILE BEEING UTTERLY FRESH-IT WILL BOOKEND THE WHOLE PROJECT-WILL BE TAKING RECORDED PARTS OF THE GIGS AND RERESAMPLING THEM INTO TRAX-USING ALTERNATIVE VOCAL PARTS FROM LAST YEAR-RECOVERING UNUSED MOMENTS-ADDING NEW SOUNDS-RE-ARRANGING-EXPOSING AND PLAYING WITHOUT A CARE-FREE-TINY-MINIMAL-HARD-DISTORTED--WHILE ALSO RECORDING NEW MATERIAL FOR LP5-LOVE-333

6th January 2003
On the new official site 3D tells it like it is:

ROBERT DEL NAJA Guest http://www.100thwindow.com
Posted: Mon Jan 06, 2003 10:20 am Post subject: TO BE A SOMEBODY
--------------------------------------------------------------------------------
CAST TOUR MIND BACK-1998-MEZZANINE WAS THE FIRST ALBUM TO BE STREAMED ONLINE PRE-RELEASE[CHECK THE GOOD GUINESS GUIDE]-THIS AINT NEW-I'VE READ THE MP3-COMPRESSION REVIEWS-FINE- AND EX'S MASTERPIECE-OK-BUT IT AINT THE REAL THING-THE LYRIC ANALYSIS IS 60% INCORRECT IN SOME PLACES -OFF THE SCALE-WHAT SYSTEM U LISTENING ON?? ALL THAT IS COOL-ITS ALL ABOUT NOW--LETS GET THIS DEBATE BACK-THE ALBUM'S OUT IN A FEW WEEKS-IN A FEW WEEKS MORE SERIOUS SHIT IS TAKING PLACE THAN 100TH WINDOW--MOST OF US VOTED FOR OUR ELECTED LEADERS-SOME HAVE NO CHOICE-DON'T LET THEM MISREPRESENT YOU.THERE ARE ONLY A FEW CHANCES IN LIFE TO MAKE A CHANGE-SO INSTEAD OF RUSHING VAINLY TO BE THE FIRST TO HEAR FILES AND BURN COPIES-TO BE THE FIRST!-BE A SOMEBODY AND CONTACT YOUR M.P-DEBATE AND TALK TO YOUR FRIENDS-IF LIKE ME U DONT KNOW WHAT IS GOING ON-GET ON THE STREETS ON FEB 15TH-END OF SELF RIGHTIOUS LECTURE
ROBERT DEL NAJA Guest http://www.100thwindow.com
Posted: Mon Jan 06, 2003 10:01 am Post subject: THE LITTLE EARTH BOOK
--------------------------------------------------------------------------------
GOT BOOK TOKENS-GO TO www.littleearth.co.uk
A GOOD BOOK TO READ TO START AN IMPORTANT YEAR-WILL HELP U MAKE YOUR MIND UP-SIT DOWN-SHUT THE BLINDS-OR TAKE DIRECT ACTION

ROBERT DEL NAJA Guest http://www.100thwindow.com
Posted: Mon Jan 06, 2003 11:36 am
Post subject: TO BE THE FIRST TO BE A SOMEBODY
O.K--ALWAYS WITH GREAT THANKS AM I UNDERSTANDING THE PATIENCE AND SUPPORT OF EVERYBODY ON THIS BOARD-DOWNLOADING 100TH TO LISTEN-COOL AS FUK-DOING REVIEWS I FEEL IS ALL ABOUT VANITY-SOMETHING I KNOW A LOT ABOUT-BEING A VAIN C$$T-IF BEING 1ST IS AN AMBITION-BE 1ST TO CONTACT UR M.P-BE FIRST TO CONTACT EVERYONE U KNOW-START A PETITION-BE 1ST OUT ON THE STREET-END 2ND SELF RIGHTIOUS LECTURE

4th January 2003
ROBERT DEL NAJA Guest http://www.100thwindow.com
Posted: Sat Jan 04, 2003 12:23 pm Post subject: NO BLOOD FOR OIL-BITCH!!!!
--------------------------------------------------------------------------------
WOW-FUKME-LOTS OF ANGRY PEOPLE AND LOTS OF HAPPY PEOPLE-LOTS OF MP3-IT WILL ALL BE CLEAR AFTER A YEAR-EVERYTHING WILL BE CLEAR AON THE TOUR-AMPLIFICATION WILL CHANGE PEOPLE WITH PURE LED LIGHT TO THE SYNAPSESS-STARTED THE 100TH WINDOW FACSIMILE PURE STRIPPED BACK AMBIENCE CONTRASTING WITH POWER GUITAR ARRANGEMENTS-LIKE THE LIVE ARRANGEMENTS-WILL RELEASE AT END OF YEAR-STARTED LP5 PLANNING-GOT LOTS OF TRAX-NOW GOT TO CHOOSE-CAN'T WAIT FOR U GUYS TO SEE ARTWORK-IT WILL TAKE 12 MONTHS FOR IT ALL TO SINK IN-U MUST MARCH IN LONDON ON FEBUARY THE 15TH FOR PEACE OF MIND-THIS IS A FILTHY BLAIR AND A FUCKED UP WAR FOR GULF OIL-U CAN PREVENT IT!!!!!!!!!-MORE ADS IN THE PAPERSFOR JAN/FEB-GEORGE BUSH! WE KNOW YOU- YOUR DADDY WAS A KILLER TOO!!PLEASE KEEP UP THE ANGER AND DISSAPOINTMENT-UNTIL THE 10TH AT LEAST----