Massive Attack, the veteran electronic outfit from Bristol in the UK, were set to kick off their first North American tour in eight years but have had to cancel at least the first four shows of the jaunt because of visa complications.
That means the group won't perform at the Toronto Virgin Festival this weekend as planned, with Broken Social Scene stepping in to fill the void. Muse, the Flaming Lips, the Strokes, Wolfmother, Jose Gonzalez, and the Raconteurs are also set to play the festival.
"We apologize to everyone who bought tickets expecting to see Massive Attack perform," festival organizer Jacob Smid said in a statement. "But we know that the new lineup continues to deliver an outstanding two-day experience." Festival goers who purchased tickets to specifically see Massive Attack can get a refund for their purchases at the point of purchase. #
The group, comprised of Robert del Naja (3D) and Grant Marshall (Daddy G) and a slew of vocalists like Cocteau Twins singer Liz Fraser and reggae star Horace Andy, has also canceled shows in Montreal, Detroit, and Chicago because of visa issues.
"In spite of timely and coordinated efforts, the essential US immigration visas were not issued in time for the beginning of the Massive Attack North American Tour," the band said in a statement. "Currently, the rest of the tour remains intact. The band hopes to reschedule the canceled shows as soon as possible."
Massive Attack released a two-disc greatest-hits collection, dubbed
Collected
, in March and is set to release its fifth studio album,
Weather Underground
, early next year.


7th September 2006

Massive Attack have been forced to cancel the first four shows of their North American Tour. In spite of timely and coordinated efforts, the essential U.S. immigration visas were not issued in time for the beginning of the Massive Attack North American Tour. Subsequently, the band has been forced to cancel the first four shows (Toronto, 9/10, Montreal, 9/11, Detroit 9/12, Chicago, 9/13). Currently, the rest of the tour remains in tact. The band hopes to reschedule the cancelled shows as soon as possible.


Author MP Posted: Thu Sep 07, 2006 9:19 pm Post subject: NORTH AMERICAN SHOWS
SAD TO CONFIRM THAT THE TORONTO, MONTREAL, DETROIT AND CHICAGO SHOWS HAVE BEEN CANCELLED. WE HAVE A VISA PROBLEM THAT WE HOPE TO HAVE SORTED BY EARLY NEXT WEEK. WE'RE GOING TO RESCHEDULE THE CANADIAN AND CHICAGO SHOWS SO BEAR WITH US.
HEARTFELT APOLOGIES TO EVERYONE WHO BOUGHT TICKETS AND WE'LL HAVE NEWS EARLY NEXT WEEK .
THANKS AS EVER FOR YOUR SUPPORT.

http://forums.massiveattack.co.uk/viewtopic.php?t=11902
Meanwhile festival organiser Jacob Smid apologised to ticket holders, but hoped they would be happy with the home-grown replacements at the first spin-off V Festival.
"We apologise to everyone who bought tickets expecting to see Massive Attack perform," he said, "but we know that the new line-up continues to deliver an outstanding two-day experience for the Toronto Virgin Festival. With the addition of Broken Social Scene, we're continuing to deliver outstanding talent at incredible value."
Organisers added that Toronto Virgin Festival ticket holders will be entitled to "front of the line" status at Massive Attack's next Toronto set, to be announced soon. Meanwhile those festival goers who purchased tickets to specifically see Massive Attack can get a refund for their purchases at the point of purchase.
The festival is still set to feature performances from Muse, The Flaming Lips, The Strokes and The Raconteurs." Further information
here
.


21st August 2006


False Flags/United Snakes is now available from iTunes
here
for more info and to buy.
More news on the official web site re-design soon.

August 2006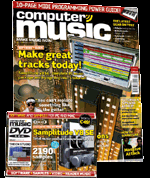 Sound like Massive Attack in this months edition of Computer Music magazine.
http://www.computermusic.co.uk


5th August 2006

Robert Del Naja Posted: Sat Aug 05, 2006 8:47 am Post subject: AID FOR LEBANON
WE WILL BE COLLECTING MONEY FOR A COUPLE OF ORGANISATIONS OPERATING IN LEBANON DURING THE NEXT PERIOD OF TOUR DATES-NOT ALWAYS SIMPLE AS OFTEN PROMOTERS-LIKE RECORD COMPANIES DO NOT LIKE TO GET INVOLVED!! FANCY THAT...
A JOURNALIST I CORRESPOND WITH IN BEIRUT HAS SUGGESTED-THE LEBANESE RED CROSS[PERPETUALLY IN THE FIRING LINE..]
AND ZICO HOUSE-A SMALL BEIRUT BASE GROUP THAT RAISES SUPPORT FOR ARTISTS,GAY GROUPS AND CULTURE IN GENERAL-WHO HAVE BEEN PROVIDING FOOD FOR REFUGEES.
WE WILL ALSO CONTINUE RAISING AWARENESS FOR THE 'HOPING' FOUNDATION-A BRITISH/PALESTINIAN GROUP THAT CONCENTRATES ON HELPING CHILDREN IN THE REFUGEE CAMPS IN PALESTINE AND LEBANON.
REACH THEM:
www.hopingfoundation.org
ANY INTERESTED PARTIES CAN CONTACT US THROUGH:
info@wetorg.com
http://forums.massiveattack.co.uk/viewtopic.php?p=169759&highlight=#169759


4th August 2006
Massive Attack Seeking Clarity On New Material

British trip-hop pioneers Massive Attack are hard at work on their fifth album. It has a title, "Weather Underground," but don't ask any of the band members what it actually sounds like.
"We've got a lot of tracks in certain shapes and forms, but I still feel that I want to find the angle," chief songwriter Robert Del Naja, aka 3D, tells Billboard.com. "With every record there comes a point where you suddenly find the album; once you get that angle, you start to feel it and really put it together."
Del Naja says Massive Attack has been working on "Weather Underground" at the group's own studio in Bristol, England, as well as in New York with members of TV On the Radio. Regular singers Horace Andy and former Cocteau Twins member Elizabeth Fraser are part of the album as well.
The recording has been put on hold while Massive Attack prepares for its first North American tour in eight years, which kicks off Sept. 10 in Toronto. Del Naja doesn't expect to return to the studio until the end of the year or possibly early 2007.
"I guess we'll see at Christmas how many songs we think are really good, how many are just OK and how much we've got to do after a Christmas break," he says. "Obviously we want to get it out next year."
Del Naja says Massive Attack has played some of the new songs at shows this year and will road test some of them during the North American tour. "Some things have been more successful live than others, but we've got a couple of things to show people," he explains. "We've done that before -- mainly with 'Mezzanine,' when we toured in '97. When people don't know the songs yet you can mess with them and then adjust them when you get back in the studio. Radiohead do it quite a lot. It's a good way of doing things."

http://www.billboard.com/bbcom/news/article_display.jsp?vnu_content_id=1002950486
Robert Del Naja Posted: Fri Aug 04, 2006 7:35 am Post subject: THE RESIGNATION CASE 2
TO CLARIFY...
FAILURE TO CALL FOR A CEASEFIRE WAS NOT ONLY A DERILICTION OF DUTY BUT SHOWED ABSENSE OF INDEPENDANT HUMANITARIAN REASON.
CONTINUAL FAILURE TO ACCEPT THAT BRITAIN'S POLITICAL HISTORY IN THE MIDDLE EAST AND IT'S CURRENT FOREIGN POLICY, AND SUPPORT OF U.S STRATEGIES, IS CONNECTED TO EXTREMISM IN THE REGION AND AFFECTS THE FUTURE SECURITY OF THE PLANET.
THE PERPETUAL PEDDLING OF THE SIMPLISTIC FEAR MONGERING NOTION THAT WE ARE ALL ENGAGED IN A WAR AGAINST A GLOBAL ENEMY THAT ACTS ONLY OUT OF BLIND EXTREME HATE REGARDLESS REGARDLESS OF OUR POLICIES AND ACTIONS.
LEARNING NOTHING FROM HISTORY.
SPINNING AND BUILDING A CASE FULL OF LIES IN ORDER TO ENGAGE IN AN ILLEGAL WAR IN IRAQ, WITHOUT A REALISTIC STRATEGY FOR SECURITY AND PEACE.
NOT COUNTING CIVILIAN DEAD IN IRAQ, ACCEPTING DAILY CULTURE OF VIOLENCE, DENYING CIVIL WAR.
PRESSURED INTO ACTUALLY ADMITTING THAT GOD BE YOUR JUDGE IN REGARDS TO THE WAR IN IRAQ-THEREFORE SEPERATING OUR POLICIES AND THE THE ACTIONS OF FUNDAMENTALISTS BY A FRIGHTENING SLITHER.
CASUALLY THROWING AROUND THE WORDS 'EVIL' AND 'TERRORISTS' WHILE PROPAGATING AND PROFITING FROM THE GLOBAL ARMS TRADE.
CONTRADICTING MOST OF THE ABOVE BY ADMITTING THAT MOST OF THE PROBLEMS IN THE REGION COULD BE AIDED BY ACTUALLY HELPING THE PALESTINIANS AND ISRAELIS TO CO-EXIST--FAIRLY, ACTING FOR BOTH NATIONS-- A NIGHTMARE THAT BEGAN IN THE 1940'S AND WAS POLITICALY BRITAIN'S RESPONSIBILITY IN THE FIRST PLACE...YET OUR FOREIGN POLICY ....???
http://forums.massiveattack.co.uk/viewtopic.php?p=169635&highlight=#169635


3rd August 2006

Robert Del Naja Thu Aug 03, 2006 7:05 pm Post subject: THE RESIGNATION OF TONY BLAIR
IT TAKES MORE HORROR AND TRAGIC PASSIVE LEADERSHIP FOR US TO SEE THE TRUE FAILING IN THE POSITION OF THIS COUNTRY. MR BLAIR SHOWED HIS LACK OF UNDERSTANDING OF THE FEELINGS OF THE CITIZENS OF THIS COUNTRY TODAY IN ONE STATEMENT .FIRSTLY INSINUATING THAT BRITISH FOREIGN POLICY HAS NO IMPACT ON THE RECRUITMENT OF RADICALS AND THAT THE WEST'S POLICIES IN GENERAL HAVE NOTHING TO DO WITH A WAR ON AN INTERNATIONAL TERROR NETWORK, SPANNING ALL CONTINENTS, THAT HAS NO INTEREST IN REGIONAL CONFLICT,POLITICS OR INJUSTICE, WHO'S ONLY AGENDA IS THE DESTRUCTION OF THE WEST AND IT'S VALUES.
WHATEVER THEY MAY SEEM TO BE-AFTER ALLOWING U.S PLANES TO REFUEL TAKING LAZER GUIDED MISSLES TO ISRAEL-WHILE WEAKLY DEBATING PEACE AND REFLECTING ON THE SAD LOSS OF LIFE OF CITIZENS. MR BLAIR THEN COMPLETELY CONTRADICTED HIMSELF BY FOLLOWING THIS NAIVE AND SIMPLISTIC STATEMENT BY SUGGESTING THAT CONFLICT IN THE MIDDLE EAST AND ALL EXTREMISM WITHIN THE REGION WOULD ONLY BE CONTROLLED BY RESOLVING THE TWO-STATE SOLUTION WITH ISRAEL AND PALESTINE.
THIS MISREPRESENTATION OF THE BRITISH PEOPLE, THE PASSIVE COMPLIENCE TO U.S GLOBAL AFFAIRS, BOTH MILLITARY AND ENVIROMENTAL, THE CONSTANT STATE OF DENIAL OF THE CIVILLIAN SLAUGHTER AND SECTARIAN VIOLENCE OF THE DISASTER THAT IS IRAQ TODAY AND THE LIES THAT GOT US ALL HERE IS UNFORGIVEABLE.
I FOR ONE SECOND MR YORKE'S FEELINGS ON THE RESIGNATION OF OUR PRIME MINISTER.
AFTER SPENDING TIME IN BEIRUT AND BALLBAK 2 YEARS AGO AND PERFORMING IN AN AMAZING SETTING AMONGST PEOPLE OF ALL FAITHS AND CLASS AND BELIEFS, I FEEL DEVASTED FOR THE LEBANON AND IT'S PEOPLE TAODAY.
http://forums.massiveattack.co.uk/viewtopic.php?p=169589&highlight=#169589


23rd July 2006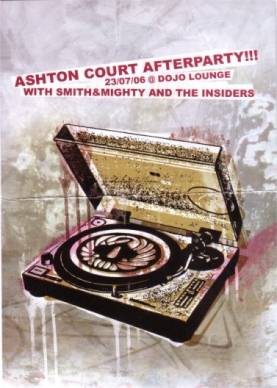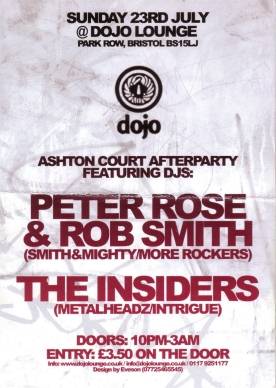 17th July 2006


The mud. The music. The mayhem. A documentary on the 30th anniversary of Britain's best–known music festival, the definitive experience that is Glastonbury! With no Glasto' festival in 2006, this may be the best way to sample the finest musical gathering in the UK. The DVD, which is released today, includes a 1997 Massive Attack performance of Karmacoma.
Purchase at Amazon


13th July 2006

The official Massive Attack new webshop is live and online now. It features all new T- shirts and Prints - check it out here ->
http://massiveattack.clickncreate.net


1st July 2006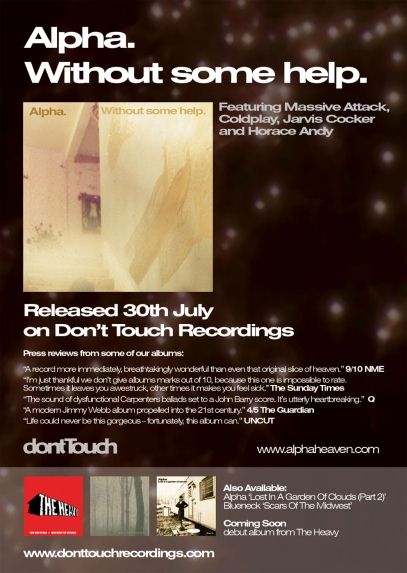 9th June 2006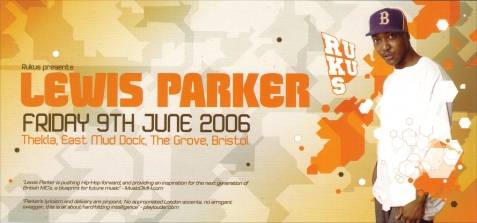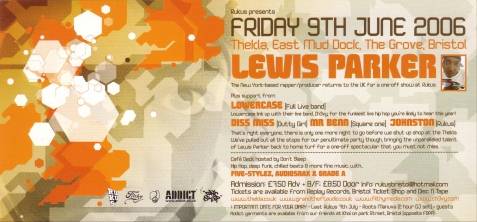 6th June 2006

Horace Andy has sustained a minor injury involving a motorcycle whilst in Kingston - however he is ok and will be re-joining the band in a week or so for the summer tour.


1st June 2006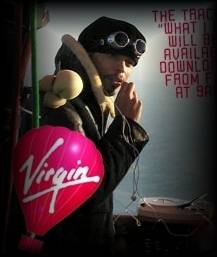 Yesterday at 8pm, Mushroom took part in a successful world record attempt for the highest concert ever. No he didn't smoke a nine bar in one go - he was spinning some tunes, in a hot air balloon at an altitude of 6000ft above the Wiltshire countryside. All part of a promotion for soem new band form Bath ->
http://www.thegirls.tv/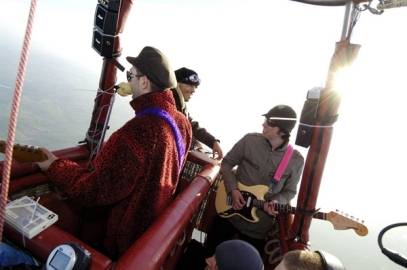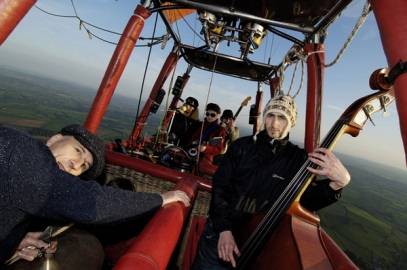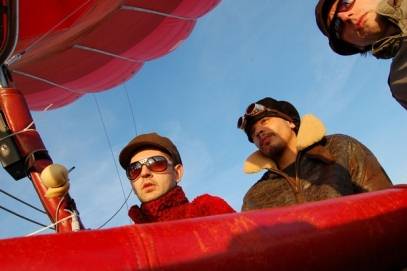 28th May 2006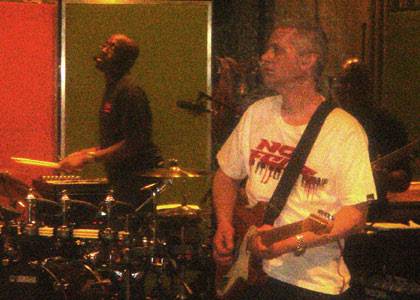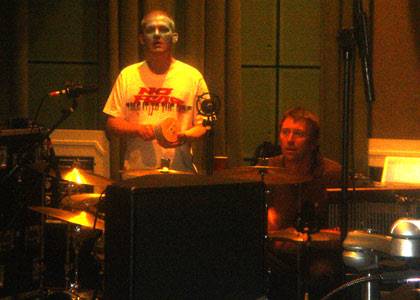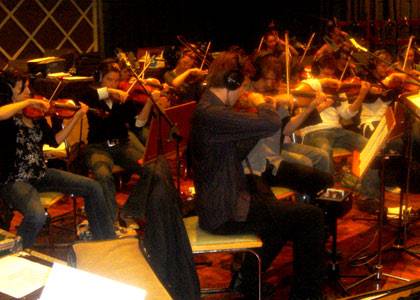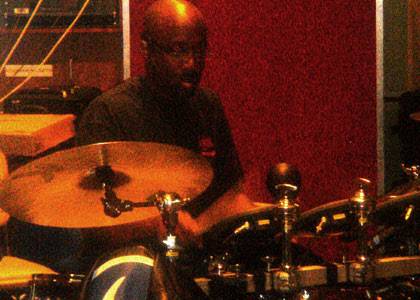 Pictures from the amazing Maida Vale session.
http://www.bbc.co.uk/radio2/shows/dermot/galleries/gallery_massiveattack.shtml
Hear the whole show, online for the next week:
http://www.bbc.co.uk/radio/aod/radio2_aod.shtml?radio2/r2_dermot


26th May 2006

Massive Attack have recorded an exclusive live session for Radio 2, it will be broadcast on the Dermot O'Leary Show on Saturday 27th May. The show is on between 5-7pm, but it's likely to go out in the second hour.
Track listing as follows: Unfinished Sympathy / Teardrop / Live With Me / Black Milk / Inertia Creeps
Also look out for some more exclusive live tracks going out in Zane Lowe's show on Radio 1, we'll update you as soon as we have a confirmed date. More news to follow soon.
(email.massiveattack.com
)

5th May 2006

latest transmission from massiveattack at email.massiveattack dot com:
hello
we have added ltd. edition version of collected to
itunes
the winner of the comp for the weekend for 2 in london to see the band play at the wireless festival, including backstage passes & hotel, is kate worboize. congratulations and we will be in touch shortly to confirm details.
winners of the runner up prizes of a collected sweat shirt, t-shirt and usb memory stock are: mark adrian, david bathiard, carmen rosa, andres reyes, andre didyme-dome, carmen nallely, david petrie, gisela vanina, alfredo ivan and catherine miki. we will be in touch shortly to confirm details.
more tour news to follow soon on us dates, but we can confirm the first date at the hollywood bowl on the 24th september; go to
www.hollywoodbowl.com
for more details.
we also will also be releasing ltd. promos of false flags/united snakes. this features the james lavelle/u.n.k.l.e remix of false flags and new massive track united snakes - look out for this soon.


subscribe here

19th April 2006

You've seen the movie, now visit the exhibition! Among the many locals who contributed footage to Julien Temple's Glastonbury was Kirn Brooke from south Bristol, who's been documenting the jazz stage since 1995. She's responsible for the footage of Massive Attack, Dr. John and, er, the gnomes in the toilets that you can see in the finished film. But obviously there was a lot of her stuff left over that didn't make it into the final cut, so Kim has decided to exhibit six of her films at a special show entitled Backstage at Glastonbury: A Profile of the Jazz World Stage. You can find this at the Bristol Ram, 32 Park Street, running from Monday 24th -> Friday 28th April. Also included is an exhibition of paintings by Glastonbury artist Dinah Mason. The whole thing rounds off with an end-of-exhibition party at the same venue on Saturday 29th from 8pm till late, with live music from the Anders Olinder Combo, featuring Jon Dalton on guitar.


18th April 2006
Massive Attack launch charm offensive on coffee drinkers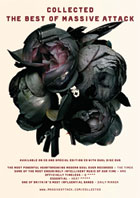 EMI Music UK label Virgin Records launch integrated marketing campaign through Cafè Nero to promote new Massive Attack best of album, 'Collected'

In an exclusive cross-platform marketing campaign, 255 Caffè Nero stores, located throughout the UK, will direct customers to a Massive Attack microsite promoting the band's new 'Collected' album. Leaflets in-store will promote the site where Caffe Nero customers have the opportunity to sample or buy tracks and enter a competition to win VIP tickets to this summer's Wireless Festival in Hyde Park to see the band perform live. Caffe Nero's wireless facility provides the ideal environment for customers to participate in this promotion.
Caffè Nero's music policy is positioned well within the cross-demographic appeal of Massive Attack, whose acclaimed music will be heavily featured in-store. The integrated marketing campaign of Virgin Records and Caffè Nero combines both online and traditional media channels.
Danny Van Emden, digital media director at EMI Music UK, comments: "As EMI seeks to drive digital music beyond the iPod generation, it is essential that we lead the way with new cross platform methods of promotion. The partnership with Caffè Nero spans both digital and in-store promotion, using a competition mechanism to drive traffic online within a wireless environment. The campaign allows music lovers to tap into whichever medium is most relevant for them, online, offline or both."
The co-branded Massive Attack site enables fans to:
• Download tracks and realtones from the 'Collected' album, featuring collaborations with artists such as Sinead O'Connor and Tracey Thorn
• Watch the band's award-winning video back-catalogue
• Enter into the competition to win VIP tickets to this summer's Wireless festival
The album, 'Collected', highlights the finest moments of one of the most influential homegrown bands of the last twenty years. Pioneers of intelligent dance and trip-hop, the compilation album encapsulates Massive Attack's best work, including 'Teardrop', 'Unfinished Sympathy' and 'Protection', plus the new single 'Live With Me', featuring Terry Callier on vocals.
Ben Curwin, marketing manager at EMI Music UK label Virgin Records, comments: "As this is the first album from Massive Attack in three years, it seems appropriate to reach out to their fans in a variety of different formats. Digital technologies have developed and so has music delivery."


14th April 2006



Glastonbury The Film

We all know that there isn't a Glastonbury festival this year, but in 2006 there is another way to enjoy the most famous festival in the world - New film 'Glastonbury' by Julien Temple captures the music and mayhem from the last 30 years with performances from artists including David Bowie, T REX, Radiohead, REM, Coldplay, Oasis, Pulp, Blur Chemical Brothers, Joe Strummer, Primal Scream, Nick Cave, Massive Attack (performing Karmacoma), Faithless, Prodigy, New Order, Velvet Underground and many many more. Inviting audiences to submerge themselves in the spirit, characters and overwhelming sensory experiences of Glastonbury, it will be the defining record of the longest running and most pre-eminent music festival in the world. The film is on general release from Friday 14th April.
You can
click here
to go to the BBC Somerset website which has reviews and interviews with Michael Eavis and the Director, Julien Temple. Check out the trailer
here
.


13th April 2006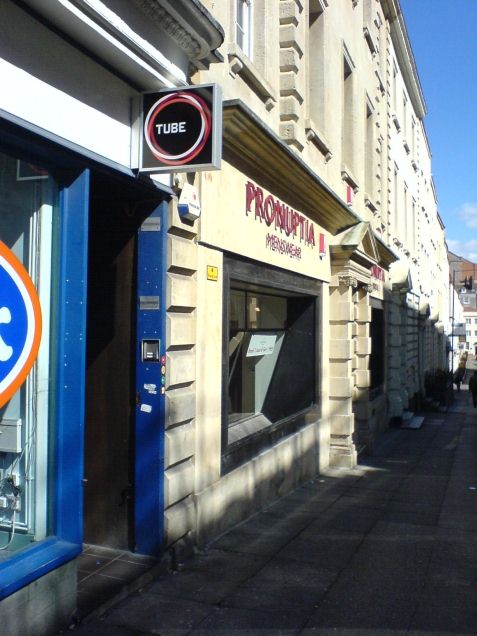 Massive Tubeway Army
Kick off Easter with a full-on session with Daddy G, Mr.Benn and Queen Bee dropping the best in dancehall, Studio One dub and all points in between. Special request to each and every one!
The Tube 6pm - 3am fee before 11pm / £3 after


6th April 2006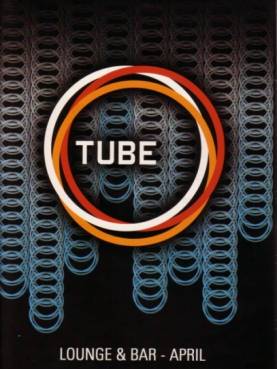 Bobby Dupea takes the slow tractor West.
Hog darn it! Seems like only last week when I flew in from Painted Stick, Dakota to check'out these boys'n'gals with their funny lil' club the Toooob, just to see everything was set up all nice and dandy like we do back home. And bless me they've got those purty pictures on the wall an' everything just fine. All the stars are dropping in to drink that pear cider - I swear I saw that skinny fella from the Stone Mondays, looks like he stays up way late an' don' eat proper though, an those Mighty Boosh guys, large as life, just same as they are on the tellyvision. Didn;t have no gorillawith 'em though, jus' as well though, be too warm inside for the poor fella.
I'm supposed to be headin' back to the land of the free, America I love you, next week but I reckon I might jus' stay on for April, drink me some of that Wild Turkey sippin' whiskey and check out that Phil Hartnoll guy with the funny glasses. Oh, and maybe that fella Daddy Something from Massive Attack, and that ol' boy DJ Derek too. Hell, why don't I jus' stay on for another few weeks and see that sweet Mary Anne Hobbs at the end of the month too, the barn can get painted next month. Better order me up some snacks from that new Spring food menu too...
WWW.TUBEBAR.CO.UK

This month the tube is celebrating the launch of their Tube website. And it's not just going to be any website apparently:
" it will be all singing, all dancing, and all useful as well. First off it's got all the main info about Tube: listings for all events in the upcoming months, as and when they are confirmed, menus of our drinks, wines, cocktails and food, photographs of you lovely people having a good time (or drunk and asleep over a table as our bar staff have seen) and contact details.
But that's not all. Sign up to our 'super best friends' list and you will receive priority notice of all our after-parties and some pretty special secret gigs we have lined up in the forthcoming months. These will not be publicized (we're 120 capacity it would be suicide) and this will be the only way of finding out about them and obtainign tickets.
"And that'z still not all. We're Bristolians and we want to give this city a shake and kick to its feet. We've been resting on our past achievements for too long and need to start doing things again. So we're going to give a whole load of space on our site dedicated to all the creative and talented people that this city has to offer. It will be a one-stop site for people to see what each of us are doing and hopefully enable, encourage and initiate cross-collaborations and future projects. Each artist will have their own dedicated page where they can place their profile, images and examples
of their work, downloadable if possible or a facility will be available to sell through the site. We already have some fantastic designers, artists and musicians on board, if you think this is something that you fancy doing contact us at info@tubebar.co.uk.
If you can't wait 'til Friday, join the Massive Tubeway Army on Thursdays. Bringing together local heroes as well as renowned artists and musicians from beyond the city limits dropping into our underground micro-club. Residents on rotation are Daddy G, Queen Bee, Mr Benn and John Stapleton.


5th April 2006


The Blue Aeroplanes are an art rock group from Bristol, England, that has drawn comparisons to critically acclaimed rock bands like the Velvet Underground because of their eclectic style and the songwriting sensibility of group leader Gerard Langley. The original core of the band included Langley's brother John on drums, Nick Jacobs on guitar, and multi-instrumentalist Dave Chapman. However, personnel other than Langley has varied, and (on both records and in performances) they have always been augmented by a large cast of semi-regular sidemen. (By the time of their 1991 album, Beatsongs, the Aeroplanes' lineup included guitarist Angelo Bruschini, guitarist Rodney Allen, bassist Andy McCreeth, drummer Paul Mulreany, and guitarist/keyboard player Alex Lee, with another eight musicians listed in the credits.) The group released Bop Art on the Abstract Records label in April, 1984, then signed to Fire Records, for which they recorded their second album, Tolerance (October 1986), and their third, Spitting Out Miracles (1987), plus several EPs. Spitting Out Miracles was their first U.S. release, followed by the compilation album Friendloverplane (1988), a double-LP on Fire in the U.K., was reduced to a single LP on Restless in the U.S. The Blue Aeroplanes then signed to the Ensign division of Chrysalis Records and charted in the U.K. with two 1989 singles, "Jacket Hangs" and "...And Stones," as well as their 1990 and 1991 albums, Swagger and Beatsongs.
The Blue Aeroplanes - Thursday 13th April @ THE FIDDLERS, Bristol
Doors: 7pm – 11pm Tickets: £16
www.theblueaeroplanes.co.uk


3rd April 2006
Massive Attack Box Their Trip-Hop

"It's difficult looking back," says Robert "3D" Del Naja of Bristol, England, trip-hop pioneers Massive Attack. "You should put a best-of out at the end of your career -- but you never know when it's going to end." But 3D has pulled it off, finally assembling a greatest-hits compilation, Collected, due this Tuesday.
Collected pulls from Massive Attack's sixteen-year career with four albums: 1991's Blue Lines, 1994's Protection, 1998's Mezzanine and 2003's 100th Window. Their soundtrack work is also featured, including songs from Blade II, as well as previously unreleased material and rarities. Stretching over two discs, Collected also features a DVD component of every video the group has made. "It gives us the opportunity to expose stuff that's been long on the shelf," says Del Naja. "The whole process of putting this together has been about the new things: the artwork, the videos, the tour."
Looking forward, there is one entirely new track on the compilation: "Live With Me," with Terry Callier on vocals. The orchestral and jazzy song was initially written for a soundtrack to a film that was never released. Its video was directed by Jonathan Glazer (Sexy Beast), a longtime collaborator. Other Massive Attack cohorts make appearances on the set, including Elizabeth Fraser (Cocteau Twins) and Horace Andy.
Fraser and Andy also guest on the trio's upcoming 2007 studio album, which will feature extensive co-writing with TV on the Radio's David Sitek and Mike Patton (Faith No More). Del Naja and the other active member of Massive Attack, Grant "Daddy G" Marshall (who was absent from the last record), have never had a writing relationship. Instead, they work individually and come together once they have an almost finished product. For their latest effort, Del Naja is working with Neil Davidge, who produced their last two albums, while Marshall is working with production group the Robot Club.
"It's been exciting to force everyone's ideas in the same place and see what mess you can make," says Del Naja. "But after you've been working with people for so long, maybe your personalities will make all the mess and the music won't be interesting at all. When you get to know someone so well, it's difficult to surprise each other or do things the other person doesn't know about already."
As for what will change this time around, Marshall adds, "I'm trying to put right what I didn't agree with on the last album. Massive Attack has always been this multicultural project with a multicultural view on sound. I want to readdress that. I'm putting a bit more soul back into it, trying to even up the balance."
http://www.rollingstone.com/news/story/9569860/massive_attack_box_their_triphop


29th March 2006
Alpha release the second half of their 'Lost In A Garden Of Clouds' series, a 16 track mix of some of their instrumental affairs, including some of the original rarities that first got them signed to Massive Attack's Melankolic label.
This is Corin Dingley's and Andy Jenks' sixth album release (three for Virgin/Melankolic, three for Don't Touch) and closely follows their recent production work for the universally acclaimed James Roberts album ('Everything You Know Is Right') that came out in February. This album follows a similar style to part one with it's sleepy loops & rhythms and soaring strings, but is on the whole a lot more upbeat cd than it's predecessor. Tracks such as 'Elevator' and 'The Things You Might Do' wouldn't be out of place on the Super Discount albums.
Alpha are often compared to such artists as Air, Blue States and The Avalanches, and whilst those comparisons are fair, it is often forgotten that Alpha were the first to "evoke the colours that swim in your eyeballs after you have been staring at the sun too long" (David Stubbs, Uncut Magazine). Whilst experimental, and clearly in love with digital sounds, it is not difficult to understand why someone like Massive Attack were originally attracted to this group's understanding of basic melancholic melody undoubtedly derived from their huge love of artists such as Michel Legrand, Brian Eno and Burt Bacharach.
Alpha will remain constantly busy for the rest of this year. Right now they are producing the James Roberts single, and have just finished work on their own 'remix' album which will be out this spring featuring mixes and collaborations they have done with (amongst others) Acid Casuals (the single 'Bowl Me Over'), Coldplay (a mix of 'Yellow' that was a fanclub-only 7"), Massive Attack (mix of 'Inertia Creeps'), Jarvis Cocker (a cover of a Richard Harris song), James Roberts and and Horace Andy.
They are also currently producing the debut albums by Wendy Stubbs and The Heavy for release later this year both of which will appear on their Don't Touch label.

www.alphaheaven.com
www.myspace/donttouchrecordings

22nd March 2006




21st March 2006

The promised Massive Attack Collected podcast was finally published today on
http://www.massiveattack.co.uk/collected/
However not everyone is able to view it properly. Do not worry - just right click on these links and save them to your computer, then head back to the official site and check out the wallpaper, icons and most interestingly the screensaver - it contains some interesting looking hints as to what we will see inside the CD sleeve on Monday morning and more potently what the official Massive Attack book could contain if it ever gets done.


MASSIVE ATTACK : COLLECTED PODCAST LINKS:

PART 01 : COLLECTED -
VIDEO
¦
AUDIO
PART 02 : THE BAND / NEW MATERIAL -
VIDEO
¦
AUDIO
PART 03 : THE ALBUMS -
VIDEO
¦
AUDIO
PART 04 : THE VIDEOS -
VIDEO
¦
AUDIO
PART 05 : COLLABORATORS -
VIDEO
¦
AUDIO

20th March 2006

Massive Attack are heading to the forest! - they have announced details of a special show this summer. The band will play at the Westonbirt Arboretum in Tetbury, Gloucestershire on July 30, as part of the Forestry Commission's annual forest shows. Special guests will include Terry Callier. Tickets are priced at £27.50 and are on sale now from:
www.ticketmaster.co.uk
,
www.seetickets.com
or telephone hotline 01842 814612.
Collected is featured this week on the
micro site
, you'll be able to access lots of exclusive content from: audio, video, remixes, real tunes, download wallpapers, signatures, screensavers and also the podcasts have been added. The collection is out next week and you can pre-order either the
standard format
,
special edition
and/or the
3 disc vinyl set
. Also remember to register for your unique countdown code as the winning number will get will get an all expenses weekend for 2 in london to see the band play at the wireless festival, including backstage passes, hotel etc.

16th March 2006

In the early 90s, Massive Attack helped define the new Bristol sound of 'trip hop' with the release of their third single, 'Unfinished Sympathy'. 15 years later, after a turbulent career filled with political and personal clashes, the band are still around. We celebrate the music of Massive Attack with a one hour mix of hits, live tracks, rarities, some covers and more.
Check out the Massive Attack MIXTAPE on Triple J
.



13th March 2006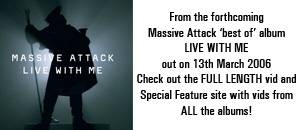 Live With Me is now out and is available on ECD & DVD, formats as follows:
ECD: Live With Me, Live With Me (Alternative Version), False Flags, Live With Me (video)
buy ¦
amazon
DVD: Live With Me, Live With Me (Directors Cut), False Flags, Live With Me (Alternative Version - audio)
buy ¦
amazon
download from itunes:
live with me - single
live with me (stripped back) - single
:: view the video ¦ win
hi
|
lo
; real
hi
|
lo
Massive Attack live:
Massive Attack have also been confirmed to headline the following festivals in addition to the Wireless festival: 11th June Belgrade, 14th June Bratislava, 4th July Montreux, 8th July Lisbon, 12th July Summersonic Osaka, 13th July Summersonic Tokyo, 16th August Dusseldorf, 22nd August Munich, 26th August Hamburg, 1st September Electric Picnic Dublin. There will be more news next week apparently on additional dates.


8th March 2006


5th March 2006

Get on Down: Massive Attack
Virgin releases Collected, a Best of CD/DVD, on March 27, and a new single, Live with Me, a fortnight earlier. A good excuse, then, for 10 Massive moments from the band who twisted dance music into new shapes, altering it irrevocably.
1 Unfinished Sympathy
Still, 15 years on, utterly devastating. As the strings, drums and piano turn the screw, Shara Nelson's vocal wrenches the heart.
2 Protection
The constantly underrated Tracy Thorn steps up to the mike for this stunning 1994 title track.
3 Risingson
A brutal, treacle-thick epic from Mezzanine.
4 Karmacoma
Shortly to go solo, Tricky lent his super-sly rap to this killer cut from Protection.
5 Safe from Harm
The lead track from Blue Lines, with Nelson deceptively sweet on "If you hurt what's mine, I'll sure as hell retaliate".
6 Teardrop
Liz Fraser from the Cocteau Twins, ravishing with restraint.
7 Angel
Even Horace Andy keening "You are my angel" couldn't lighten this black-as-night masterpiece.
8 What Your Soul
Sings A standout from the unsung 100th Window, with Sinead O'Connor a perfect foil.
9 Daydreaming
One of trip-hop's cornerstones, another ominous three-way from Blue Lines.
10 Inertia Creeps
If you could be stalked by a song, this would be the one to do it.
by Dan Cairns (
The Sunday Times - Culture
)


2nd March 2006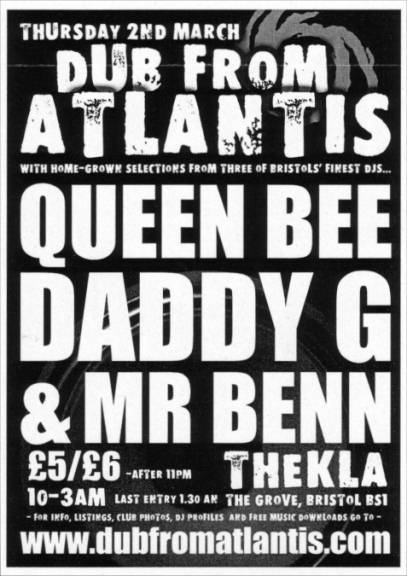 27th February 2006
I WASN'T ACTING.. I WAS REALLY DRUNK
HOW ACTRESS KIRSTY GOT SMASHED ON VODKA FOR SHOCKING ROLE
Pop video Scot's shot at the big time
SCOTS actress Kirsty Shepheard has told how she got blitzed on vodka to shoot a shocking pop video.
Kirsty is the woman who is seen getting blind drunk in Massive Attack's controversial video for the new single Live With Me.
Fife-born Kirsty, 35, admitted: "I was asked to get drunk for the part. It was integral to the shoot."
Kirsty won the role after she was discovered by Scots talent-spotter Des Hamilton, who signed up hairdresser Kathleen McDermott to star in the film Morvern Caller.
Kirsty said: "I just bumped into Des in Glasgow. He said he had something in mind for me."
The actress, who plays drums in Scots band Samba Ya Bamba, was asked to audition that evening.
The video shows a woman guzzling bottles of vodka at home before stumbling out into a park and falling asleep.
Kirsty said: "Des said they wanted someone to play a role that involved actually drinking. It's about a woman who attempts to drink herself to death as she is desperately unhappy after breaking up with someone.
"It's not like a pop video - it's like a tragic short film."
After her screen test, Kirsty flew to London's Pinewood Studios to meet Massive Attack's Robert Del Naja and Jonathan Glazer, director of hit films Birth and Sexy Beast.
Filming began two days later when Kirsty began her binge for the cameras.
She said: "We filmed the first part in the off-licence when the woman I play picks up her booze after work.
"Over the weekend, she locks herself away in her own flat.
"We mixed up the shoots, so there are some parts shot on the street where I have to act drunk because they didn't want me to be under the influence in public."
She added: "They wanted me to drink to see the changes that actually happen. You can act drunk but it's not as convincing."
Although Kirsty refuses to say how much she downed in total, she admits she was the worse for wear after the first evening.
She said: "I had a hangover - because I mixed my drinks.
"But it was a controlled situation and I made my own choices as to how much I drank and at what pace."
By Beverley Lyons
http://www.dailyrecord.co.uk

24th February 2006

Massive Attack have also been confirmed to headline the Wireless Festival 2006 on Friday 23rd june, with additional performances that day from the Flaming Lips, Pharrell, DJ Shadow, Damien Marley and TV on the Radio.


14th February 2006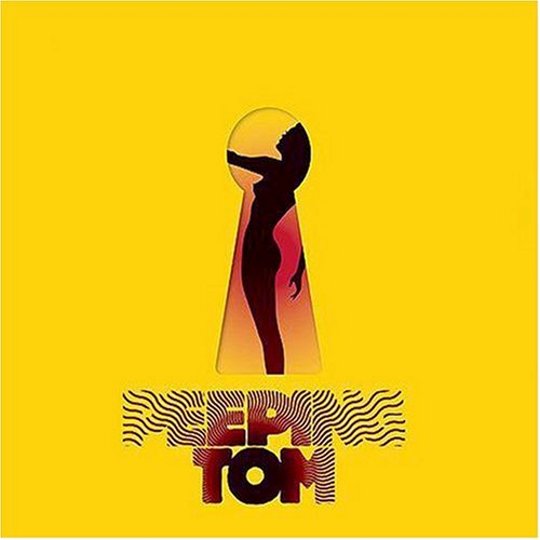 Mike Patton's four-years-in-the-making 'Peeping Tom' album is finally set to come out and features a host of interesting musicians. Collaborators on the 11 track LP include Kid Koala, Odd Nosdam, Doseone, Jel, the Melvins, Massive Attack, Dan "The Automator" Nakamura, Rahzel, DJ Muggs, Amon Tobin, Bebel Gilberto, Dub Trio, DJ Disk of the Invisibl Skratch Piklz, Kool Keith... and rather bizarrely Norah Jones.
Patton told
MTV
: "I had something real specific in mind for her. I wanted to take her out of her element and put her in a new environment and make it exciting, and she loved it. She did great. But yeah, you won't recognise Norah. She's cussing her ass off. It's insane. She's like a cruel vamp, and it's super sexy, hot and, yeah, cruel."
The "pop" album is released on May 30th through Patton's own label
Ipecac
.
If you were concerned Patton's getting lazy in his old age, he's also about to bring out a new Tomahawk album, plus he's been involved in the making of a couple of soundtracks, he guests on the new Loveage album, the new Massive Attack album, and he's got a part in Playstation 3 game "The Darkness".


11th February 2006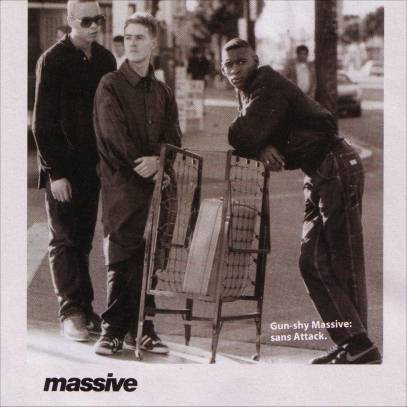 10 years ago today the BBC gets antsy. With Britain involved in the Gulf War, the BBC issues a list of banned records to be avoided because 'they might cause offence'. They include The Clash's Rock The Casbah, The Bangles' Walk Like An Egyptian, Bruce Springsteen's I'm On Fire, Elton John's Saturday Night's Alright For Fighting, The Cure's Killing An Arab and Maria Muldaur's Midnight At The Oasis. Because Of The War, Tim Simeonon will record under his own name and not use his Bomb The Bass identity; Massive Attack are merely Massive.

9th February 2006

Massive Attack have also just confirmed a mainstage performance on Sunday, 30th April at the seventh annual Coahella festival at the Empire Polo field in Indio, Ca. This will be their first performance in the United States for eight years.


26th January 2006


Radio 1s DJ Jo Wiley will have the world exclusive first play of the new Massive Attack single 'Live With Me' on Monday 30th January 2006. The Jonathon Glazier directed video will be premiered via Channel 4 on Friday 3rd February at 11:30pm, his first work in six years. The rest of the planet will hear it on their radio from Tuesday.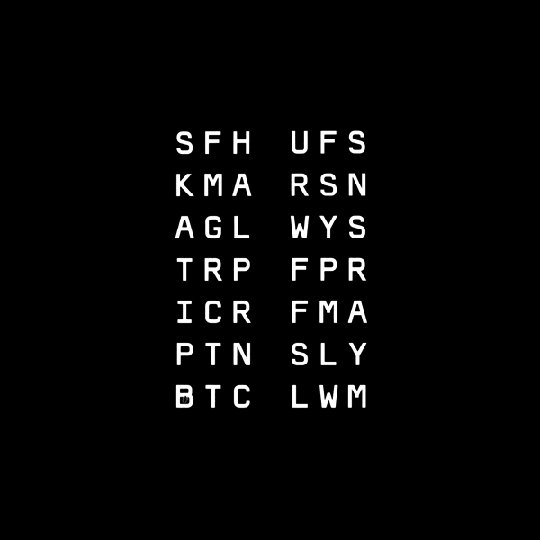 The band will release 'Collected' on March 27th. A special edition of the album will also contain a bonus dual-disc comprising of a CD of rare and reworked material alongside brand new recordings, while the flipside will feature a DVD of all of the group's videos to date. 'Collected' will be preceded by the new single on March 13th featuring Terry Callier on vocals.
Massive Attack are currently in the studio and have completed seven tracks for their fifth album 'Weather Underground'. The band are dividing their time between Bristol and New York where they have been recording with Dave Sitek and TV On The Radio. The group will be performing a series of live dates and festivals throughout the summer and autumn of 2006, details of which will be announced soon.
The full tracklisting for 'Collected' will run:
Disc 1
'Safe From Harm'
'Karmacoma'
'Angel'
'Teardrop'
'Inertia Creeps'
'Protection'
'Butterfly Caught'
'Unfinished Sympathy'
'Risingson'
'Future Proof'
'Five Man Army'
'What Your Soul Sings'
'Sly'
'Live With Me'
DISC 2 - Audio Side
'False Flags'
'Incantations'
'Silent Spring'
'Bullet Boy'
'Black Melt'
'Joy Luck Club'
'Small Time Shoot Em Up'
'I Against I'
'I Want You'
'Danny The Dog'
DISC 2 - DVD Two
'Daydreaming'
'Unfinished Sympathy'
'Safe From Harm'
'Be Thankful For What You've Got'
'Sly'
'Protection'
'Karmacoma'
'Risingson'
'Teardrop'
'Angel'
'Inertia Creeps'
'Special Cases'
'Butterfly Caught'
'Live With Me'
'Live With Me (Terry Version)'


21st January 2006

http://forums.massiveattack.co.uk/viewtopic.php?t=8814
Robert Del Naja
Posted: Sat Jan 21, 2006 9:41 am Post subject: COLLECT THIS-MUTHAFUCHER!
THE LIST IS OUT THERE-
AFTER MUCH STRUGGLE WITH TIME AND SPACE WE MASTERED 2 DAYS AGO-
MAN, IT FELT LIKE CUTTING A WHOLE NEW ALBUM-WITH EFFECTIVELY 4 NU TRAX AND THE SONIC CONTRASTS OF THE TIMELINES.
GUTTED ABOUT LOSING A FEW THINGS-A GLARING OMMISSION IS HYMN OF THE BIG WHEEL-WE WERE GOING WITH A NELLEE HOOOPER/CRAIG ARMSTRONG REMIX VERSION UNHEARD FOR DISC 2-IN THE END IT JUST DIDN'T CUT IT-BY THAT TIME DISC 1 WAS DONE-HORACE HAS MADE THE SONG INTO A LIVE EXPERIENCE NOW-MAYBE LEAVE IT THERE.
THE DVD WILL INCLUDE THE LONG FORM VERSION OF LIVE WITH ME AND THE TERRY PERFORMANCE VERSION-TIME WILLING IT WILL ALSO INCLUDE A VIDEO FOR FLASE FLAGS. THE FUTUREPROOF VIDEO WILL NOW BE RELEASED ON A FORMAT TO BE DECIDED LATER THIS SUMMER-WITH 8/9 LIVE TRACKS FROM 100TH TOUR ON A DISC WITH SOME VERY EXITING NEW REMIXES OF 'CLASSIC' TRAX-WE RAN OUT OF SPACE ON THE DVD SIDE FOR THE COLLECTED ALBUM AND IT FELT BETTER WITH THE LIVE VIDEO BEING LONG AND NOT CUT.
JUST MIXING AN ARABIC ACAPELLA VERSION OF LIVE WITH ME , WILL BE DUBBING AN 8 MINUTE PIECE WITH JOHN GLAZER NEXT WEEK-FINISH THE SLEEVE AND CD BOOK-THEN A WEEK IN NYC WITH DAVE SITEK-WORKING ON NEW TRAX FOR LP5-WEATHER UNDERGROUND.
XD


16th January 2006


Demolish everything you thought you knew, and build some new runways. The Blue Aeroplanes, one of the most inspiring, individual and influential British bands of the last two decades, are refuelled and ready to roar. 16th January sees the release of
SWAGGER DELUXE
, a two-disc celebration of their magical, Gil Norton-produced, 1990 album, featuring fourteen extra tracks and unreleased material. The band will then play a special one-off launch show on 21st January at London's Borderline, where a line-up fusing new members and Swagger-era alumni will, with all due reverence and irreverence, perform the album in full.

All this swaggering will serve as a prelude to The Blue Aeroplanes' brand new album
ALTITUDE
. Released on EMI in Spring, it'll be the group's first full-length studio opus since 1995's Rough Music, and their first major label release since 1991's Beat Songs. A full UK tour (their first since 2000) will be undertaken and very probably over-exuberant in March, shortly after the band make an indelible impression on America at South By South West….
All this physical and mental stimulation: where does it all come from?
"Pick a card, any card. Wrong."
It's 1990, and seven years into their unique career The Blue Aeroplanes are flying higher than a helium-loaded kite. After winning their reputation and many friends through their heady brew of rock guitars, folk flourishes, Dionysian dancing and spoken-word poetry, they're known as one of the most exhilarating live bands in the country. Shifting in personnel, solid in spirit, this Bristol-based brouhaha have made the Eighties a more exotic, erudite, eccentric place with albums like
Bop Art
and
Spitting Out Miracles
.
Newly signed to Ensign Records, they hit the road, opening for a little American band called REM. Few present at their Hammersmith Odeon show will forget a climactic, multiple-guitar rendition of Tom Verlaine's
Breaking In My Heart
, partly because several present, like Michael Stipe, leap gamely onstage and play those guitars. Clearly, the moment is ripe for a new album by this prolific outfit, who, oddly, haven't made one for three years. The line-up is as honed and gleaming as something so mercurial and wonderfully spontaneous will ever be, and with a new label and fast-rising producer Gil Norton on board, it's time for something special.
Something special arrives. Received with critical delirium in its day - Select quite reasonably called it "total poetic guitar bejewelled rock'n'roll folk art let's dance godstar unalloyed alcoholic genius" - Swagger remains a thing of rasping beauty, raw power and delicate frailty, both very much of its time and utterly timeless in its energy, artistry and ambition. Now, in the 21st century, which, come to think of it, it possibly came from in the first place anyway, it walks amongst us again like a well-read, snake-hipped colossus. Where once there was one disc, now there's a winning pair.
The Aeroplanes were plateau-ing, peaking. Gerard Langley spat, sprayed and yet meticulously placed his words of the charms, balms and chaos of love over the interactive guitars of Angelo Bruschini, Rodney Allen and Alex Lee, while Andy McCreeth and John Langley ruled the rhythm. Wojtek Dmochowski, as ever, danced, and this is more important than it might sound. His onstage moves can, indeed must, be visualised in the mind's eye throughout any sensible/insensible listen to Swagger.
Michael Stipe contributed enigmatic guest vocals to
What It Is
, Clair Hurst played sax on
Anti-Pretty
. With Norton arriving on the back of breakthrough, era-defining records with Pixies and Throwing Muses, and briefed to make the band sound as much like their live identity as possible, a wired wash of chiming, spiralling strings is created. It's a hell of a stage for Gerard to strut his cut-up stuff upon. To swagger.
From the B of the Bang, Swagger is full of fire.
Jacket Hangs
, beginning with that classic "Pick a card" set-piece, curls itself around a riff that's somehow both very British and very American. A single that should have been their breakthrough hit, just as Swagger should have - in an ideal world - been their crossover album, it finds Langley's wordplay at its most cryptic, having pun pun pun with the potential of suits: as in clothes, as in playing cards, as in lawsuits. The dynamics light up - "I wanna see inside, I wanna be inside" - and we're up and away, we're into a great album. "I passed the test, I think I passed, I think I'm fine…"
World View Blue
picks you up like a stone; throws you into the air while wondering what your favourite colour is and why. Then we get
Weightless
. Tense, lovely and theatrical. "Half the world's floating in space". Sometimes subdued ("Well, over here, the sound of violins"), sometimes aggressive ("that said, violence is like drink - one's too many but a hundred's not enough"). It segues sneakily into the showstopping "…And Stones". Tagged at the time as the band's "dance hit" - such was the vogue - it does indeed construct a dance-rock interface, albeit much prettier than the populist E's-alright baggy ones then prevalent. But this band were always "miles apart, styles apart". There's a crystal-clear catharsis in Gerard's closing cry of "Throw your arms around whoever you think it is…"
Love Come Round
examines the contradictions inherent within relationships, with the acuity of John Donne and the urgency of The Shangri-Las: "It hit me: look out look out look out look out!"
Your Ages
sways more gently, loving you so much it can't talk to you any more.
The Applicant
charges Sylvia Plath with a momentum the old misery poetess never imagined.
On any "normal" record,
What It Is
would be the outstanding set piece. Here, it joins a lively queue. Harmonics and grooves, angst and absurdity, Langley at his most laconically resonant. There's Stipe joining in, as Gerard revs up to the crescendo which would have live audiences biting the ceiling: "you've got something to tell me, I can taste it - I know what it is!" Only beatnik saxophones could follow this, and sure enough they usher in
Anti-Pretty
, a song about how we all want what we haven't got. Descending through
Picture Framed
, we wriggle blinking into the murky, jabbing rhythmic underworld of
Cat Scan Hist'ry
, a monumental musical edifice - neo-psychedelic, scratching at walls, animalistic.
There's more: the second disc here gathers a cherish-worthy cornucopia of hidden flames and burning fragments which sparked off the main bonfire. There's a "hurdy-gurdy" version of
Love Come Round
and an original demo of "What It Is" with Mr. Stipe more prominent in the mix (check out all those voices pretending to be instruments). There are previously unreleased nuggets like "S.t.r.a.n.g.e.", and clippings from E.P.s and b-sides like live favourites
Razorwalk
and the perennial crowdpleaser
88 Out
. A dazzling dance mix takes "…And Stones" even further out into the ether, and the gorgeous
You Are Loved
E.P. is revisited, Lou Reed's
Sweet Jane
and all. This is where Swagger puffs out its treasure chest and throws its arms around whoever it thinks you are…
Throw your wings around one of the great British rock/art/poetry/beatnik/whatever albums, which lit so many pilot lights. Swagger is back, and "the sky pours into everyone's head" again. Ignore the safety instructions. Don't stick, twist. "Let those arms rotate like helicopter blades…"
Purchase
Swagger
&
Altitude
at Amazon.
by Chris Roberts
http://www.codaagency.com/blueaero.html


13th January 2006
http://forums.massiveattack.co.uk/viewtopic.php?p=147494&highlight=#147494
Robert Del Naja
Posted: Fri Jan 13, 2006 8:29 am Post subject: SPACE AND WASTE
THE BASIC PROBLEM WITH THE LISTS SO FAR,IF I MAY BE SO BOLD....
DISC 1-CONVENTIONAL CD FORMAT-WE ARE TRYING TO GET 15 TRAX ON IT-THAT WILL TAKE IT TO 81 MINUTES-THE ABSOLUTE FORMAT LIMIT-ALSO HAS TO GO OUT WITH A DISCLAIMER-THE SAME YOU GET ON THE 'NOW THAT'S' WHAT I CALL......' FRANCHISE.
DISC 2-DOUBLE SIDED DVD And AUDIO-SIDE 1-10 TRAX-UNRELEASED PIECES AND UNHEARD MIXESETC AND A COUPLE OF COLLABS.
DVD SIDE-ALL 13 PROMOS SO FAR..PLUS 2 VERSIONS OF 'LIVE WITH ME' BY THE MAN JOHNATHAN GLAZER! 3/4 100 TH LIVE TRAX...AUDIO HAS NOT TURNED OUT TO BE GREAT...PLUS, HOPEFULLY A COOL 'FUTURE PROOF' PIECE THE 'EUROCHILD 'ANIMATION AND A LO-FI 'FALSE FLAGS' PROMO. WE ARE TRYING TO TRACK DOWN A BETA VERSION OF 'A MATTER OF TIME' NO LUCK SO FAR-DIFFICULTIES WITH RIGHTS ALSO...
THIS WILL BE STRETCHING ALL FORMATS TO THE LIMIT!
OFF TO DO PHOTOS TODAY-WILL SEE G LATER-WASTED-BEEN WORKING LONG NIGHTS -VIDEO SHOOT THIS WEEKEND-GONNA BE MENTAL! SLEEVE SHOTS NEXT WEEK-BACK TO NYC IN 2 WEEKS WITH SITEK ET AL.
XD


7th January 2006
http://forums.massiveattack.co.uk/viewtopic.php?p=147494&highlight=#147494
Robert Del Naja
Sat Jan 07, 2006 11:58 am Post subject: RE: 'COLLECTED' PAGE
I WOULD LIKE TO CLARIFY OUR POSITION REGARDING THE 'COLLECTED' MICRO SITE THAT HAS BEEN PUT TOGETHER.
WE ,THE BAND WOULD LIKE TO DISSASOCIATE OURSELVES WITH THE PATHETIC 'PRESS RELEASE' THAT APPEARS ON THE 2ND PAGE.
THANKS


5th January 2006

Massive Attack have made four albums to date, each one extraordinary in its own right. 'Blue Lines', 'Protection', 'Mezzanine' and '100th Window' all pushed musical boundaries and made their mark.
With these critically acclaimed albums clocking up 9 million sales, a clutch of awards and a new album due for release in early 2007, the time felt right for a Massive Attack Best Of, an apt reminder of their musical legacy to date. The album, entitled 'Collected', due for release on 27th March 2006, will consist of two CDs, the first featuring tracks chosen by the band, including such gems as 'Unfinished Sympathy', 'Safe From Harm', 'Protection', 'Teardrop' and 'Angel', and the second a new compilation of rare and reworked material as well as brand new recordings and a DVD of all the videos. (Full track listing to follow.)
The album will be preceded by a brand new single on 13th March, 'Live With Me', featuring Terry Callier on vocals. Written by Robert Del Naja, Neil Davidge and Terry Callier, and produced by Del Naja and Davidge, this track sees a return to a more soulful sound for Massive Attack, while retaining the lush production of their more recent albums. The video will be directed by Jonathan Glazer.
Massive Attack are currently in the studio and have completed seven tracks for their fifth album, 'Weather Underground', with long time collaborator and co-producer Neil Davidge. At present, they are dividing time between Bristol and New York where they have been recording with Dave Sitek and TV On The Radio.
Massive Attack will be playing a series of live dates and festivals throughout the summer and autumn of 2006, details of which will be announced in due course.
www.massiveattack.com
www.massiveattack.com/collected